Mitsubishi J2M3
Raiden Type 21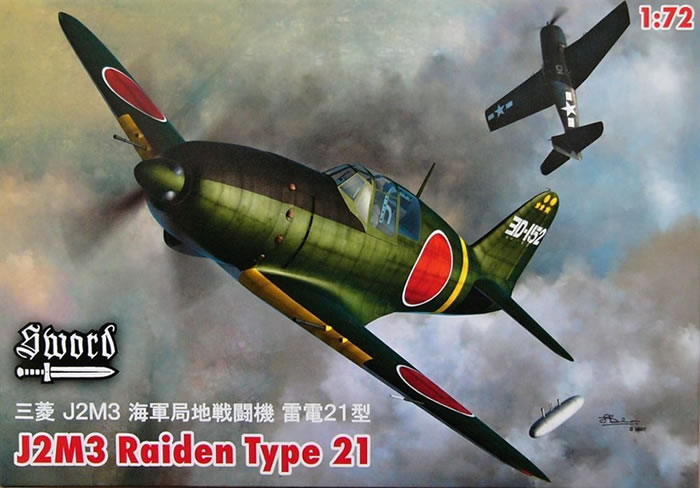 Sword, 1/72 scale
S u m m a r y :

Catalogue Number:

Sword Kit No. SW72053 - Mitsubishi J2M3 Raiden Type 21

Scale:

1/72

Contents & Media:

51 grey styrene, 4 clear styrene, 4 resin parts and decals for 3 options.

Price:

Available online from Hannants for £12.49, Squadron for UDS$29.69, and Modelimex for €14.58

Review Type:

First Look.

Advantages:

Good quality mouldings, fine panel lines and good detail levels for the scale. Looks to be a very straight-forward build.

Disadvantages:

No seat harness cast with the resin seat.

Conclusion:

An excellent kit of an attractive subject and the best J2M3 kit in 1/72-scale. Definitely recommended.
Reviewed by

Mark Davies

Sword's 1/72 scale Raiden is available online from Squadron.com
The J2M Raiden (allied code-name Jack) was conceived as a point defence fighter. It was intended to provide the Imperial Japanese Navy with a land-based fighter to protect strategic locations within conquered. The design emphasis was on rapid climb and powerful armament, rather than the more traditional Japanese characteristics of exceptional manoeuvrability and good range. The prototype first flew in May 1942, and eight development aircraft were produced in total. The significantly changed first production model, the J2M2, started to roll out of the factory in October of the same year.
The main changes for the J2M2 from the development aircraft were a different engine offering more power, different exhaust arrangement, shorter cowl because the propeller shaft length was reduced due to vibration problems, and redesigned cockpit glazing with a flat windscreen. Several problems led to more modifications being introduced during production, including engine vibration dampers, an oil cooler scoop under the nose, changes to fuel tanks and a different propeller with blades that were wider at their base. About 131 J2M2's were built.
The next version, the J2M3, introduced heavier armament and was manufactured whilst the J2M2 was still being produced. The fuselage machine guns were dropped and the wing 20-mm canons were doubled from two to four, although two different models of cannon with differing ballistic characteristics were paired in each wing. A better canopy from the J2M6 development model (two built) was introduced during the J2M3's production run. This was the most produced Raiden version with 435 being completed.
Various other development models were conceived and in some cases tested. One that was flown was the J2M4. It was based on the J2M6, but with a turbocharger to overcome the type's poor high altitude performance. Only two were built, each with a different make of turbocharger. Various armament configurations were considered, including oblique upward-firing cannon. More significant than the J2M4 was the J2M5 with its mechanically driven supercharger. It was about 30% less powerful than the turbocharged J2M4, but actually made it into production, although only 43 were built.
The Raiden's combat debut occurred in June 1944 in the battle of the Philippine Sea, and they were also encountered in Guam and Saipan. They found some utility defending the home islands against B-29's although their weak altitude performance was a hindrance. Outclassed by US fighters they also suffered at the hands of B-29 escorts, and once the B-29's switched to night raids they were of little use as interceptors. Some also confronted the Soviet invasion of Manchuria in the last days of WW2.
Small numbers of Raidens saw brief service post-WW2 with the Indonesian Peoples' Independence Force and the South Korean Air Force, but it is best remembered for it defence of mainland Japan against B-29 raids.
---
Previous 1/72 Raiden Kits
Tamiya released what I think was actually a 1/75-scale kit in the early 1970's. As a boy I recall my friend buying one in 1972, and am pretty certain I've see the odd one since, possibly claiming to be 1/72-scale. The far more readily available kit is by Hasegawa, and it has been around since the 1980's. This kit is like many of their earlier efforts with quite fine engraved panel lines, low parts count, basic interior detail and simple assembly. Typically for Hasegawa it has been re-boxed repeatedly with different markings. In the last year or so Resin Art released some stunning resin detail sets to for the Hasegawa kit to really lift the resultant model into the 21st Century. No doubt there have been other detail sets for the kit as well. So all in all the J2M is a rather overlooked subject which makes Sword's new release all the more welcome.
This kit comes in a typically Czech end-opening box with indifferent computer generated artwork on the front. The instructions provide a parts map and easy to follow diagrammatic assembly format. The diagrams are well drawn, and in fact better than some mainstream brands. There is also a brief history of the aircraft. Paint colours are given in Czech and English, with all other text in English. The painting and decal guide is quite adequate black & white shaded 4-view drawings with colour profiles on the rear of the box. Only generic colour call outs are provided for detail parts and the painting and markings guide. I would have thought Sword could have at least managed to call the main colours IJN Green and Grey. The parts are enclosed in a zip-lock bag, with the clear, resin and PE parts each in small bags of their own.
This is a typical Sword kit in that the plastic has a more shiny finish than many other Czech limited run brands. All parts are cleanly moulded with very fine surface detail, including very fine rivet lines. Pleasing from my point of view at least is that Sword has resisted any urge to cover the airframe in very fine rivets as they did with their P-47N.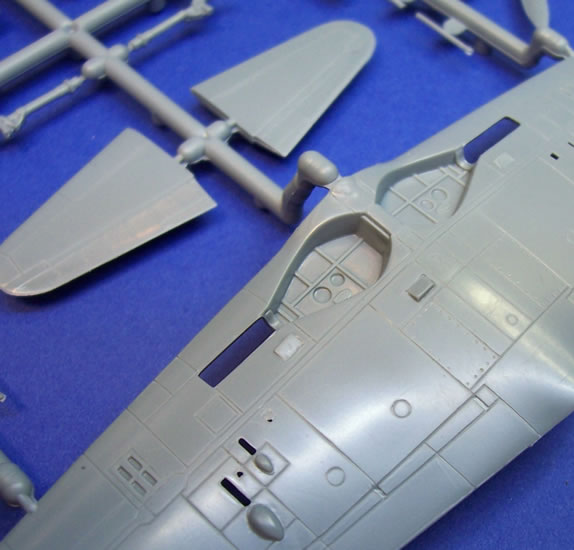 Parts break down is conventional for the type. The sprue gates are narrow, and there is barely a hint of flash in places (most noticeable on the props), but this will be easily dealt with. The resin parts are also produced to high standards.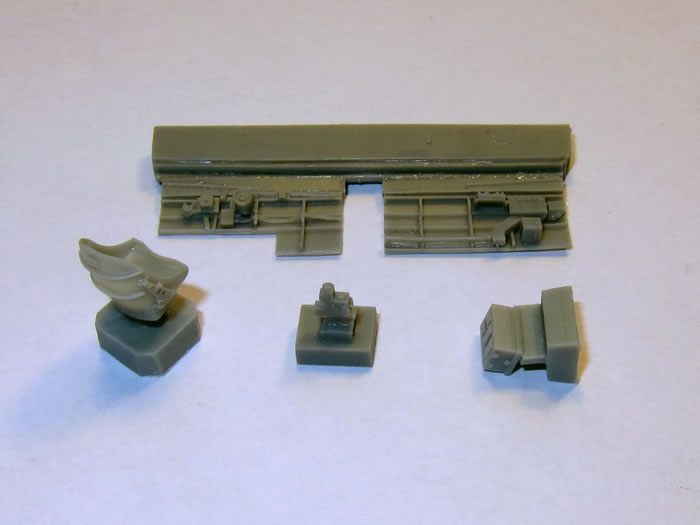 Internal cockpit detail combines a plastic floor, rear bulkheads with headrest and separate armour, rudder pedals, control column and instrument panel which fits into a partial front bulkhead and coaming. The sidewalls are resin as is the seat. Regrettably the seat doses not has a harness cast in place, and this may indicate another boxing with PE extras is to follow this one, as has been the case for several other Sword kits. There is also a resin gun-sight and the Raiden's prominent plate of bullet-proof glass.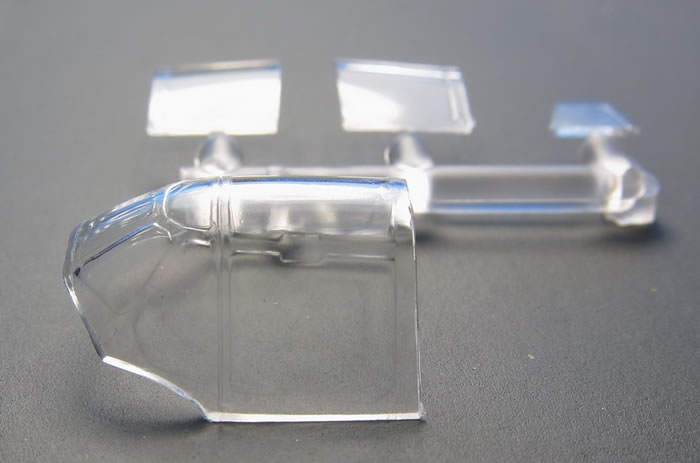 Detail in the cockpit area is rounded out with a resin radio to be installed behind the headrest along with the structural member that runs from the fuselage spine to the seat. The Raiden's is a large cockpit for a Japanese fighter, and the level of detail provided is good for the scale. But it's still certainly worthwhile fitting lap belts and the diagonal shoulder strap missing from the seat to lift its appearance.
Unsurprisingly only the engine's cooling fan and the grill behind it are provided, as no engine detail would be seen even if an engine were provided. There is a choice of propeller styles, but no guidance as to which one goes with which colour scheme. The engine cowl is completed with two separate rows of cowl flaps and integral exhaust stubs, the former being moulded in the closed position. I think the tooling is made this way in order for the exhaust to project separately from the fuselage, unlike the Hasegawa kit where they are moulded with the fuselage halves.
The wheel wells have some nice detail moulded integrally, and the wheels and legs look nicely done too. There are some fairly delicate retraction links for the small inner undercarriage doors. A drop tank with plumbing and commendably fine separate sway braces completes the underside.
There's not much left to describe. The props are acceptably fine, as are the inboard cannon barrels, and the clear canopy looks very good. Overall I should think that this kit will be a simple and enjoyable build.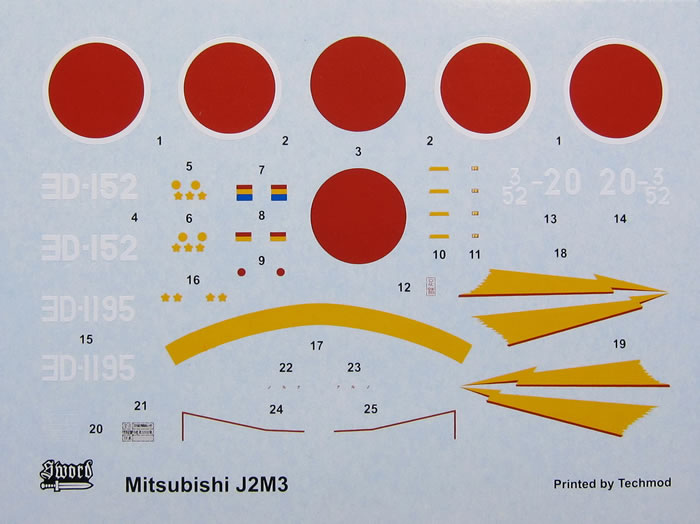 Three decal options are offered, these being:
1st Squadron/ 302nd Naval Air Group, Kanagawa Prefecture, Japan, Spring 1945.

3rd Squadron/ 352nd Naval Air Group, Nagasaki Prefecture, Japan, March 1945.

302nd Naval Air Group, Kanagawa Prefecture, Japan, 1945.
This is a nicely engineered kit that is produced to high standards. It looks to be a nice straightforward build with the potential to produce a very attractive J2M3 model. It's definitely a step up from Hasegawa's admittedly nice old kit, mainly because it offers considerably more detail .
Highly recommended.
Thanks to Sword Models for this review sample.
---
Review Text & Images Copyright © 2012 by Mark Davies
Page Created 21 March, 2012
Last updated 21 March, 2012
Back to HyperScale Main Page