Ilyushin Il-2 Shturmovik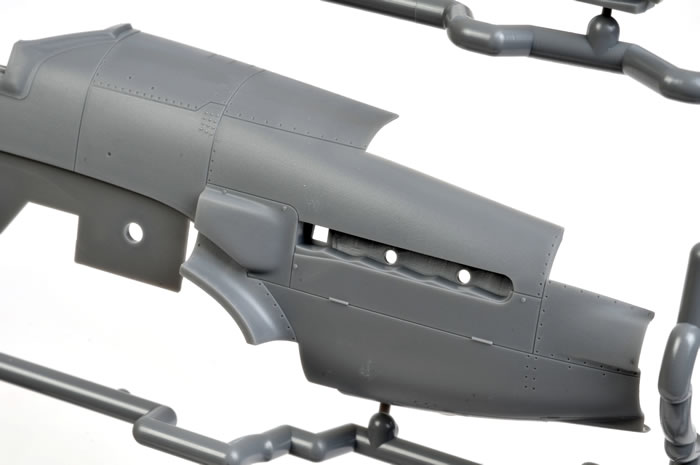 Tamiya, 1/48 scale
S u m m a r y

Catalogue Number and Description:
Tamiya Kit No. 61113 - Ilyushin Il-2 Shturmovik
Scale:
1/48
Contents and Media:

156 parts in grey plastic; 10 parts in clear; one polythene cap; self-adhesive canopy masks; decals for three marking options

.
Price:
TBA
Review Type:
Test Shot FirstLook
Advantages:

Perfectly moulded; accurate; beautifully crisp surface features; full-length fuselage halves; excellent detail; useful options including two styles of bombs, rockets and three types of gunner's canopy; alternative parts for closed or open canopy; includes pilot and gunner figures.

Disadvantages:
Conclusion:

In my opinion, even based on test shots, Tamiya's 1/48 scale Ilyushin Il-2 is the best Shturmovik kit available in any scale.
Reviewed by Brett Green


Tamiya's 1/48 scale Il-2 Shturmovik will be available online from Squadron

The Ilyushin Il-2 Shturmovik was a heavily armed and armoured Soviet ground attack aircraft.

The original production version had a crew of one, but a rear gunner's position was added following appalling losses in the first months after Operation Barbarossa. This hybrid version, using the same wings as the single-seater, suffered from pitch stability problems due to the changed centre of gravity, especially during take-off and landing. Nevertheless, the type entered front line service in October 1942, and the original wing design did not change until late 1943. This variant is identified as the Il-2m

The Il-2m3 was the definitive version of the Shturmovik. It could be distinguished from earlier versions by the 15 degree rearward sweep of the wings. This wing reconfiguration compensated for the shift in the centre of gravity caused by the addition of the rear gunner's position. The Il-2m3 type entered service late in 1943.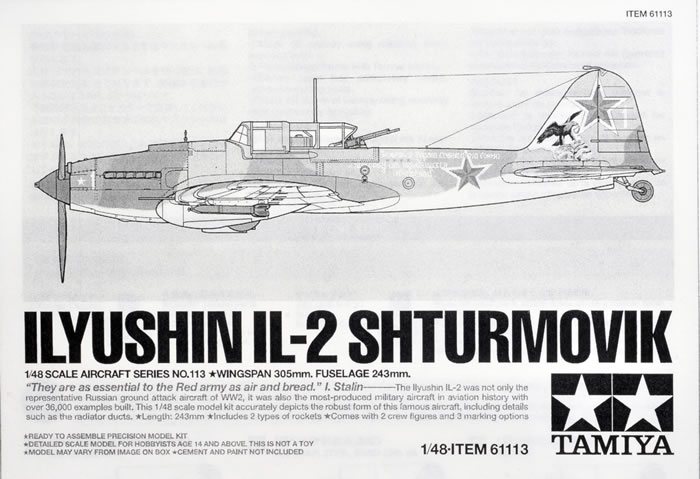 It is interesting to compare the Shturmovik with German aircraft designs in the latter part of World War Two. At a time when the Luftwaffe was introducing such groundbreaking technical features as radar, ejection seats, jet engines and remote guided weapons; the Shturmovik was crude by comparison. In fact, by any standards the Shturmovik was an unsophisticated aircraft. Creature comforts were non-existent - the rear gunner was not even supplied with a seat. He (or she) simply rested against a leather sling!

Nevertheless, the Shturmovik was a tough, manoeuvrable aircraft that was extremely well suited to its ground attack role. It could be equipped with a variety of weapons including rockets, bombs and anti-tank guns capable of killing even the fearsome Tiger tank.

Comparison of strategies also reveals fundamental differences. German fighter pilots saw themselves as "knights of the sky". Air-to-air combat was often considered to be the only honourable endeavour. German fighters continued to down Soviet aircraft in staggering numbers right to the last year of the war, but Luftwaffe ground attack units were used in a relatively uncoordinated manner.

Stalin, on the other hand, considered that the Shturmovik was as fundamentally important to the Red Army as bread. He personally intervened to ensure that nothing prevented the mass-production of this essential aircraft. The priorities of the opposing sides may be summarised by examining the production figures of specialised Soviet and German ground attack aircraft to 1945. For example, the Henschel Hs 129 (the standard German tank-busting aircraft from 1942) totalled 869 aircraft; while a total of over 36,000 Shturmoviks were produced!

In the end, the Soviet strategies of standardisation and mass-production overwhelmed Germany's high technology weapons.
---
Another Shturmovik?
Who says history never repeats?
I recall back in 2002 when Tamiya revealed that they would be releasing a new-tool 1/48 scale Messerschmitt Me 262, there were howls of anguish that we didn't need another Me 262; that the Dragon kit was perfectly good; and why didn't Tamiya give us an (insert your personal favourite aircraft here) instead?
Not surprisingly, when Tamiya's kit was released it was better detailed, had more options and was far easier to build than Dragon's offering.
Fast forward to the end of 2002 and there were even louder complaints when Tamiya's forthcoming 1/48 scale P-47D Thunderbolt was announced. What was wrong with the Hasegawa kit? Surely Tamiya should release an (insert your personal favourite aircraft here) instead.
Of course, Tamiya's resulting family of P-47 Thunderbolts are now acknowledged to be some of the best 1/48 scale plastic kits ever released.
The same pattern repeated itself with Tamiya's 1/48 scale Heinkel He 162 A-2 in 2006, and the A6M5 Zero in 2008, but once again in each case Tamiya delivered a kit with clever engineering, great detail and effortless construction - clear improvements over their predecessors.
So here we are again on the same old road. Surely we don't need a new 1/48 scale Il-2 Shturmovik...

Or do we?

Let's see if what Tamiya has up its sleeve with this latest release.
Tamiya has sent a set of test-shot sprues for their forthcoming 1/48 scale Ilyushin Il-2 Shturmovik, due for release in June.
The kit comprises 156 parts in grey plastic; ten parts in clear; one polythene cap and decals for three marking options.
This is an all-new model that has nothing in common with the tooling of the 1997-vintage Accurate Miniatures Il-2m3 Shturmovik.
Tamiya's new release is the definitive variant of the Shturmovik with the 15 degree wing sweep, often referred to as the Il-2m3, or sometimes the Il-2 AM-38 F. Tamiya's version represents a 1943/44 production machine with wooden rear fuselage and metal wings.
Moulding quality is perfect. Surface detail is some of the best that I have ever seen in 1/48 scale, mainly by way of very finely recessed panel lines, with some subtly raised hinge lines and selective rivets on the wings, open ejector ports and convincing raised fabric strips on control surfaces. The panel lines are comparable to scaled-down versions of the surface detail on Tamiya's benchmark 1/32 scale Spitfire and Mustang kits.
In the accompanying photographs, please note that I have angled the parts to amplify the effect of the panel lines, and gotten as close as possible with my macro lens for some detail shots - they are much bigger than life size on the computer screen. The detail is extremely subtle when viewed by the naked eye under normal room lighting.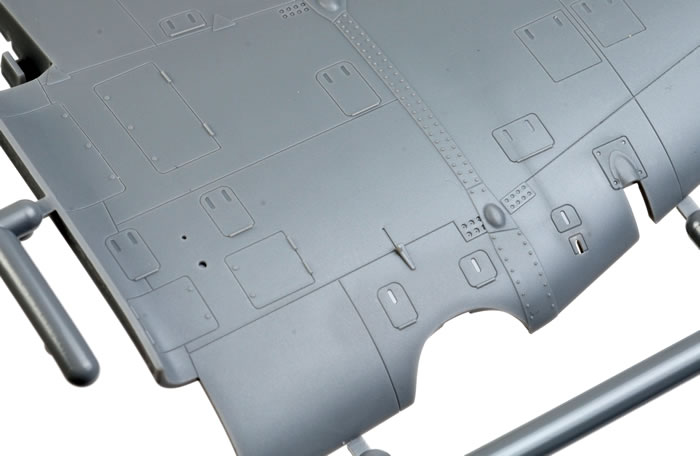 The fuselage halves are moulded full-length, which will come as a relief to anyone who has struggled with Accurate Miniatures' separate nose parts. Tamiya's kit also includes a basic engine block shape that adds structural rigidity to the forward fuselage and allows the inclusion of detailed ducting running from the top of the cowling deep into the engine bay.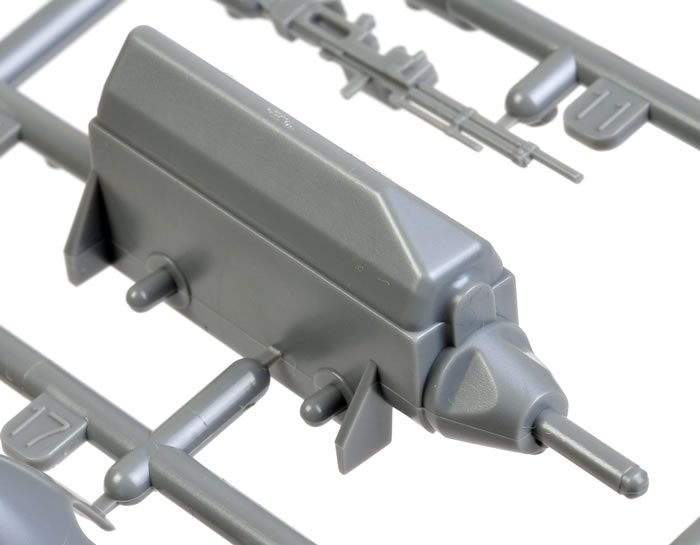 The front of the fuselage, with its distinctive scoops overlapping the spinner, is moulded to scale thickness.
Detail is excellent throughout. The cockpit features an instrument panel with decal dials, a number of separate quadrants and knobs, a well-rendered control column, side console and subtle detail moulded to the pilot's seat.
The mid-fuselage fuel tank is split horizontally, not vertically, so filling and sanding (if required) will be easier.
I like the deep sidewall detail on the three-piece tub insert for the rear gunner's position. It looks like the gunner's seat / sling will click into place and swing down into position without the need for glue. This flexibility will be appreciated if you are planning on using the gunner figure.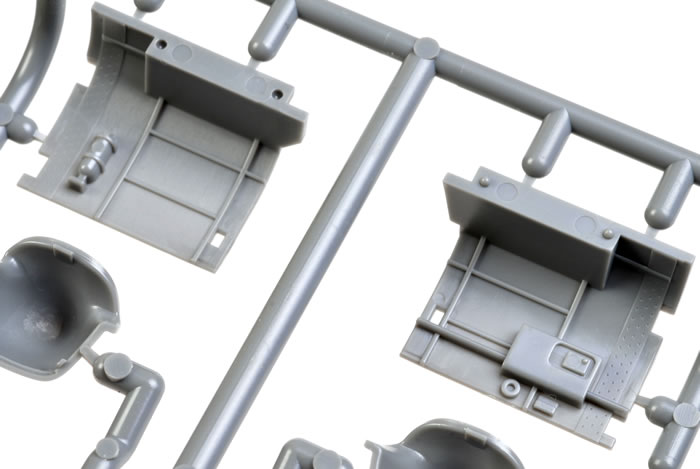 The 12.7 mm Berezin UBT machine gun with its ammo belt and mount look great.
Radiator and wheel well detail is beautifully reproduced with no visible ejector pin marks.
The five rear-facing exhaust stacks are moulded as one piece, with the rearmost stack provided separately. The ends of the five stack pieces are moulded solid but the more prominent single rear stack has been moulded hollow.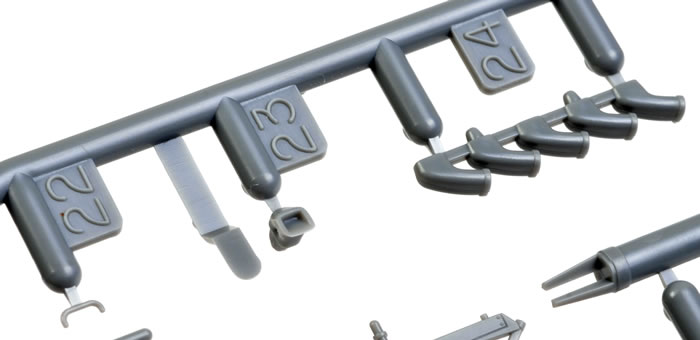 The shape of the spinner looks accurate, and the detail of the splined tip is impressive. The propeller blades look good too. A polythene cap is used to fit the propeller assembly.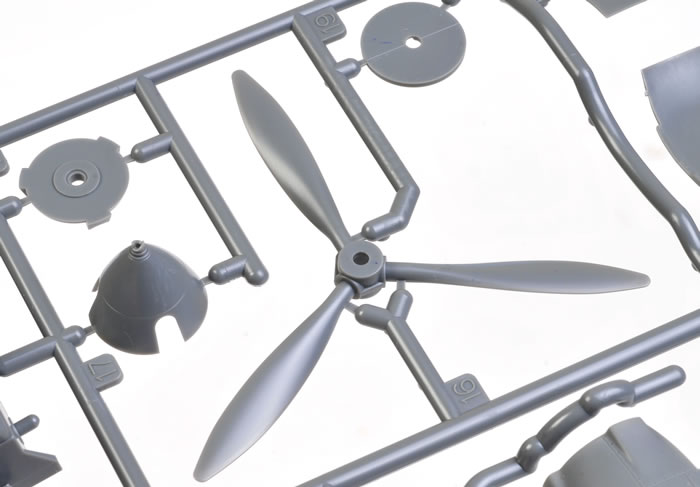 The outer sections of the wheel well are moulded to the bottom of the wing, with only the front caps supplied as separate parts. The main landing gear legs are trapped by these front caps, which should result in a strong bond and perfect alignment.
The undercarriage doors feature deep structural detail on the insides, once again free of any ejector pin marks. The wheels are gorgeously detailed. The tail wheel assembly is split into two halves. The tyre detail on the small parts looks fantastic.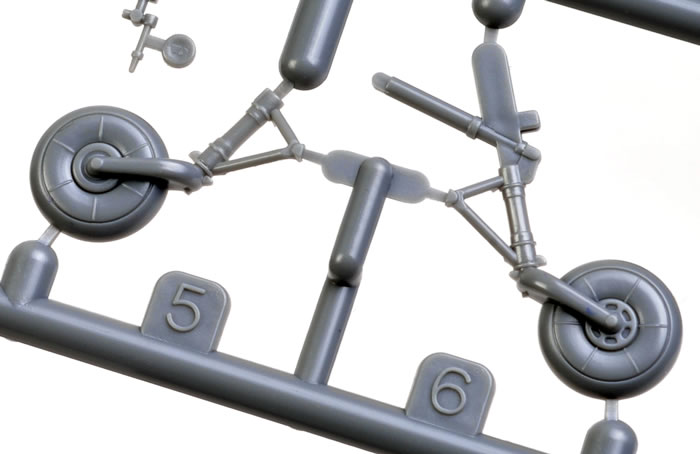 All control surfaces are moulded shut and neutral. Trailing edges are razor sharp. Actuators are supplied as delicate separate parts. The rudder balance horn is moulded to one side of the rudder.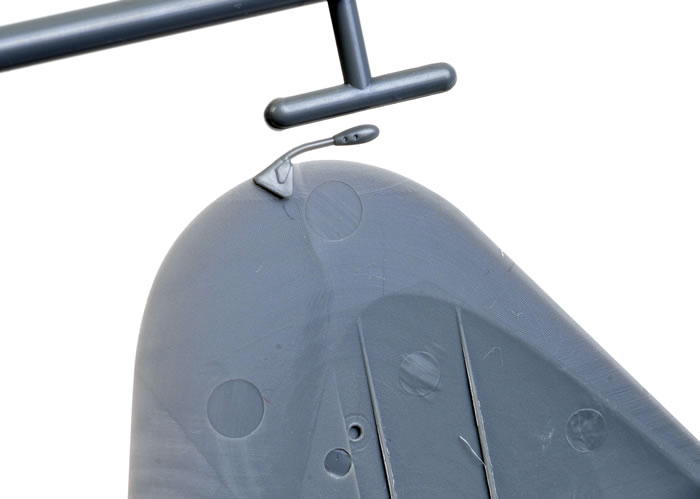 Two sets of FAB-100kg and FAB-200kg bombs are included. Four RS-132 rockets are provided too, with separate fins and two alternative styles of mounting rail.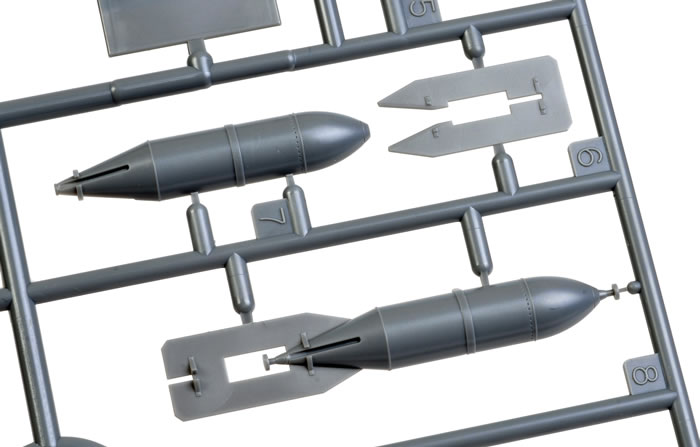 Clear parts are thin and completely free of distortion. Alternative canopy parts are supplied for closed or open configurations. The open canopy provides a single part cleverly representing the sliding section over the top of the centre section. This completely avoids the problem of overscale thickness of multiple overlapping plastic parts compromising a realistic finish.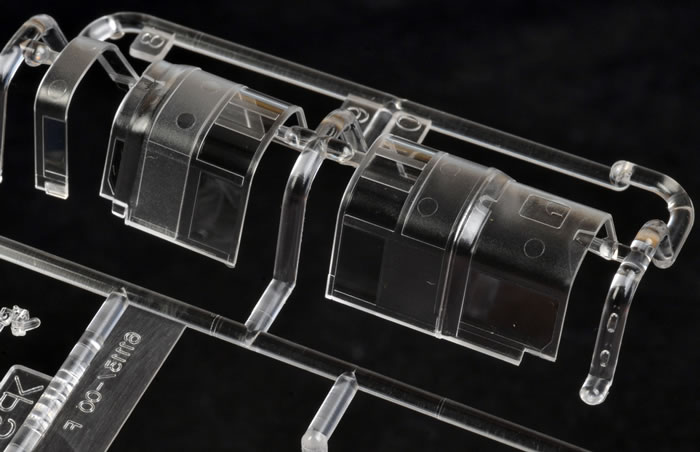 The three styles of rear canopy may be posed open. They are moulded with two locating tabs that may be cut off if you would rather display the rear canopy closed. Please note that the ejector pin circles in the photos are on the inside of the clear parts, in areas that will be painted on the outside. They will not be visible on the finished model.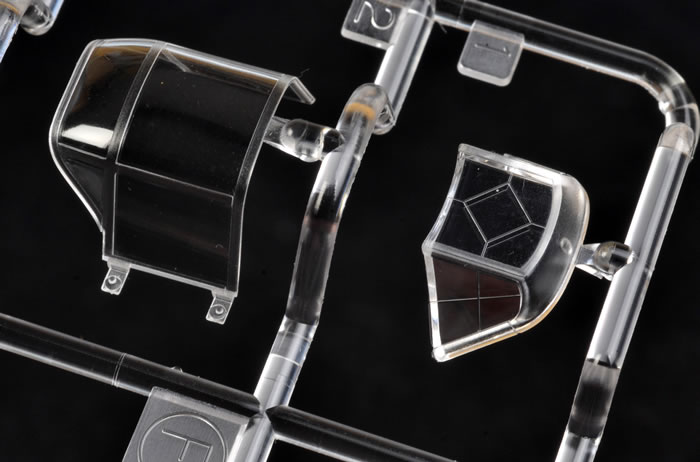 By the way, Tamiya advised that the moulds for the clear parts in my sample had not received their final polishing, so the production parts will be even better than these.
Tamiya has also supplied seated pilot and rear gunner figures. The gunner is made up from four parts and is squatting on his sling in the rear cockpit. His facial expression is suitably miserable considering his circumstances. The figures included in my sample are very early test shots and do not necessarily represent the moulding quality of those that will be in the production kit.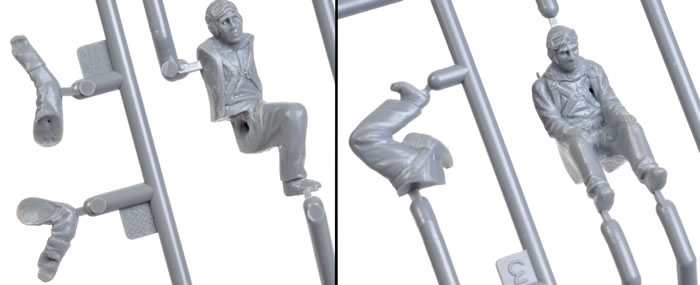 Markings will be supplied for three aircraft, but the decals are not yet available.
Similarly, a sheet of self-adhesive canopy masks will be included with the production kit, but they are not ready at this time.
Tamiya has now woven its magic on the most produced aircraft in history, and one that had a major impact on the outcome of the Second World War.
In my opinion, Tamiya's 1/48 Ilyushin Il-2 is the best Shturmovik kit available in any scale. Surface textures are restrained and convincing, engineering will allow for trouble-free construction with no compromise to detail, and plenty of useful options are provided.
As to the question of whether we needed another Shturmovik, after closely examining the contents of this kit I would have to say "yes".
There is no such thing as consensus on the most deserving model subject. This point was proven a few days ago on HyperScale's Plane Talking Forum when visitors were asked what they though the next 1/48 scale Tamiya release should be. Out of nearly 50 responses, there nearly 50 different suggestions.
Under those circumstances, I am happy to leave the decision up to Tamiya.
I can certainly understand why Tamiya chose the Il-2. It is one of the most significant aircraft in history, was produced in greater numbers than any other, it features a good variety of camouflage and markings, it could form the basis for a whole family of kits and the only other 1/48 scale Il-2 models were produced in 1997.
Regardless of the subject though, building any Tamiya release from the last decade or more has been an experience to savour and enjoy. I fully expect that this new Shturmovik will be equally rewarding to build as its most recent predecessors.
I won't wait long to find out for myself though!
Thanks to Tamiya Japan for the sample
Tamiya kits are distributed in the UK by The Hobby Company Limited
---

Text and Images Copyright © 2012 by Brett Green
Page Created 22 April, 2012
Last updated 22 April, 2012
Back to HyperScale Main Page