ROTACRAFT®
Accessory Sets
from Shesto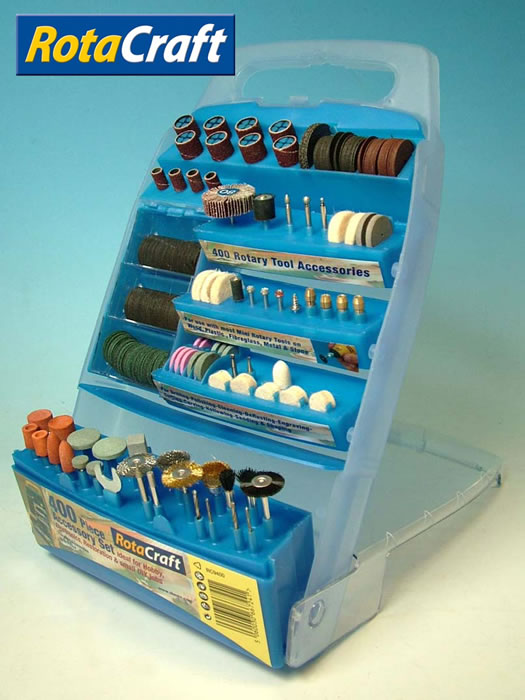 PREVIEW


HyperScale is proudly supported by Squadron.com

Handy, Economical ROTACRAFT®* Accessory Sets From SHESTO Fit All Makes & Models Of Miniature Rotary Tools!

Versatile ROTACRAFT® Accessory Sets for all types of mini rotary tools are available from SHESTO LTD – world leader in quality tools and creative products for professionals and enthusiasts!*

The "super value" Accessory Sets are terrific for a wide range of craft, hobby, and DIY needs – and fit all common rotary power tools. Popular ROTACRAFT® solutions include:
400 Piece Accessory Set & Case [RC9400]. This handy assortment includes 400 versatile accessories for mini rotary tools. The convenient collection features a complete accessory listing with usage details and recommended maximum speeds – all in a compact, rugged storage case. It's your "all in one" accessories solution!

25 Piece Sanding & Shaping Set [RC9001]. Highly versatile and terrific for detail! This useful set includes an assortment of Flap Sanders, Sander Bands and Sanding Discs for precise work on smaller pieces. With shaft diameters of 2.35mm and 3.2mm, contents fit all mini rotary tools!

30 Piece Cleaning & Polishing Set [RC9002]. The perfect companion to RC9001! Contents feature a handy assortment of Wire & Nylon Brushes, Felt & Cotton Buffs, and Sander Bands for precisely finishing small work pieces. With shaft diameters of 2.35mm and 3.2mm, components fit all mini rotary tools!

30 Piece HSS Mini Drill Bit Set [RC9003]. High Speed Steel drill bits for all mini rotary tools! This compact assortment includes bits in 0.5, 0.6, 0.8, 1.0, 1.2, 1.5, 2.0, 2.35 and 3.0mm sizes.

24 Piece HSS Carving & Milling Set [RC9004]. Precisely carve wood, plastics, stone, glass, and many metals with this adaptable array! The set's precise carving and milling burrs fit all mini rotary tools up to 3.2mm diameter – and include round, cone, taper, and cylinder shapes for practically every job.

60 piece Cutting & Grinding Set [RC9005]. Ideal for precisely cutting and preparing smaller work pieces! The convenient collection includes all popular types of Grinding Stones & Wheels, Reinforced Cutting Discs, Mini Steel Circular Saws Blades, and Diamond Cutting Blades. With shaft diameters of 2.35mm and 3.2mm, contents fit all mini rotary tools!

30 Piece Diamond Engraving Bit Set [RC9006]. Terrific for craft or security engraving on glass, metals, stones & plastics! This versatile assortment includes Diamond Engraving Bits in round, cone, taper, flame, and cylinder shapes. With a shaft diameter 3.2mm, they're perfect for all mini rotary tools.
Most ROTACRAFT® accessories can be purchased individually. SHESTO also offer other versatile ROTACRAFT® drill bit assortments – including three different "Microbox" Drill Sets, and Twist Drills, and Shank Drills.
The growing ROTACRAFT® line also features "all in one" power tool & accessory sets – including both corded and cordless models. ROTACRAFT® products are excellent for a wide range of activities, including:
crafts & hobbies,

sculpture & 3-D art,

jewellery making & engraving,

wood- & metal-working

furniture restoration,

automotive detail & spot repair,

electronic & light industrial work,

small DIY jobs, and

household repairs
For details, contact SHESTO LTD, Unit 2 Sapcote Trading Centre, 374 High Road, Willesden, London, NW10 2DH, United Kingdom:
• Tel: +44 (0) 20 8451 6188
• Fax: +44 (0) 20 8451 5450
• Web: www.shesto.com
• Email: Sales@Shesto.co.uk
For over a century, SHESTO LTD have led the world in quality tools for professionals and enthusiasts alike. In addition to its popular MODELCRAFT® tools range, the company's comprehensive lines of creative, precision products include SPRAYCRAFT®, JEWELTOOL®, LIGHTCRAFT®, ROTACRAFT®, and FOILART®. SHESTO currently supply tools to over 60 countries worldwide.
Thanks to Shesto for the information and images.
---
Text and Images Copyright © 2012 by Shesto
Page Created 1 April, 2012
Last updated 1 April, 2012
Back to HyperScale Main Page
Back to Reviews Page