AviaDossier #1
Canadian Aircraft of WWII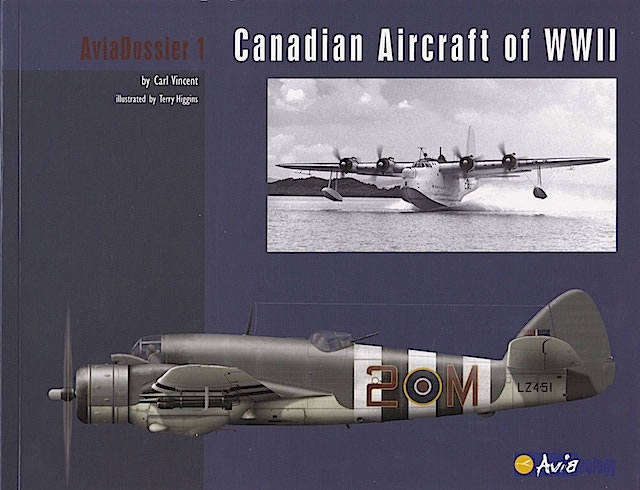 by Carl Vincent
illustrated by Terry Higgin
Aviaeology
S u m m a r y :

Catalogue Number and Description:

Aviaeology, by Skygrid
AviaDossier #1: Canadian Aircraft of WWII

ISBN:

978-0-9780696-3-6

Contents and Media:

Soft cover, 72 pages, A4 landscape format; English text; black-and-white and colour photographs; colour profiles; separate double-sided fold-out sheet with 1/48 scale plans

Price:

CAD $29.99 plus shipping available online from www.aviaeology.com.

Review Type:

First Look

Advantages:

Thorough research, interesting stories and great illustrations

Disadvantages:

None noted

Conclusion:

A must-have release if you are interested in Canadian or Dominion aviation during World War Two.
Reviewed by Brad Fallen


HyperScale is proudly supported by Squadron.com
Aviaeology decals are well known for their combination of interesting (usually Canadian) subjects, meticulous research and comprehensive instructions. If you aren't familiar with the company, have a look at these reviews of their Beaufighter and Sunderland decals to see what I mean; these are some of the best decals available, anywhere.
Aviaeology's "Aviadossier #1: Canadian Aircraft of WWII" delivers information of a similarly high standard in book form, covering 20 aircraft types that served with the RCAF between 1939 and 1945. Some of these have been covered in separate Aviaeology decal releases, but most have not. Each type has a chapter of its own, where it is given the following treatment:
A short narrative by author Carl Vincent that, in the words of Aviaeology editor Terry Higgins, "can vary greatly from subject to subject – an individual machine, an aircraft type as a whole, a noteworthy crew or pilot, a certain mission, etc." Vincent is an engaging writer and I was quickly drawn in by the events in his stories, which take place in wartime Canada as well as over Europe and the North Atlantic.
A selection of well-reproduced period photos that relate directly to the specific aircraft, crew or events related in Vincent's narratives. Most are black-and-white but there are some revealing colour images, such as the 1942 photo of a Supermarine Stranraer finished in the four-colour countershaded Temperate Sea Scheme.
Full colour profiles by Terry Higgins – these have been drawn to complement the text and photos in each chapter, and feature side profiles of one or more of the individual aircraft mentioned therein. The profiles are accompanied by detailed captions that describe the key features and service history of the illustrated aircraft.
The specific aircraft are:
Consolidated Catalina Mk.I
Northrop (Canadian Vickers built) Delta Mk.II/III
Spitfire FR.IX and FR.XIV
Focke Wulf Fw 190 F-8, Wk.Nr.933849, flown by Wing Commander James "Stocky" Edwards, 127 Wing RCAF, Soltau, Germany, May/June 1945.
Following the aircraft-specific chapters are five pages of useful reference material, including a bibliography, glossary, appendices (one on RCAF structure and another on U-boat encounters referred to in the book), and an index. Rounding out the package are maps of Canada, Newfoundland and Alaska (inside the front cover), RCAF and RAF stations in the UK and northern Europe (inside the back cover), and northwestern Europe (also inside the back cover). As with Aviaeology's decal releases it is the inclusion of this detailed supplementary information that makes this book stand out, by indicating the breadth and depth of research that has gone into the publication.
Production quality is high. Printing is crisp and the quality of photographic reproduction is good. The profiles are beautifully rendered, and almost certainly the reason why the book has been published in landscape rather than portrait format.
This book's combination of thorough research, interesting stories and great illustrations add up to another impressive release from Aviaeology. It is, I think, a must-have if you are interested in Canadian or Dominion aviation during the war – and even if you're not, I defy you to flick through the book without finding some form of modeling inspiration. How about a black and yellow Blackburn Shark target tug on floats? Personally I can't go past "Stocky" Edwards' Fw 190 F, complete with his initials roughly painted along the fuselage sides. Highly recommended.
Review Sample Compliments of Aviaeology
---