Captured Eagles
German WWII Aircraft Captured by the Allies, Volume 1 – Digital Edition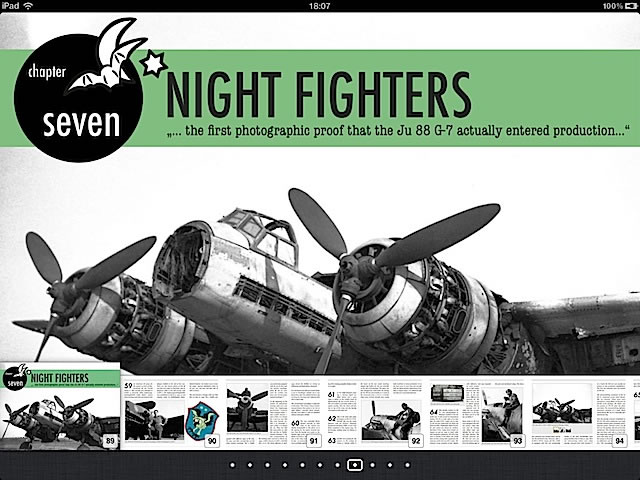 S u m m a r y

Publication Details:

Vintage Eagle Publishing
Captured Eagles: German WWII Aircraft captured by the Allies, Volume 1 –
Digital Edition


ISBN:

978-3-9524089-0-2

Media and Contents:

Digital

Price:

Review Type:

FirstRead

Advantages:

Cheaper and more flexible format than hard-copy book; inclusion of additional photos that were not in the original publication.

Disadvantages:

Digital format may not suit everyone.

Conclusion:

Highly Recommended.
Reviewed by Brad Fallen

HyperScale is proudly supported by Squadron
Vintage Eagle's first publication, "Captured Eagles: German WWII Aircraft captured by the Allies, Volume 1", was released in traditional book format in 2011. I reviewed it on Hyperscale here
http://www.hyperscale.com/2011/reviews/books/capturedeaglesvol1bookreviewbf_1.htm and recommended it to anyone interested in late war Luftwaffe aircraft and/or some of the schemes applied to captured aircraft by the Allies.
The author of "Captured Eagles" and force behind Vintage Eagle Publishing, Roger S. Gaemperle, is currently working on a second volume in the series. In the meantime, he has taken the opportunity to release a digital edition of the original book. At first glance, this appears almost identical to the hardcopy edition. Look a little closer, however, and there are some significant differences.
The first is price. The digital edition is available for less than half the cost of the hardcopy version. And while there may be limitations to the electronic format (for traditionalists like myself, it seems much less tangible and robust than a book) it is also more flexible and interactive.
This is the second difference. The digital version includes a search function, which allows you to use a keyword search to quickly find the information you need. You can also lift individual photographs off the page and display them in full-screen view, which delivers a much clearer reference image than the book can provide. I was surprised by how much higher the quality of the photographs was in the digital edition compared to the book. Not that the photos in the book are poorly reproduced – far from it – but the digital photos were crisper and with better colour balance.
Finally, and most importantly from a reference point of view, the digital version includes 14 photographs that were not in the original book. Presumably, these were culled during the editing process because there wasn't room for them in the book; it certainly wasn't because of their quality, which is excellent. Space isn't a problem in the digital edition, of course, where the additional photos are supplied as thumbnails that can be enlarged as required. All of the new photos are of machines that were covered in the original book, but this doesn't detract from their value.
The additional photographs are as follows:
Junkers Ju 88 T-1, W.Nr.1407/'8H+ZH' of 1.(F)/33, which crash-landed near Oran, Algeria in July 1944 (three new photos);
Junkers Ju 87 D, W.Nr.412211/'8M+EH' of 1./Schleppgruppe 1, found abandoned at Friztlar, Germany (two new photos);
Messerschmitt Me 410 B, W.Nr.130378/'395', unit and location unknown (one new photo);
Heinkel He 162 A-2, W.Nr.120067/'White 4' of 1./JG 1, captured at Leck, Germany, 1945 (three additional photos);
Junkers Ju 88 G-1, W.Nr.714657/'PN+JG', found derelict at Kitzingen, Germany, 1945 (two new photos); and
Junkers Ju 88 G-6, W.Nr.622322/'U5+NT' of V./NJG 2, found near Brunnthal, Germany in 1945 (two additional photos).
The new photos further enhance "Captured Eagles" already considerable value as a reference source. For example, the additional photos of the abandoned Ju 87 D reveal its Werk Nummer and tactical markings – information that wasn't available when the hard copy book was compiled.
I liked the hardcopy edition of "Captured Eagles", and I like the digital edition even more, because its increased flexibility compared to the original book makes it a potentially more useful reference tool. The digital version does lack some of the advantages of a book – it isn't as easy to browse through, and I'll have to be careful with solvents on my workbench when I've got the iPad open. But overall the concept is a winner – and increasingly, I think, the future of reference works like this one, because the digital format makes them more affordable than hard copy books produced in low quantity print runs.
Highly recommended, and I'm looking forward to Volume 2 in whatever format it's released!
---
Review Copyright 2013 by Brad Fallen
This Page Created on 25 November, 2013
Last updated 25 November, 2013
Back to HyperScale Main Page
Back to Reviews Page