MMP Books – White Series
Consolidated Mess
The Illustrated Guide to Nose-turreted B-24 Production Variants in USAAF Combat Service
by Alan Griffith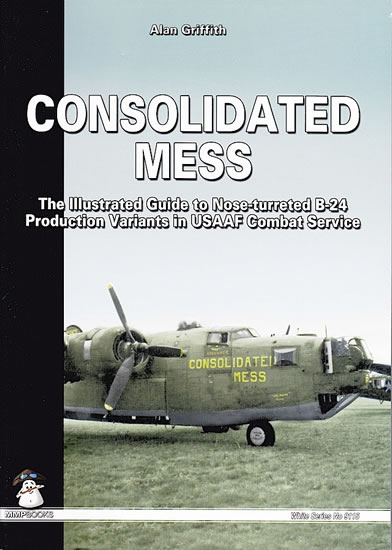 S u m m a r y

Publication Details:

Consolidated Mess - The Illustrated Guide to Nose-turreted B-24 Production Variants in USAAF Combat Service by Alan Griffith
MMP Books White Series #9116

ISBN:

978-83-61421-16-0

Media and Contents:

Soft cover, 162 pages, A4 format; English text; black-and-white and colour photographs; colour and black and white profiles; black and white detail sketches

Price:

GBP£24.99 available online from Mushroom Model Publications' website

Review Type:

FirstRead

Advantages:

Fascinating subject; well-written text; excellent illustrations

Disadvantages:

Conclusion:

The definitive study of nose-turreted B-24s.
Reviewed by Brad Fallen

HyperScale is proudly supported by Squadron
If you want to build an accurate model of a late production B-24, then you need Alan Griffith's "Consolidated Mess" – full stop. Before reading this book I knew there were many different versions of nose-turreted B-24s, but I had no idea of how numerous, varied and in many cases subtle these differences were. Turrets, gun installations, windows and camouflage finishes are only some of the variations addressed in what is clearly the result of many years' research and analysis.
The author has done well to organise this information into an interesting and coherent narrative, and the book is structured as follows.
Chapter 1: Why the B-24? – a useful explanation of the B-24's design origins.
Chapter 2: Protection. A study of nose-turreted B-24 armament which opens by noting that the aircraft covered in the book were fitted with "three different nose turrets, three belly gun configurations, four different models of the Martin A-3 top turret, and five different tail gun turrets/configurations [as well as] four different production variations and two modification packages for the waist gun position". Each of these features is then analysed in detail, accompanied by a series of very clear photographs.
Chapter 3: In the Beginning There was Glass…The HAD/FAD-MAD/OCAD Mods. This chapter explains the modifications made to B-24s in depots across the United States and overseas, including the first nose turrets fitted to previously greenhouse-nosed B-24Ds.
Chapter 4: The "Fiddly Bits" – Changes in Nose Windows, Canopies, Glazing and Others. These are one of the hardest bits to get right in a B-24 model, particularly for kit manufacturers, because there are so many variations. This chapter makes an excellent attempt at describing these differences, through a combination of explanatory text, photographs and scrap drawings.
Chapters 5 through to 9 provide a commentary on the differences between and within B-24G-NT, B-24H, B-24J, B-24L and B-24M production variants. As before, the text and illustrations complement each other perfectly, with the author using port-view line drawing profiles to indicate the differences between each version.
The final 60 pages of the book are devoted to seven appendices, which examine paint recognition features, list production block and other identification information, and provide further details on armament modifications. Also described is the final B-24 variant, the N, as well as a bizarre 'zwilling' design proposed in 1943 but – perhaps thankfully – never developed.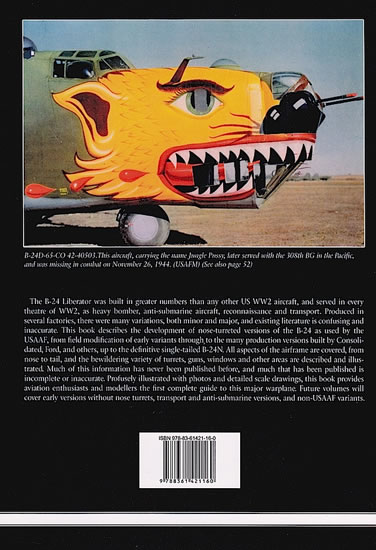 The book's production quality is excellent. The text is well edited and highly readable, and the photographs and drawings are clearly reproduced and well presented (the A4 format helps here). The author's and publisher's commitments to quality are best expressed, I think, through the three addenda which have been added to the end of chapter 3 to incorporate important new information, and the Ford/Willow Run paint scheme profile that was accidentally omitted from the book but which MMP has made available for download from its website.
Mr. Griffith is generous in his appreciation of the many other B-24 researchers who provided material for this book, and it represents an exceptional addition to the field of aviation research.
Long ago, the great Harry Woodman wrote of aviation research literature: " What is very apparent is that only a few hard workers have brought the coal up to the top whilst a myriad of others are carting it away in bucketsful on the surface."
Mr. Griffith has done some deep digging indeed.
Thanks to MMP Books for the sample.
---
All MMP Books are available direct from the publishers, who now accept credit cards (Visa, MC, Amex, Switch)
North American distributors are MMD, Australian distributors are Platypus Publications. In Europe, the books are available from any good bookshop (via our UK distributors, Orca). Contact MMP direct in case of difficulties.
Thanks to Roger at MMO Books for the sample.
---
Review Copyright 2013 by Brad Fallen
This Page Created on 27 November, 2013
Last updated 27 November, 2013
Back to HyperScale Main Page
Back to Reviews Page