The Messerschmitt Bf 109 – Early Series (V1 to E-9 including the T-Series)
A Complete Guide to the Luftwaffe's Famous Fighter
by Richard Franks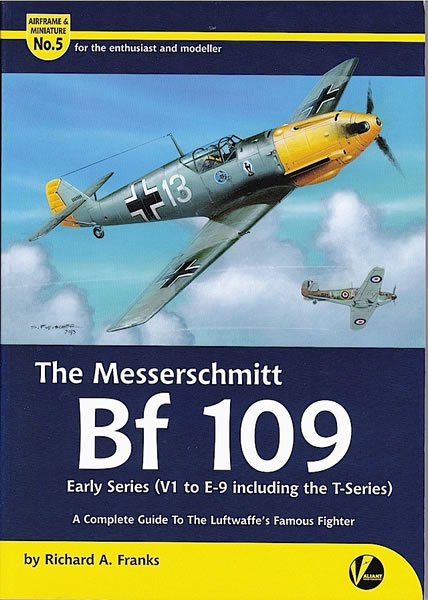 Valiant Wings Publishing
Airframe and Miniature No.5
S u m m a r y

Publisher and Title:
Valiant Wings Publications – Airframe and Miniature No.5
The Messerschmitt Bf 109 – Early Series (V1 to E-9 including the T-Series): A Complete Guide to the Luftwaffe's Famous Fighter
by Richard Franks
ISBN:
978-0-9567198-7-4
Media:
Soft cover; A4 format; 208 pages; black and white and colour drawings and photographs; 14 fold-out pages of plans.
Price:
£19.95 plus postage available online from Valiant Wings
Review Type:
First Read
Advantages:

Good balance between historical analysis and modeling information and advice; excellent illustrations; highly readable text.

Disadvantages:
Conclusion:

The most ambitious title yet published in the Airframe and Miniature series, and a book that will definitely be on my workbench when I start my next Bf 109 project. Highly recommended to anyone with even a passing interest in the Bf 109 as a modelling subject.

Reviewed by Brad Fallen


HyperScale is proudly supported by Squadron.com

The first modeling reference book I bought, back in 1983, was Cross and Scarborough's "Messerschmitt Bf 109 Versions B-E: Classic Aircraft – Their History and How to Model Them". Since then I have accumulated many more books on the Bf 109 – and there are plenty to choose from, because the type's popularity has made it one of the most written-about aircraft in history. Hundreds of studies have debated the Bf 109's historical significance, dissected its technology and provided advice on how to model it; the flow shows no sign of diminishing.
It was into this crowded market that, earlier this year, Richard A. Franks released the fifth volume of the Valiant Wings Airframe and Miniature series. After exploring the Me 262, Hawker Typhoon, Fw 190 D/Ta 152 and Hawker Tempest, Franks has turned his attention to the Bf 109. Given the breadth of his subject matter, Franks has sensibly divided the project into several parts, with this first volume focusing on early Bf 109s up to the end of the E and T series.
The first thing I noticed when I picked up the book was its heft: at 208 pages, it's significantly longer than all previous volumes in the series. In structure, however, it is very similar, with the author first presenting a detailed history of early Bf 109 development, and following this with four chapters aimed specifically at modelers.
The book is broken down as follows:
Evolution. This short chapter examines the first three Bf 109 prototypes (the V1, V2 and V3), describing key identifying features of each airframe before moving on to a similar treatment of their camouflage and markings. The text is backed up by selected period photos – some of them familiar, others less so – and black-and-white port profiles of the three aircraft, a formula that is repeated in chapters 2 to 6 below.
Bf 109 B series. A number of B series pre-production machines are described in the same manner as above, before outlining the differences between BFW-, Fieseler- and Erla-built production Bf 109 Bs. It's worth noting here that some aspects of early Bf 109 production and nomenclature remain contentious, and I suspect that not all readers will agree with Franks' analysis of these subjects in this and other chapters. As a non-experten, however, I found the information as presented to be a useful untangling of the Bf 109's complicated early development.
Bf 109 C and D series. Another short chapter that deals with these two variants that saw limited production and are frequently confused with one another.
Bf 109 E Prototypes. This fascinating section provides the most detailed coverage I have yet seen of the Bf 109 E prototypes and pre-production machines.
Bf 109 E Production. Think you know your Bf 109 Es? This chapter covers the E-1 to the E-9/N Trop and everything in between, and is an essential starting point for anyone wanting to conduct further research into this variant.
Bf 109 T Series, Projects and One-Off Conversions. This chapter presents a helpful chronology of the development of the Bf 109 T, before briefly examining the Bf 109 S two-seat trainer and the sole Pratt and Whitney-engined V21 and Spanish Hispano-Suiza-engined E-1 conversions.
Camouflage and markings. Here Franks tackles head-on the potentially controversial subject of early Bf 109 camouflage. He begins with a detailed look at the colours of Bf 109s in Spain before turning the evolution of camouflage on Luftwaffe machines, and then concluding with a discussion of the finish applied foreign-operated Bf 109s. Then comes the icing on the cake: 14 pages of full colour profiles, overhead views, stencil placement guides and unit badges, which will be useful to anyone looking for inspiration for a Bf 109 project.
Bf 109 V1 to E-9 and T-series kits. The first of the modelling-specific chapters, this section describes – as completely as possible – all kits of early Bf 109s that have so far been released; it's an extremely useful resource to which I know I'll be referring frequently.
Building a Selection. Exactly as described: well-known and talented modelers Libor Jekl and Steve A. Evans build and paint selected 1/72, 1/48 and 1/32 Bf 109 kits, describing the pluses and minuses of each along the way.
Building a Collection. This 22-page chapter highlights, by way of front-quarter view grayscale drawings, the key identifying features of all Bf 109 variants from the V1 to the V21.
In Detail. This chapter uses a combination of technical drawings and period and contemporary photographs to provide what can only be described as a super-walkaround of most early Bf 109 variants.
There are also four appendices, which address the following subjects:
Bf 109 V1 to E-9 (including T-series) Kit list. If you have any doubts about the Bf 109's popularity as a modeling subject, they will be removed completely by this and the following two lists; the kits are listed in closely typed, small font, but still almost completely fill four A4 pages.
Bf 109 V1 to E-9 (including T-series) Accessory list – this list also runs to four pages.
Bf 109 V1 to E-9 (including T-series) Decal list. And this list is eight pages long – I knew there were a lot of Bf 109 decals out there, but….!
Bibliography
The book concludes with 16 pages of folding plans that have been fastened inside the back cover, focusing on the V1, B-0, D-1, E-1, E-7 Trop, and T-2.
'The Messerschmitt Bf 109 Early Series' is the most ambitious title yet published in the Airframe and Miniature series, and in my view it succeeds admirably.
I like the balance that is struck between historical analysis and modeling advice, as well as the sheer volume of material is provided; even if you don't agree with all of the author's conclusions, you'll have plenty of information to hand to conduct further research.
This book will definitely be on my workbench when I start my next Bf 109 project.
Highly recommended to anyone with even a passing interest in the Bf 109 as a modelling subject.
Thanks to Valiant Wings Publishing for the sample.
---
Review Copyright © 2013 by Brad Fallen
This Page Created on 13 November, 2013
Last updated 13 December, 2013
Back to HyperScale Main Page
Back to Reviews Page