MiG-29 SMP/BM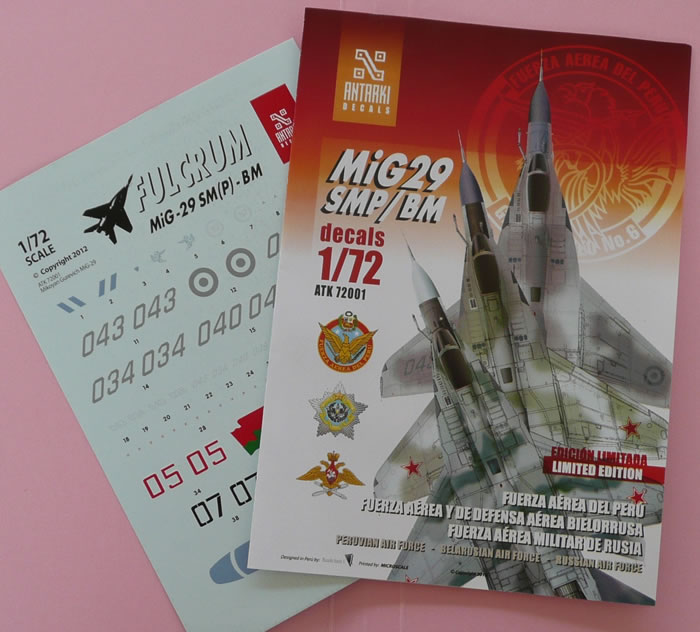 Antarki, 1/72 scale
S u m m a r y :

Catalogue Number:

Antarki Item No. ATK72001 - MiG-29 SMP/BM

Scale:

1/72

Contents & Media:

Waterslide decals with colours & markings guide.

Price:

Available worldwide at a price of $17 dollars plus $5 for shipping. e-mail: antarkimodels@gmail.com (Paypal only at the time)

Review Type:

First Look.

Advantages:

Peruvian MiG29 decals, designed in Peru by Ricardo Iraola for the ICM MiG-29 9-13.

Disadvantages:

Not enough Stars for option C

Conclusion:

Highly Recommended for Peruvian MiG-29 fans.

Reviewed by Phil Parsons


HyperScale is proudly supported by Squadron.com
MiG-29BM The MiG-29BM (probably Belorussian Modernised, possibly Bolyshaya Modernizaciya – large modernization) is an upgrade to the MiG-29 conducted by the ARZ-558 aircraft repair plant in Baranovichi, Belarus. The MiG-29BM is a strike variant of the MiG-29 pure fighter, the Belarusian counterpart to the Russian MiG-29SMT.It includes improvements to weapons, radar, as well as adding non-retractable air-air refuelling ability.
MiG-29SMP / MiG-29UBP Upgrade for the Peruvian Air Force MiG-29 fleet. In August 2008 a contract of US$ 106 million was signed with RAC MiG for this custom SMT upgrade of an initial batch of eight MiG-29, with a provision for upgrade of the remainder of the Peruvian MiG-29 fleet. The single-seat version is designated SMP, whereas the twin-seat version is designated UBP.
The SMP standard features an improved ECM suite, avionics, sensors, pilot interface, and a MIL-STD-1553 databus. The interfaces include improved IRST capabilities for enhanced passive detection and tracking as well as better off-boresight launch capabilities, one Multi Function Colour Display (MFCD) and HOTAS. The N019M1 radar, a heavily modified and upgraded digital version of the N019 radar, is used instead of the standard N010 Zhuk-M used on the MiG-29SMT. The upgrade also includes a structural life-extension program, the overhaul, upgrade of the original engines and the installation of an in-flight refuelling probe.
I must admit I had not heard of Antarki before however, I tracked this down from their Facebook page
Antarki Models Perú is a company based in Lima- Perú and formed by a group of enthusiasts driven by the will to offer fellow modellers and aviation aficionados unique and accurate models, after market products as well as reference material.
Antarki models crew was also responsible for the concept and design of the new Peruvian Air Force low viz scheme and markings, so you will be detailing your Peruian Migs with the most accurate decal set on the market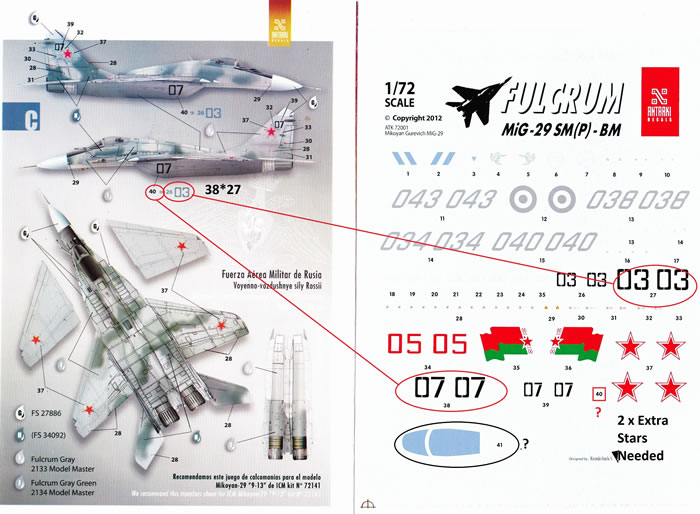 These decals look to be well produced, there are four different shades of gray decals alone used on the Peruvian aircraft decals. Because "gray on gray" can be problematic I would sacrifice some of the unused tail number especially when used on the light gray under surface to ensure the tones are correct. The decals printed by Microscale are in register with minimal carrier film, which is so thin it is very difficult to see. The instructions recommend the ICM kit for these decals.
One drawback with these decals are option C, there are not enough Red Stars and there are basic errors on the instruction sheet. I also feel that option C is another Belarusian aircraft base on research from the web, as always I'm happy to be proven wrong.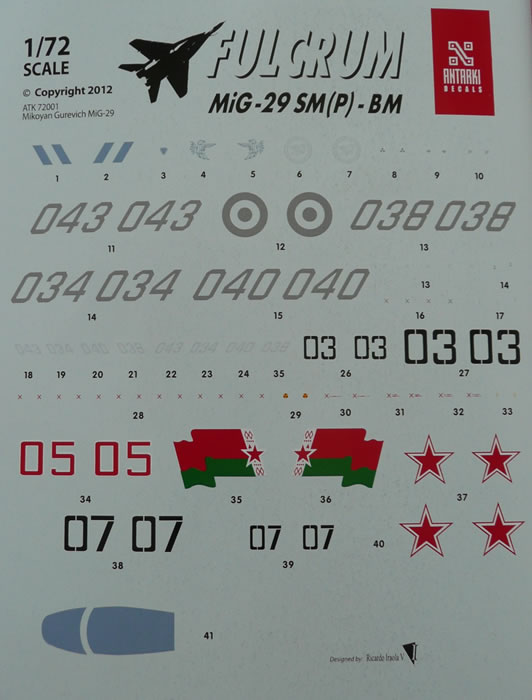 Your options are
A-MiG-29SMP 6th Air Group, Fighter Squadron 612 "fighting Cocks" based at Chiclayo. The demarcation between the camouflage is a lot harder edged in images as opposed to the instructions. Decals cover four different tail numbers.
B-MiG-29BM, Belarus, 558th Air Repair Plant in Baranovichi, 2003. Prototype of modernization. Later number was changed to black.*
C-Two of the few MiGs-29BM, Belarus 2006, Baranovichi. On the basic two-tone grey-green camouflage were sprayed two green enamels. On each aircraft pattern is different (#01, #02, #03, #04, #06, #07). On #03 light blue was used to cover diminution of enamels on fins, so 5-tone camouflage was created. Prototype #05 remain in basic two-tone camouflage*
Belarusian recognition mark since Soviet times was the red star, finally in the year 2009 replaced by folded national flag in red and green (on fins; on wings still remains a stars), painted on Sukhois (Su-27, Su-24) and MiGs-29 as well.*
Antarki cater to the Peruvian military enthusiast, and it is always nice to see decals that are from outside the FSU for our MiG and Sukhoi aircraft, as well as decals Antarki also produce resin fixed refuelling probe. Check out their Facebook page for more information.
Highly recommended .
History from Wikipedia
*Referencehttp://www.mars.slupsk.pl/fort/mig/mig-29-by.htm
Thanks to Antarki for the review sample.
---
Text and Images Copyright © 2013 by Phil Parsons
This Page Created on 28 October, 2013
Last updated 30 October, 2013
Back to HyperScale Main Page