RCAF FR Spitfires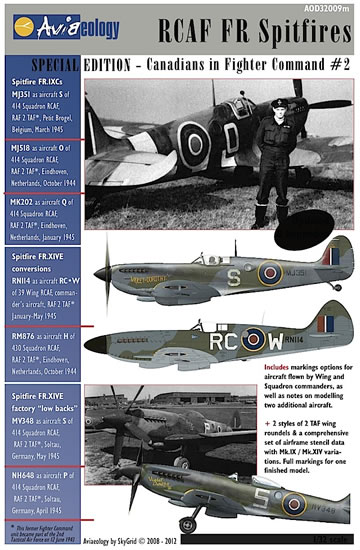 Aviaeology, 1/48 scale
S u m m a r y :

Catalogue Number and Description:

Aviaeology Item No. AOD32009m - RCAF FR Spitfires

Scale:

1/32 (also available in 1/48 and 1/72)

Contents and Media:

3 x waterslide decal sheets of national insignia, code letters, serial numbers, individual aircraft markings and stencils; 8 page A4 black and white instruction sheet featuring marking options for 9 aircraft, which is also available to Aviaeology customers as a printable full-colour PDF.

Price:

Also available in 1/48 and 1/72:

Review Type:

First Look

Advantages:

Interesting subjects, comprehensive, well-researched instructions that are available as a full colour, downloadable PDF.

Disadvantages:

None noted

Conclusion:

This package further cements Aviaeology's reputation as a producer of comprehensive, high quality decal sets. It's almost worth buying for the instructions alone, and highly recommended to anyone with an interest in RCAF subjects or who is looking for an alternative finish to their 1/32, 1/48 or 1/72 Spitfire FR.IXc or FR.XIVe models
Reviewed by Brad Fallen


HyperScale is proudly supported by Squadron.com
This 2012 release from Aviaeology focuses on fighter reconnaissance Spitfires flown by the Royal Canadian Air Force in the last year of World War 2. Nine aircraft are featured, all operated by RCAF units attached to the RAF Second Tactical Air Force:
Spitfire FR.IXc 'O'/MJ518 "Helen II" flown by Mike Carr, 414 Squadron RCAF, December 1944.
Spitfire FR.IXc 'Q'/MK202 flown by Squadron Leader Gordon Wonnacott, 414 Squadron RCAF, January 1945.
Spitfire FR.IXc 'R'/MK374 flown by Squadron Leader Gordon Wonnacott, 414 Squadron RCAF, 1 January 1945.
Spitfire FR.IXc 'S'/MJ351 flown by Flight Lieutenant Ken Lawson, late 1944, and Pilot Officer Glaister, 19 March 1945, both of 414 Squadron RCAF.
Spitfire FR.XIV 'H'/RM876 flown by Warren Middleton, 430 Squadron RCAF, 8 February 1945.
Spitfire FR.XIV 'RC-W'/RN114 flown by Wing Commander RCA Waddell, 39 Wing RCAF, January-May 1945.
Spitfire FR.XIV 'C'/RM818 flown by Wing Commander RCA Waddell and Flying Officer J.N. McLeod, 430 Squadron RCAF, late 1944.
Spitfire FR.XIV 'S'/MV348 "Violet Dorothy III" flown by Squadron Leader Ken Lawson, 414 Squadron RCAF, May 1945.
Spitfire FR.XIV 'P'/NH648 flown by Squadron Leader James Prendergast, 414 Squadron RCAF, April 1945.
All of the aircraft were camouflaged in Dark Green and Ocean Grey over Medium Sea Grey. Within these parameters, however, Aviaeology's subjects show a diversity of finish, in terms of invasion stripes, spinner colour, individual aircraft names, and variations in squadron codes and roundels. They are all interesting machines, and I've found it difficult to narrow them down to one or two favorites.
This task isn't made any easier by Aviaeology's superb instructions, which contain a wealth of information about not just the subject aircraft, but also fighter recce Spitfires in general. The seven pages of instructions include the following material:
Detailed descriptions and sketches of fighter recce Spitfire camera fairings – in many cases these fairings will need to be scratch-built to accurately depict the featured aircraft.
Notes on variations in the arrangement and colour of aircraft code letters, which conclude that because of these variations and also the difficulty of interpreting colours in 70-plus year old black and white photographs, both Sky and White versions of code letters have been supplied on the decal sheets.
Extremely detailed four view stencil and national marking decal placement guides for Spitfire FR.IXc and FR.XIVe aircraft, which also include points on configuration and equipment relevant to each type.
A description of the typical finish and markings of RCAF fighter recce Spitfires.
Generic FR.IXc and FR.XIVe overhead views showing camouflage demarcations and upper wing roundel variations.
Port and starboard profiles of each subject aircraft, except for 'C'/RM818 and 'R'/MK374 where starboard profiles only are provided.
A 12-step guide to trouble-free application of Aviaeology decals.
The details supplied are such that most modelers won't need to look further afield for information. If you do want to conduct further research, however, there is plenty of material here to get you started; Aviaeology also provide some pointers in this direction.
As standard with Aviaeology decal releases, the instructions are available to customers as an emailed, printable, full-colour PDF, compared to the grey scale hard copy originals that are supplied with the decals.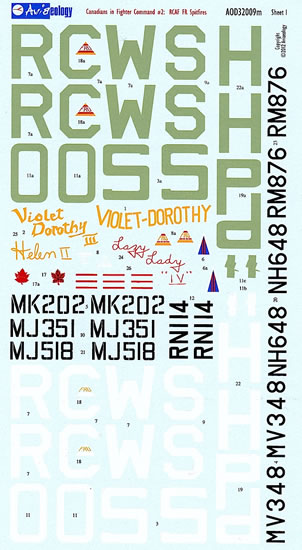 The decals have been produced in all three major scales, although advice from Aviaeology is that the 1/48 and 1/72 scale sets are both nearly sold out; stocks of the 1/32 scale set being reviewed here are reportedly still reasonable.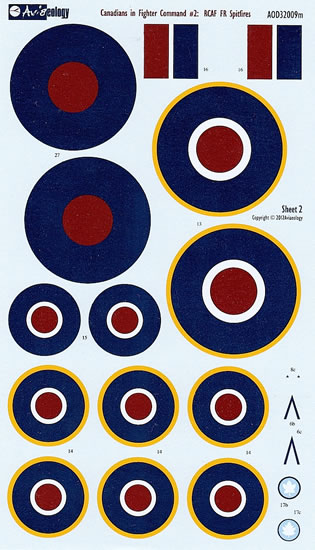 The 1/32 scale decals are supplied on three separate sheets: one containing roundels and fin flashes; a second containing code letters, serials and individual aircraft markings; and a final and very comprehensive sheet of airframe stencils.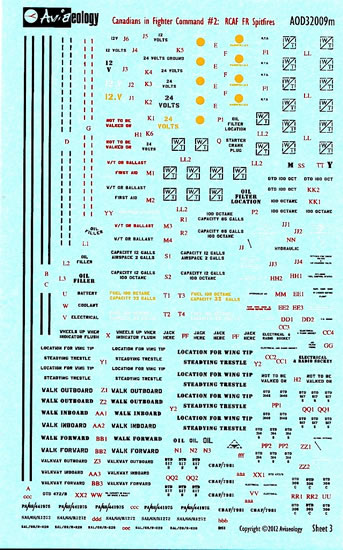 The latter are printed very clearly, and are completely legible. The larger decals are also well done: printing is crisp, and colours and colour density look good. A close examination of all three sheets revealed no apparent production flaws.
Aviaeology's reputation as a producer of comprehensive, high quality decal packages is further cemented by this release. As I've said in relation to other Aviaeology decal sets, it's almost worth buying for the instructions alone – I now know a great deal more about RCAF fighter recce Spitfire squadrons and their aircraft than I did previously. Highly recommended to any modelers with an interest in RCAF subjects, or who are looking for an alternative finish to their 1/32, 1/48 or 1/72 FR.IXc or FR.XIVe models.
Review Sample Compliments of Aviaeology
---