F-15D/E - Striking Eagles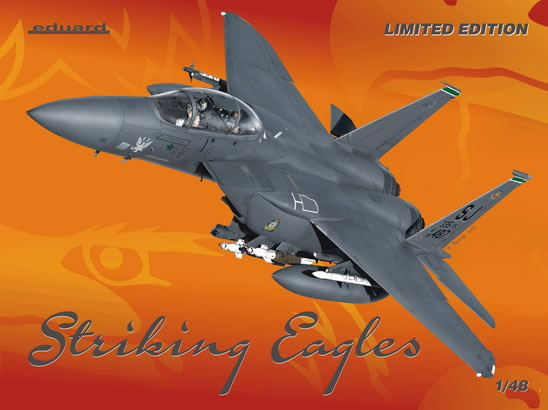 Eduard Limited Edition, 1/48 scale
S u m m a r y :

Catalogue Number:

Eduard Kit No. 1177 – Striking Eagles Limited Edition

Scale:

1/48

Contents & Media:

5 sealed bags of 10 sprues (~100 parts not used), 1 clear sprue, 26 resin parts, 2 photo etch frets (1 colour, 1 unpainted brass), 1 film, 2 express paint masks, 2 decal sheets (1 markings, 1 stencils); 20 page full colour A4 instruction book.

Price:

USD$93.50 plus shipping available online from Eduard's website
£61.30 plus shipping available online from Hannants website
and specialist hobby retailers worldwide

Review Type:

First Look

Advantages:

Excellent Academy plastic; flawless Cartograf decals; comprehensive Brassin seats and photoetch for interior and exterior; Brassin exhausts.

Disadvantages:

Small but persistent inaccuracies carried over from Academy plastic. Contemporary ordnance not supplied.

Conclusions:

With the addition of the photo-etched and resin parts to the original Academy kit, the Limited Edition release of the F-15D/E is hard to look past even with it's higher price tag and exceptions mentioned below. A good starting point for an Israeli jet too.

Reviewed by Michael Drover


Eduard's 1/48 spitfire Mk.IX Royal Class is available online from Squadron.com

The F-15 Eagle needs no introduction amongst the jet modeling fraternity. It was introduced in the late 1980's as an eventual replacement for the F-111. The F-15B/D/E two seat variants have seen extensive combat operations including Gulf War 1 and 2 and recent operations over Afghanistan while its single seat sibling has the envious title of being undefeated in combat with 104 wins and zero loses.
The F-15E was used to great advantage during the first Gulf war in the SCUD and artillery hunting role. Its successful application in this role at night made it a fabled adversary. The airframe has been around for many years in its different variants and has been used by many operators in a variety of theaters. This kit covers two of the F-15 operators, the US and Israeli Air Forces.
Eduard's reboxing of the Academy moulds into their limited edition boxing of the F-15E should not come as a surprise. With their recent limited edition releases that Eduard has been releasing, this kit too has had the makeover treatment with resin, photoetch and a flashy decal sheet thrown in for good measure.
The striking auburn orange box is adorned by an in flight shot of the subject material, a US Air Force F-15E. Upon opening the box we are met with ten sprues of medium grey plastic, one sprue of clear parts, a set of Brassin seats, two different types of resin wheels and a set of resin exhausts. Two frets of photoetch (unpainted and painted) cover the interior and exterior details and an acetate sheet is provided for the HUD glass. A set of express paint masks for the wheels and canopy finish it off.
The quality of the plastic is good with minimal flash being present. A quick look at the surface of the plastic and we see a semi gloss finish of medium grey plastic that should key well with paint. Panel lines and rivets are neat and tidy and not over done. Mould seams if any are minimal. Knock out marks are placed to reduce their visibility once parts are glued. There are however a few noticeable ones in areas like the nose wheel well and the intake trunking. Sink marks are present on some of the long thinner parts. The weapons fairing that attaches to the FAST packs suffers from this the most. I'd recommend using some liquid filler to address this problem as the fairings feature prominently on the finished model.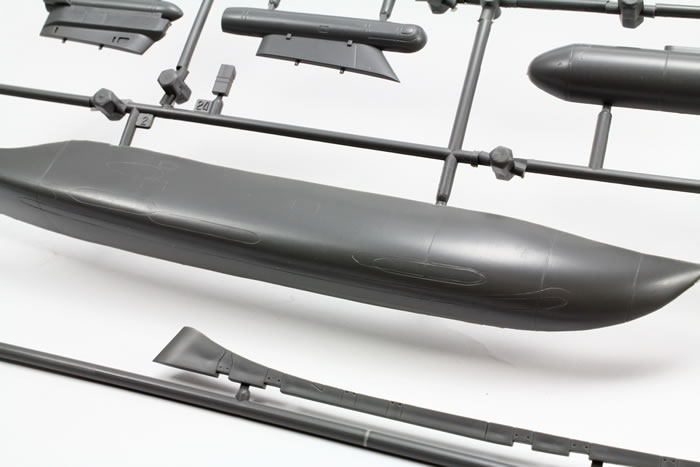 Transparent parts are appropriately thin though they do have an ever so cloudy sheen. A bath in some Future will remove this as it looks as though it is caused by the surface finish of the plastic rather than its clarity. A mould seam runs down the outside centre of the main canopy and windscreen.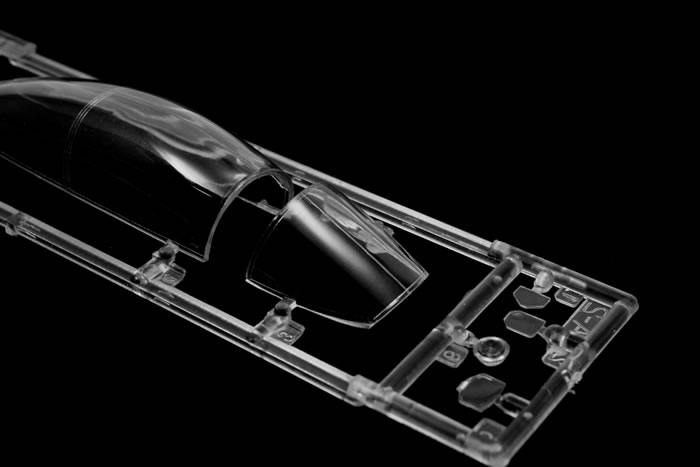 The fuselage is constructed from top and bottom halves with the separate nose unit forward of the intakes split into left and right components. This is a butt join and may need some reinforcing of the joint inside the fuselage. The wings, fins and tailplanes are all separate units. The flaps and ailerons on the wing are moulded in position as are the rudders on the fins. There's some raised detail over what looks like flap and aileron actuator covers though I can't confirm what this detail looks like in 1:1. The pimple that is the GPS antenna on the upper starboard side of the fuselage is present which is appropriate for a current Strike Eagle. The all moving tail planes can be posed should you choose.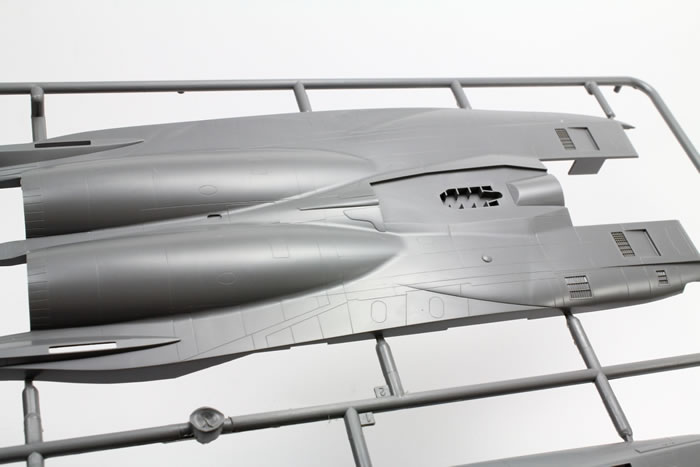 Air intakes are full length and include reasonable representations of the engine faces. The intake trunking however has some fairly agricultural ejector marks which will need work to clean up. You could get away with not doing this by putting some FOD covers over the intakes. On the flip side, the variable geometry inlets are moulded in both the up and down position.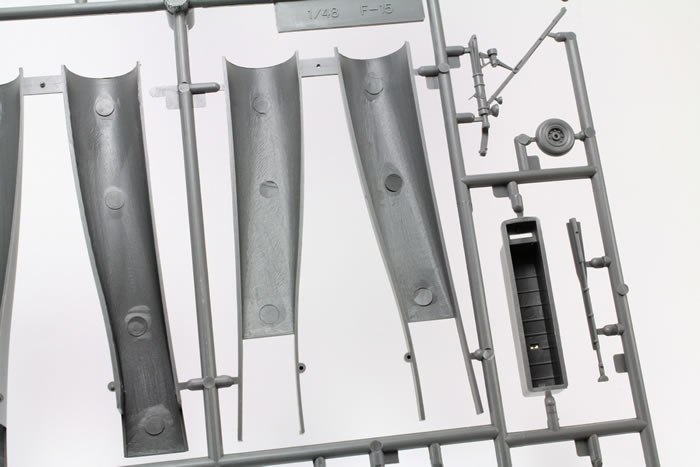 The cockpit tub is moulded as a single piece unit with appropriate relief detail on the side consoles. Instrument panels are provided in plastic versions for both early and late configurations. Should you wish to use the photo etch, each of the instrument panel configurations are supplied. A healthy dose of additional photo etch finishes off the cockpit. I'll mention here that the wide angle frameless HUD glass is well represented with a slight concave shape to it that is appropriate. Alternatively the provided acetate sheet and etch components can be used to represent the HUD.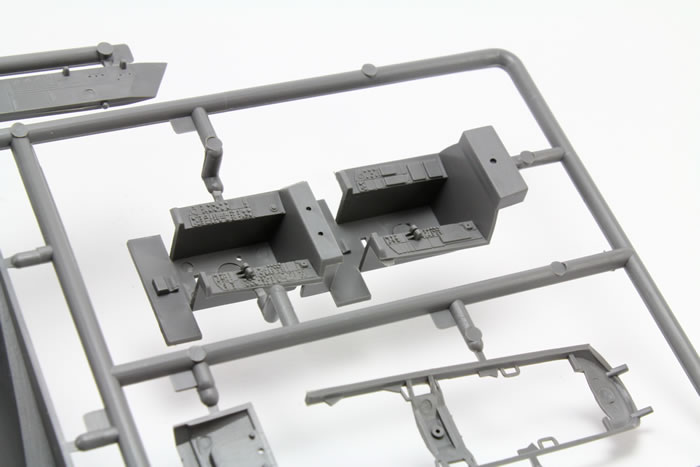 Eduard's Brassin seats are well appointed with etch colour belts. Appropriate detail painting of these items should see them really pop. This would certainly suite the big glasshouse canopy of the aircraft should you choose to open or close the canopy.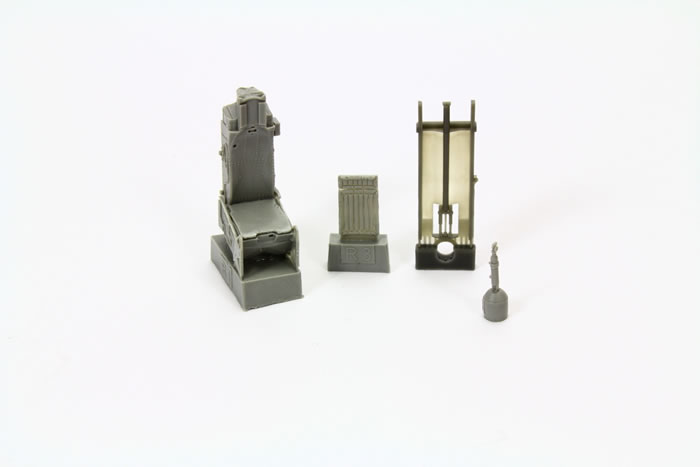 As the kit markings depict both D (Israeli) and E (USAF) airframes, both the light weight and heavy weight resin wheels and tyres are supplied for the respective versions. This is however where the first problem arises. Due to the extra weight the F-15E carries, the larger main wheels require a bulged gear door to accommodate their bulk. In the case of the Academy moulds these are not supplied. The addition of this in resin as per the seats and exhausts would have solved this issue. The kit doors are appropriate for the Israeli F-15D.
Apart from the plastic shrinkage mentioned earlier, the FAST pack weapons stations for the air to ground ordnance look good though the air-to-air LAU-128 shoulder rails on stations STA-2A/2B and STA-8A/8B are incorrect. Resin replacements can be sourced from Wolfpack Design.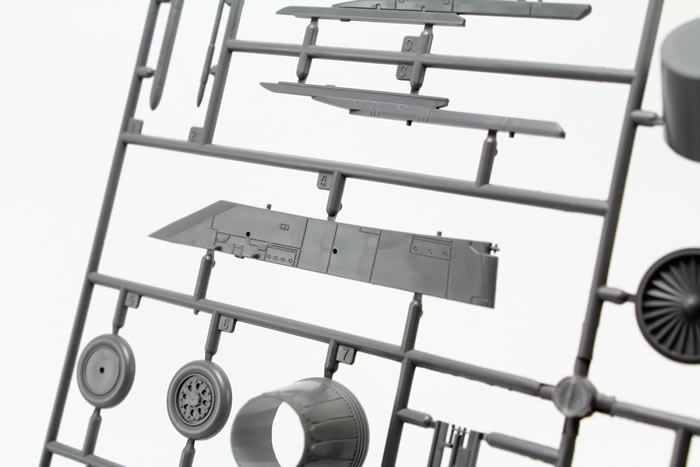 The ordnance, well….hmmm where to begin? Sadly none of the contemporary air to ground ordnance that would have been carried by the aircraft represented on the decal sheet is supplied.
The ordnance that is supplied consists of:
ASAT missile (x1)

AIM-9M Sidewinder (x4)

AIM-7 Sparrow (x4)

GBU-12 Paveway I LGB (x2)

Mk20 Rockeye Cluster bomb (x12)

Mk82 GP bomb (x12)

LANTIRN pods (x2)
I'm a bit perplexed over the choice of sprues that Eduard has made here. The ordnance sprues provided in previous Academy F-15 boxings such as the F-15K, F-15I and OIF versions would have been more far more appropriate for this Limited Edition re-boxing. Again, considering the markings and era that the supplied decals represent, this would have been a better choice.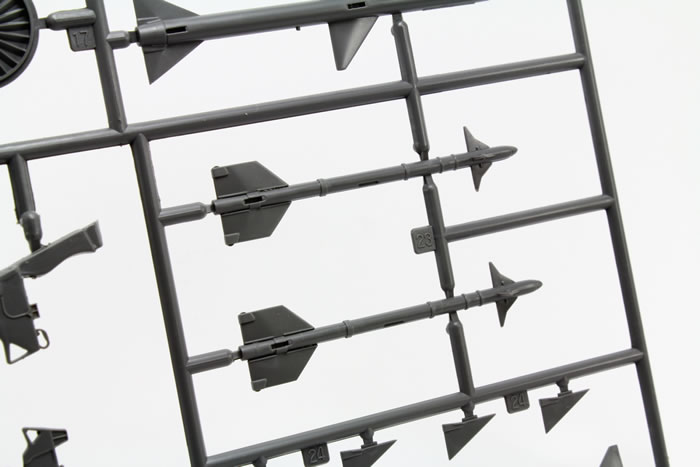 Aftermarket plastic and resin sets are available from a variety of manufacturers for contemporary air-to-ground and air-to-air ordnance for USAF and IAF jets.
---

Photo-Etch and Resin
As expected, the photo etch and resin supplied in the kit is comprehensive.
The resin turkey feather exhausts are accurate, superb in detail and are augmented with photo etch actuators. Full depth exhausts are supplied and the flame holders for the afterburners are also supplied in photo etch.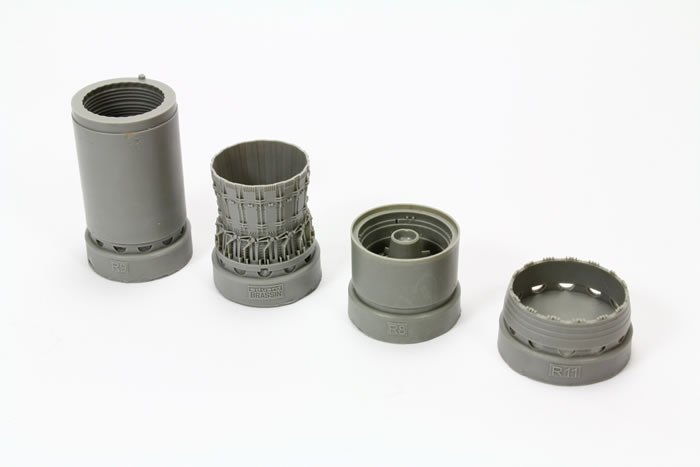 As mentioned earlier, both light and heavy weight wheels and tyres are provided with some raised wall details representing manufacturer's information. The casting is very clean and pinhole free (as is all of the supplied resin) and the pour stub attachment points are kept to a minimum.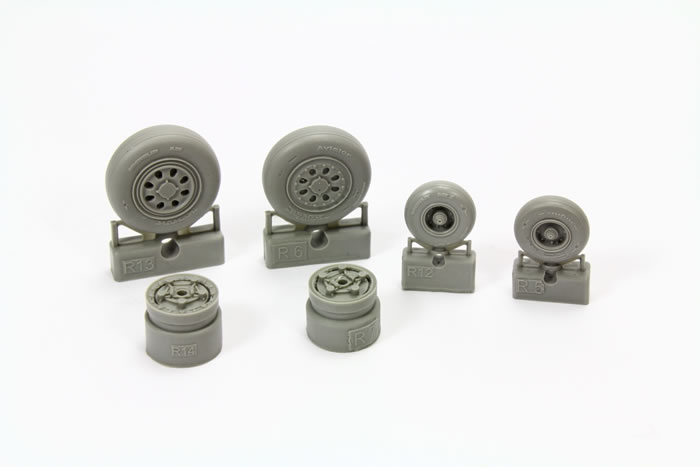 The photo prepainted photo etch includes cockpit details while the unpainted brass is for the exhausts and some exterior detailing. Beware that there are some very small pieces that are just perfect fodder for the carpet monster if you lose sightof them. A magnification device may be needed for its handling and application! The only criticism of the cockpit photo etch is its two dimensional nature. This is perhaps okay for 1/72 subjects but 1/48 scale needs a little more volume in some areas though I shouldn't be too harsh as it is a limitation of the medium.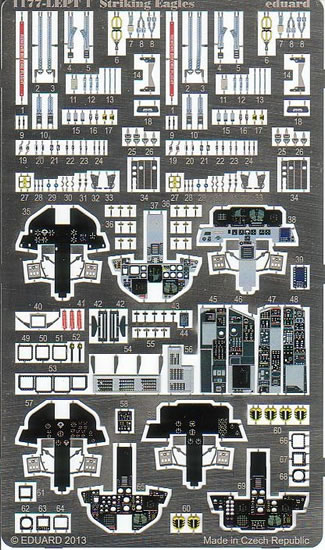 ---

Markings
Cartograf has come to the party with a beautiful decal sheet. Beautifully printed and in perfect register the aircraft marking are flawless with minimal carrier film.
Comprehensive stencils are provided for both USAF and IAF jets. The odd thing here is that stencils are provided for an AN/AAQ-33 Sniper Pod that sadly doesn't come in the kit. Express masks are provided for the wheels/tyres and canopy framing.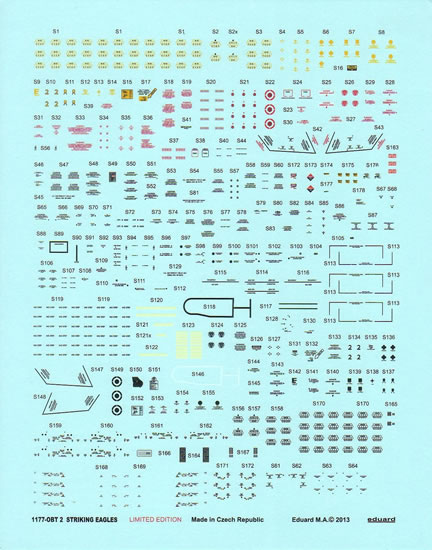 Markings are provided for the following aircraft.
F-15E s/n 89-0487, 4th Fighter Wing, 335th Fighter Squadron, Bagram AFB, Afghanistan, January 13, 2012

F-15E s/n 87-0173, 366th Fighter Wing, 391st Fighter Squadron, Mountain Home AFB, ID, 2002

F-15E s/n 89-0472, 355th Fighter Squadron, Seymour Johnson AFB, NC, 2002

F-15D s/n 80-0133, 106th Tayeset, Tel Nov airbase, Israel
With the addition of the fantastic etch and resin parts to the original Academy kit, the Limited Edition release of the F-15D/E is hard to look past even with it's higher price tag and exceptions mentioned here.
As depicted on the box art, Eduard tantalise us with some delicious extras and delivers on the basic airframe recipe. Nitpicks aside it certainly looks like an F-15.
For fast jet fans, I recommend getting yourself a helping of Eduard's Limited Edition "Striking Eagles" into your modeling diet.
---
References
Thanks to Eduard for the sample and for the images.
---
Review Text Copyright © 2013 by Michael Drover
Page Created 22 October, 2013
Last updated 22 October, 2013
Back to HyperScale Main Page
Back to Reviews Page