F-15A/C Fighting Eagle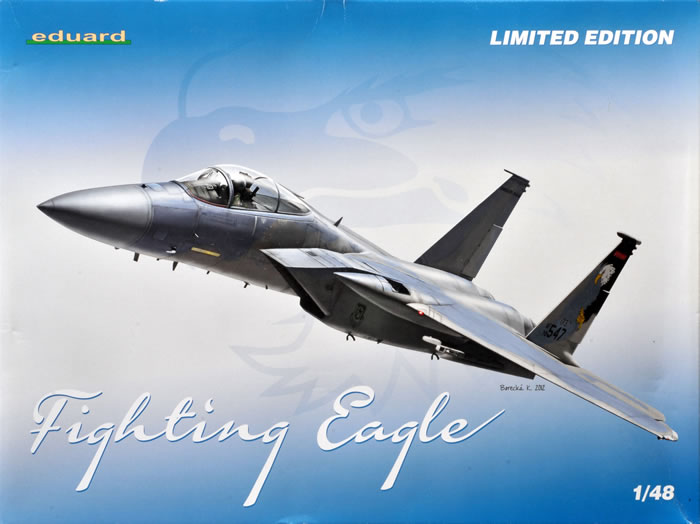 Eduard, Various scales
S u m m a r y

Catalogue Number

Eduard Kit No. 1176 - F-15A/C Fighting Eagle

Contents and media

Plastic parts: 464, resin wheels, exhausts, ejection seat, PE parts colour and brass, painting masks, decal options for four aircraft and a full colour A4 instruction booklet.

Scale

1/48

Price:

Review Type

First Look

Advantages:

Provides additional resin and PE detail over the original Academy, especially in the cockpit, exhaust, and wheel areas..

Disadvantages:

Lack of AIM-7 missiles.

Recommendation:

Eduard continues to impress with their Limited Edition kits, given that some of the resin for this kit is only available in this release, this kit comes highly recommended. There are only 1500 of these kits so do not put it off any longer.

Reviewed by Phil Parsons


Eduard's 1/48 scale F-15A/C Fighting Eagle is available online from Squadron.com

The McDonnell Douglas (now Boeing) F-15 Eagle is a twin-engine, all-weather tactical fighter designed by McDonnell Douglas to gain and maintain air superiority in aerial combat. It is considered among the most successful modern fighters, with over 100 aerial combat victories with no losses in dogfights. The United States Air Force selected McDonnell Douglas' design in 1967 to meet the service's need for a new dedicated air superiority fighter. The F-15 Eagle first flew in July 1972, and entered service in 1976. The F-15A was powered by two Pratt & Whitney F100 engines to achieve a combat thrust-to-weight ratio in excess of 1:1 . The F-15 used conformal carriage of four Sparrow missiles like the Phantom and a standard M61 Vulcan gun.
The single-seat F-15C model entered production in 1978 and conducted first flights in February and June of that year. F-15Cs were fitted with the Production Eagle Package (PEP 2000), which included 2,000 lb (900 kg) of additional internal fuel, provisions for carrying exterior conformal fuel tanks, and an increased maximum takeoff weight of up to 68,000 lb (30,700 kg). The increased takeoff weight allows internal fuel, a full weapons load, conformal fuel tanks, and three external fuel tanks to be carried.
The F-15 Multistage Improvement Program (MSIP) was initiated in February 1983 with the first production MSIP F-15C being produced in 1985. Improvements included an upgraded central computer; a Programmable Armament Control Set, allowing for advanced versions of the AIM-7, AIM-9, and AIM-120A missiles; and an expanded Tactical Electronic Warfare System that provides improvements to the ALR-56C radar warning receiver and ALQ-135 countermeasure se
So what do you get in the box? Well it looks like you get all the plastic from the latest Academy F-15C release, the F-15C MSIP II kit 12221, revised Eduard Photo Etch, resin ACES II ejection seat, F-15 specific resin wheels, tyres and exhaust system (apart from the Ejection seat, all as yet unreleased as individual brasssin items by Eduard), canopy and wheel masks and decals.
The use of the Academy F-15 MSIP II kit provides you some additional Mudhen bonuses as this kit includes three sprues from the F-15K kit. These are sprues J and K x 2.
These sprues contain new LAU128 pylons, and modern Within and Beyond Visual Range missiles, General Electric engine components, multiple JDAMs, LGBs, revised main pylons just to name a few (you actually get the enlarged F-15E main gear doors as well as the standard doors used by F-15A/C aircraft).
---
Weapons Provided:
AIM-120A/B x 2

AIM-120C x 4

AIM-9L/M x 2

AIM-9X x 4

Not required for your F-15A/C

6 x GBU-38 JDAM (Mk82)

2 x GBU-31 JDAM (BLU109/B body)

2 x GBU-31 JDAM (Mk84)

2 x Paveway II GBU 12

2 x AGM-84 SLAM-ER

LANTIRN targeting pod or Sniper XR pod

PE cooling screens for the rear of the LANTIRN pods

Engine faces for GE engines

GE nozzles
Eduards PE provides cockpit detail for F-15A/C and MSIP cockpit changes, additional PE for bay 5 behind the ejection seat, effectively Eduard give the cockpit a complete PE make over with a combination of colour and brass items.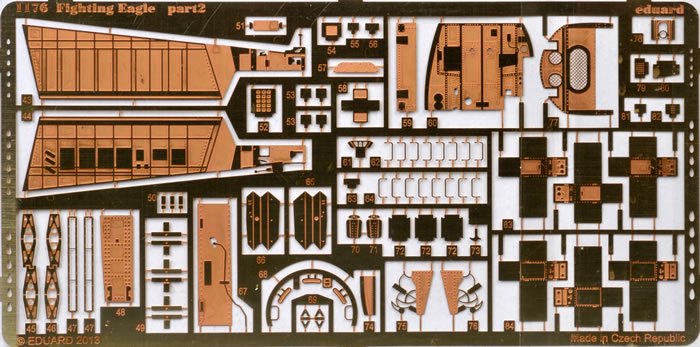 The nosewheel is replaced by a resin wheel and the Pratt and Whitney rear portions get a combined resin and PE makeover. The best part is the resin turkey feathers, such a prominent external feature of the F-15.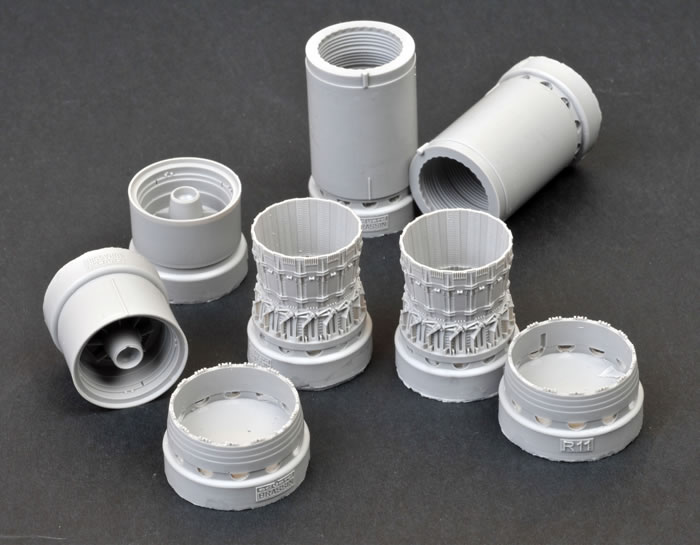 The entire nose gear area gets a PE makeover with additional detail on all doors and lower antennas. The same is occurs with the main wheels which are Brassin replacements.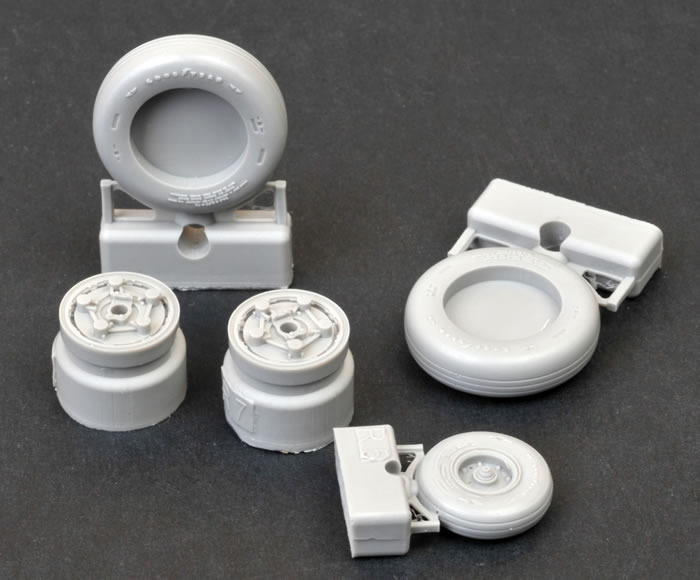 The four fuselage missile attachment points get a PE update as does the external surfaces with upgrades provided; there are addition PE parts that also cover MSIP aircraft. The final Eduard upgrade occurs in the cockpit with a Brassin ACES II ejection seat (Brassin F-16 seat), with lots of PE extras.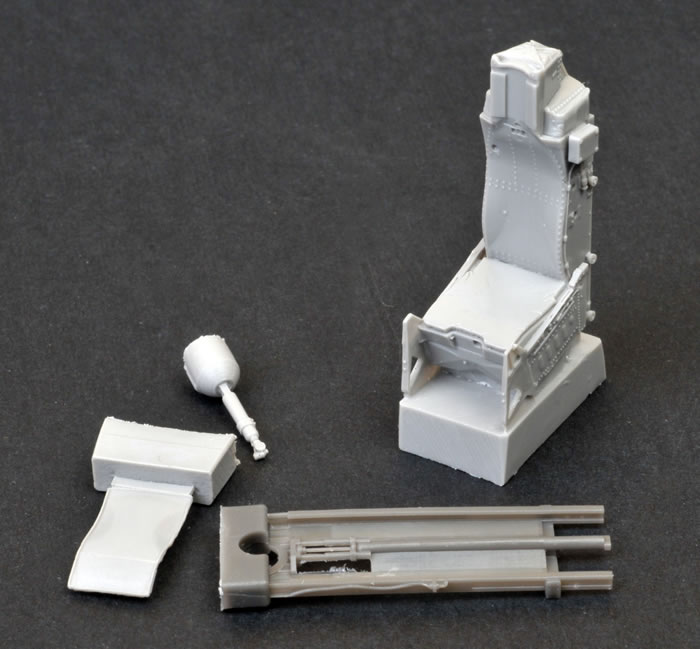 Unlike many of Eduard's Limited Edition releases where the resin parts are available separately, in this instance that is not the case and currently the only way to obtain these great resin parts is through this Limited Edition release.
Given all the additional weapon extras, it's a pity that with the option are for an F-15A aircraft there is not a AIM7 Sparrow to be found anywhere on the sprues, additionally it is interesting that while there is PE to update the fuselage missile mounts there is nowhere in the instructions that detail mounting missiles in these areas!
Construction will still take patience especially when joining the cockpit to the fuselage, as there are no mating pins, the internet has many online reviews that discuss how to tackle construction of the academy kit. The only place that I could see some minor shrink marks was on the smaller F-15E conformal pylons, which are not required for this build and therefore not an issue.
---
Marking Options:
F-15C MSIP, s/n 78-0547, Flown by Col. Jeff Silver, CO of 137th Fighter Wing, Oregon Air National Guard, Kingsley Field, 2012

F-15C-25-MC, s/n 76-0053, Flown by Lt.Col. Jack Fry, CO of 53rd TFS, Bitburg AFB, Germany, Early Eighties

F-15A, s/n 76-0111, Flown by Lt.Col. John Kugler, CO of 318th FIS, Castle AFB, October, 1988

F-15C-24-MC, s/n 79-0032, Flown by Col. Lee Alton, CO of 32nd TFS, Soesterberg AB, the Netherlands, Late Eighties.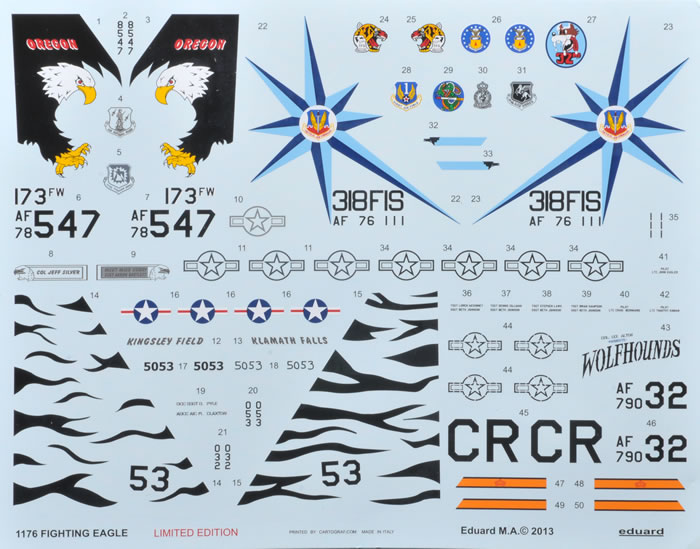 The main colour decals are produced by Cartograf with the stencil data produced in the Czech Republic and all are of the high standard that we have come to expect.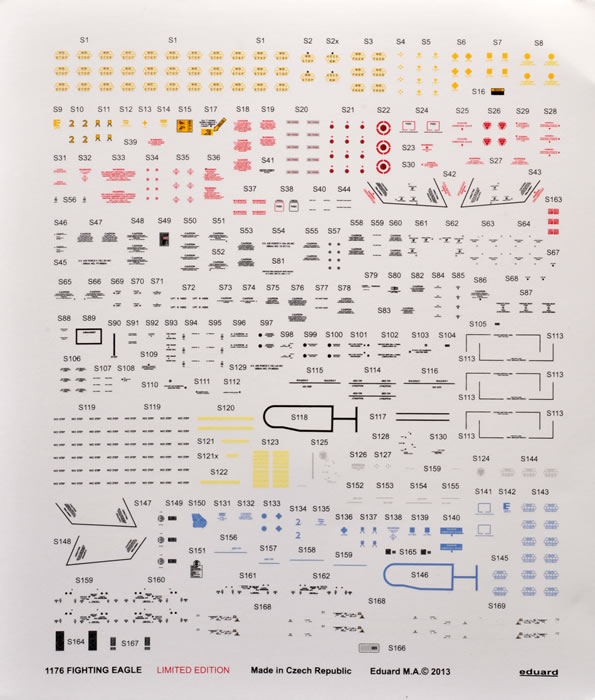 I really like this release. This kit will end up becoming an F-15C from the aggressor unit at Nellis AFB. While it would have been nice to see some AIM-7s included (available as a Brassin item) it is nice to see that there is a full complement of AIM-9 and AIM-120 missiles. With the additional photo etch and F-15 specific resin this Eduard Limited Edition kit comes highly recommended.
Thanks to Eduard for the sample and for the images.
---
Review Text Copyright © 2013 by Phil Parsons
Images Copyright © 2013 by Brett Green
Page Created 5 November, 2013
Last updated 5 November, 2013
Back to HyperScale Main Page
Back to Reviews Page