PZL P.11F "In Rumania"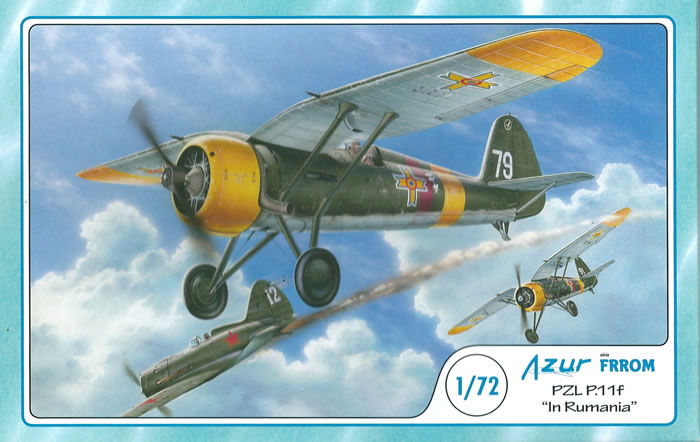 Azur-FRROM, 1/72 scale
S u m m a r y :

Catalogue Number:

Azur-FFROM Kit No. FR023 - PZL P.11F "In Rumania"

Scale:

1/72

Contents & Media

30 grey styrene airframe, 13 resin parts, one PE fret of 38 parts, one clear styrene windscreen, plus decals for five subjects.

Price:

Review Type:

First Look.

Advantages:

Very nicely moulded with good levels of detail and scale finesse.

Disadvantages:

No engine pushrods or instructions to scratch-build them (but easily rectified).

Conclusions:

This is the first kit of the P.11F in 1/72-scale that I am aware of, and it is very well executed. Nicely moulded surface detail and numerous small parts make for really good scale finesse, albeit some these small parts will be very fiddly to fit. It has the potential to build into a superb model. Highly recommended.
Reviewed by

Mark Davies

HyperScale is proudly sponsored by Squadron.com
Pulawski's gull wing fighters were developed in Poland through a series of PZL designs (P.1, P.7, P.11 and P.24). The P.11c was the standard Polish Air Force fighter in September 1939; and along with some PZL P.7's had to oppose a more modern Luftwaffe.
PZL also sold the P.11 to several foreign customers. One was Rumania, which bought fifty of the P11.b version. These were delivered during 1932 and coded from 1 to 50. They were similar to the P.11a, but powered by the Gnome-Rhône 9Krsd. The Rumanian manufacturer, IAR, then produced ninety-five P.11f's under licence. These were a Rumanian version of the P.11c, powered by Gnome-Rhône 9Krse (610 HP), and had a modified cowling. Production started in 1936 at IAR's Brasov plant; airframe codes 51 to 145 being allocated to these. At Poland's fall large quantities of Polish aircraft, including some P.11c's, escaped to Rumania.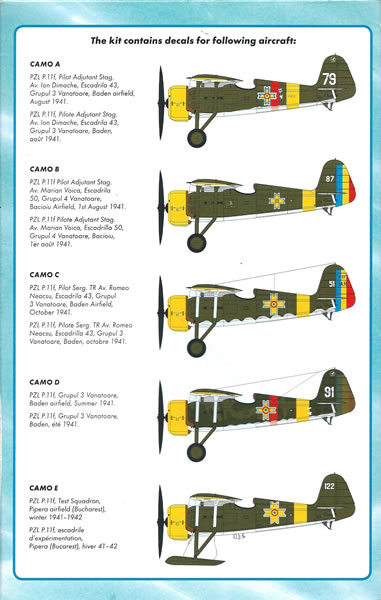 On June 22nd 1941, N°43, 44 and 45 Squadrons were part of Fighter Group N°3, whilst N°46, 49 and 50 Squadrons formed Fighter Group N°4. These squadrons were equipped with P.11f's built by IAR, although some ex-Polish P.11c's did later replace damaged aircraft.
Rumania's planes proved equal or better than their Soviet opponents. Between June 28th and September 22nd 1941, N° 3 and 4 Fighter Groups, using mainly P.11f's, claimed between 40 and 46 Ratas (Polikarpov I-16). This earned them the nickname of "Rata killers". Some pilots displayed their tallies on a rather unusual way by showing a PZL pilot holding one or two Ratas on a leash. These successes were obtained for the loss of eighteen P.11f's during the Bessarabian campaign.
P.11's were progressively removed from front line operations to serve in training schools. Consequently, many Rumanian pilots got the opportunity to fly this little fighter, either during the Bessarabian campaign or as new pilots during training.
---
Previous 1/72-Scale P.11 Kits
I'm aware of seven previous P.11 kits in 1/72-scale, and these are listed below. My comments are generally based on modelling magazine reviews, or my assessment of based ownership or photos of the kit parts:
P,11C by Revell,

P.11C by Heller (re-boxed by Encore and possibly others),

P.11A by JMK,

P.11C by PZW(Podlaskie Zklady Wytworcze),

P.11C by ZTS Playstyk,

P.11C by RPM (re-boxed by Mastercraft/Mistercraft), and

P.11C by ZP Ruch.
The 1960's Revell and 1980's Heller kits are probably the best known to most modellers, with Heller's being widely regarded as the better of these two. The other brands may be harder to find. The JMK kit was a late-1980's Polish kit with vac-form airframe and injected struts and detail parts, and is surely very rare now. The PZW kit looks pretty reasonable from the sprue images I have seen, albeit with some simplified detail. I cannot comment of the ZTS kit, other than to say I suspect it will be similar to their PZL P.37 kit, which I have owned; in which case it should be quite nice provided it was made before the moulds became worn and misaligned as with my kit. I know little about the RPM/Mastercraft kit, but if it is like RPM's MiG-3, which I have owned, it will have a fair bit of detail let down by crude limited run moulding. I have only seen the box art for the ZP Ruch kit, and this looks to be very Communist-era Polish in style, and which may be an indication of the contents' quality.
It seems safe to assume that Azur-FrRom's is the first PZL P.11F, which will be welcomed by Rumanian AF fans. Essentially the same kit is issued by the MPM-group under their Azur label as a P.11C in either Polish or Rumanian boxings. Azur-FrRom is produced by the Czech MPM group for French-owned FrRom to market through their own distribution channels; these are often different from the channels the MPM Group uses for its brand stable (which includes Azur!). You will also find some Azur-FrRom sprues shared with MPM's Special Hobby brand. Confusing I know, but this sharing of production and development enables a small company like FrRom to bring some very specific products to market that would likely be ignored by more mainstream players; and do so with a good quality package at an affordable price.
The Kit
The kit comes packed in a typically Czech end-opening box, with attractive art-work on the front and colour schemes on the rear. The styrene parts, canopies, decals & PE fret are each enclosed in their own plastic bags. The instructions are A5 format with a brief aircraft history in French and English. The diagrammatic assembly instructions are generally clear and easy to follow. Detail colour call-outs are given as generic colour names in English and French, but include Gunze Sangyo and another brand's colour numbers.
The first thing I focused on when examining the sprues was the surface detail applied to the flying surfaces. This is very nicely done with the delicate corrugations well captured. The fuselage has refined recessed panel lines, just a few recessed rivets and delicate raised reinforcing strips running along the fuselage sides. The struts and undercarriage legs all look good; and there is a choice of wheels or skis.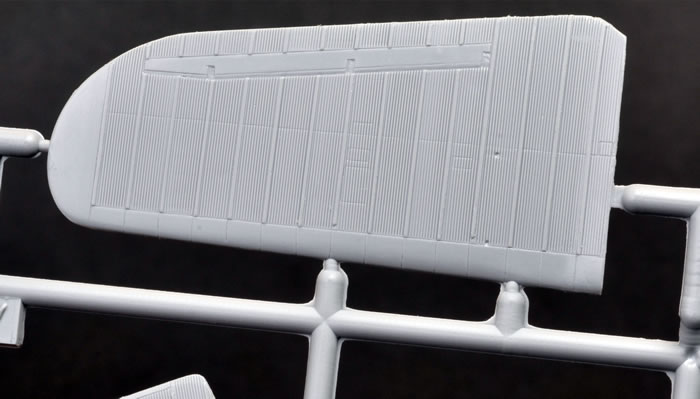 The styrene IAR 9K engine (licence-built Gnome-Rhône Mistral) is nicely moulded with well-formed cylinder and reduction gear casing detail. There are no push-rods, nor is there any mention to scratch-build these in the instructions, despite their being a noticeable feature. However these are easy enough to add from scratch. Some may wish to consider adding the cowl braces evident in this image, although the absence of features like this is commonplace in 1/72-scale kits. The delicately cast resin exhaust manifolds have really fine open exhaust pipe outlets. I thought one end was broken and missing from my sample as the left side has a rearward trailing extension, whereas the right side of the manifold simply ends facing directly downwards. Careful checking of photos revealed that this asymmetric arrangement to be correct. The two-blade wooden prop is quite reasonable, with some hub-bolt detail included. The sprues also include a nicely moulded, but surplus, Bristol Mercury for the P.11C version, with its large fairing over the reduction gear housing, along with the C-version's cowl and prop with spinner. So this kit can potentially be used to build a P.11C as well.
Cockpit detail is good for the scale and more than adequate for such a small cockpit opening. There is a styrene floor, bulkhead, instrument panel, control column, rudder bar and seat. This last item is enhanced by PE seat-belts and scratch-built diagonal braces. There are PE rudder pedals too. The interior faces of the fuselage have internal structure moulded in the area of the cockpit, whilst PE provides for a throttle, other small details that fix to the cockpit walls, and a gun-sight. A fine and clear little windscreen is provided as the kit's only transparency.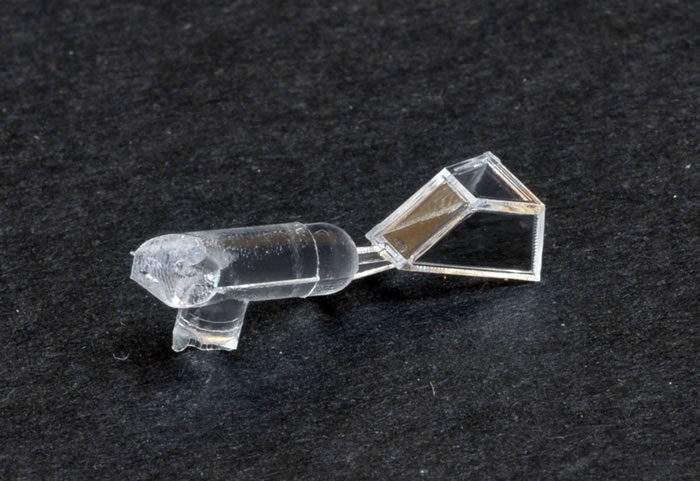 There are quite a few other resin and PE details provided. I shall discuss the resin parts first. These provide the ejection ports for the wing guns and include the elongated chutes fitted to the wing guns. The four machine gun barrels are all resin, as is the prominent oil-cooler, which has separate PE retaining straps, although I'm surprised that these were not cast in place. I have already mentioned the resin exhaust manifold, which leave the optional resin skis and their pivots. There is a towed-target attachment frame that fits on the ventral fuselage for the unarmed target-tug version. Watch out for these before you empty the resin part's zip-lock bag, as I had a few small parts that had detached from mine.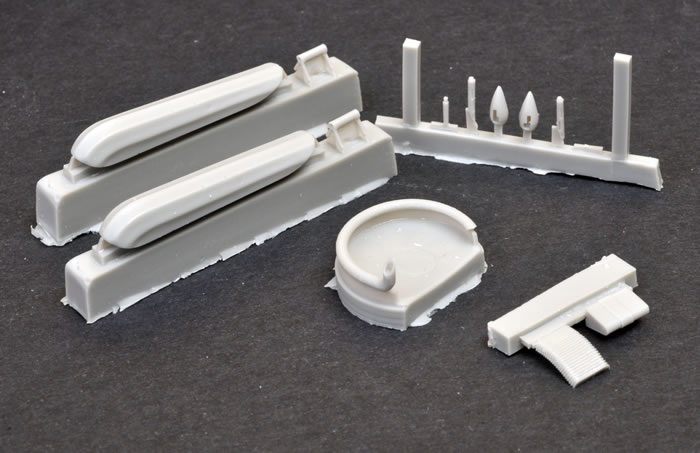 The PE detail parts I have yet to mention include minute control surface actuators, and aileron trim tabs. Equally tiny, are the three PE antenna wire mounting posts. There are even the grab-handles for the pilot as he climbs into the cockpit. Some will love such tiny detail parts, whilst some will loathe struggling with them, and others will simply not bother trying. I am glad they are offered, but wish some spares were included to allow for the inevitable carpet-monster's share.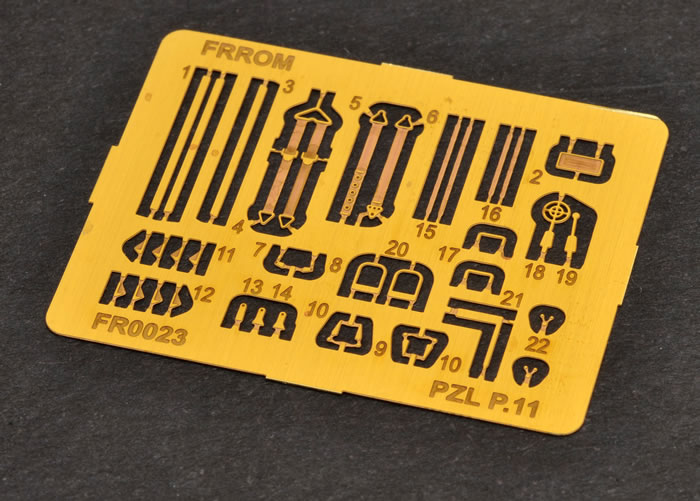 Overall construction should be straightforward and conventional, provided care is used with some of the very small detail parts.
---
Colours & Markings
Five Romanian Air Force options are offered. Despite all just having olive-green over light blue camouflage, they are all quite colourful due to yellow theatre recognition bands and their eye-catching national insignia. The decals printed by Aviprint look to be excellent, with good registration and colour density.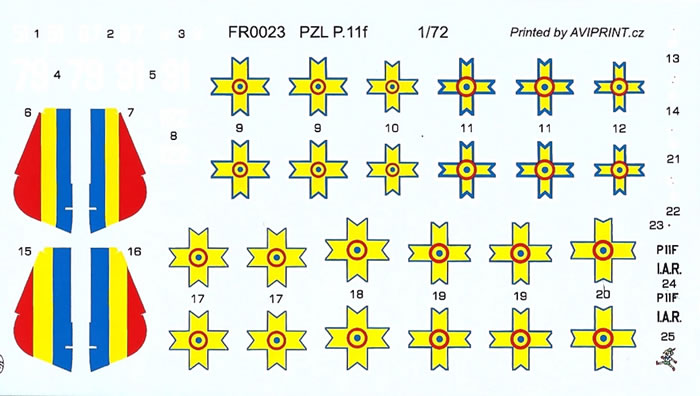 The options offered are:
---
Azur serie FrRom Stockists
Azur serie FrRom is a niche line of kits produced under the umbrella of the Azur label, which is an MPM-group brand. FrRom stands for France & Romania, and refers to the types of subjects originally envisaged for this series; although it has quickly expanded beyond subjects from these two nations.
I have noticed is that various on-line shops list Azur serie FrRom either under Azur, or separately as FrRom or FrRom-Azur. Also established Azur stockists do not necessarily carry Azur serie FrRom (because of their different distribution channels). So if you are looking to buy Azur FrRom kits be sure to check out all combinations of the brand name, and also suppliers you might not normally associate with Azur or other MPM-group products.
---
Comparison to the Heller Kit
Although I am reviewing a P.11F, I thought that it may be of interest to some for me to comment on a comparison to the much older Heller P.11C kit, especially since the C-version parts are included with the new Azur-FrRom kit. My comments relate the Azur-FrRom kit's differences compared to Heller's (Heller's parts are green and Azur-FrRom's grey in the accompanying images):
Slightly wider chord wings across the whole span, which in turn slightly reduces the arc of the centre span trailing edge. Aileron chord is greater too. (I cannot say which is more accurate, but my instinct favours the newer kit.)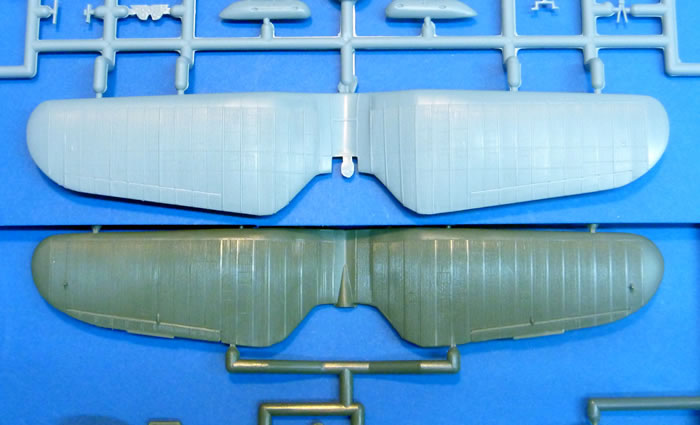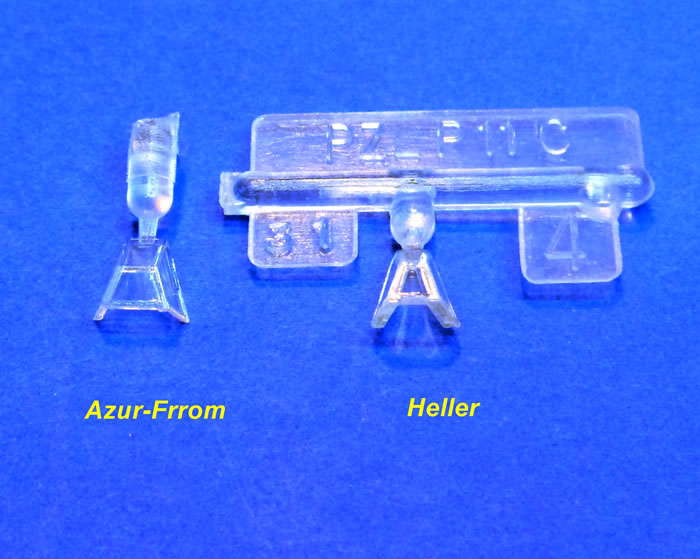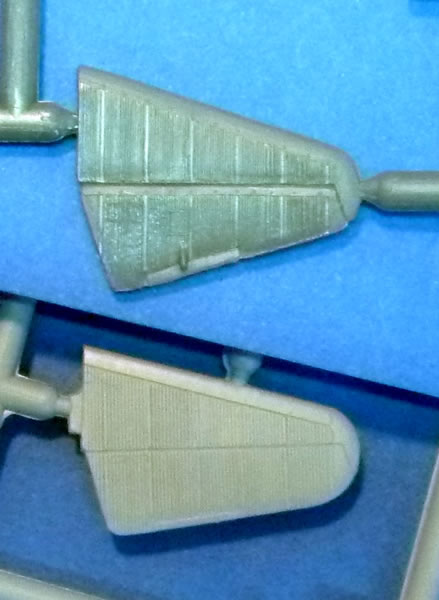 Marginally better surface detail on the fuselage, but not because it is recessed, as Heller's extremely fine raised detail is some of the best to be found of its type, and perfectly acceptable in my view.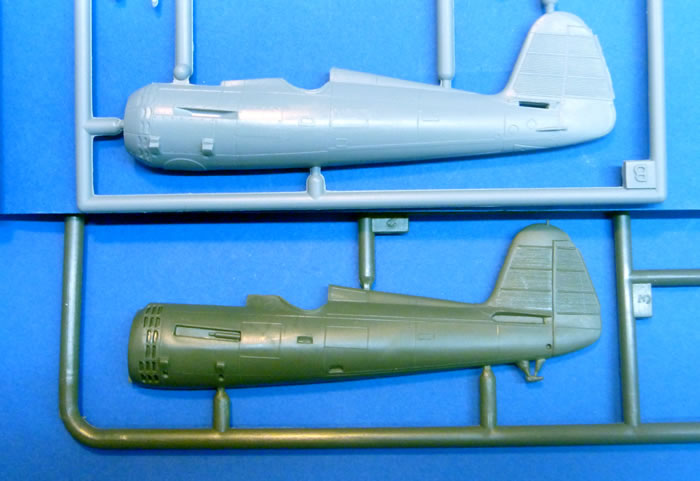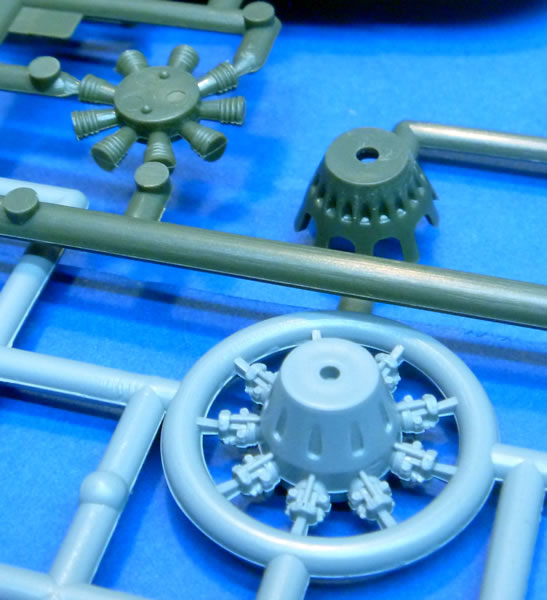 Slightly different multiple vents on the forward fuselage immediately behind the engine cowl.

Inclusion of the circular bottom of the jettisonable internal fuel tank between the undercarriage legs.

Superior cockpit and fine airframe detail (due mainly to PE parts).
The Heller kit is still very nice, but Azur-FrRom clearly has the advantage in detail and better accuracy, although key dimensions are essentially the same between both kits. If you have the Heller P.11C kit I suggest you buy an Azur-FrRom P.11F to build, and use the spare P.11C engine that comes with it to correct the most noticeable weakness of your Heller Kit.
This looks to be a very good kit of the Romanian P.11F version of this significant 1930's fighter.
The engine will need scratch-built push-rods to look its best, but this is easily accomplished. The general execution is excellent, with good levels of detail and scale finesse. Sensible use of mixed media, whilst rather fiddly at times, only serves to enhance this. Five nice colour scheme choices, catered for by excellent quality decals, and a choice of wheels or skis only add to the appeal of this package.
A potentially stunning result is possible with this kit - Highly recommended.
Thanks to FRROM for the review sample.
---
Review Text & Images Copyright © 2013 by Mark Davies
Page Created 2 December, 2013
Last updated 3 December, 2013
Back to HyperScale Main Page