F-15B/D (2 in 1)
Israeli Air Force & U.S. Air Force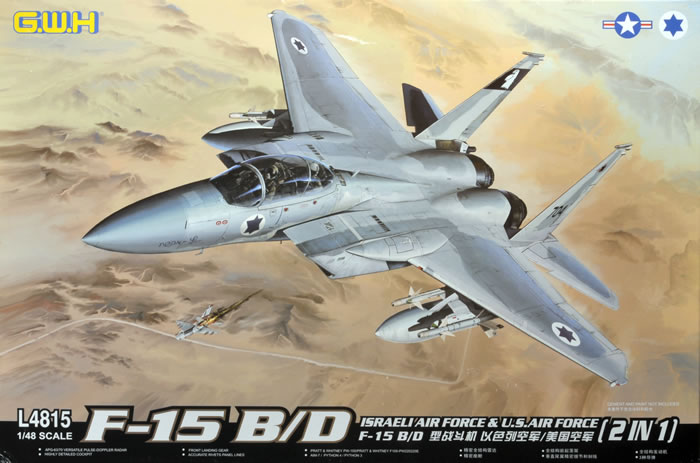 G.W.H., 1/48 scale
S u m m a r y :

Description and Item No.:

G.W.H. Kit No. L4815 - F-15B/D (2 in 1) Israeli Air Force & U.S. Air Force

Contents and Media:

250 parts in medium grey plastic; Four parts in clear plastic; one photo-etched fret; clear printed acetate sheet; four decal sheets covering four aircraft

Price:

Available for pre-order from Lucky Model for USD$75.98 plus shipping

Scale:

1/48

Review Type:

First Look

Advantages:

Very high level of detail; crisp and finely recessed panel lines; optional parts for B and D variants including cockpit, seat and engines; full engine detail for both F100-PW-220 and F100-PW-100 options; three sets of amazing one-piece rockets; clever parts breakdown and engineering; optional position parts including control surfaces, speed brakes and undercarriage; includes photo-etched parts; thoughtful packaging.

Disadvantages:

Recommendation:

In common with their earlier MiG-29 family, G.W.H.'s F-15B/D Eagle is a state-of-the-art model with superb detail and clever engineering. Highly Recommended.
Reviewed by Brett Green


G.W.H.s 1/48 scale MiG-29 will be available online from Squadron.com
The McDonnell Douglas (now Boeing) F-15 Eagle is a twin-engine, all-weather tactical fighter designed by McDonnell Douglas to gain and maintain air superiority in aerial combat. It is considered among the most successful modern fighters, with over 100 aerial combat victories with no losses in dogfights.
Following reviews of proposals, the United States Air Force selected McDonnell Douglas' design in 1967 to meet the service's need for a dedicated air superiority fighter. The Eagle first flew in July 1972, and entered service in 1976.
Since the 1970s, the Eagle has been exported to Israel, Japan, Saudi Arabia, and other nations.

The F-15 was originally envisioned as a pure air superiority aircraft. Its design included a secondary ground-attack capability that was largely unused. The design proved flexible enough that an all-weather strike derivative, the F-15E Strike Eagle, was later developed, and entered service in 1989. The F-15 Eagle is expected to be in service with the U.S. Air Force past 2025.
F-15 versions are still being produced for foreign users, with the F-15 production line set to end in 2019, 47 years after the type's first flight.
The F-15B and D variants were built as two-seater trainers. *
---
What's in the box?
G.W.H.'s all-new 1/48 scale F-15B/D (2 in 1) Israeli Air Force & U.S. Air Force comprises 250 parts in medium grey plastic, four parts in clear plastic, one photo-etched fret and markings for four aircraft.
Surface detail is made up from a combination of fine, crisply recessed panel lines and recessed rivets of various sizes, some of which are almost invisible at certain angles. Hinge lines, intakes, bumps and vents compliment the panel detail to good effect. The surface and structural features are really very impressive.
The kit is broken down into a "pancake" incorporating the upper wing and mid-upper fuselage elements in a single piece, plus a mid-rear lower fuselage tub and two lower wing sections that include the leading edge fairings. The forward fuselage is a separate sub-assembly that is split vertically and is capped by a one-piece nose. The hump behind the canopy is a separate part too. This flexible parts breakdown suggests that other F-15 variants may be on the way.
The cockpit is fitted out with a busy tub that includes detailed side consoles, plastic instrument panels and eight piece ejection seats.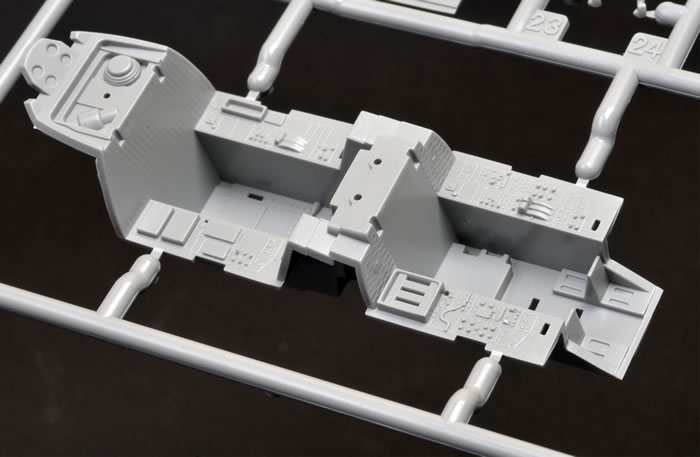 Alternative seats and instrument panels are offered for the F-15B and D variants. The instrument panels are injection moulded plastic. Individual dials are supplied on the decal sheet. These are clearly marked with numbers, with a corresponding illustration in the instruction sheet. Photo-etched parts are employed for gunsight.
The canopy parts are impressively thin and sparklingly free from distortion. There is a faintest hint of a centreline seam, but this should be very easy to clean up if desired. The canopy may be posed either open or closed.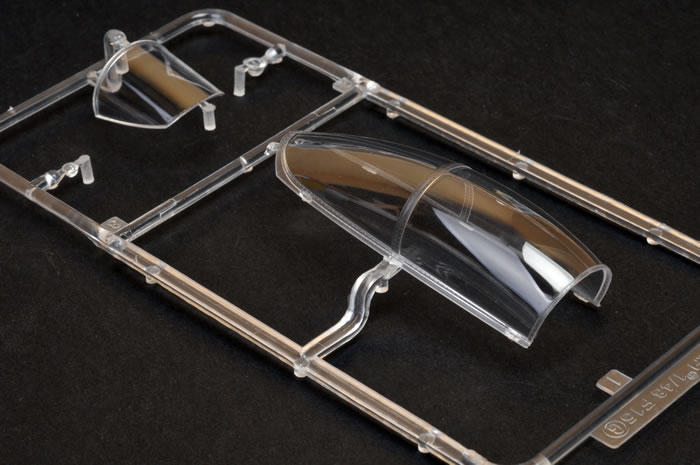 The forward fuselage is moulded with open avionics bays on each side, and radar equipment is provided for the inside of the radome. Covers are provided if you do not wish to display the avionics bays.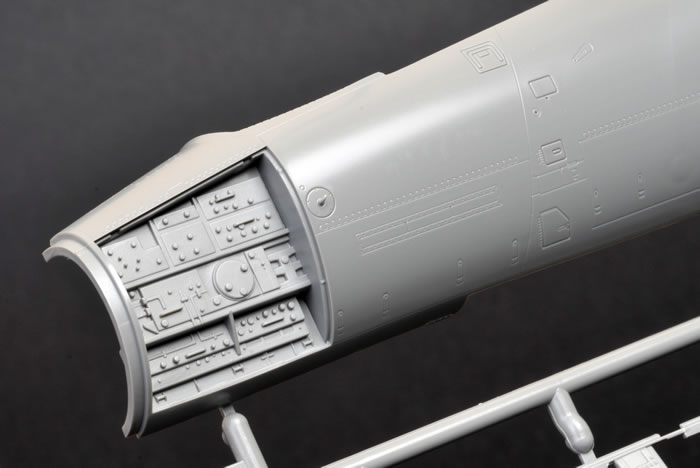 Speed brakes may be posed open or closed, while control surfaces and intake vents are separate and may be posed to taste too.
The wheel wells are comprehensively detailed with structural features moulded in place.
Four full engines are included - two full alternate F100-PW-220s and F100-PW-100s. The intake fans, engine bodies and exhausts are really well done. It is only a shame that you won't see the engines when they are fitted inside the fuselage, but at least you can paint up the spare set and display them if you like!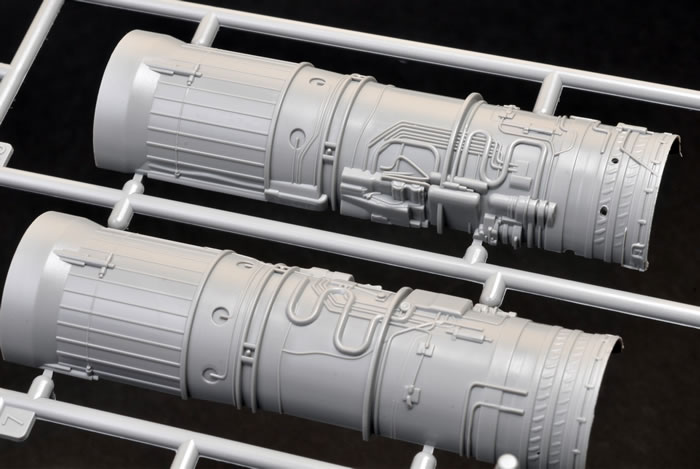 The distinctive turkey feathers are well detailed but won't be difficult to assemble thanks to their clever parts breakdown. The fingers for the turkey feathers are moulded in one piece for each side - impressive! Full intake ducting is included too.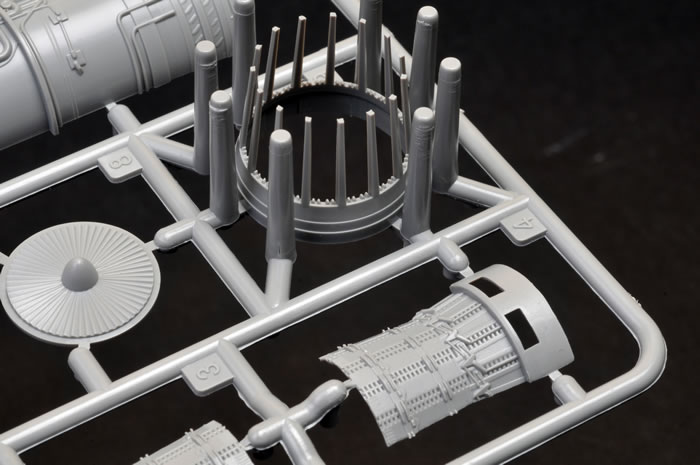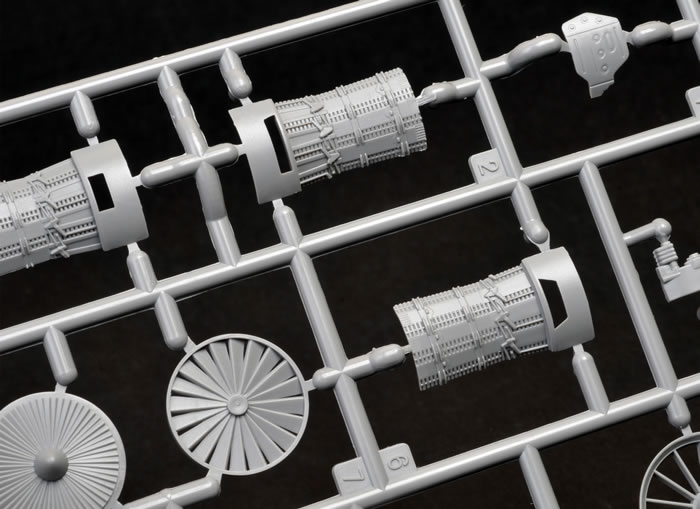 Undercarriage parts are also very well detailed. The tyres are injection moulded plastic, which will please modellers who do not like working with vinyl tyres (myself included). Alternate main wheels are provided for the B and D variants.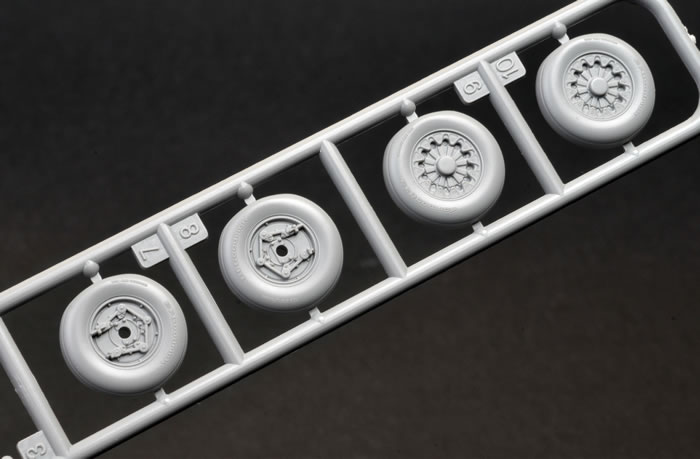 Three streamlined external tanks are supplied.
Additional ordnance includes four Python 3, four Python 4 and four AIM-7 missiles.missiles. These are truly a remarkable achievement in modern moulding technology. They are all presented in one piece each, with their fine fins moulded in place. Even their clear vacform packaging is luxurious. They really have to be seen to be appreciated.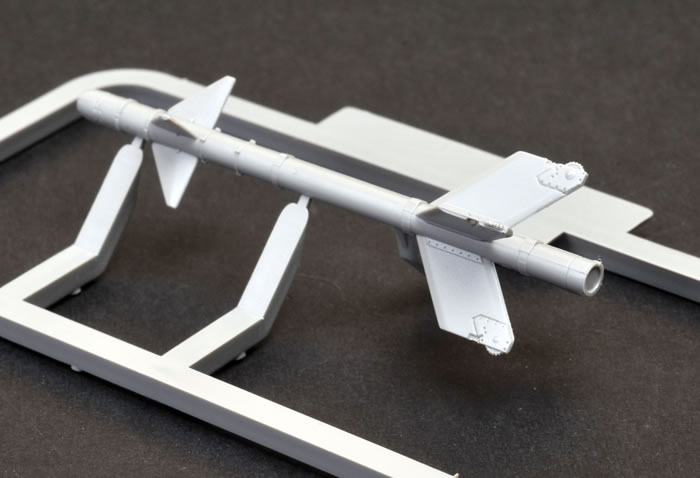 The four decal sheets are well printed, and include markings for two Israeli F-15Bs and two USAF F-15Ds.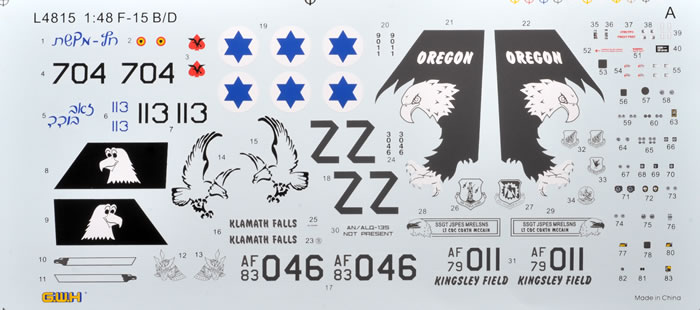 All are finished in the standard two-tone grey camouflage.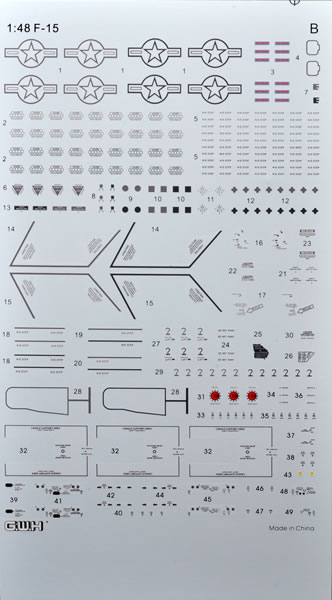 One decal sheet covers the unique markings, while the remaining three provide the many stencil markings.
The New Wave
In the immediate post-WWII era, products coming from Japan were often considered to be cheap imitations of questionable quality.
That reputation was turning around from the 1960s. In fact, by the 1980s, Japan was synonymous with high quality goods, demonstrating excellence in design and manufacturing standards in a range of industries from miniature electronics to motor vehicles.
Until quite recently, "Made in China" was often interpreted as "cheap and shoddy". However, China is now repeating the pattern of Japan before them. It has taken remarkable economic and industrial strides over the last 20 years, shifting from a largely agrarian economy to become the world industrial powerhouse we see today.
We saw the first wave of model kits trickle out of China more than ten years ago. These early kits were sometimes poor copies of existing kits in the market, while others had toylike features or serious inaccuracies. In fact, the earliest Trumpeter kits were manufactured from a form of ABS plastic that could not even be assembled using regular model glue. Many of these brands have fallen by the wayside but some, including Trumpeter, are still with us and still suffer from a mixed reputation, sometimes justified, sometimes not. Inconsistency seems to be an ongoing problem with some of these brands.
Over the last few years, however, we have seen a new wave of model companies from China. These include Meng Model and G.W.H. Their products rival the best model kits in the world in terms of detail, manufacturing quality, included features and accuracy.
Perhaps more importantly, when I open the box, I catch the distinct aroma of passion. It seems likely that somebody behind these companies has genuine enthusiasm and commitment to our hobby, and this translates to the quality that we are seeing from this new wave of Chinese companies.
G.W.H.'s 1/48 scale F-15B/D shows that their excellent Mig-29 family was no fluke. This new model demonstrates the same high standards and level of detail that we saw in the Fulcrums.
If you are a fan of modern U.S. aircraft, you're in for a treat.
I look forward to seeing what G.W.H. has in store for us next.
* background information courtesy of Wikipedia http://en.wikipedia.org/wiki/McDonnell_Douglas_F-15_Eagle
Thanks to G.W.H. for the sample
---
Review Text and Images Copyright © 2013 by Brett Green
Page Created 6 December, 2013
Last updated 6 December, 2013
Back to HyperScale Main Page
Back to Reviews Page