F4U-4 Corsair Late Version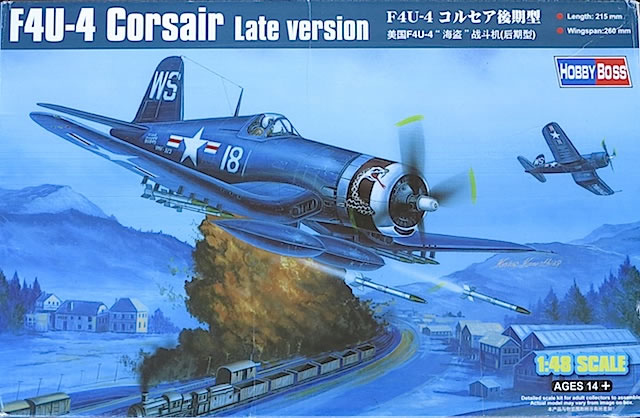 HobbyBoss, 1/48 scale
S u m m a r y :

Catalogue Number:

HobbyBoss Kit No. 80387 - F4U-4 Corsair Late Version

Scale:

1/48

Contents & Media:

Approximately 240 grey plastic parts; 11 clear plastic parts; 1 decal sheet containing markings for 2 aircraft; 8 page A4 fold out black and white instruction sheet; double sided A4 full colour painting and marking guide.

Price:

£17.99 plus shipping available online from Creative Models Limited

Review Type:

First Look

Advantages:

High quality plastic parts; interesting marking options

Disadvantages:

Wrong wing parts included for this version (FAA Corsair rather than F4U-4); plastic parts contain a number of errors and inaccuracies.

Conclusions:

HobbyBoss' 1/48 F4U-4 kits have some very positive features, and may be built into excellent models. However, the high quality of the plastic parts, and the kit's accuracy in some key areas, make HobbyBoss' omissions and errors elsewhere hard to fathom. Are the kits the best 1/48 F4U-4s now available? Probably, but you'll need to do some correction work if you want to turn the kit into an accurate F4U-4 model.

Reviewed by Brad Fallen


HobbyBoss' 1/48 scale F4U-4 Corsair Late Version
is available online from Squadron.com

Entering production in late 1944, the F4U-4 Corsair offered a number of refinements over the already formidable F4U-1D. These included a redesigned cockpit, improved ordnance carrying capabilities and a more powerful version of the Pratt and Whitney R-2800 engine. The latter required several changes that altered the F4U-4's appearance compared to earlier Corsairs. These included revised exhausts and crankcase, a new vent door for the engine accessory compartment, and the introduction of a four-bladed Hamilton Standard propeller unit and a chin scoop on the engine cowling.
The F4U-4 saw only limited service in World War Two, but made a significant contribution to the United Nations' effort in Korea a few years later. Although outclassed as an air superiority fighter, the F4U-4's long range and excellent ground attack abilities enabled it to provide invaluable support to UN forces.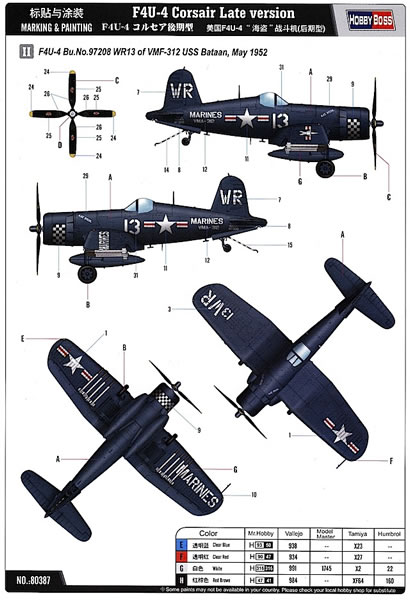 Ultimately just under 2,400 F4U-4s were produced by Vought, including 145 cannon-armed F4U-4Bs and 11 F4U-4P photo-reconnaissance machines, out of a total Corsair production of approximately 12,500.
The F4U-4 has previously been kitted a number of times in 1/48 scale.
In 1963 Monogram released a kit described by Bert Kinzey as having "toy-like features" and rudimentary details, and therefore "best left to the collectors and nostalgia buffs".
Based on Mania moulds from the 1970s, Hasegawa's F4U-4 can be built into a good model, but features raised panel lines and should not be confused with the company's recent 1/48 kits of later F4U variants. Both this and the following kit have also been released in F4U-4B boxings.
The 1980s Minicraft/Academy kit shares similarities with the Hasegawa kit, but also suffers from dimensional errors including a too-wide fuselage at the cockpit.
Czech company CMK has produced a resin conversion for Tamiya's excellent F4U-1D kit that can deliver a very good result, but only with considerable work.
Given this mixed bag of products, it was only a matter of time before a kit manufacturer released a modern 1/48 tooling of this important Corsair variant. Chinese company HobbyBoss has obliged over the past 18 months with kits of an early F4U-4 and F4U-4B.
Unfortunately, these kits are far from perfect. They can be built into stunning models – have a look at Brett Green's recent 1/48 HobbyBoss F4U-4B to see what I mean. But in order to achieve this result, Brett had to address a number of deficiencies and omissions in the kit, including through the use of replacement aftermarket parts. Brett described the kit as
"...a classic example of the Curate's Egg – it is good in parts. The cockpit and engine detail is really nice. The wing folds are quite busy, surface detail is not overstated, the clear parts fit perfectly (fit is very good overall in fact), and it seems that the aircraft's shapes are generally accurate.

On the downside, the wheels, prop blades, propeller boss and the elusive "smile" of the engine cowling intake are all off. The front of the main undercarriage bays, and therefore the front gear covers, are incorrectly shaped. The fabric detail on the elevators is really nice but inexplicably the rudder features deep scallops. The flap cavity covers are missing from under the wings and the instructions are pretty vague in some important areas, most notably the tail gear. Holes are provided for the folded wing braces but the braces themselves are not supplied. The cockpit is nice but the entire throttle quadrant is also absent from the port sidewall.

In summary, I would say that this is a very nice model that has been let down by sloppy research at the design stage."
Other reviewers have reached similar conclusions, so it was with a little trepidation that I started to examine HobbyBoss' most recent addition to its 1/48 Corsair family, an F4U-4 late version.
As has been my experience with other 1/48 HobbyBoss kits, first impressions are positive. The kit's 11 sprues of mid-grey plastic, and single clear sprue, are packaged in individual plastic sleeves to prevent damage in transit. As added protection, a number of sprues have been entirely or partially wrapped in foam plastic before being sealed in their plastic sleeves, while some of the smaller sprues are contained in a small internal box to prevent unnecessary movement. These precautions worked well, with my kit arriving in perfect condition.
The quality of the plastic parts is also excellent, with crisp moulding, good detail and no flash. The surface of the larger parts is very smooth, with generally restrained panel lines and rivets. The smaller parts are also finely reproduced, with the engine, cockpit consoles and ammunition belts particular highlights.
The transparent parts are very clear and thin. The windscreen looks to be a good match for the flat-fronted units fitted to more than half of the F4U-4s produced.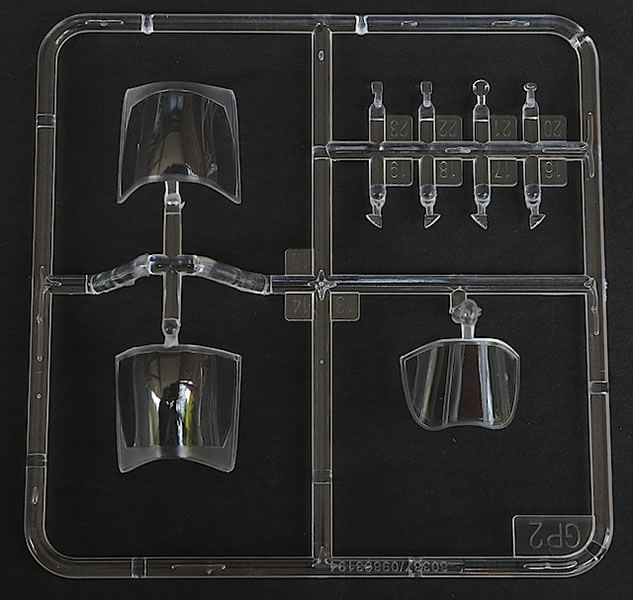 Another point worth mentioning about the clear sprue is that it appears to be the only intentional difference between this kit and HobbyBoss' previous F4U-4 early version kit, which contains the rounded windscreen initially fitted to the type. I say 'intentional' because HobbyBoss kicked an own goal in early releases of the late version kit (including the review sample), which accidentally received 'clipped' outer wing parts presumably intended for a future Fleet Air Arm Corsair kit. This inadvertent substitution has been discussed at length on Plane Talking and other forums, and I understand the error has been corrected by HobbyBoss in more recent releases of the kit. I've also heard that HobbyBoss has offered to provide correct replacement parts to those who want them – I'd be grateful if anyone can confirm this. If you can't wait for replacements, however, Al Grimm has shown on Plane Talking how he modified his 'clipped' wings to full-span items, with impressive results (do a search under "Hobby Boss 1/48 F4U-4 Late Kit Question").
Otherwise, the two different types of windscreen, and the F4U-4B kit's cannon-armed wings, appear to be the only differences between the three 1/48 F4U kits that HobbyBoss has released to date. This means that the issues identified by Brett during his F4U-4B build are also present on the F4U-4 late version kit. With Brett's comments in mind, and working from the front of the model back, here are my thoughts on the kit parts:
Propeller. While the hub looks reasonable the blade shapes are not right, being too pinched in close to the hubs and as a result making the whole unit appear slightly anemic.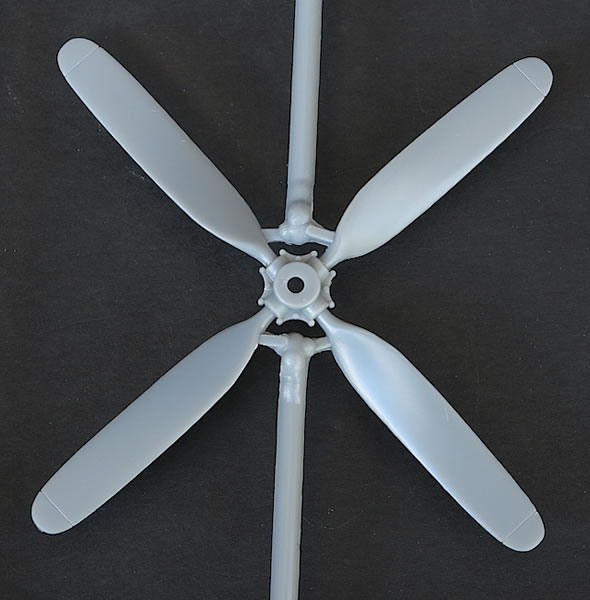 Engine cowling. On the positive side, this is a lovely single piece moulding that will be very easy to clean up, paint and install. But compared to period photos, the cowling appears to have two shortcomings: the front opening for the engine looks slightly too small (a la the cowlings for the 1/48 Accurate Miniatures B-25s), and the 'grin' of the cowl scoop appears to be both too broad and insufficiently deep.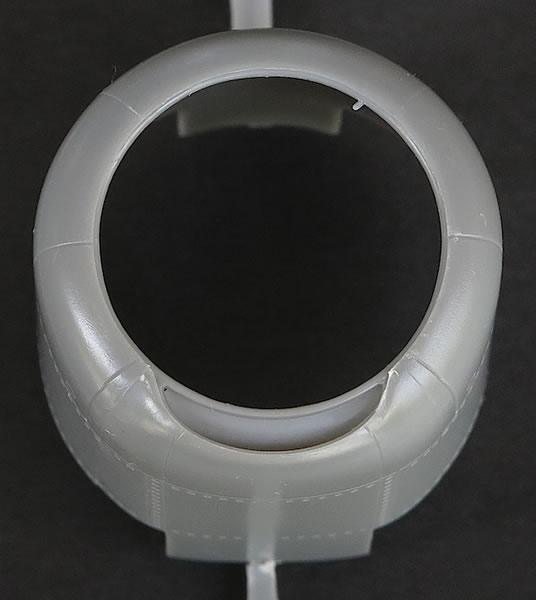 Engine. The kit crankcase is a well-detailed multi-part assembly, but doesn't capture the rugged, lumpy appearance of the real thing. Otherwise the kit engine looks the part, with some good moulded detail that with careful painting – and, if you wish, further detailing – should come up very nicely.
Fuselage. The fuselage halves are a very close match to the 1/48 plans in my SAM Datafile on the Corsair. This doesn't necessarily prove they are accurate, but HobbyBoss' interpretation of the fuselage shape does look reasonable.
Wings. The outer wing parts closely match the Datafile plans, albeit only when overlaid on those for the F4U-1 FAA conversion! The outer wings also feature open gun bays (although my recommendation would be to glue these closed unless you are thinking of adding significant further details). The single part lower centre wing is an impressive piece of moulding, but does not fully capture the complex shapes around the revised vent door that was introduced on the F4U-4. And, as Brett and others have noted, the main gear bays are incorrectly shaped at the front, as are the front gear covers. Most of the gear bays are actually moulded on the underneath of the inner upper wing parts, and accuracy considerations aside they are impressive pieces of moulding, with fine rib structure and not an ejector pin mark in sight. The wing root air intakes are provided as separate parts with the oil coolers already built in, and additional vane details then added from behind; when installed, these assemblies should create a good impression of depth. All control surfaces are provided as separate parts; the step cutout in the inboard starboard flap is represented by an engraved rectangle. Wing fold details are OK, with plenty of scope for further detailing, but I would be cautious about trying to build the kit with wings extended without some extensive test fitting.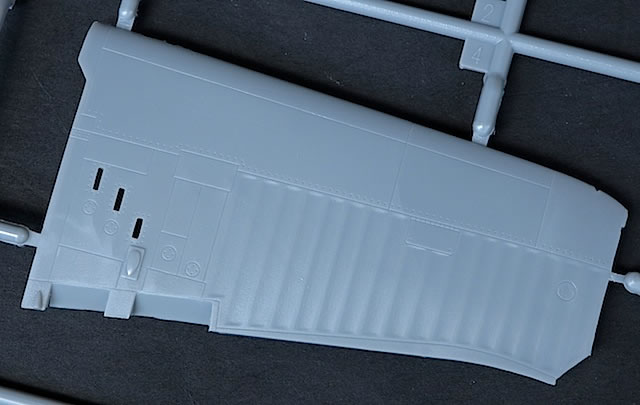 Landing gear. The main landing gear is satisfactory, but simplified in some areas; the main wheels in particular do not appear quite 'right'. The tail wheel unit is a complex little seven-part assembly that will be worth taking care over.
Cockpit. HobbyBoss has gone to some effort to capture the cockpit details of the F4U-4. The dial locations on the instrument panel and centre console are reasonably accurate, and the rear bulkhead, seat pan and armour plate look good. As previously mentioned the side consoles are finely detailed, although these details don't all match up with photos of the real thing. Simple black and white decals are supplied to emphasise the moulded detail on the instrument panel and consoles, but I'm not sure how good these will look, and recommend instead aftermarket instrument decals and careful painting. You'll also want an aftermarket seat harness.
Stabilisers, elevators and rudder. As with the wings, all control surfaces come as separate parts. Brett has already noted the deep scallops on the rudder; I think the fabric detail on the elevators is also slightly overdone, although it will be less obvious under a coat of paint.
Please note that these observations are not designed to be a complete list of every potentially contentious aspect of the kit under review. Rather, they are intended to provide an overview of its key features, while also being a starting point for those wishing to undertake more detailed examinations. Modelers who are more knowledgeable about the F4U-4 than myself will notice elements that I have not mentioned, while others may disagree with some of my observations. Personally I find it hard to disagree with Brett's conclusion: that this kit is good but could have been very good if more care had been taken during the research stage of production. As such, it is something of a missed opportunity for HobbyBoss.
---

Marking Options
Markings are provided for the following two Korean War-era F4U-4s, both finished in overall Gloss Sea Blue:
WS18/BuNo.96845 of VMF-323, USS Sicily, June 1951, with colourful "Death Rattlers" nose art. HobbyBoss' decal interpretation of the nose art looks reasonable compared to period photographs of VMF-323 F4U-4s, although I don't know if the art was applied to both sides of this machine (HobbyBoss provides two rattlesnake decals, handed so that each will face towards the front after application).
WR13 'Alice Special'/BuNo.97208 of VMF-312, USS Bataan, May 1952, with checkerboard markings centred underneath the engine cowling.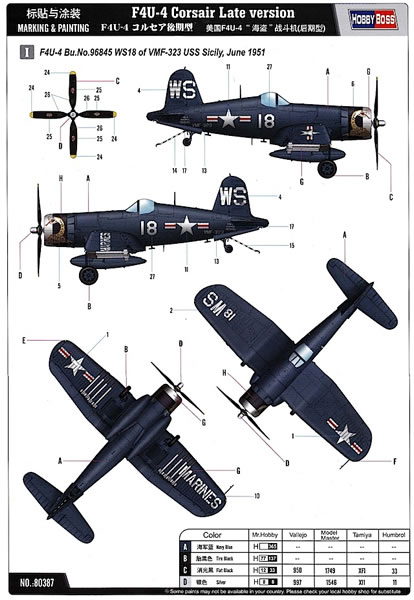 HobbyBoss supplies an excellent painting and marking guide to assist with finishing your selected marking option. Full colour four view drawings are provided of each aircraft, along with a front view of the propeller to help with the placement of manufacturer's logo and yellow propeller tip decals (although I would probably paint the latter rather than use the decals supplied). Call-outs are provided for appropriate Mr.Hobby, Vallejo, Model Master, Tamiya and Humbrol paints.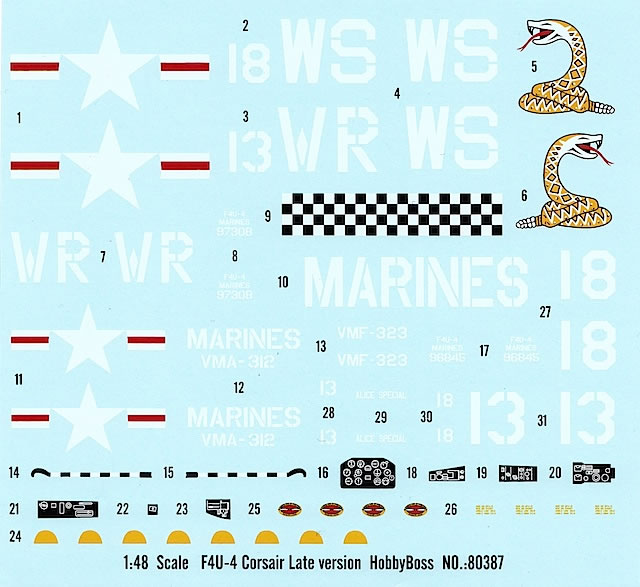 The decals look reasonable on the sheet, with crisp printing and good registration. Most of the decals are white, and it's hard to know how good their colour density will be until you start applying them. Fortunately, the monotone colour of the subject aircraft means that the only area on the model where this could be an issue is with the nose art of the VMF-323 machine, which needs be applied over a combination of Gloss Sea Blue, white and maroon.
HobbyBoss' 1/48 F4U-4 kits have some positive features, and as you can see from Brett's model, can be built into excellent models. However, the high quality of the plastic parts, and the kit's accuracy in key areas, make HobbyBoss' omissions and errors hard to fathom. I'm less concerned about the accidental inclusion of the FAA Corsair wing parts in the review kit, because this is an administrative rather than a research or production error. Are the kits the best 1/48 F4U-4s now available? Probably, but you'll need to do some correction work if you want to turn the kit into an accurate F4U-4 model.
---
References
Bert Kinzey, F4U Corsair in Detail and Scale, Parts 1 and 2 (Detail and Scale/Squadron Signal Publications, 1998).

Rafe Morrissey and Joe Hegedus, The Vought F4U Corsair – A Comprehensive Guide (SAM Publications, 2010).
Thanks to Creative Models Limited for the sample and for the images.
---
Review Text Copyright © 2013 by Brad Fallen
Page Created 18 October, 2013
Last updated 18 October, 2013
Back to HyperScale Main Page
Back to Reviews Page