Messerschmitt
Me 163 B Komet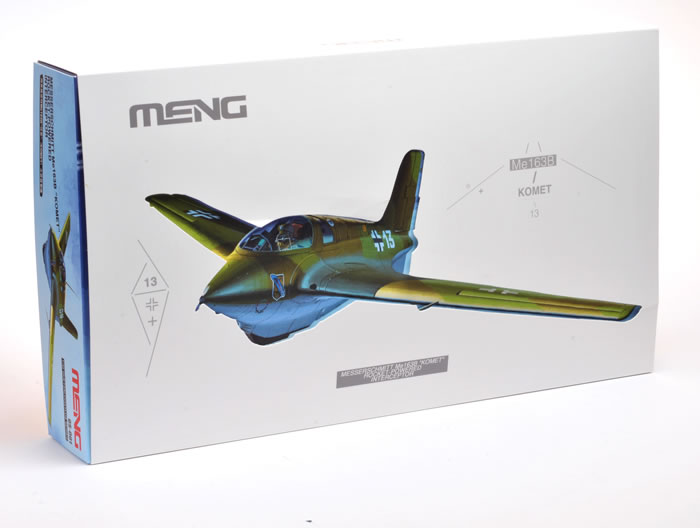 Meng Model, 1/32 scale
S u m m a r y

Catalogue Number and Description:

Meng Model Kit No. QS-001 - Messerschmitt Me 163 B Komet

Scale:
1/32
Contents and Media:

148 parts in grey plastic; 29 parts in black plastic; 10 parts in clear; two photo-etched frets; five parts in black vinyl; markings for three aircraft.

Price:

USD$41.99 plus shipping available now from Lucky Model
Will be available from Hannants and other retailers online and in store

Review Type:
FirstLook
Advantages:

Excellent mouldings; high level of detail including full engine and weapons; optional position rudder, elevons and landing flaps; fine recessed panel detail; very clear canopy parts; fuselage may be display in separate front and rear halves (stands supplied) high quality Cartograf decals.

Disadvantages:

Separate canopy frame; vinyl tyres.

Conclusion:

Meng's 1/32 scale Messerschmitt Me 163 B is a welcome and dramatic upgrade from the old Hasegawa kit, and a very impressive debut in this scale. Highly Recommended.
Reviewed by Brett Green

Germany produced a great number of designs that were stranger than fiction. A handful of these even made it into production.
The Messerschmitt Me 163 was a rocket powered interceptor that saw nearly a year of operational service before the end of the Second World War.
Designed by aerodynamics pioneer Alexander Lippisch and based around the Walter rocket motor, the Me 163 was a stocky little aircraft with swept wings and no horizontal tail planes. The Walter HWK 509 rocket motor weighed only 100 kg but generated 1,700 kg of thrust, resulting in staggering climb performance and a high top speed.
The downside was that the C-Stoff and T-Stoff rocket fuel combination was highly explosive and corrosive, and the range of the little interceptor was short.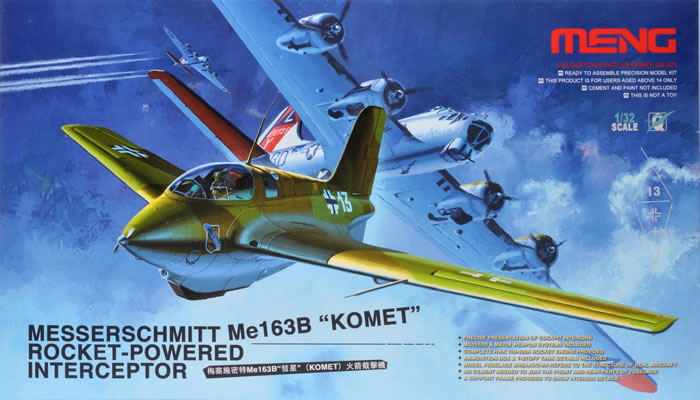 Even so, the Messerschmitt Me 163 B entered Luftwaffe service with a dedicated rocket unit, JG 400, in May 1944, three years after the first flight of the prototype.
Despite its inherent risks and limited endurance, the Me 163 was thrilling to fly thanks to its high speed, remarkable rate of climb and positive controls. Between 9 and 16 aerial victories were claimed for the loss of 10 Komets, but the aircraft's short range and rocket fuel shortages limited its impact on the outcome of the war.
Around 370 Messerschmitt Me 163s were built in total.
---
Previous 1/32 scale Me 163 Release
Hasegawa released a 1/32 scale Messerschmitt Me 163 B Komet in 1973, an era of poor detail, questionable accuracy, raised panel lines and gimmicky moving parts.
However, Hasegawa's Komet was not a bad kit at the time, being accurate in profile and plan, with raised but fairly restrained surface detail and lacking any clunky hinges or movable control surfaces.
The kit was made up from a modest 53 parts in somewhat brittle light grey plastic and another three parts in clear. It featured a very basic Walter rocket engine and the rear fuselage was moulded separately so that it could be removed to display the powerplant.
Surface detail included faint raised panel lines and a peculiar cross-hatched texture on the control surfaces. Some raised rivets were present too.
Enter Meng with a brand new 21st century edition of the Messerschmitt Me 163 B in 1/32 scale.
The model is presented inside a white slip cover with a cutout revealing only the artwork of the Me 163 - very upmarket. If model packaging was designed by Apple, this is how it would look!
With the slip cover off, the entire box art scene is revealed.
Meng's 1/32 scale Messerschmitt Me 163 B comprises 148 parts in grey plastic, 29 in black, 10 in clear, two photo-etched frets, five parts in black vinyl and markings for three aircraft.
Surface texture features crisply recessed panel lines. The fuselage and fin boast some extremely fine lines of rivets. You can just barely see them at certain angles in the accompanying photographs.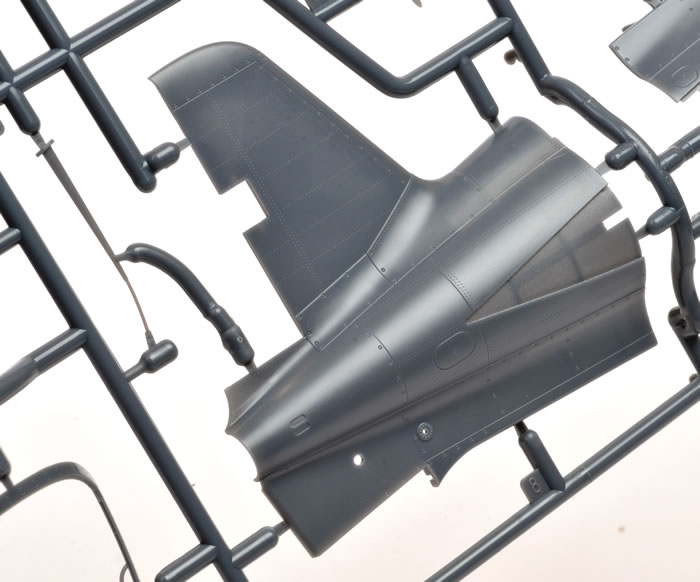 The wings are smooth except for the inspection hatches and the recesses for the speed brakes – quite correct for their wooden structure.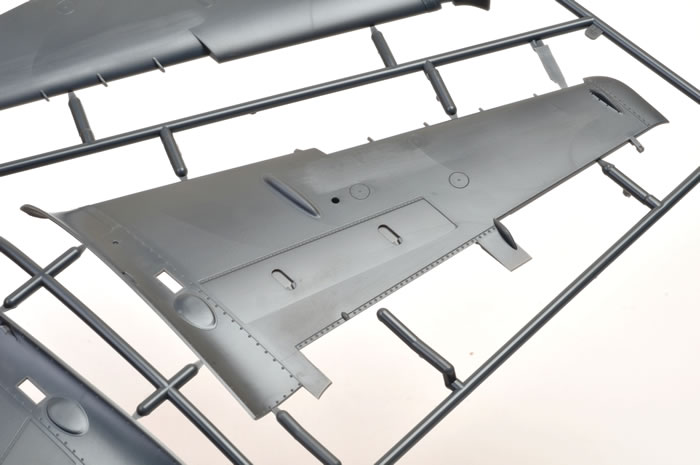 Cockpit detail is very good straight from the box. Photo-etched harness straps are supplied, and the option for either a very nice plastic instrument panel or a multi-part photo-etched item is offered.

Either way, you'll be able to use the individual instrument dials provided on the kit decal sheet. The instructions clearly indicate which dials go where. The clear quarter windows at the top of the rear cockpit bulkhead are also provided as separate parts. Another nice touch is the oxygen hose moulded to the regulator. The only additions you might consider are toe straps for the rudder pedals.
The HKW109-509A rocket engine is a lovely little model in its own right, with cables and hydraulics all delicately moulded as plastic parts. The T-Stoff fuel tank also features nice structural detail, as does the interior of the rear fuselage halves.
Ammo feeds for either the MK108 30mm cannon or MG151/20 20mm cannon are supplied, including exposed shell detail at the top of the trays. The rows of shells are supplied separately, which will make painting easier. The cannons themselves are very well detailed too, including rather clever hollow moulding of the barrel ends. The inspection panels in the wing roots are separate, so you may display the breeches if you wish.
The landing skid and handling dolly are also well done. An extended skid retraction mechanism is included. If you wish to display the model with the skid retracted, you may simply omit the retraction mechanism.
The fixed leading edge slats, the trim flaps, the speed brakes, the elevons and the rudder are all provided as separate parts. After checking a number of sources, I found a German technical drawing that labelled the lower wing speed brakes as "Lande Klappe" (landing flap), and the conventional flap position as "Trimmklappe" (trim flap). It would seem likely that the "Lande Klappe" would initially be used to reduce speed before landing, and the "Trimmklappe" applied as required closer to landing speed. The speed brake is provided as a photo-etched part with plastic actuators provided for the deployed position. The brakes may be glued shut if you wish.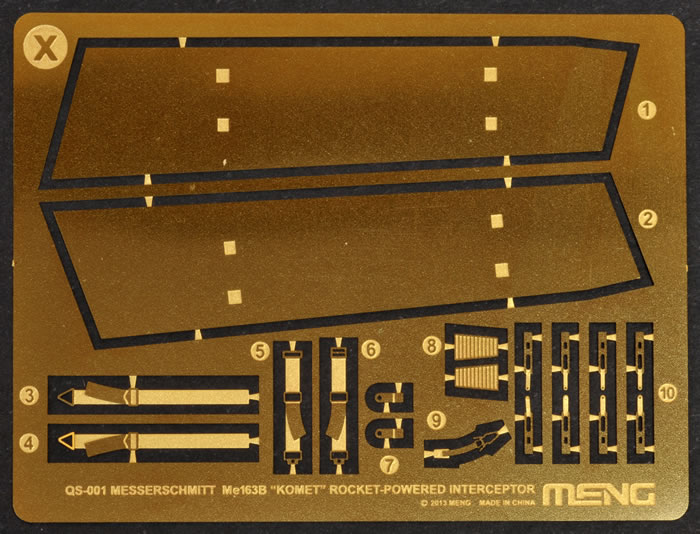 Also note that the leading edge slats were fixed, so don't drop them forward!
The access hatches for the cannon feed and engine are both separate parts with photo-etched latches. The tail wheel assembly may be posed raised or lowered, with the option of faired or bare. The tail wheel and main tyres are soft vinyl parts. Raised centreline seams will need to be removed from the main wheel tyres.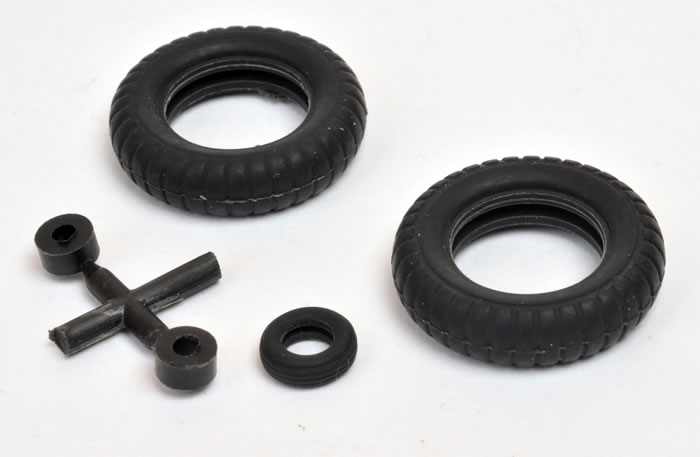 The canopy is split into the clear bubble and a separate grey plastic frame. Personally, I would have preferred to see a single clear part incorporating the frame, thus eliminating a tricky join between the clear and coloured plastic parts. Careful application of a strong acrylic glue (I'll be using Gator's Grip) should avoid this problem though.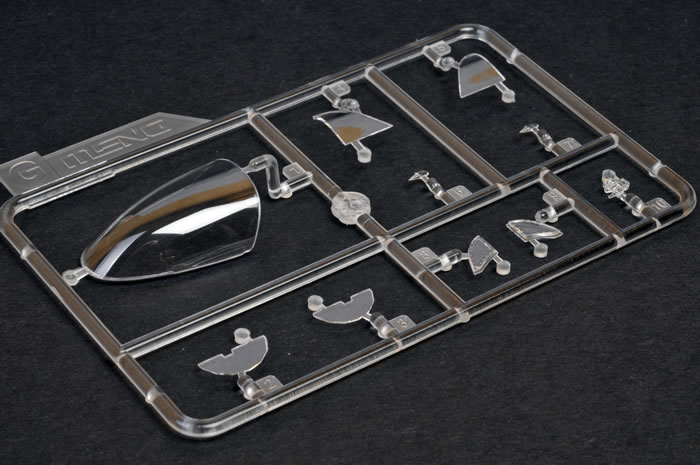 Two stands are provided to support the separate tail section and the end of the Walter engine. If you want to display your Komet in one piece, Meng provides two plugs that will allow you to join the front and rear halves without glue – another nice touch.
---
Markings
Three marking options are offered:
Me 163 B – 2./JG 400, Brandis, early 1945. Finished in upper surfaces of solid RLM 82 Bright Green and RLM 83 Dark Green over RLM 76 Light Blue.
Me 163 V41 – Major Wolfgang Spate, 13 May 1944. Finished in overall red.
Me 163 B – VF241, Eric Brown, 7 July 1945. Finished in captured RAF markings. Original scheme RLM 81 Brown Violet on upper wings and fin (may have had a disruptive colour as well) with mottled fuselage and RAF Trainer Yellow lower surfaces. RAF roundels in six positions and yellow "P" marking aft of fuselage roundels.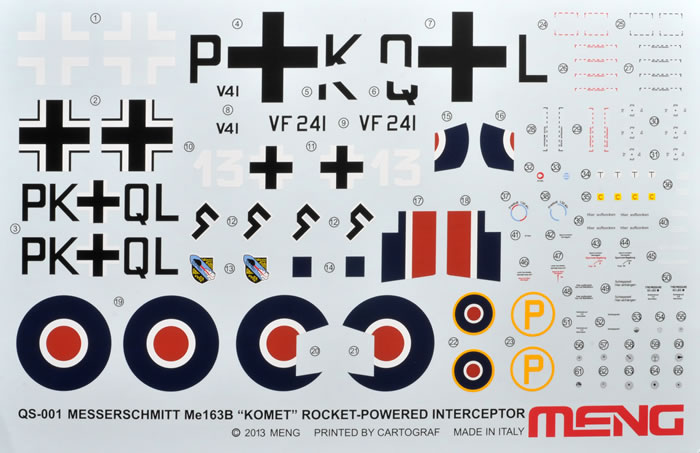 The decal sheet has been produced by Cartograf. The decals themselves are perfectly printed, the colours look good (I particularly like the RAF Dull Red and Yellow), and they are flat in finish.
.
Meng has completely blown away its 1970s era competition with this new 1/32 Messerschmitt Me 163. It really occupies a different detail universe to Hasegawa's kit.
Meng's 1/32 scale Komet enjoys convincing and restrained surface textures, excellent detail including full engine bay, gun bays and ammo feeds, optional position control surfaces including the underwing speed brakes, and the ability to join and separate the forward and aft fuselage halves at will. The inclusion of the stands for the separated fuselage halves is a nice touch too.
This is a great kit that will stand proudly alongside the best of today's models, and is certainly a worthy tribute to a unique and important aircraft.
Highly Recommended.
Purchased online from Lucky Model
---

Text and Images Copyright © 2013 by Brett Green
Page Created 10 October, 2013
Last updated 10 October, 2013
Back to HyperScale Main Page