Fokker Eindecker E.I Early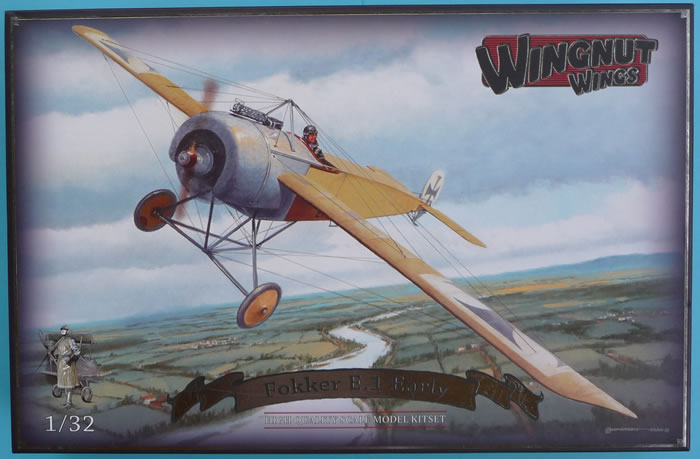 Wingnut Wings, 1/32 scale
S u m m a r y

Catalogue Number:

Wingnut Wings Kit No. 32021 - Fokker Eindecker E.I Early

Scale:

1/32

Contents and Media:

141 gray plastic parts. Early production Fokker E.I fuselage with short span wings; 18 part highly detailed 7 cylinder 80 hp Oberursel U.0 engine; Optional high and low mounted wings; Optional Parabellum LMG 14 or lMG 08 "Spandau" armament; 21 photo-etched metal detail parts; 3 variants of propellers and coamings; Full colour A4 instruction manual and five painting options with decals produced by Cartograf.

Price:

USD$69.00 with free shipping worldwide, available online from Wingnut Wings' website.

Review Type:

First Look

Advantages:

This kit gives you numerous options, High and low wing variants, optional machine guns in plastic or a combination of PE and plastic, Plus it's the only 1/32 Fokker E.I available..

Disadvantages:

Conclusion:

This kit has numerous options and caters for a variety of skill levels. If you want to go to town with PE and super detailing, you can go for it, or if you are interested in giving a 1/32 World War One aircraft a go for the first time, the Fokker Wingnut Wings Eindecker aircraft are a great place to start, no mucking around aligning biplane wings with this beautiful little monoplane. Highly recommended.
Reviewed by Phil Parsons

The legendary Fokker Eindecker E.I, armed with a machine gun synchronised to fire through the propeller, made its 1st official kill on the 1st day of August 1915. It was a 80hp Oberursel U.0 powered wing warping Fokker E.I 13/15 flown by Max Immelmann and marked the beginning of the "Fokker scourge" .
Most, if not all, of the first ½ dozen Fokker E.I were manufactured armed with a Parabellum LMG14 but this proved to be unsuitable for synchronisation and all following Fokker Eindeckers were fitted with the IMG 08 'Spandau'.
Early in 1916 the appearance of the highly manoeuvrable French Neiuport 11 and British DH.2 marked the beginning of the end of the 'Fokker scourge' and most Eindeckers had been withdrawn from Frontline service by December 1916.*
Wingnut Wings present you with extremely attractive box art, with the image framed by a silver border that catches the light and your eye. Within the sturdy box are seven sprues, beautifully moulded and all individually bagged. This latest Fokker Eindecker coming hot on the heels of their Fokker EII/III and IV releases, contains three sprues common to these kits. A single sprue is devoted to various Eindecker engines, the Gnome 80hp/ Oberursel U0 80ps/ and U3 160ps engines while two sprues are specific to the Fokker E.I Early, these predominately contain wings, fuselage, propellers and cowlings among other E.I specific parts.
Since Wingnut Wings first appeared I have purchase many of their wonderful kits. One item that always amazes me is the beautifully produced instruction manuals. Detailed pictures, CAD drawings, and informative text all lead you on a journey through the construction process which begins with the cockpit and a very interesting design feature that will come to the fore later in the construction sequence. Part 18 (rear cockpit wall and fuel tanks) with part B27 and the fuselage framing when assembled provide internal mounting slots that will provide a very solid wing attachment point.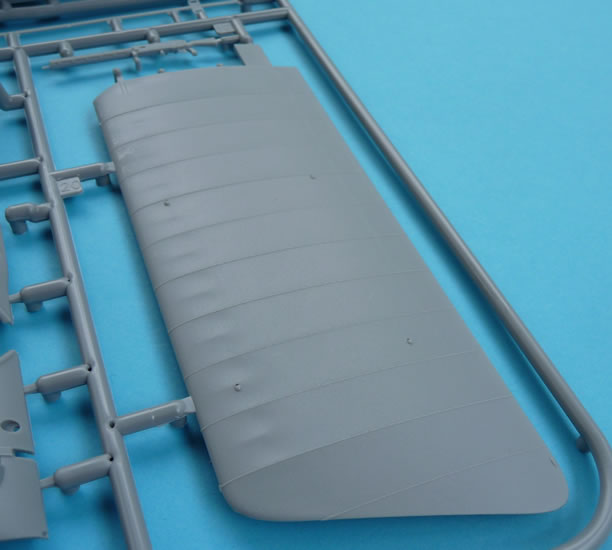 You will need to decide early on which option you intend to build, as there are some major variations, changing your mind mid construction may not be possible. Fuselage and cowling construction follow with plenty of tips and photos. The engine comes as a specific Oberursel U0 80 hp and does not require any modifications (unlike the 100hp Oberursel U.1 and the 100hp Gnome Monosoupape rotary engine as noted in reviews of later Fokker Eindeckers). What would be nice is a diagram for the sparkplug wiring; the instruction guide has this information in the form of a photograph, which is a little difficult to follow.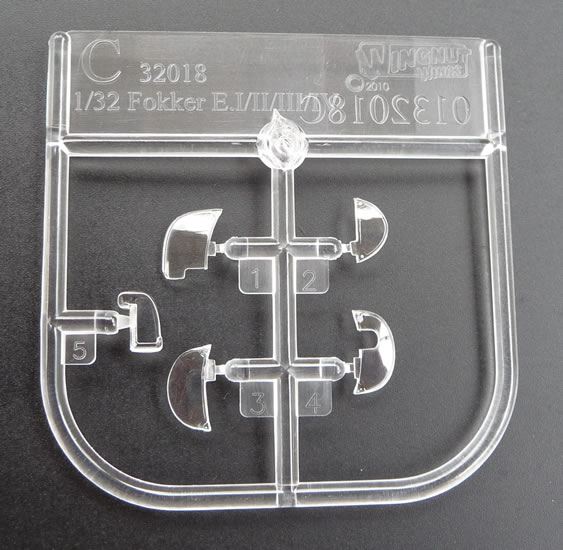 Undercarriage construction follows, and while there are rigging diagrams, the Wingnut Wings website is of great assistance as it provides additional rigging images, and examples of completed models. Construction of the wings and tailplane are followed by the addition of cockpit coaming detail. Wingnut Wings cater for all modelling skills with their machine gun detail, depending on your experience level, you can use the plastic injected machine guns, or detail away with a mix of plastic and photo etch components. Finally cabane construction (three variations) and the propeller (three options available, Behrend, Garuda or a Intergral propeller) round out the construction sequence.
---
Marking Options
There are five aircraft to choose from on the large Cartograf-printed decal sheet.

Registration is perfect.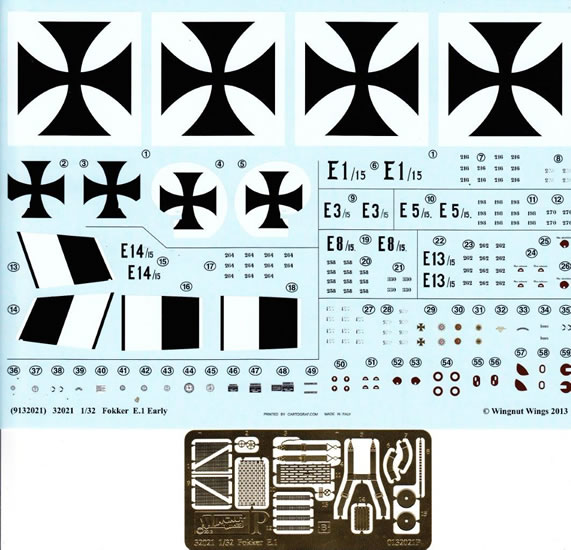 Carrier film is kept to a minimum around each item, which includes the all-important stencil data amongst the national and personal markings.
Fokker E.I 1/15, Otto Parschau, June-July 1915 (8 victories)

Fokker E.I 5/15, Kurt Wintgens, FFA 6b, July 1915 (19 victories).

Fokker E.I 8/15, Uffz. Kneiste, FFA 6b2, August 1915.

Fokker E.I 13/15, Max Immelmann (15 victories) & Oswald Boelcke (40 victories), FFA 62, August 1915.

Fokker E.I 14/15, Eduard Böhme, FFA 9b, August 1915 (2 victories).
It is great to finally see this historically significant aircraft, the first successful fighter aircraft in history, being produced in 1/32 scale.
This kit is all that we have come to expect from Wingnut Wings who have turned modelling into a fantastic experience. Opening a Wingnut Wings box invokes similar feelings to what I experienced in my youth, wonder, surprise, and excitement.
To quote someone many Australians will know, "Do yourself a favour" and treat yourself to one of these. Check out the Wingnut Wings website and order soon so that yours will be waiting for you in time for Christmas.
This kit comes highly recommended.
* History from WNW
Thanks to Wingnut Wings for the review sample.
---
Review Text and Images Copyright © 2013 by Phil Parsons
Page Created 18 November, 2013
Last updated 18 November, 2013
Back to HyperScale Main Page