S u m m a r y :

Catalogue Number, Description and ISBN:

Mushroom Model Publications
Messerschmitt Bf 109 F
978-83-61421-75-7
MMP Books

Contents & Media:

Soft cover, 128 pages, C5 format; English text; black-and-white and colour photographs; colour and black and white profiles; black and white and full colour detail sketches

Price:

GBP £15.99 available online from www.mmpbooks.biz, or from specialist book and hobby shops

Review Type:

First Look

Advantages:

Informative, easy to read text; high quality photographs, drawings and profiles; wide variety of inspiring colour schemes included

Disadvantages:

Conclusion:

Highly recommended to anyone contemplating a Bf 109 F kit build, or who is interested in understanding how this arguably definitive Bf 109 evolved and what made it tick.

Reviewed by Brad Fallen


HyperScale is proudly supported by Squadron


The Messerschmitt Bf 109 F is not a neglected version of this famous German fighter. The Friedrich's good looks, superb combat record and wide variety of camouflage schemes have long made it a favourite of aircraft historians and modellers, which is reflected in the range of literature and kits available. Undaunted by this wealth of material, Mushroom Model Publications has chosen the Bf 109 F as the subject of its latest Yellow Series book, and done Luftwaffe modellers a service in the process.
Author Robert Michulec has followed the established Yellow Series structure, beginning with a technical and development history of the Bf 109 F before moving on to more detailed camouflage, marking and walk-around analysis. Specific areas covered are:
Messerschmitt's research, development and test programs that led to the start of Bf 109 F series production in 1940. These aspects are covered in a series of short chapters entitled 'Early Stages', 'Two Programmes', 'Armament' and 'Bf 109 F-0', which describe the challenges in developing this more refined version of the Bf 109. Michulec's text is backed up with a selection of black-and-white period photographs of the Friedrich prototypes that will be of great use to anyone who is interested in modelling these early examples.
Bf 109 F variants, series production, and modifications. These 30-plus pages will ensure you know your Bf 109 F-4/Z/trop from your Bf 109 F-6/U1. Again, the text is heavily reinforced with illustrations: period photos, 3D renderings, 1/48 scale plans and scrap drawings. The highlight is a 58 cm full colour fold out of Bf 109 F-2 'Black Double Chevron and Bar' flown by Hptm. Dietrich Hrabak, II./JG 54, summer 1941. This is easily the most thorough treatment I've seen of the various Bf 109 F subtypes, and it's aimed at modellers who want to get their details right. Even if all of the information you want on a specific variant isn't here, there should be enough material to point you in the direction necessary to complete your research.
Bf 109 F research programs. This short but fascinating chapter looks at Friedrich test beds, which were used to evaluate a variety of innovations from air-to-air rockets to ski landing gear to the proposed Me 309 undercarriage layout.
Production numbers, technical description and specifications. Three useful nuts-and-bolts chapters that list Bf 109 F W.Nr. serial blocks, describe the main airframe components and provide comparative performance data for the Bf 109 E-4, Bf 109 F-2, Bf 109 F-4/trop, and Bf 109 G-2.
25 pages of colour illustrations showing the variety of camouflage finishes applied to Bf 109 Fs. Unsurprisingly most of the aircraft depicted are in Luftwaffe colours, with a smattering of captured Friedrichs and one Hungarian F-4. Most of the illustrations are port or starboard profiles, but there are also half-a-dozen overhead and undersurface views. Two of the profiles (the Hungarian machine and an F-4 in USAAF colours) are also supported by period photographs.
If you're embarking on a Bf 109 F modelling project, these will be close to all of the detail photos you'll need. I like the mixture of contemporary and period images, because while the latter are usually clearer than wartime photos, they are invariably of restored airframes that aren't always true to the original aircraft. This is where the period photos and technical drawings come in, allowing you to cross-reference as necessary and draw your own conclusions.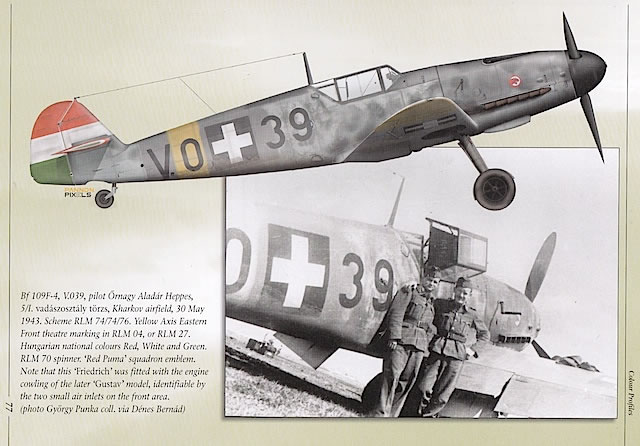 As is the norm with Yellow Series books, the C5 format is big enough to allow decent image quality and a font that's large enough to read, but compact enough to sit on the corner of your workbench without taking up too much space. The author's writing style is highly readable, and MMP's production quality is up to its usual high standards with no typos or other errors noted.
This book proves the maxim that you can never have too many publications on the Bf 109. I recommend it highly to anyone contemplating a Bf 109 F build, or who is interested in understanding how this arguably definitive Bf 109 evolved and what made it tick.
Thanks to MMP Books for the sample.
---
All MMP Books are available direct from the publishers, who now accept credit cards (Visa, MC, Amex, Switch)
North American distributors are MMD, Australian distributors are Platypus Publications. In Europe, the books are available from any good bookshop (via our UK distributors, Orca). Contact MMP direct in case of difficulties.
Thanks to Roger at MMO Books for the sample.
---
Review Copyright © 2014 by Brad Fallen
This Page Created on 13 February, 2014
Last updated 13 February, 2014
Back to HyperScale Main Page
Back to Reviews Page