P-47D Razorback Double D Jugs – Part 2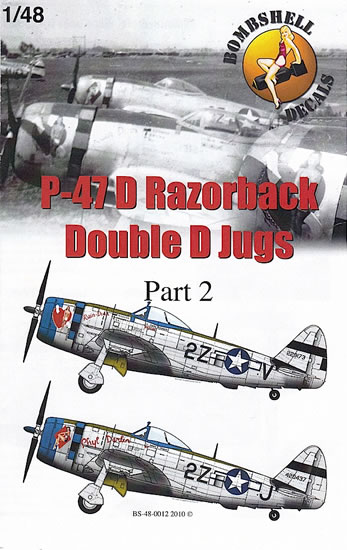 Bombshell Decals, 1/48 scale
S u m m a r y:

Catalogue numbers and description

Bombshell Decals 48-BS-0012 - P-47D Razorback Double D Jugs – Part 2

Scale

1/48

Contents and Media

Contains 1 x waterslide decal sheet of national insignia, codes, nose art and other individual markings for two P-47D Thunderbolts, and 1 doubled sided A4 full colour instruction sheet and marking guide.

Price

US $16.00 for each part.

Available online from

Review Type

First Look

Advantages

Interesting and colourful subjects; useful instructions; high quality decals.

Disadvantages

Not really a disadvantage, but more information about the subject aircraft would have been welcome.

Conclusion

Another great Bombshell release that is highly recommended to anyone who likes P-47s, USAAF nose art, or both. The quality of the decals is such that, if applied carefully, you will be rewarded with a stunning model that should really stand out against other P-47s on the competition table.

Reviewed by Brad Fallen


HyperScale is proudly supported by Squadron.com


The first thing to note about this release is that its subjects are P-47D Bubbletops, not Razorbacks. The title appears to have been carried over from Bombshell's earlier 'Double D Jugs - Part 1', which did feature P-47D Razorbacks.
The two P-47s on this sheet were operated by the 510th Fighter Squadron of 405th Fighter Group, 9th Air Force:
"Rain-Dear", 229173/2Z-V, flown by Lt. Clarke Bresmeth, and
"Phyl Darlin", 420437/2Z-J, flown by Lt. Robert E. Wagner.
Unsurprisingly for machines operated by the same unit at approximately the same time, these natural metal P-47s carried similar markings and trim. The latter consisted of a black band across the vertical tail surfaces, an Olive Drab antiglare panel running the entire length of the fuselage, blue canopy framing and forward cowl, and alternate blue and black cowl flaps. According to Bombshell's instructions, the cowl band was originally black before being overpainted blue. This overpainting was done after the nose art on "Rain-Dear" was applied, so Bombshell supplies a black decal to apply beneath the nose art decal to convey this impression.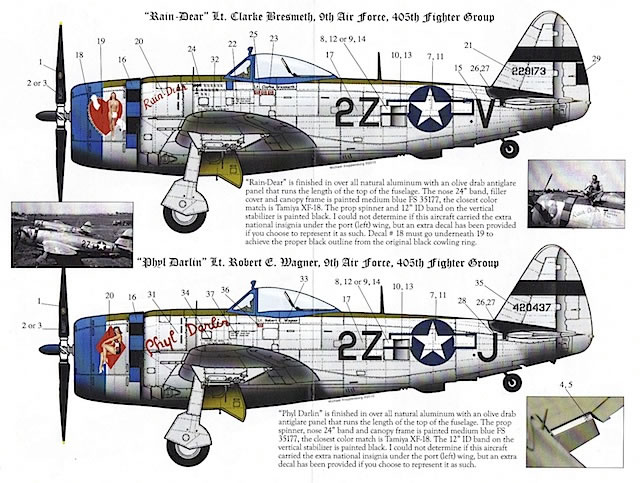 And what nose art! Both aircraft wore finely rendered pin-up paintings on their port engine cowls – "Rain-Dear" a semi-nude superimposed on a red heart with lace trim, and "Phyl Darlin" a swimsuit model in high heels on a red diamond. Bombshell has captured this nose art beautifully, providing decals of almost photo-quality. For example, the colour of the flower petals on the "Phyl Darlin" swim suit subtly changes from dark red at the edges to orange in the centre - no mean feat to achieve in 1/48 scale! Only one copy of each nose art decal is supplied, however, so you'll have to careful when applying them.
The rest of the decals are also impressive. Printed by Cartograf, they look thin, glossy and flawless on the backing sheet. The fuselage stars and bars are provided as several separate decals to ease positioning on and around the intercooler doors. Additional national insignia are supplied to take into account the extra insignia many P-47s wore under the port wing, although Bombshell notes there is no evidence that this port insignia was (or wasn't) applied to the subject aircraft. There are enough national insignia on the sheet to complete both "Phyl Darlin" and Rain-Dear" without having to rob your spares bank, although you will need to find another source for stencils as –apart from for the propeller blades and flaps – these are not provided.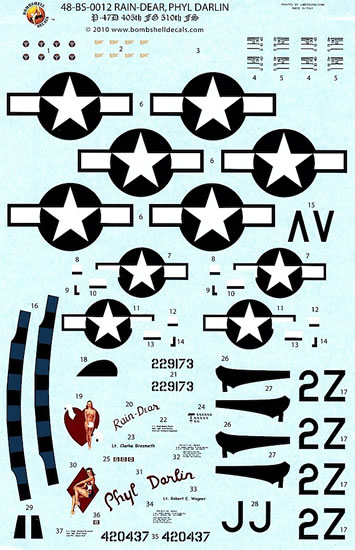 The only decals I'd question the value of are those for the blue and black cowl flaps. I can understand why Bombshell has supplied these – masking and painting the flaps would be tedious – but I'd probably prefer to do this than try to match the blue paint I was using for the rest of the trim with the blue of the decal.
Bombshell's instructions are full colour and reasonably comprehensive. Port profiles are provided of each aircraft, along with common upper and undersurface plans and a scrap view showing correct stencil placement on the flaps. Decal placement is clearly indicated by number, and if you mark these off as you go it's hard to see how you can go wrong. The profiles and plans are supplemented by two black and white colour photos of "Rain-Dear", but these are small and hard to interpret.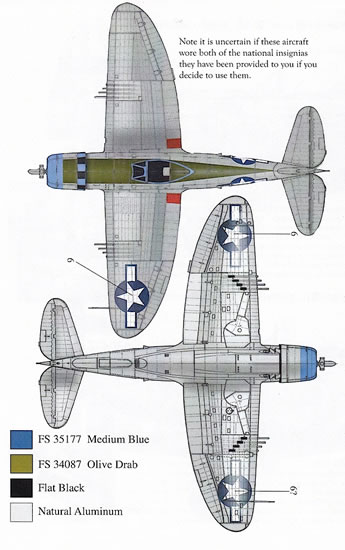 The instructions also include a short descriptive paragraph that points out key details of each aircraft. This is very useful, but I would have liked to see a bit more information here: for example, the time frame in which "Phyl Darlin" and "Rain-Dear" operated (I'm guessing late 1944/early 1945); each aircraft's production block (my research suggests "Rain-Dear" was a P-47D-28-RA, and "Phyl Darlin" was a P-47D-30-RE); and what type of propeller was fitted to each aircraft (the photos of "Rain-Dear", and the profiles of each, suggest Curtiss Electric, but again it would be useful to have Bombshell's view). This is a minor gripe, but Bombshell has made available some excellent additional, downloadable information on its 'Double D Jugs - Part 1' release, and it would be good to see something similar for this release.
This is another great release from Bombshell Decals that is highly recommended to anyone who likes P-47s, USAAF nose art, or both. The quality of the decals is such that, if applied carefully, you will be rewarded with a stunning model that should really stand out against other P-47s on the competition table. The problem for me will be choosing whether to model "Rain-Dear" or "Phyl Darlin", because they're both equally attractive options; perhaps the only solution is to build both....
Highly recommended.
Thanks to Bombshell Decals for this sample.
---
Text and Images Copyright © 2014 by Brad Fallen
This Page Created on 22 January, 2014
Last updated 22 January, 2014
Back to HyperScale Main Page