English Electric
Lightning F.2A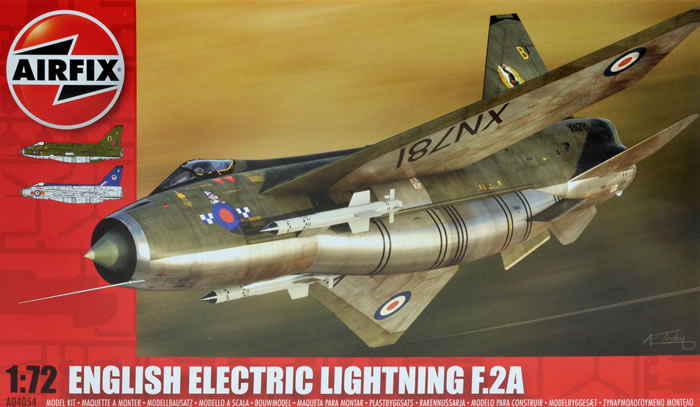 Airfix, 1/72 scale
S u m m a r y :

Catalogue Number:

Airfix Kit No. A04054 - English Electric Lightning F.2A

Scale:

1/72

Contents & Media

85 grey and seven clear styrene parts, with decals for two colour schemes.

Price:

£12.49 plus shipping available on-line from Hannants,
and soon from stockists worldwide.

Review Type:

First Look

Advantages:

At last, a truly good 1/72 injected kit of this evocative interceptor. Very accurate, nice surface detail, good decals, and attractively priced.

Disadvantages:

None apparent.

Conclusions:

Airfix's new-tool Lightning is accurate, has nice surface detail, simple engineering that should build well, comes with excellent decals, uses clear instructions, and is well-priced. It is undoubtedly the best 1/72-scale EE Lightning kit to date.

This is an excellent effort by Airfix, and I rate it as their equal-best so far 1/72 release, along with their new-tool Fairey Swordfish.

I recommend it highly.
Reviewed by Mark Davies

Valom's 1/48 scale An-2 Colt is available online from Squadron.com
No Introduction Necessary
The English Electric Lightning was a supersonic jet fighter aircraft of the Cold War era, noted for its great speed. It was the only all-British Mach 2 fighter aircraft and was the first aircraft in the world capable of super-cruise. The Lightning was renowned for its capabilities as an interceptor; pilots commonly described it as "being saddled to a skyrocket". Following English Electric's integration into the unified British Aircraft Corporation, the aircraft was marketed as the BAC Lightning.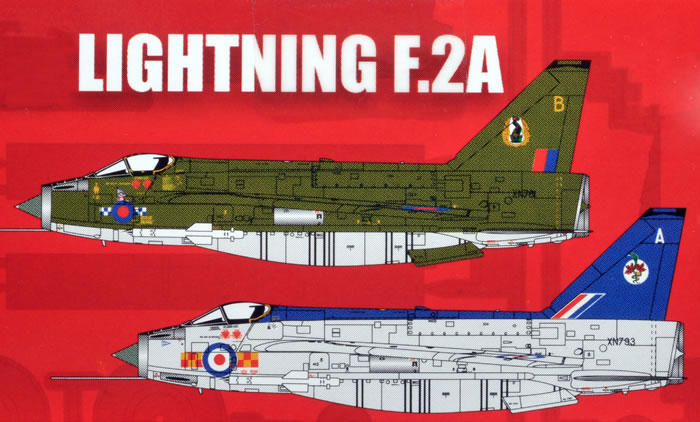 Source and link to a more detailed history: Wikipedia.org.
---
Previous 1/72 scale EE Lightning Kits
There have been many EE/BAC Lightning kits in The One True Scale over the years. The main injected kits have been by Airfix (F.1 & F.3), Frog/Hasegawa/Revell/Eastern Express (F.6), Matchbox (F.2A/F.6 & T.55), Trumpeter (F.1/F.2, F.3 & F2A/F6). The P.1 Prototype was also offered by Frog (very early kit) and Merlin. There have been some resin multi-media kits covering various versions, which may all use the same set of masters, by Maintrack, Heritage Aviation and Whirlykits. These resin kits are generally quite accurate, but the quality of casting is variable, and the white-metal parts need considerable cleaning up. Various vac-form conversions for other versions, including twin-seaters and the P.1 prototype, were offered by Aeroclub and Airmodel; whilst Neomega made a very nice resin T.4 fuselage.
Despite its 1/72 kit coverage we have been waiting a long time for a modern, well-detailed kit of the Lightning. The Airfix kits suffer some nose area accuracy issues; have fine raised detail, but are very old and soft on detail. The Frog/Hasegawa/Revell/Eastern Express kit has a number of subtle shape issues, but generally looks the part; although they are simple on detail. Matchbox had the best outlines (although a little narrow in the fuselage) and offered the only twin-seater, albeit a non-RAF version; but their kits suffered from simple detail, heavy raised panel lines, raised lines coinciding with painted stencil lines on the real aircraft. Trumpeter's kits were a huge disappointment, with some dreadful shape issues, although they were nicely detailed with good panel line treatment. They were the only mainstream kits to feature intake trunking and depth to the exhausts. None of the injected kits capture the subtly kinked wing leading-edge of the F.2A/F.6 when viewed head-on. The resin kits brands sometimes suffered from poor manufacturing quality and demanded a lot of work, but could give a nice result.
Contents
The kit comes in a top-opening box with attractive artwork. The sprues are enclosed in a single heat-sealed plastic bag, with the clear parts further protected in their own smaller bag.
The main parts are on four light grey sprues with a single clear sprue. The parts are cleanly moulded and the sprue gates fine enough. The decals and their cover-paper are loose within the box, and cover an A-5 sized sheet. The multi-lingual instructions do not have a parts map, and have well-drawn diagrams that are easy to follow, and use red shading to indicate previously constructed sub-assemblies (a first for Airfix I think).
The painting and markings guide is in colour with four views per scheme. Colours are described using generic names, with paint codes that correspond to the Humbrol range and, in one instance, to BS381C.
---
The Kit
The first thing I check with each new Airfix release is the panel lines. Either I am becoming accustomed to what Airfix is offering, or they are genuinely improving, as they are quite acceptable on this issue. In fact, most of the fuselage lines are very good, although for some reason they are heavier on the tail fin. Slightly finer rendition may be offered by the likes of Hasegawa, Tamiya or various Czech Brands, but I can see most people being more than happy with this effort by Airfix.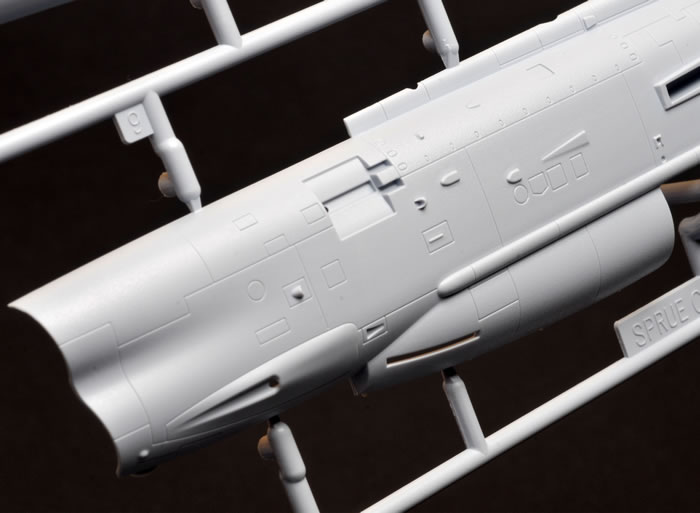 The kit's cockpit has a tub, instrument panel, control column and four-part ejection seat. Decals are used to simulate the instrument and side panel detail. For most, a resin bang-seat will enhance this area sufficiently, although it is sure to be only a short time before resin and PE detail sets become available (and those already released for the Trumpeter kits should be adaptable).
The kit provides full intake trunking, into which fits the radome and front wheel-well. The instructions helpfully advise the insertion of 4-grams of weight in the radome to prevent tail-sitting later. Unlike most Lightning kits that have separate nose rings, Airfix's is integral with the two intake trunk halves, and therefore split; but it should be easy to clean up the join. Generous after-burner trunking is also provided, along with a separate exhaust fairing and two nozzles.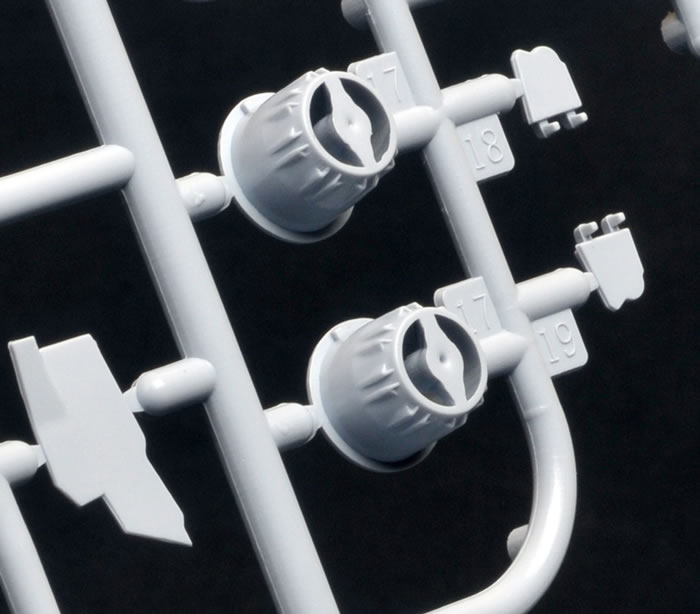 The intake and exhaust trunking are blanked off with a representation of a compressor face and flame-holders respectively. It seems unlikely either of these will be visible when assembled however.
The cockpit, intake and exhaust trunking is enclosed by the fuselage halves. It is clear from the way the forward section of the belly tank and external cable duct are engineered that an F.6 version is intended to share most of the F.2A parts (and I believe that this release has been announced).
There is a choice of two or four cannon armament, using either blank panels or ones with cannon troughs moulded in place.

Ventral belly-tank fins, arrestor hook, optional position air-brakes, a pitot, some other small details, and a two-piece canopy round out the fuselage. The canopy is nice and clear and acceptably thin.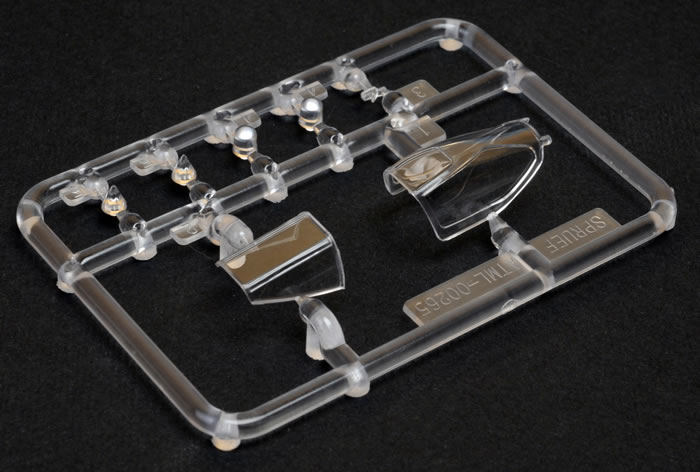 There is an intake cover provided as well, although I can see this getting used to hide the lack of intake trunking that older lighting kits suffer from, should their owners still choose to build them.
The wings come in two halves and have separate flaps. The wing railing edges appear quite thin, as are the tail-planes. The wheel-wells have some nice detail, and the undercarriage legs and doors are also nicely done. All three tyres are molded in a weight-bearing condition, as are the oleos. Unlike many brands, Airfix thoughtfully provides separate doors and a pilot figure to cater for a retracted undercarriage option. (Why do pilot figures almost always have their hanging-masks hanging loose? I think they would be better, and easier to paint, if they were moulded wearing them.) There is also an optional in-flight refueling probe.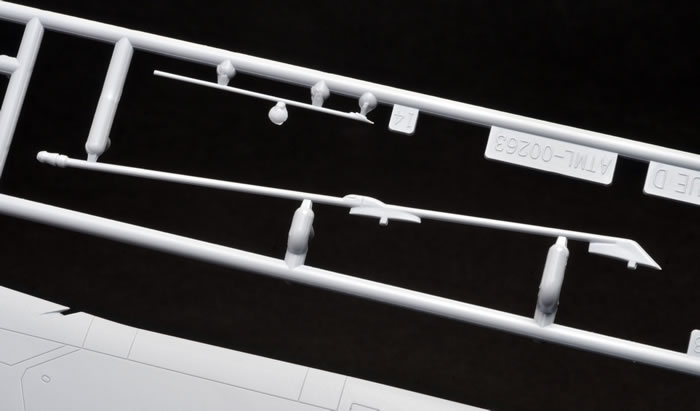 The Firestreak missiles have split fuselages; have clear pieces for their faceted noses and commendably thin fins.
Overall, this appears to be a very well engineered kit. I think that it should be trouble-free to build.
---
Colours & Markings
Two decal options are provided, these being:
XN781 flown by Wing Commander R. K. Barcilon, No. 19 Squadron, R.A.F. Gutersloh, late 1974. (Dark green upper and natural metal under surfaces.)

XN793 flown by Wing Commander J. B. Mitchell, Commanding Officer No. 92 Squadron, R.A.F. Gutersloh, August 1972. (Natural metal with a dark blue spine and fin.)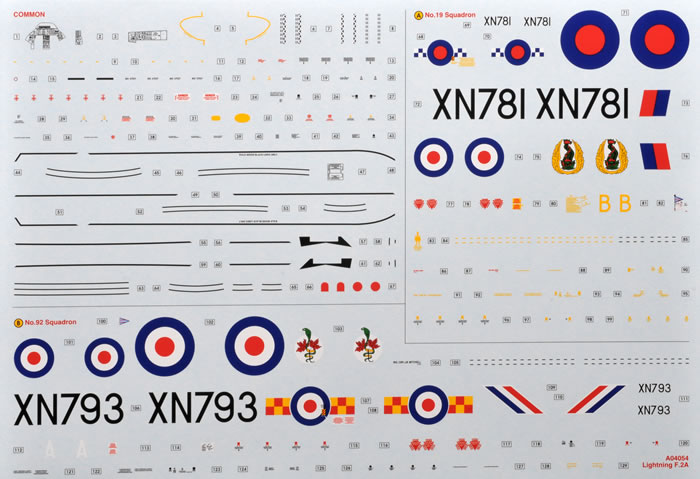 The decals are printed by Cartagraf, and appear to be excellent in all respects. Extensive stencil markings are included.
---
Accuracy
It would be very surprising to find this kit to have any significant accuracy issues, given the extremely positive reviews garnered over the years by Airfix for their 1/48-scale Lightnings. I failed to find anything obviously wrong with this new-tool smaller offering.
It may be helpful to mention characteristics it does not share with previous F.2A/F.6 kits whose faults are known to me. I have made the following observations through comparison with other brand kits on loan to me, but I could not remove parts from the sprues, which made comparative photography impracticable. I have also built the Trumpeter F.2A/F.6 and Hasegawa F.6 kits, and owned both Matchbox kits.
Let us start with comparison to Trumpeter as the only modern rival. Airfix does not have this brand's inaccurate wasted and undersize exhaust area, over-sized belly tank, incorrectly shaped belly tank fins, its cockpit is not about 2-mm too close to the wing's leading-edge, nor does it have an oversized chord to its nose ring in order to restore the overall length due to incorrect cockpit positioning. Unlike Trumpeter, Airfix do capture the complex kink in the wing leading edge when viewed front-on, and their canopy looks right as well.
A quick line up with Frog/Hasegawa/Revell/Eastern Express revealed the older kit's flattened and under-nourished belly tank, nose and canopy shape issues, as well as its slightly smaller wingtips, and absence of leading-edge kink. There will no doubt be more issues, but these were the most obvious, other than of course Airfix's superior all round detail and possession of intake and exhaust trunking.
Regrettably, I did not have a Matchbox F.2A/F.6 kit to hand, although I have owned one. Whilst its shape may be better shaped than other brands, despite a slightly narrow fuselage; its basic nature and crude surface detail means that Airfix's new tool Lightning blows it away in every respect.
Airfix's new-tool Lightning is accurate, has nice surface detail, has simple engineering that should build well; it comes with excellent decals, uses clear instructions, and is well-priced. It is undoubtedly the best 1/72-csale EE Lightning kit to date.
This is an excellent effort by Airfix, and I rate it as their equal-best so far 1/72 release, along with their new-tool Fairey Swordfish.
I recommend it highly.
Purchased from Hannants
---
Review Text and Reference Images Copyright © 2014 by Mark Davies
Sprue Images Copyright © 2014 by Brett Green
Page Created 13 January, 2014
Last updated 13 January, 2014
Back to HyperScale Main Page
Back to Reviews Page