Spitfire Mk.Vb Floatplane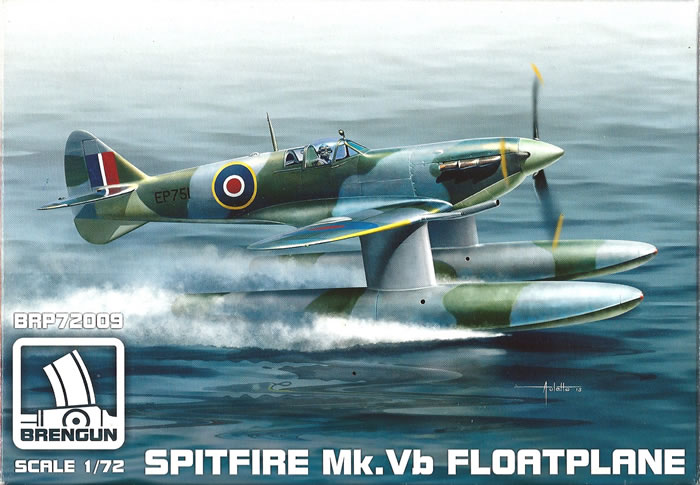 Brengun, 1/72 scale
S u m m a r y :

Catalogue Number:

Brengun Kit No. BRP72009 - Spitfire Mk.Vb Floatplane

Scale:

1/72

Contents & Media:

Thirty-one tan, eight grey and two clear styrene parts, one resin part, one PE Fret with twelve parts, and decals sufficient for one airframe with a choice of three serial numbers. (Approximately a further thirty tan parts are spare.)

Price:

Available on-line from these stockists:

For currency conversion click here

Review Type:

First Look.

Advantages:

An accurate and well-detailed Spitfire Floatplane at an attractive price. Very crisp moulding, fine panel lines, good detail levels for the scale, good quality decals, and straightforward to build.

Disadvantages:

All are minor points outweighed by the kit's advantages - Undersized wheel-bay blanks. Minor points include the lack of a gun-sight and possibly a missing voltage regulator behind the headrest. Should specify Trainer Yellow rather than just yellow for the prototype's undersides.

Conclusion:

A must for Spitfire fanatics in the One True Scale, I recommend this kit highly.
Reviewed by

Mark Davies

Sword's 1/72 scale Ki 44 Shoki is available online from Squadron.com
With the German invasion of Norway in April 1940 the RAF took an interest in the concept of using floatplane fighters in areas where airfields were not immediately available. To this end a Spitfire Mk I R6722 was taken in hand at the Woolston factory to be modified and mounted on Blackburn Roc floats. Tank tests were carried out at Farnborough, using a 1/7 scale model, it was found that the concept was basically sound, although the vertical tail surfaces would need to be enlarged to counterbalance the side area of the floats. The end of the Battle of Norway and the need for as many Spitfires as possible meant that R6772 was converted back to an ordinary fighter without being flown.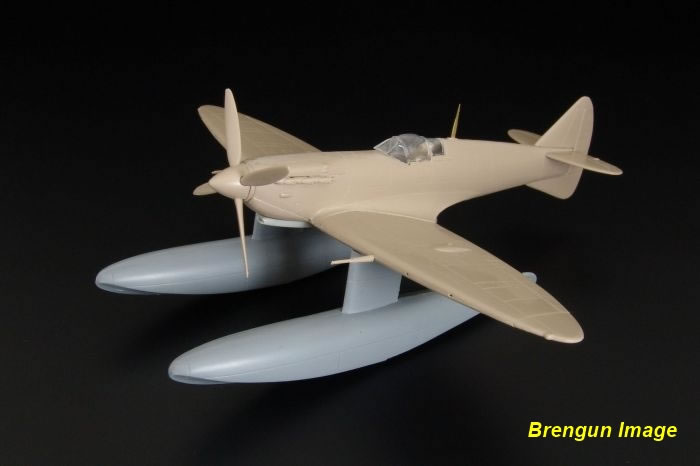 With the entry of Japan into the war the concept was revived in early 1942. A Spitfire V W3760 was fitted with a pair of floats 25 ft 7 in (7.8 m) long, mounted on cantilever legs. This aircraft was powered by a Merlin 45 driving a four-bladed propeller of 11 ft 3 in (3.43 m) diameter (3.4 m). A Vokes filter was fitted to the carburetor air intake and under the tail an extra fin extension was added. Other changes included external lifting points forward of and behind the cockpit and a spin-recovery parachute with a rudder balance-horn guard. The Spitfire floatplane was first flown on 12 October 1942 by Jeffrey Quill. Soon afterwards the Vokes filter was replaced by an Aero-Vee filter, similar to that on later Merlin 61 series aircraft, which was extended to prevent water entry, and full Mk VB armament was installed. Two more VBs EP751 and EP754 were converted by Folland and all three floatplanes were transported to Egypt, arriving in October 1943. At the time it was thought that the floatplanes could operate from concealed bases in the Dodecanese Islands, disrupting supply lines to German outposts in the area which relied on resupply by transport aircraft. This scheme came to naught when a large number of German troops, backed by the Luftwaffe, took over the British held islands of Kos and Leros. No other role could be found for the floatplane Spitfires, which languished in Egypt, operating from the Great Bitter Lake. Specifications for the VB based floatplane included a maximum speed of 324 mph (521 km/h) at 19,500 ft (521 km/h at 5,943 m), a maximum rate of climb of 2,450 ft/min at 15,500 ft (12.45 m/s at 4,724 m) and an estimated service ceiling of 33,400 ft (10,180 m).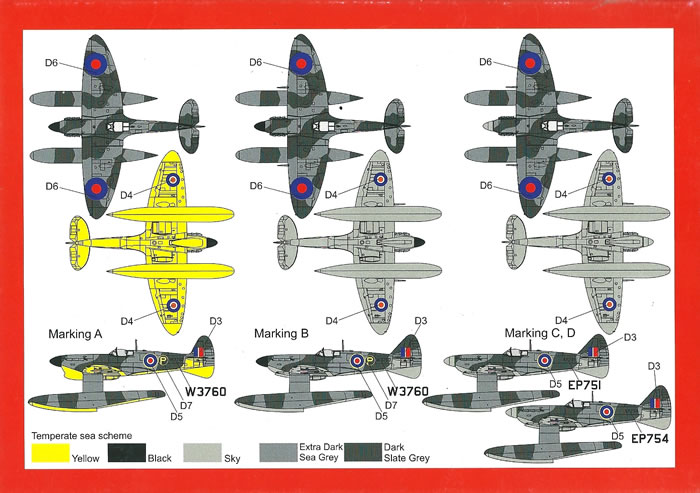 In the spring of 1944, with the prospect of use in the Pacific Theatre, a Spitfire IX MJ892 was converted to a floatplane. This used the same components as the earlier Mk VB conversions. Jeffrey Quill wrote:
"The Spitfire IX on floats was faster than the standard Hurricane. Its handling on the water was extremely good and its only unusual feature was a tendency to "tramp" from side to side on the floats, or to "waddle" a bit when at high speed in the plane."
Soon after testing started the idea of using floatplane fighters was dropped and MJ982 was converted back to a landplane. Five aircraft were converted:
Mk I - R6722
F Mk Vb - W3760
Mk V - EP751 and EP754
Mk IXb - MJ892
Source and link to a more complete Spitfire history: Wikipedia.org.
---
Previous 1/72-Scale Spitfire Floatplane Kits & Conversions
There have been a few attempts at a kit and various float conversions in The One True Scale over the years. Here is what I am aware of, although there are bound to be more.
I know of two complete kits with airframe and floats. Perhaps the best known is the dreadful PM offering using their Spitfire Mk.Vb as a basis, more recently re-boxed by Polyart, and no doubt others. I have heard of people buying the kit just as a float-donor for a more worthwhile airframe, but the floats are far too skinny and generally of doubtful shape. A lesser-known complete floatplane kit was by Korpro (KP), using their MK.IX kit plus floats, replacement tailfin and wheel-well blanks. This kit was once well regarded as possibly the best Mk.IX/XVI in 1/72-scale; but it is now terribly dated and surpassed for accuracy. The floats are completely smooth with no surface detail, and to my eye at least, I think the step is too far back and the rear portion of the floats too short.
I know of three conversion sets. I.D. Models offered a vac-form conversion that had a 3-page article devoted to it in Scale Models magazine of April 1986. Despite the length of the article, the author junked the I.D. floats and modified spare Airfix Ar 96 items instead – Enough said I think! A resin conversion by WTH Model Products (now out of business) was reviewed in Scale Aircraft Modelling magazine of January 2000. The reviewer praised it for research, thoroughness and quality, with an unreserved recommendation – So well done if you have one! The third I am aware of is Mk.IX Floatplane resin conversion by AMC that includes decals and is still available for around US$17.00, although I know nothing of its accuracy. I can recall a friend having another resin set was a copy the dreadful PM kit parts, but cannot recall the brand.
It seems clear that we who worship at the altar of Six Feet To The Inch are well overdue a good Spitfire floatplane option.
Contents
The first thing that struck me about the kit's contents was their familiarity; here was our old friend, the AZ Model Spitfire Mk.Vb in all its tan-plastic glory. The Brengun contribution consists of grey-plastic floats and a tan sprue with the Floatplane tailfin and four-blade prop.
I have reviewed several AZ Spitfire kits, but all were two-stage Merlin Mks.VII, VIII, IX & XIV. I rated these kits very highly for accuracy and production, and my reviews can be seen here and here on HyperScale. I have not previously reviewed AZ Model's Spitfire MK.V, although its production similarity to the later versions I have seen was immediately obvious. I will cover the basic kit before moving on to the floats.
The kit comes in a typically Czech end-opening box with attractive enough artwork on the front. The painting and decal guide is in colour on the reverse side of the box using profiles and small upper and lower plan views. The instructions have a parts map and use easy to follow assembly diagrams. These are adequate, have colour call-outs cross-referenced to the Humbrol paint range, and all of the text is in English. The last page of the instructions has a stencil placement guide. There is no brief history of the aircraft. A resealable cellophane bag encloses the parts and decals, with the clear and resin parts in a small bag of their own.
---
The Base Spitfire Kit
A Czech friend of mine mentioned to me that AZ Model has changed the third party contractor it uses to mould its kits. When I first reviewed the late-model AZ Model Spitfire kits mentioned earlier, I could only commend their decision, as they were the best quality moulding I could recall have seen in limited run kits. They were a huge improvement on previous releases by AZ Model. You could be forgiven for initially thinking you were looking at a mainstream long-run kit; in fact, if locating lugs were present you probably almost would be. The same impression applies to the Mk.Vb kit that forms the basis of this floatplane review kit. However, it I noticed that the moulds are showing just a few minor signs of wear. It is not enough to be a problem, yet; but buy earlier than later if possible.
Moulded very crisply, all parts have fine surface detail, and the parts break down is conventional for the type. The sprue gates are narrow, and there is no flash to speak of except a little around the wheels.

Cockpit detail combines a floor frame with integral rudder pedals, instrument panel, control column, seat, PE harness, armour, rear frame and two headrest styles (with and without leather padded cushion), and integral sidewall detail. There is no voltage regulator to go behind the headrest, nor is a gun-sight provided. Nonetheless, the well-detailed cockpit will be fine as is for a closed canopy model.
There is a choice of temperate or Vokes tropical filter for the carburettor intake. Two styles of exhaust are supplied; one having the Modification 314 cannon heating-pipe extension.
The wings as supplied are B-Wing type, and the sprues include clipped wingtip fairings and high-altitude tips for a Mk. VI boxing. There is also a Dural Rotol four-blade prop for the Mk.VI boxing (more on this later). The radiators and oil-cooler are separate parts and look fine. The three-blade propeller with its separate spinner and looks reasonable as well. The cannon barrels are moulded as separate parts.
The wheel wells have appropriate walls and an acceptable level of detail for the scale. Plain disc and five-spoke wheels are provided, and the undercarriage as a whole looks fine. However, none of this is relevant for the floatplane option!
Two canopies cover both the earlier type with externally mounted armoured windscreen and the later incorporated style. The clear parts are not quite as good as the rest of the kit, having just a tiny hint of distortion, but they are reasonable enough.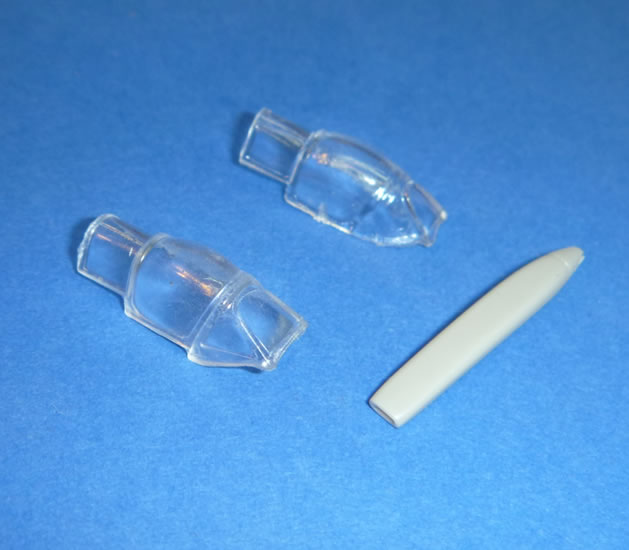 There is a choice of PE or plastic underwing pitot, whilst the fuselage antenna mast is PE and under-nourished in appearance. I favour a plastic option sanded down a little if needed.
Overall, I should think that the base kits should be generally simple and enjoyable builds. Having built AZ Model's D4Y Judy, moulded to a similar standard as the Spitfire Mk.Vb, I can say do not expect it to build quite as flawlessly as a modern "Acadetamigawa" kit would, but it will be close.
---
Base Kit's Accuracy
Rather than rely on plans which can be of questionable accuracy, I elected to compare shapes to what I consider to be one of, if not the best-outlined 1/72 Spitfire Mk.V kit. This is the old raised detail offering from Airfix (the same goes for their old raised detail Mk.I too). The outlines compare so closely that I would think it a fair bet that the old Airfix kit may have had a "significant influence" on the AZ Model tooling. I have read other reviews that also regard the AZ Model Mk.Vb to be very accurate.
---
The Floatplane Parts
Three small and separate sprues, one resin and some small PE parts combine to make the floats.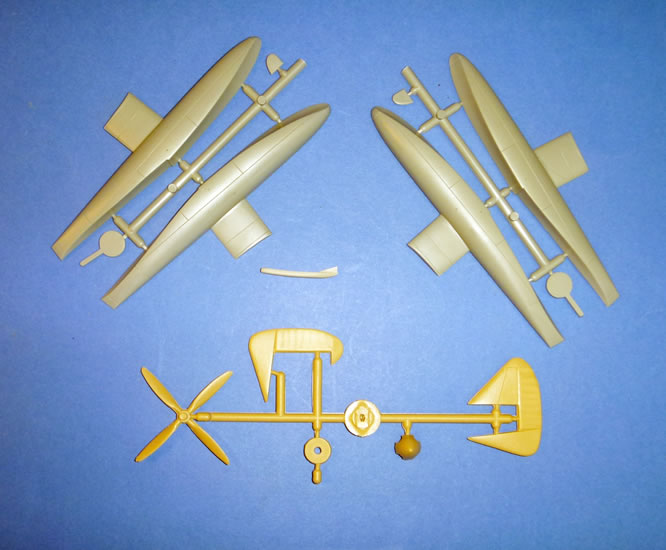 Foremost, are the floats. These look good to my eye as they have a bit of "meat" to them, and the step looks right (I have no plans I would to place 100% trust in). They have some engraved panel-line detail, and separate rudders with PE hinges. The float sprue also includes the wheel-well blanking plates, which are clearly a tad undersized. I suggest surrounding their edges five-thou platsicard, or making your own. Just using filler to block the outline gap may not look right, as I assume some kind of outline needs to remain. Remember, as the instructions advise; to scrape and sand away the small upper-surface bulges over the wheel wells.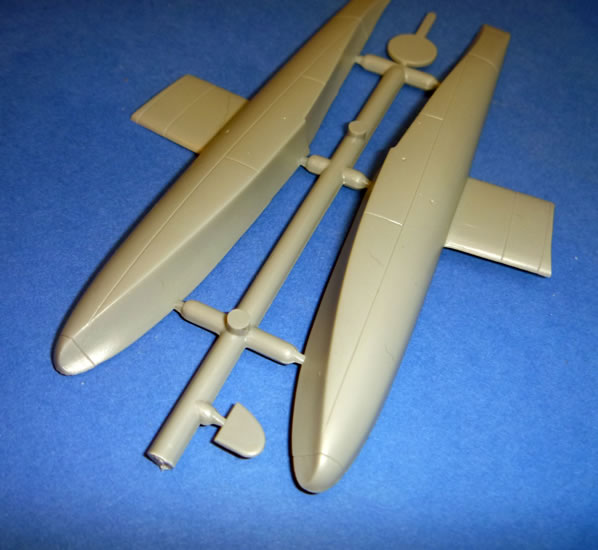 The other sprue has a choice of replacement fixed dorsal fin and attached enlarged rudder applicable to the initial prototype form, and a replacement tailfin with enlarged rudder and fixed dorsal fin incorporated as used later by the prototype, service aircraft and the one Mk.IX derived prototype. There is also a four-blade wood-laminate Rotol propeller and spinner with separate base provided. This prop has a different style than the Dural Rotol blades supplied on the AZ Model airframe sprues for the Mk.VI boxing; being more akin to that of a Spitfire Mk.VII/VIII/IX or XVI. Finally, there is a resin elongated carburettor intake (like that of the twin-stage Merlin powered Spitfires). This is for the prototype in its later form and the service aircraft, whilst the prototype in its initial form uses the Vokes filter from the base kit.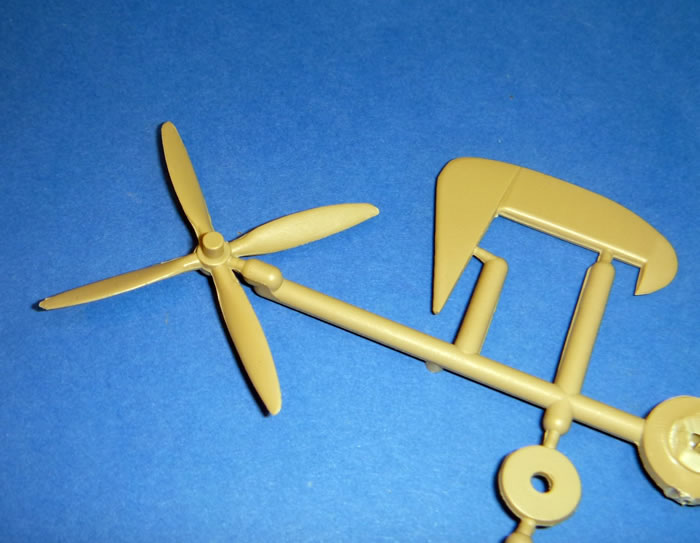 The prototype in its initial form is the easiest option to build, as the floatplane ventral fin and rudder replace the separate kit rudder of the base kit. However, the cannons need to be cut down and rounded to provide cannon blanking cap, as the prototype lacked these weapons. The instructions illustrate this point.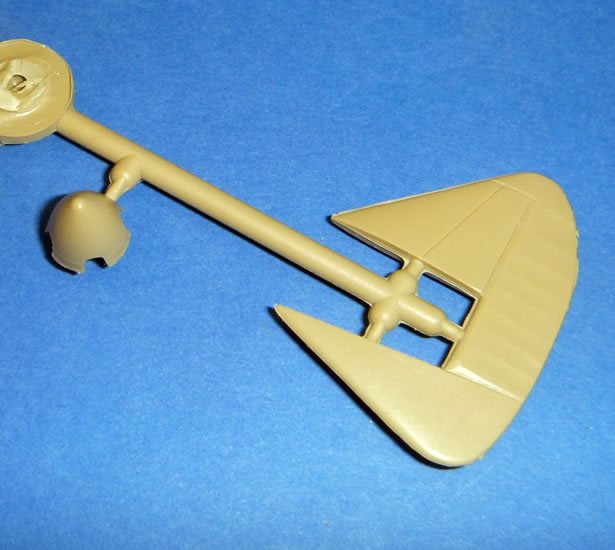 Some minor surgery is required for the prototype in later form and other two service options, as the entire tailfin must be removed from the base kit for replacement with the later floatplane fins and rudder. In all three cases, the Mk.IX-style resin elongated carburettor intake is used.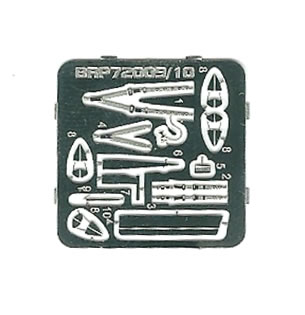 It is probably better to leave the floats off until after painting, although I would check the fit against the wing underside in advance of this. The instructions advise the distance in from the wingtips to fix the float leg fairings, and show these fairings to be in line with the wing leading edge. Given that Brengun got the wheel-well blank size wrong, I would not simply trust that they got the float to wing fit right. I recommend a careful check to ensure the floats will sit at the correct angle in relation to the fuselage datum, as there is a risk of getting the floats pointing up or down too much given the curved under-wing surface to which they fix.
You may want to consider some ballast in the aircraft and float noses to get the model to sit forward on it floats. However, before you too much, be aware that Brengun also offer a detail set for this kit which includes resin & PE beaching wheels, a boarding ladder, and some PE cockpit details; check it out by clicking here.
The two canopy styles allow for the prototype and the two service options, as explained in the instructions.
This kit could be used to convert a suitable Spitfire Mk.IX kit if you wish to model the floatplane MJ892. This would leave you with a perfectly good Mk.Vb kit just in need of some markings.
---
Marking Options
Colours and markings are quite straightforward, all having extra-dark sea-grey and dark slate-grey upper surfaces. Brengun advises that the prototype should have yellow undersides, and uses a fairly bright lemon colour to illustrate this. I believe that British prototypes wore the rather dirty-looking hue known as Trainer Yellow, and so I recommend using this RAF colour from a suitable paint range or home-mix. The yellow undersides apply to the initial prototype form which retained the standard aircraft's tailfin and used the Vokes filter.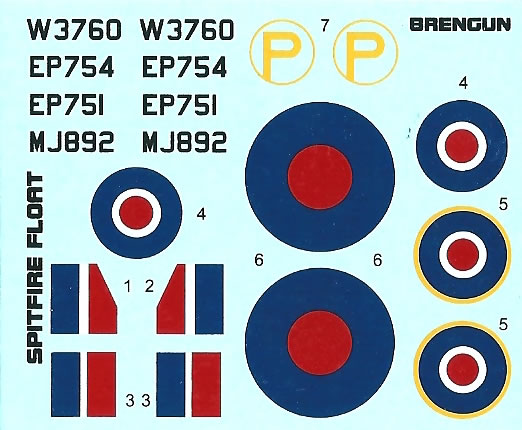 The other three markings options have Sky undersides and spinner. One is the prototype in later from with the replacement tailfin, and like the earlier form, carries a circled letter-P in yellow behind the fuselage roundel to denote its prototype status, along with national insignia and serial number. The two service aircraft have only national insignia and serial numbers as squadron codes were not applied.

The decals are printed clear and crisply, with good colour density. There is also a separate sheet of stencil markings.
Finally, we have a decent and complete Spitfire Mk.Vb Floatplane kit! Moreover, at around half the price of a decent float conversion set without a base kit. Opting to kit with the Mk.Vb makes sense with more options than the single Mk.IX floatplane.
Brengun have adopted a sensible approach of arranging to supply the best all-round 1/72-scale Spitfire Mk.Vb kit with their floatplane parts. If anyone is put off by the building a base kit that may require a fraction more work than "Acadetamigawa" perfection, then they can still have a bargain conversion and chuck the floats onto the less accurate Tamiya Mk.Vb.
Brengun may be tempted to kit their floatplane parts with the AZ Models Mk.IX kit if this Mk.Vb Floatplane is a runaway success; but I suspect they will be beaten to the punch by kit-bashers buying the review kit as a float-donor for a Mk.IX conversion.
The kit is only slightly let down by the undersized wheel-bay blanks (something they really should have got right). The lack of a gun-sight is a pity, and I may be wrong about the missing voltage regulator behind the headrest. Brengun used RAF paint names for all the camouflage colours, and I think they should have specified Trainer Yellow for the prototype as well. All of these niggles are minor issues when weighed against the positives this kit has to offer.
A must for Spitfire fanatics in the One True Scale, I recommend this kit highly.
Thanks to Brengun for the review sample.
---
Review Text & Blue Background Images Copyright © 2013 by Mark Davies
Page Created 22 August, 2013
Last updated 12 February, 2014
Back to HyperScale Main Page