Kosciuszko Albatros D III 'Cooper'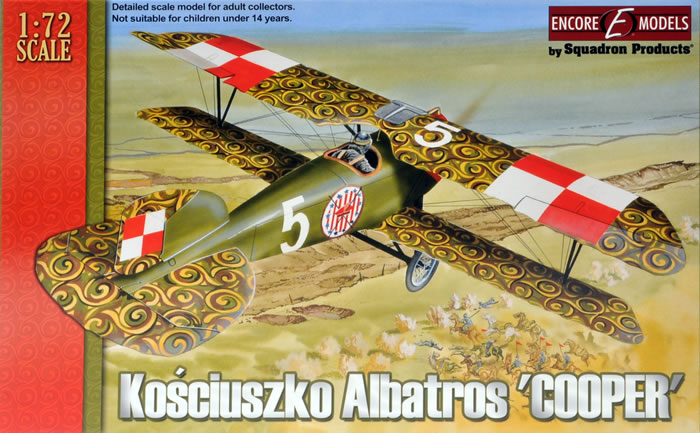 Encore Models, 1/72 scale
S u m m a r y :

Catalogue Number:

Encore Models Kit No. EC72103 - Kosciuszko Albatros D III 'Cooper'

Scale:

1/72

Contents & Media

Forty-five grey styrene parts (six of which have resin alternates), thirteen resin parts (plus one shaping form), one PE fret of thirty-three parts, one small acetate windscreen, and decals for one aircraft.

Price:

Review Type:

First Look

Advantages:

Very nice surface and internal detail, excellent scale finesse, superb decals, thorough and well thought-out instructions.

Disadvantages:

A little flash and some minor sink marks on the base kit parts (easily fixed). The PE fret seems to be made of stainless-steel rather than preferable brass.

Conclusions:

This kit is an example of Squadron's Encore brand at its best.

It has taken a good quality kit and added just enough quality resin and PE components to lift it another level, all matched with beautiful decals and very good instructions. This said; I am not entirely convinced that some of the PE will appeal to all builders, but then the small parts concerned are not essential. I think that brass would have been a better PE medium than stainless steel (if I am correct about the PE fret metal).

It costs close to double the base kit price, even at squadron's web-only special price. But such is the value of the original Roden kit, I still feel it is well worth its asking price for the extras to make Merian Cooper's machine.

I recommend this kit highly.
Reviewed by Mark Davies

Encore Models' 1/72 Albatros "Cooper" is available online from Squadron.com
Cooper - The Man
It is not often that a kit review starts with an individual's biography, but the kit reviewed here carries the markings of a man who had a truly unusual, interesting and significant life.
It was his service in protecting the newly formed Polish state post-WW1 from the Bolshevik threat to its Eastern borders that forms the basis for this kit. He helped form the joint American-Polish Kosciuszko Squadron, named after American Revolution hero Tadeusz Kosciuszko (thus, the kit's title). Here is just a brief first-sentence intro from Wikepedia:
"Merian Caldwell Cooper (October 24, 1893 – April 21, 1973) was an American aviator, United States Air Force and Polish Air Force officer, adventurer, screenwriter, film director and producer. His most famous film was the 1933 movie King Kong."
I encourage you to read a little more about Cooper's life by following this link.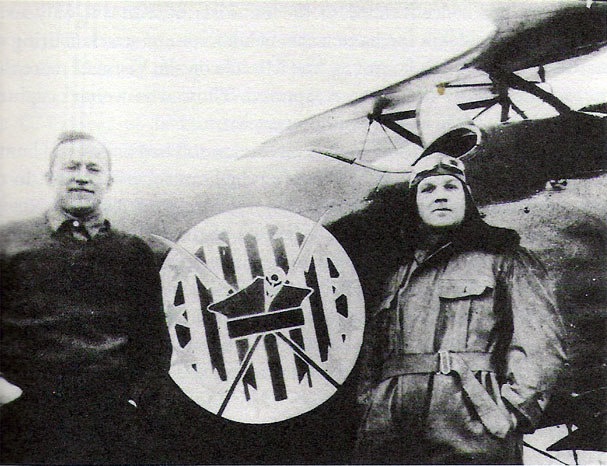 American volunteers, Merian C. Cooper and Cedric Fauntleroy,
fighting in the Polish Air Force.
---
Oeffag S.253 - The Plane
The S.53 was an Austrian development of a the German Albatros D.III built under licence
In the autumn of 1916, Oesterreichische Flugzeugfabrik AG (Oeffag) obtained a license to build the D.III at Wiener-Neustadt. Deliveries commenced in May 1917.
The Oeffag aircraft were built in three main versions (series 53.2, 153, 253) using the 138, 149, or 168 kW (185, 200, or 225 hp) Austro-Daimler engines respectively. The Austro-Daimlers provided improved performance over the Mercedes D.IIIa engine. For cold weather operations, Oeffag aircraft featured a winter cowling which fully enclosed the cylinder heads.
Austrian pilots often removed the propeller spinner from early production aircraft, since it was prone to falling off in flight. Beginning with aircraft 112 of the series 153 production run, Oeffag introduced a new rounded nose that eliminated the spinner. Remarkably, German wind-tunnel tests showed that the simple rounded nose improved propeller efficiency and raised the top speed by 14 km/h (9 mph).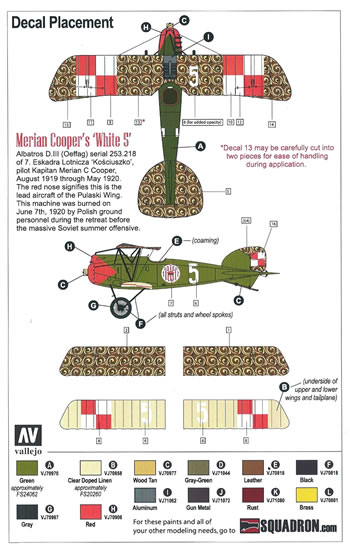 All Oeffag variants were armed with two 8 mm (.315 in) Schwarzlose machine guns. In most aircraft, the guns were buried in the fuselage, where they were inaccessible to the pilot. In service, the Schwarzlose proved to be somewhat less reliable than the 7.92 mm (.312 in) LMG 08/15, mainly due to problems with the synchronization gear. The Schwarzlose also had a poor rate of fire until the 1916 model was provided with a modification developed by Ludwig Kral. At the request of pilots, the guns were relocated to the upper fuselage decking late in the series 253 production run. This created a new problem; the Schwarzlose operated via blowback and the weapon contained a cartridge oiler to prevent cases from sticking in the chamber while the extractor ripped their rims off. With guns mounted directly in front of the pilot, oil released during firing interfered with aim.
Oeffag engineers noted the wing failures of the D.III and modified the lower wing to use thicker ribs and spar flanges. These changes, as well as other detail improvements, largely resolved the structural problems that had plagued German versions of the D.III. In service, the Oeffag aircraft proved to be popular, robust, and effective. Oeffag built approximately 526 D.III aircraft between May 1917 and the Armistice.
After the Armistice, Poland acquired 38 series 253 aircraft, as well as several OAW machines, and operated them in the Polish-Soviet War of 1919-20. They were primarily employed in ground attack duties. The Poles thought so highly of the D.III that they sent a letter of commendation to the Oeffag factory. The newly formed Czechoslovakian air force also obtained and operated several Oeffag machines after the war.
An Austrian aviation enthusiast, Koloman Mayrhofer, has constructed a pair of Albatros D.III (Oeffag) series 253 reproductions. Both are equipped with vintage Austro-Daimler engines. One aircraft will be flown and operated by a non-profit organization. The second aircraft is slated for static display at the Flugmuseum AVIATICUM, near Wiener-Neustadt, Austria.
Source: wikipedia.org
---
Previous 1/72 S.253 Kits
There have been a number of Austro-Hungarian Albatros kits in the One True Scale.
Roden offer the S.53, S.153 (early & late versions), and S.253 in separate boxings. These are derivatives of their beautifully rendered Albatros D.III series of kits. The encore kit reviewed here is a Roden re-box. Robert Baumgartner has previously reviewed Roden's S.153 and S.253 here on HyperScale in November 2002.These are the best 1/72-scale Oeffag Albatros kits currently available in my opinion.
Pegasus offer an Oeffag S.53/S.153/S.253 multi-media limited-run kit (styrene & white metal) that builds quite well and can result in a nice model with a little effort.
Other less commonly available kits include Blue Rider's reasonable vac-from with white-metal details and nice but fragile decals; CMR's resin kit (one of their older releases); and very crude limited-run kits (some with multi-media parts) from Hitkit, Miekraft, and Merlin.
The kit comes in an end-opening box made from glossy card with attractive artwork. On the box rear is a brief biography of Merian C. Copper, and mention of the kit contents. The styrene parts come enclosed in a re-sealable cellophane bag, with the resin parts, PE fret, and decals are protected by their own zip-lock plastic bags.
The instructions consist of good quality gloss pages stapled into a booklet, with all text in English. This includes a quite lengthy history on Cooper and the Oeffag S.253. The instructions are easy to follow with simple but clear diagrammatic assembly stages that also use plenty of photo images of the actual kit parts. A thorough parts map identifies the original Roden sprues and the parts to be used, along with the additional Encore PE and resin parts. The instructions have many useful guidance points throughout highlighted in red text. The last page provides a full-colour painting and markings guide. Paint call-outs use generic names and are cross-referenced to the Vallejo range, plus FS-595 references in a couple of instances. Overall, I rate the instructions as being very good indeed.
The Roden sprues reveal this company's penchant for scale finesse, superb representation of fabric areas, and fine detail. There is a little flash evident, but this can be dealt with easily; as can a couple of very small sink marks I noticed. Care will be needed removing fine parts despite the quite narrow sprue gates; a fine razor saw is likely to be better than clippers or a knife blade here. The resin parts are all crisp and cleanly cast. The PE parts also look to be very good quality, but the fret seems to be stainless-steel rather than nickel-coated brass as I had first thought it was (I tried scratching the surface to reveal brass without success). This may cause conformity and shaping problems for some parts like the seat harness, due to its tensile springiness, but conversely it may provide some strength for the spoked wheels. A small acetate sheet provides for two windscreens. The Cartograf decals appear to be superbly printed as we have come to take for granted from this company.
Even after an initial glance at the contents, I was left with a good feeling regarding the whole package. It is quickly apparent that Encore has brought together excellent quality components with instructions to match.
---
The Airframe
Rather than the usual cockpit, the constructional notes begin with the engine. This is well-detailed for the scale, and includes optional resin replacements for the kit exhaust pipes. These are six individual straight pipes coming straight out of the cylinder-head, rather than being a manifold type common to other Albatros D.III's. The resin items are superior to the kit parts, having drilled out throats and no mould seams to clean up. The base kit also provides two lengthy gun blast tubes that run either side of the engine. The engine parts come on dedicated and separate sprue, which would suggest Roden offer different styles to cover the Austro-Daimler engines used by Oeffag aircraft, as opposed to the Mercedes engines used by German Albatros D.III's. Certainly, it looks quite comparable to photos of the real thing. If you have any doubts there is the optional streamlined cover used in cold service to completely enclose the engine's exposed cylinder-head and valve gear, leaving only the exhaust stubs protruding. There is a water pipe leading from the engine to the upper-wing radiator, and a nicely shaped propeller. These items of course are to be fitted at a much later stage in construction.
The kit's cockpit detail consists of some sidewall structural detail moulded integrally with the fuselage halves, a seat, a control column with rudder bar, and some framing that sits in the lower fuselage to the rear of the engine. These basic items are enhanced by several PE parts consisting of a floor, rear bulkhead, seat harness, a switch and two instrument "sub panels" (for which instrument face decals are provided); and a gun-mount.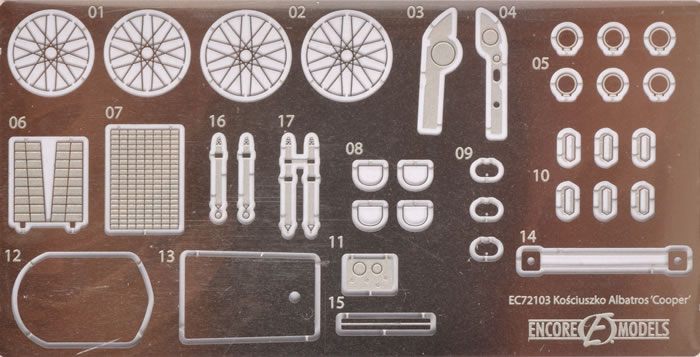 There is some use of resin parts as well; these supplying a forward bulkhead with ammunition bins, and the breeches of two 8-mm Schwarzlose machineguns. Given the very small cockpit opening, this should be enough detail to satisfy most modellers (except for maybe a PE gun-sight). However, having looked at a replica aircraft mentioned and linked to later in this article, it would seem that the seat will benefit from having some lightening holes drilled in it for greater accuracy (see here). A small acetate sheet provides for a windscreen once cut out, with two copies supplied.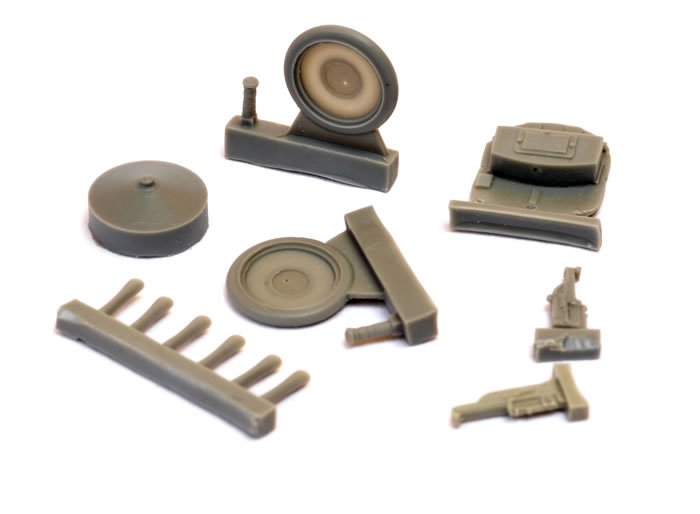 The fuselage halves encapsulate the cockpit and engine sub-assemblies. The Roden fuselage's external surface detail looks very nice to me. However, Encore gives the option of replacing some small raised details with PE parts. These include the tiny open louvers that will be challenging to fold, to say the least. Personally, I can live with moulded detail, and use mat-black to suggest the tiny louver openings. Incidentally, two of the moulded louvers need to be removed to reflect the Oeffag version. The kit provides the Oeffag nose-cap, appropriate upper decking, and tail-skid to complete the fuselage
I have read in some reviews that the Oeffag S-series had different panel lines to those of Albatros D.III's, and it is the Albatros-style that the Roden kit parts feature. I am unsure if this relates to the metal cowl, or joins in the plywood areas. After borrowing two excellent Windsock Data files, one dealing with the Oeffag S.25/125/225 and the other the Albatros D.III, it seems from Ray Rimmel's plans that the Albatros has far more plywood panels, or prominent fixing lines. To me, the kit parts most closely resemble the Oeffag layout using the Rimmel plans. However, when looking at a photo of the replica it is hard to say. Personally, given the original's very smooth finish, the dark-green fuselage colour, and small scale, I would not lose any sleep over it; but I accept some may, and so mention this point here.
The kit provides the correct fin and rudder option, along with a horizontal stabiliser with correctly scalloped elevator trailing edges. These and the lower wings have a nice hint of the real aircraft's underlying structure. It may be slightly overdone with the horizontal stabiliser, but I think it this is a matter of taste, and could be toned down if wished.
The upper wing has three main pieces in order to accommodate three different centre sections. This reflects a tooling economy by Roden to allow for multiple variants; it will require care squaring edges and joining the upper wing parts. Encore provides replacement upper and lower radiator faces to replace the kit's moulded detail; some of which will need to be scraped away. This will be quite tricky with the radiator's upper-side as it is divided by a streamlined fairing. Personally, I can live with the kit parts here. The lower surface is far easier to scrape away, and the moulding on my sample suffered just a bit from a sink mark in this area. Being on the main wing's underside between the cabane struts above the fuselage this flaw will hardly matter however. I think that the moulded detail is finer than the PE, but if you are tempted to use the PE radiator matrices, I suggest starting with the easier to install lower face first. The instructions advise to cut away the kit ailerons and replace them with the kit's separate items featuring scalloped trailing edges. The inter-plane and cabane struts are very fine and will need care when setting up to receive the main wing, but such is the nature of most biplane kits.
Like the wing struts, the undercarriage legs are also commendably fine and delicate. There is a PE strap that curves around the fuselage and locates between the forward undercarriage legs where they fit to the fuselage. The instructions advise that this PE part has generous length and may require trimming. Given the tensile nature of the PE I have already mentioned, I would be inclined to make this strap from .005" plasticard, as I think it will be easier to work with, and to fit in place on the curve of the fuselage. Encore provides resin wheel rims and tyres to which PE spokes are added. A domed resin former is supplied to help shape the spokes into a shallow cone. The instructions explain and illustrate this process quite well. They also point out the need to trim the styrene axle, and mention that the kit's original moulded wheels with covers can be used if preferred.
The instructions provide a rigging diagram; compared to many WW1 biplanes, this one is thankfully quite simple.
I would expect this kit to generally build well with few problems, having allowed for the basic challenge of biplane construction. As mentioned, some care is needed to ensure a very square and true joining of the three upper wing sections. You will clearly add to the challenge if you choose to replace some of the moulded detail with PE replacements (especially the engine louvers), but I feel there is little need for this. With one exception, the build reports I have read for this kit have all been positive. The exception was from a modeller who made an outstandingly good job of the kit. He claimed that Roden's kit was of only average quality, and that he had to correct and re-scribe panel lines. Panel lines aside, I accept that moulding quality is let down a little by flash and a couple of minor sink marks. However, the moulded detail's finesse and realism make the kit above average in my view.
---
Colours and Markings
This kit is about one man's plane, and so only one markings option is provided. This said; I suspect that a few alternatives using the same standard colours could have been offered. The markings are for Kapitan Cooper's White 5, as flown from August 1919 to May 1920 (which allows enough time to account for winter and so justify fitting the cylinder-head shroud if wished).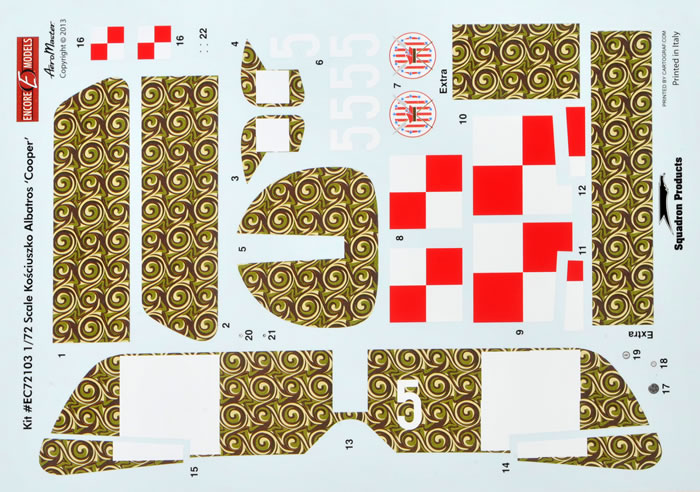 The colour scheme is essentially a simple one, but still very eye-catching and colourful thanks to the swirl fabric, large Polish national insignia, and unit crest.
Painting should be fairly simple - The fuselage is green overall with a red triangular flash denoting the wing leader's aircraft on the nose. The wings, horizontal stabiliser and rudder will need to be painted as doped linen. Of course some fine masking will be needed if you choose to shadow in the internal structure behind the doped linen.
The upper topsides of all flying surfaces and the rudder are to be fully covered by pre-shaped decals representing the printed swirl-pattern camouflage fabric of the original. The instructions advise to apply the top wing decal as two parts and cut it to make it so. I am surprised it was not printed as two halves, but the needed cut is very small and simple to make. Two nice touches are blank white areas within the swirl fabric to back the national insignia, and separate aileron decals (white blanks and portions of the national insignia).
---
A Superb Replica for Reference
If you plan to build this kit, or are just interested in how an Oeffag/Albatros fighter was built, make sure you check these links out:
This kit is an example of Squadron's Encore brand at its best.
Encore has taken a good quality kit and added just enough quality resin and PE components to lift it another level, all matched with beautiful decals and very good instructions. This said; I am not entirely convinced that some of the PE will appeal to all builders, but then the small parts concerned are not essential. I think that brass would have been a better PE medium than stainless steel (if I am correct about the PE fret metal).
It costs close to double the base kit price, even at squadron's web-only special price. But such is the value of the original Roden kit, I still feel it is well worth its asking price for the extras to make Merian Cooper's machine. I recommend this kit highly.
Thanks to Squadron for this review sample.
---
Text and Images Copyright © 2014 by Mark Davies
Page Created 30 January, 2014
Last updated 31 January, 2014
Back to HyperScale Main Page
Back to Reviews Page