ILA Otsu 1 Salmson 2A2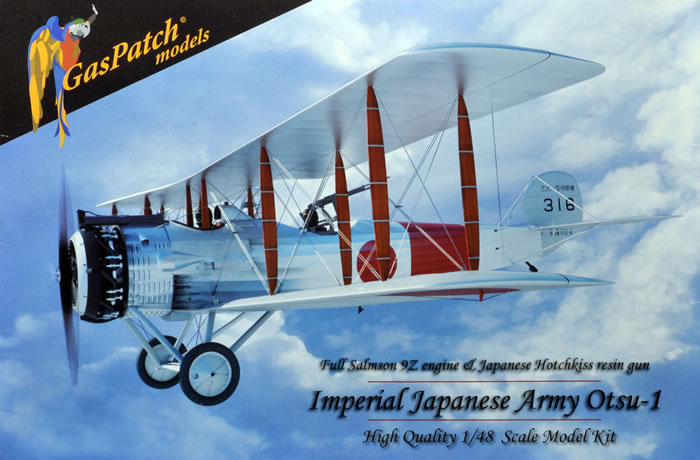 Gas Patch Models, 1/48 scale
S u m m a r y

Catalogue Number:

Gaspatch Models Kit No. 48003 - ILA Otsu 1 Salmson 2A2

Scale:

1/48 scale

Contents and Media:

237 plastic parts, 81 pieces of photo etched metal, and a nicely cast resin Hotchkiss machine gun. There are also 2 sheets of vinyl masks, a laser-cut cardboard jig, 5 decal options, and a profusely illustrated instruction booklet.

Price:

€39.50 plus postage available online from Gaspatch Models' website

Review Type:

First Look

Advantages:

Impressive level of detail; cleverly engineered for ease of assembly; excellent use of photo etched parts; well printed decal sheet with very thin carrier film; jig for setting up the wings; vinyl masks; generously illustrated instruction booklet. .

Disadvantages:

Minor corrective work needed on wing outline.

Conclusion:

GasPatch already have an impressive range of accessories to offer the WWI aircraft modeller and this complete kit is a worthy addition to their growing catalogue. It's obviously designed by modellers, and gives the builder every chance of producing a quality replica of this complex aircraft. Testimony to the above is the inclusion of a wing alignment jig in 1:48 scale that actually works. The multi-media parts are well thought out and the instruction booklet leaves no doubt as to where everything should go. The result is a kit that will stand the test of time and be a great addition to any collection.
Reviewed by Rob Baumgartner

Test flown in April 1917, the rugged Salmson 2-A2 was one of the main reconnaissance aircraft used by the French and American aviation units during 1918. That's not surprising considering that 3200 examples were produced.
Despite being a 2-seater, manoeuvrability was excellent and it also had a good rate of climb. Its speed was adequate but what the crews especially liked were the self-sealing fuel tanks.
Many in the American Expeditionary Force flew their aircraft without any fighter escort and when deployed aggressively against enemy scouts, some of them even "make ace".
After the Armistice, the Salmson appeared on both sides of the Russian Civil War, and also saw service in Belgium, and Poland. The aircraft found limited use with the Czechoslovak Air Force and even managed to find time as a civilian passenger aircraft.
The Type Otsu 1 Reconnaissance Aircraft was a version built by the Tokyo Artillery Arsenal Factory and Kawasaki Shipworks, with about 600 being manufactured between the two companies.
Upon opening the box, it's clear that a lot of care has been devoted to this release.
Inside are 237 plastic parts, 81 pieces of photo etched metal, and a nicely cast resin Hotchkiss machine gun. There are also 2 sheets of vinyl masks, a laser-cut cardboard jig, 5 decal options, and a profusely illustrated instruction booklet.
Attention to detail is everywhere and this latter item is a perfect example. For instance, there are 4 illustrations alone that are dedicated to the rigging around the wing and cabane struts. Not only that, each stage of the assembly process is in colour with everything laid out in a logical and uncluttered fashion. Care has also been taken to ensure that not too many assemblies are present in a single illustration.
The interior fills out quite nicely with the rear cockpit featuring a folding seat, signal lamp, antenna reel, Morse key and ammeter. Other included items are a choice of cameras (26cm, 50cm, and 76cm), electrical panel, box for the photographic plates, drum ammunition storage, and battery box (without wireless).
Around the pilot's "office" we find the magneto, trim wheel, pump, fuel tank, control column, seat and rudder bar. The photo-etched parts make a welcome contribution here as well. They cater for the seatbelts, aforementioned antenna reel and drum ammunition box, control levers, and various instrument bezels. Decals are used for the dial faces and look very effective under a coat of gloss varnish.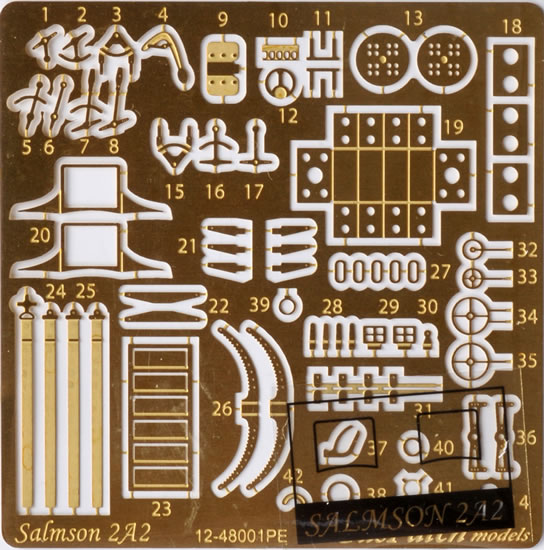 Internal rigging hasn't been forgotten, with the instructions clearly showing where everything should go. This also applies to the various control cables.
The central struts fit positively into the floor and this will ensure a painless operation when aligning the top wing.
Enclosing all this are a couple of fuselage halves that exhibit some very fine detail. The stringers are well formed and are consistent along their entire length. The numerous cowling vents are nicely executed with superb definition and unfailing regularity.
A representation of the interior structure is present with all the ejection pins being carefully placed in unobtrusive areas.
Sensibly the turtle and engine decks are separate pieces which allows for an easier fit of these often difficult parts. As a result, only a modicum of filler is required for the entire fuselage assembly.
One of the many highlights of this release are the flying surfaces. They all show subtle rib detail and razor sharp trailing edges. The upper wing is moulded as a single piece and therefore has the correct dihedral already built in.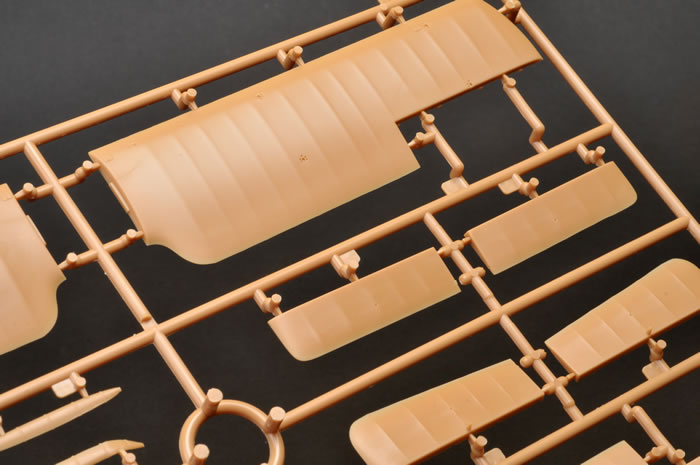 The lower port and starboard wings are separate items with small tabs to affix them to the fuselage. To help the modeller attach them and maintain the correct dihedral, a very handy jig is included in the box. It consists of a set of laser-cut cardboard supports that are glued to a 1:48 scale plan view of the aircraft. The fuselage/wing assembly is simply positioned on the jig and allowed to dry.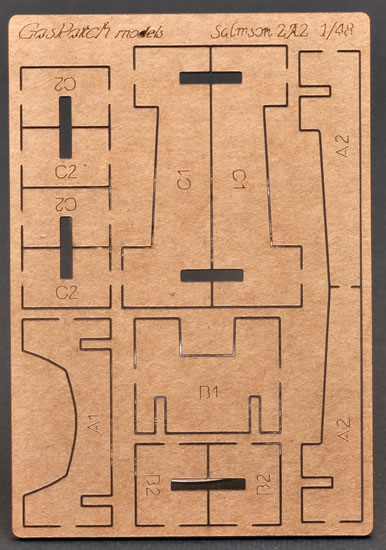 A comprehensive series of illustrations clearly show how the external rigging keeps everything together. As before, they are colour coded to help avoid any confusion.
The Hotchkiss gun is another lovely item, cast unusually in red resin.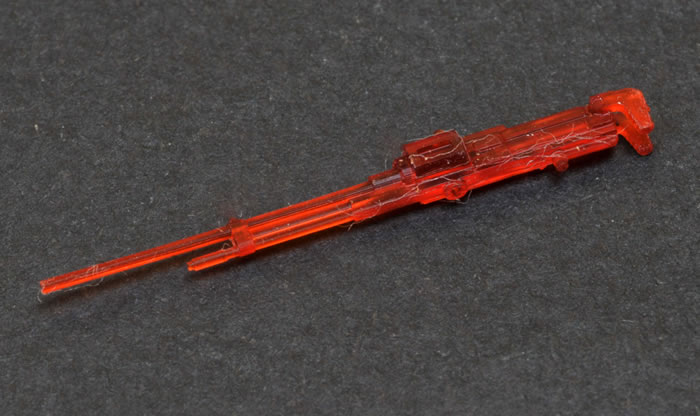 Photo-etched parts make another appearance as we see them used for the elevation mechanism of the observer's armament. Components are also used to detail the Vickers and Hotchkiss machine guns, 26cm camera, and engine.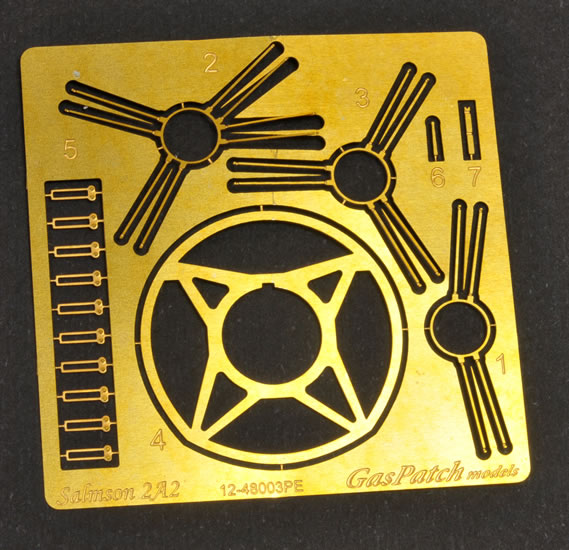 The water-cooled radial is a gem with over three dozen parts that faithfully replicate the 260hp Salmson 9z. The cylinders all have separate rocker arms, the pushrods are photo etched, and the intake and exhaust pipes are replicated in plastic.
Another example of attention to detail is the undercarriage. The 3-strut supports are moulded as a single piece and this greatly enhances its strength and therefore the model's stability. On the end of the axle we are given a choice of French "Aviation Aero" or "Palmer Cord Aero Type" tyres.
A small sprue of clear parts is also included.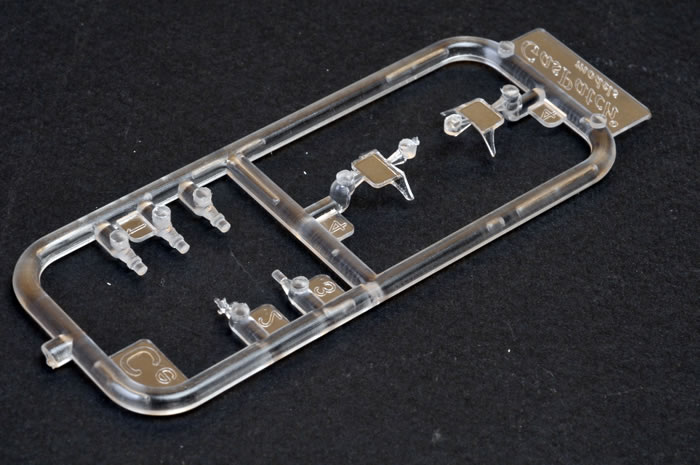 Albatros Productions do a "Datafile" (#109) on the Salmson 2A2 and it features a set of scale drawings by Martin Digmayer. Most of the major components are spot-on in comparison and it would appear that these were a major source of reference.
The only real discrepancy between the two is seen in the lower wing. The Datafile plans show a tight radius where the trailing edge turns towards the wing root. The kit's part however, displays a much larger curve.
A study of available period photographs indicate that Martin Digmayer is correct here. Unfortunately he does introduce a larger than necessary radius for the central upper wing cut-out, which GasPatch have managed to copy. It's nothing too dramatic but it's something that the aficionado may want to address.
Note too that GasPatch have correctly avoided replicating the drawing's exaggerated outline of the wingtip capping.
---
Marking Options
There are 5 aircraft for the modeller to choose from, all featuring an all-over silver dope finish with natural metal panels.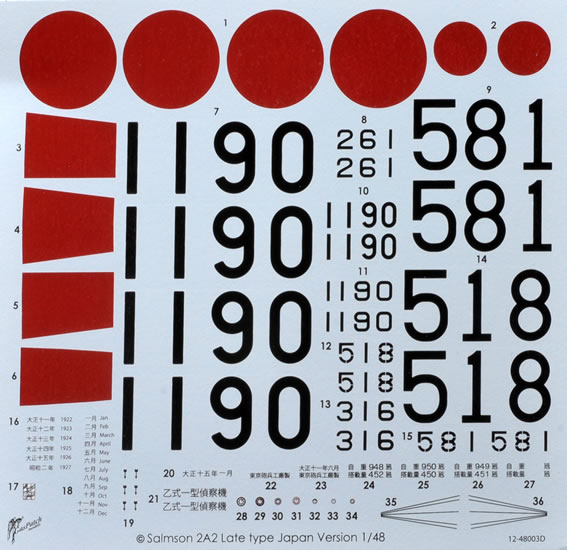 The decal sheet is superb with some of the thinnest carrier film you will ever see. A couple of spare items were tested on a gloss surface, and all bedded down beautifully without the need for setting solutions.
Everything was sharply printed with good definition and no bleeding of colours.
A set of vinyl masks are provided for those that would rather paint the national insignia. Another set takes care of the wheels and windscreen. There's also a template on the instruction sheet for cutting the insignia where it overlaps the ailerons.
If you have ever wondered what a Wingnut Wings kit would look like in 1:48 scale, then this release would come pretty close.
The mouldings are exquisite with sharp detail and blemish free surfaces. It appears that those involved in its production are themselves modellers, as the contents are clearly designed to make the experience as enjoyable as possible.
After being starved of Salmson kits in the past few years, WWI aviation enthusiasts now have a modern tooling of this often forgotten workhorse. It's a great package from GasPatch, and one that deserves to be in every collection of 1:48 scale 2-seaters.
Thanks to Gaspatch Models for the review sample.
---
Review Text Copyright © 2014 by Rob Baumgartner
Images Copyright © 2013 by Brett Green
Page Created 3 February, 2014
Last updated 20 February, 2014
Back to HyperScale Main Page