Focke-Wulf Ta 152 C-11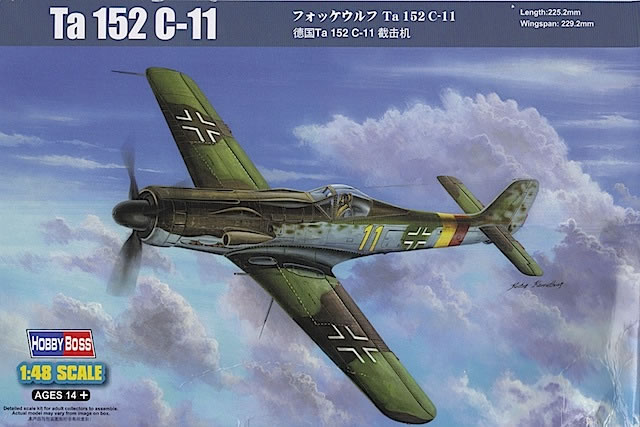 HobbyBoss, 1/48 scale
S u m m a r y :

Catalogue Number:

HobbyBoss Kit No.81704 - Focke-Wulf Ta 152 C-11

Scale:

1/48

Contents & Media:

Approximately 90 grey plastic parts; 3 clear plastic parts; 2 decal sheets containing markings for 1 aircraft; 8 page A4 fold out black and white instruction sheet.

Price:

Review Type:

First Look

Advantages:

Interesting subject, albeit one that never existed in real life; high quality mouldings that build into a good-looking and reasonably accurate model

Disadvantages:

Some inaccuracies; inadequate painting and marking guide

Conclusions:

It's a bit frustrating that HobbyBoss did not take the opportunity with this kit to correct some of the errors identified in its earlier Ta 152 C releases, given that it did amend the moulds to represent a Ta 152 C-11. This boxing is nonetheless a welcome addition to the company's growing stable of 1/48 Ta 152 C kits, and can be recommended to anyone with an interest in late war Luftwaffe aircraft.

Reviewed by Brad Fallen


HobbyBoss' 1/48 scale Focke-Wulf Ta 152 C-11 is available online from Squadron.com

The Focke-Wulf Ta 152 C-11 was one of many proposed Ta 152 subtypes that were not developed before the end of World War 2. The C-11 was to be a refinement of the all-weather C-1/R11, the prototypes for which were started but probably never finished – although key Rüstsätze 11 features such as fighter directional control, VHF radio beacon signal receiver, autopilot and heated windows were installed in the handful of production C-1s completed. The C-11 would have carried the same formidable armament as production C-1s (four MG 151s and one MK108), and as a photoreconnaissance fighter would have been fitted with an Rb 75/30 oblique camera or equivalent.
There are no records of Ta 152 Cs being used in combat before the end of hostilities, although it is possible this occurred. What's not in doubt is that – in common with the Grumman Bearcat, Hawker Sea Fury and Seafire FR.47 – the Ta 152 series pushed the limits of piston-engined aircraft design, and so if built the C-11 would likely have been a formidable warplane.
Until recently, 1/48 scale Ta 152 C kits were almost as scarce as the real thing. For many years the only option for anyone wanting a quarter-scale model of the aircraft was Trimaster's rare and difficult Ta 152 C-0 kit. The situation improved in the mid-2000s with Fusion Models' very good resin conversion set for the old Trimaster/Dragon/Italeri 1/48 Ta 152 H kit. I bought the set soon after it was released, but have yet to pluck up the nerve to perform surgery on the lovely donor kit! In 2009 Dragon took this approach a step further by combining its Ta 152 H sprues with new injection moulded Ta 152 C wing and nose parts. This hybrid kit builds into a good-looking model (have a look at Eric Duvall's Ta 152 C-0 here) but like the Fusion conversion involves cutting up the Ta 152 H fuselage halves, with attendant risks.
The HobbyBoss series of 1/48 Ta 152 C kits has therefore been welcomed by Luftwaffe modellers. Launched in 2011, the first two boxings – a C-0 and C-1 – contained identical sprues, with version-specific parts identified in the instructions. The C-0 was reviewed here by Rob Baumgartner, who concluded that "the parts are well moulded, have consistently fine detail, and exhibit a precise fit with very little effort". Rob noted a couple of inaccurate shapes, including the propeller blades, the forward covers near the wing root and the bump on the port side of the engine cowling that allowed clearance for the upper engine support bearer. Other reviewers also pointed out that the annular radiator supplied in the kit was more akin to an Fw 190 D unit than anything fitted to a Ta 152. Generally, however, the kits have been well received, with reports of good fit and buildability.
Now HobbyBoss has taken a step into 'Luft '46' territory by kitting a Ta 152 C variant that never actually existed, the C-11.
HobbyBoss' 1/48 Ta 152 C-11 kit is packed in a smallish box with reasonable artwork of a fictitious JG 301 aircraft, 'Yellow 11', on the lid. Inside are seven sprues of medium grey plastic and one small sprue of clear plastic. The grey plastic parts are of excellent quality, with fine panel lines and other surface detail, and no moulding imperfections of any kind that I could see. A dry assembly of the main airframe components reveals good overall fit and a likely pleasant build experience.
I haven't had the opportunity to directly examine HobbyBoss' Ta 152 C-0 and C-1 boxings, but comparing photos of these kits on the web with the C-11 plastic suggests that all three are very similar. The number of sprues, location of items on the sprues and total parts count appears to be identical in all of the kits. The only difference in the C-11 parts, so far as I can tell, is that HobbyBoss has revised some panel lines and hatches on the fuselage halves, presumably to represent access arrangements for the photoreconnaissance cameras. I'm not sure if this new surface detail is based on C-11 plans to which HobbyBoss has access, or is spurious, but historical accuracy aside it's well done and will look convincing under a coat of paint and a panel line wash.
A high point of the HobbyBoss Ta 152 C kits, noted by other reviewers but worth repeating here, is the level of detail provided in both the cockpit and the open wheel bay, through which the rear of the DB603LA engine would have been visible. A nine-part engine plug is provided that with careful painting and weathering will definitely look the part.
Additional detailing is supplied in the form of an 11-part fret of photo-etched brass. Included here are seat belts, rudder pedals, and rear cockpit decking (although the latter is also supplied as a plastic part for those uncomfortable working with photo-etch).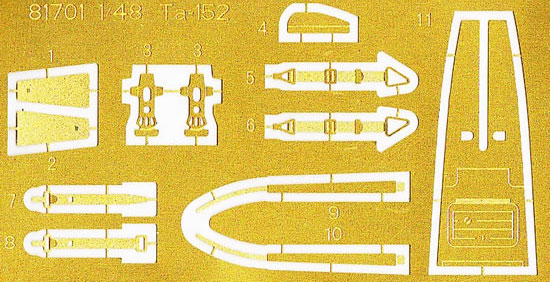 The kit's three clear parts – gunsight and fixed and sliding canopy sections – are very thin, cleanly moulded and highly transparent, and will look even better after a dip in Future.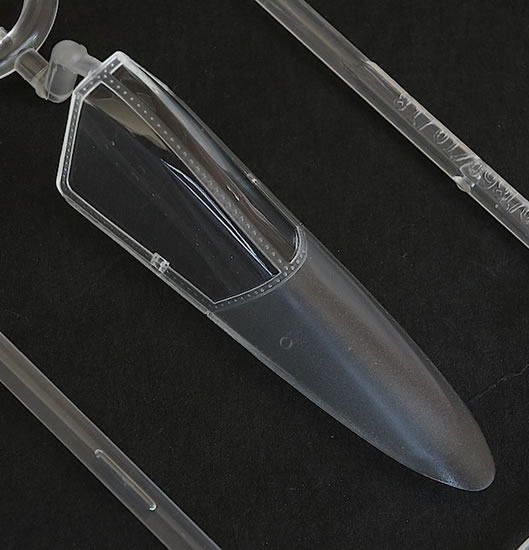 In revising the fuselage halves for this boxing, HobbyBoss appears to have missed installing a port, or ports, for the cameras that would have been carried by the C-11. A likely location would have been under the rear fuselage, just aft of where the wings joined the fuselage, but given the speculative nature of the entire aircraft, the choice is up to you.
The inaccuracies that were noted by Rob in his review of the C-0 kit appear to remain extant. The shape of the propeller blades does not match that of the metal VDM units fitted to production C-1s, and which would likely have been fitted to C-11s had they been built.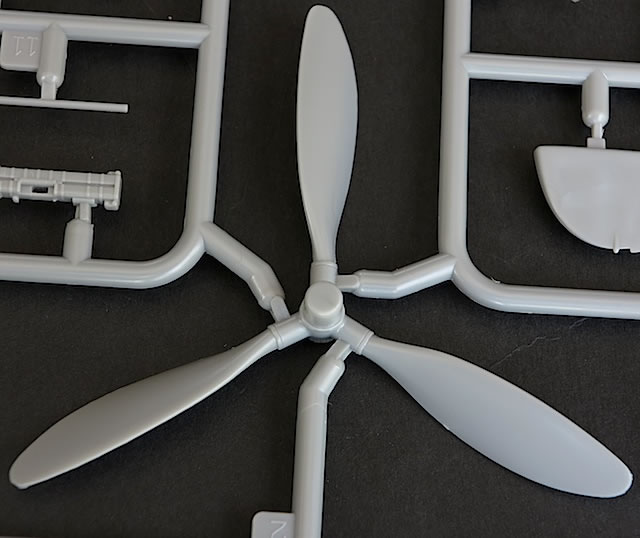 And compared to reference photos, the configuration of the radiator is clearly inaccurate. Fortunately Quickboost, and possibly other manufacturers, offer corrected propeller and radiator assemblies for the HobbyBoss Ta 152 C kits; given the prominence of the parts in question I think these replacements are well worth tracking down.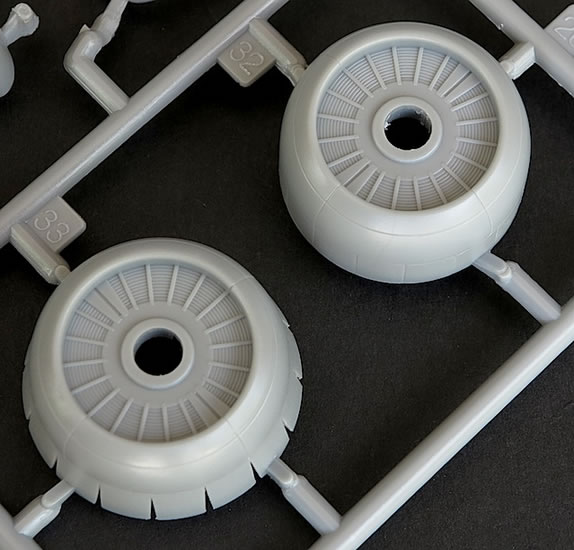 The black-and-white instruction booklet is well done, with assembly called out over eight clearly illustrated steps. Some of the illustrations are a little busy, particularly the cockpit assembly sequence, but take your time, test fit, and all should be well. Detail colours are called out throughout the assembly process, in RLM codes where applicable, which is very useful.
---

Markings
One marking option is provided, for the speculative JG 301 aircraft depicted on the box art. HobbyBoss provides little information about this machine: it may be fictional, but a decent painting and marking guide would still be welcome. The quality of these guides has been one of the strengths of other HobbyBoss kits I've looked at, but nothing is offered here other than some very small colour profiles and overhead/undersurface plans of 'Yellow 11' on the sides of the box. Hopefully, the absence of this information is an anomaly that's restricted to the review sample.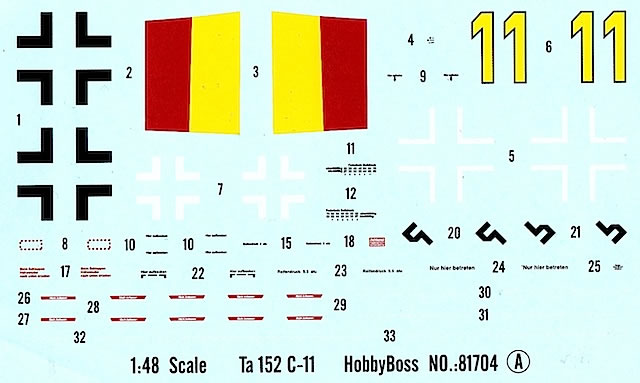 The decals are supplied on two sheets. The main, larger sheet contains all of the necessary national and individual aircraft markings, and a limited number of stencils. The Hakenkruez come in two halves that will need to be aligned carefully, as does the red-and-yellow JG 301 fuselage band, which I would probably rather paint. The smaller decal sheet contains decals for the instrument panels and side consoles, should you wish to use these in lieu of painting the quite reasonably detailed plastic parts.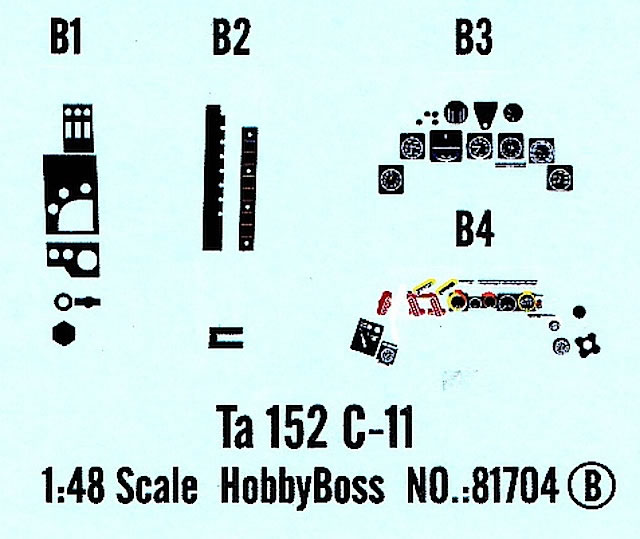 The decals look good on their sheets, with crisp printing and good registration. The stencils are legible, but I can't vouch for the accuracy or otherwise of their German wording.
HobbyBoss' Ta 152 C-11 boxing is a welcome, if slightly unusual, addition to its growing stable of 1/48 Ta 152 C kits. This family is now even bigger, with the release of a Ta 152 C-1/R14 boxing – another kit of an aircraft that was never developed. I can understand that HobbyBoss is keen to extract the greatest possible use from its moulds, given how expensive these are to tool. It's also good to see a company producing high quality, injection moulded kits of interesting, and frankly not all that speculative, 'Luft '46' aircraft.
However, it's a bit frustrating that HobbyBoss is prepared to amend its moulds to represent an aircraft that never existed – as it did with the C-11 fuselage halves – but at the same time not address inconsistencies between kit and aircraft parts that did exist (for example, the propeller blades and radiator assembly). A higher quality painting and marking guide would also have been welcome.
These points aside, however, this kit can be recommended to anyone with an interest in late war Luftwaffe aircraft, but who is reluctant to tackle the Fusion or Dragon Ta 152 C packages. And if you don't want to finish the kit as a C-11, it should be fairly straightforward to rescribe the fuselage panels to represent a Ta 152 C-0 or C-1.
---
References
Richard A. Franks, The Focke-Wulf Fw 190D and Ta 152: A Complete Guide to the Luftwaffe's Last Piston-Engine Fighters (Valiant Wings, 2012)
Thomas H. Hitchcock, The Focke-Wulf Ta 152 (Eagle Editions, 2010)
Malcolm V. Lowe, Focke-Wulf Ta 152 (Mark I, 2008)
Thanks to Creative Models Limited for the sample and for the images.
---
Review Text Copyright © 2014 by Brad Fallen
Page Created 13 January, 2014
Last updated 13 January, 2014
Back to HyperScale Main Page
Back to Reviews Page