Press Release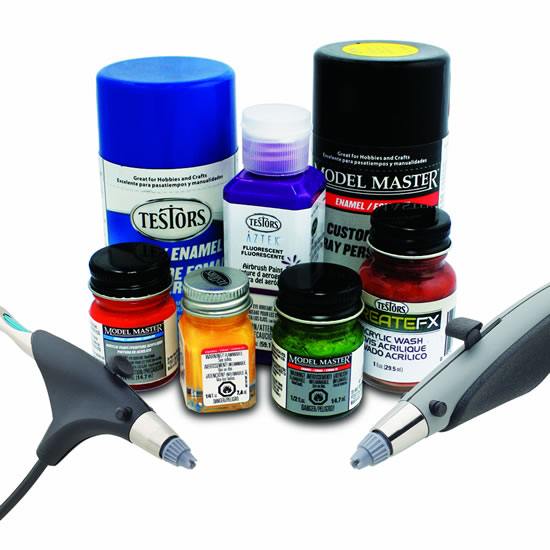 Testor at Nuremberg


HyperScale is proudly supported by Squadron.com

TESTOR CORPORATION To Highlight Its Leading Paints & Finishing Products At The International Toy Fair, Nürnberg, Germany, 29 Jan - 03 Feb 2014

THE TESTOR CORPORATION, world leader in quality craft & hobby paints and finishing products since 1929, will attend the Spielwarenmesse International Toy Fair, Nürnberg, Germany, 29 Jan - 03 Feb 2014.

There's a Testors®* finishing solution for every craft & hobby project! And TESTOR will be showcasing company products at International Hobbycraft's display, Hall 7A, Stand B-133. In addition to world-famous Testors® adhesives and tools, products will include:

The Innovative Aztek®* Airbrush System. One versatile Aztek® airbrush does the work of a handful of "traditional" airbrushes! With unique Aztek® Quick-Change Nozzles and Cups, you can smoothly switch colors, effortlessly change spray patterns, and easily maintain your airbrush. Impervious to solvents, just soak Aztek® accessories to clean. And options include a variety of Air Compressors, Color Cups, Bottles, Cleaning Accessories, Airbrushable Acrylic Paint and more. Rugged, maintenance-free Aztek® airbrushes from The Testor Corporation remain the world's most user-friendly system!

New CreateFX™* Finishing Products. The new Testors® CreateFX™ product line helps educate, inspire and drive innovation in school, club, craft and hobby projects! The awesome finishing products include enamel paints, markers, stains and texture paint aerosols – as well as 14 acrylic washes. Paint sets feature both enamel and water-reducible acrylic assortments. Great for family fun, school activities and Scouting projects!

Testors® and ModelMaster™* Paints. Tap the world's largest craft & hobby paint palette! Available in enamels, lacquers and non-toxic, water-reducible acrylics, Testors® lines include hundreds of authentically matched and general colors. In addition to Aztek® and CreateFX™ paints, products include trusted names like ModelMaster™, Acryl® and Metalizer™. All are superb for modelers, crafters, gamers, artists and students – experienced and novice.

New Aztek®* Airbrushable Acrylic Paints. Excellent for craft & hobby projects, the exciting new range includes 40 opaque, transparent, fluorescent and pearlescent colors and clears. Each bottle sports a built-in agitator. The super-convenient, "flip-top" container makes paint transfers a snap. Non-toxic, easy clean up with soap & water keeps everything neat and tidy!

Reliable Testors® paints cure to hard, durable finishes on a wide variety of surfaces – including most plastics, resins, metals, wood, paper and plaster. Retailers enjoy excellent product distribution, availability and performance – and happy, loyal customers!

In addition to craft & hobby fun, Testors® products are excellent for a vast range of other activities, including:

school and club projects,
fine art,
personalized décor and fashions,
wood- & metal-working,
automotive detail & spot repair,
small DIY jobs, and
household touch-ups.

For details, visit TESTOR personnel at International Hobbycraft's display, Hall 7A, Stand B-133 – or www.Testors.com. Or contact The Testor Corporation, Rockford, IL. 61104, USA. Tel.: 1-800-435-2942. Keep up with Testors® activities by liking us on Facebook & following us on Pinterest:

http://www.facebook.com/pages/Testors/186766180261

http://pinterest.com/testorcorp/

Since 1929, The Testor Corporation has remained the world's leading source for quality hobby & craft finishing products — paints, airbrushes, adhesives, brushes, tools and accessories. Quality Testors® brands include Aztek®, ModelMaster™ and CreateFX™. The trusted Testors® and ModelMaster™ names consistently rank #1 in consumer surveys.
---
Text and Images Copyright © 2014 by Testor
Page Created 22 January, 2014
Last updated 22 January, 2014
Back to HyperScale Main Page
Back to Reviews Page