Focke-Wulf Ta 152 H-0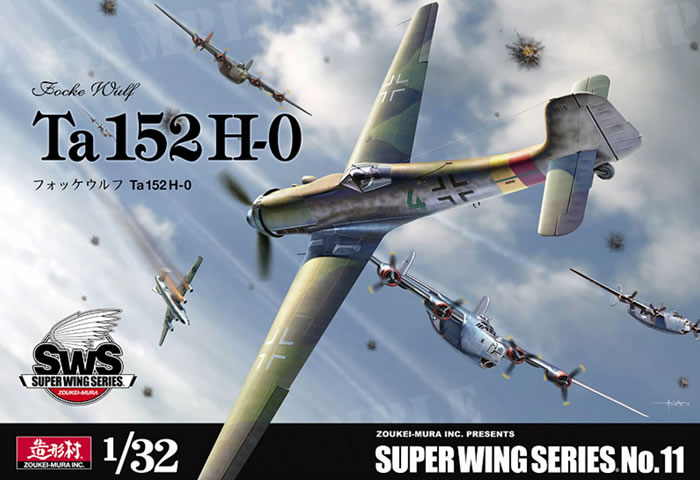 Zoukei-Mura, 1/32 scale
S u m m a r y :

Catalogue Number:

Zoukei-Mura Kit No. SWS 11 - Focke-Wulf Ta 152 H-0

Scale:

1/32

Contents & Media:

See details below

Price:

¥10,584
To buy directly from Volks Japan, click THIS link.
To buy directly from Volks USA, click THIS link.


Review Type:

First Look

Advantages:

Includes new and reworked parts.

Disadvantages:

None noted.

Conclusion:

Highly Recommended.

Reviewed by James Hatch


Kitty Hawk's 1/32 scale F-86D Sabre Dog is available online from Squadron.com

Kurt Tank's Focke-Wulf Ta 152 was the ultimate incarnation of his Fw 190 series of thoroughbred fighter aircraft. As Germany's war situation was worsening, there was a call to introduce a fighter aircraft that could fly at higher altitude in order to intercept enemy aircraft, and the possibility of the B-29 being introduced into the European Theatre of Operations.
The Ta 152 was Focke-Wulf's submission to the RLM when key aircraft manufacturers were approached with the problem of developing a high-altitude interceptor that could tackle the increasing numbers of bomber streams that were pulverising the Reich to rubble. The Ta 152H was based on a lengthened Fw 190D fuselage, although technically different. In order to re-establish the centre of gravity, the nose was also lengthened, producing a startlingly long and sleek fuselage for a fighter of the day.
Powered by a Jumo 213E with good high altitude performance, the 'H' series machine had a wingspan of over 48ft. Electrical gear retraction systems were replaced with hydraulic systems, and a heated windshield was introduced, for bad weather operations. Of course, a pressurised cockpit was also a necessity.
Weapons were a single MK108 Motorcanone that fired through the spinner, and two MG151/20 cannon in the wing root.
The Ta 152 came way too late to make even the slightest difference in Germany's war effort, but that shouldn't detract from the innovation and achievement in the design itself. Very few Ta 152 were built, with the figure standing at around 43 machines of all variants, including prototypes.
It's been a whole FIVE years since Zoukei-Mura released their second SWS kit, the Ta 152H-1. With this release, it's now the turn of the rarer H-0 variant. This is the type which sits in the NASM, and of course is the only machine now left in existence. Of course, there is no excuse for them get this wrong.
So, as we have already seen the H-1, what exactly does this kit offer that makes it worth buying? If you don't have the original release and you like the Ta 152, then nothing is stopping you! However, if you do have the original H-1, then I can tell you that there are significant differences in this kit, and owning the original shouldn't preclude this from being in your collection.
This kit is a mix of original H-1 sprues, newly-tooled H-0 sprues AND re-tooled H-1 sprues! Yes, Zoukei-mura have revisited those areas in their earlier release that some may have thought weak, and perhaps areas they wished to refine themselves anyway. Either way, we'll now take a look. For a retro look at the original kit, take a look HERE
The artwork on this kit does seem quite familiar in style to the original release, and no less attractive, with a single Ta 152 tearing into a stream of Liberator aircraft. Box sides show the completed model, with most text in Japanese. As ZM are now firmly a global brand with their model show presence and US offices selling their kits, some dual language text would be nice for photos etc. Lift that lid and you have SEVEN sprues in light grey styrene, and ONE in clear. You might remember that the early ZM kits, including the Ta 152H-1, were moulded in different colours. This was always something they drew criticism for, with them being likened to Matchbox kits (without the garish colours!). Underneath the plastic lies another sleeve containing the decal sheet, masks, instruction manual and an amendment sheet that is specific to this H-0 release.
---
Sprue A
Notice this is an H-1 sprue, but one that has been reworked and we see it for the first time on this kit. Comparing against my original H-1 kit, the only real refinement I can see here are the main wheel hubs and their brake line. The reworked parts look far better than the originals. If there are no other reworked parts here, then that is just fine as the parts here are already refined, and look far more than they did under the original silver plastic that seemed to make things look soft.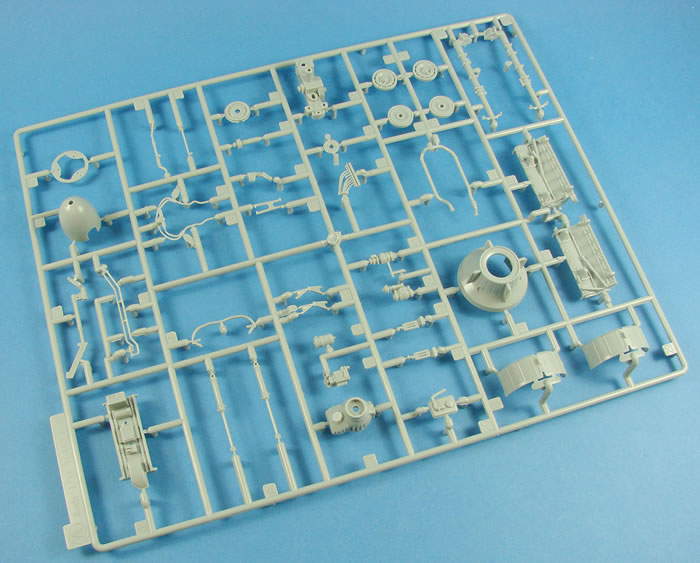 Essentially, this sprue concerns itself with the engine and undercarriage. Engine detail is great, and this kit contains a fully featured Jumo 213E that is composed of main left, right engine block, crank case cover, coolant vapour reserve, ignition lead wiring loom and junction box, starter motor, generator, supercharger, oil cooler etc. There are over 20 parts to this and I know from experience of building the original kit for the Concept Note book, just how good the engine looks when painted and weathered. I think the engine firewall could benefit with a little wiring to the engine area, but that's it. To cap the engine off, literally, a two-part spinner is included. I know the shape of spinners can be contentious, but this looks great to me, and includes a fine 'panel' line around the circumference. A forward radiator block and annular radiator parts are included. The latter has fine cooling fin detail on both the interior or exterior faces.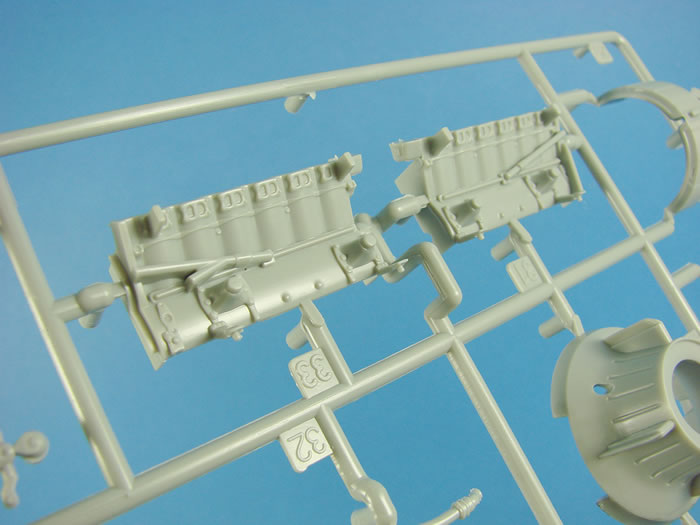 Undercarriage struts are superbly detailed, and separate brake lines are included. Oleo scissors are also more than acceptable, and the multipart rear tail strut is no exception. The main part of this anchors high up in the vertical tail fin.
---
Sprue B
Another H-1 sprue, and again re-tooled. Here you will find various engine components such as the supercharger, propeller, guns, fuselage fuel tanks (the H-0 carried wing tanks also), exhausts, and various other engine parts. The propeller is certainly more refined looking than the original, and the exhausts have marginally different detail. One thing I'm disappointed in that ZM didn't rework are the tires. These would have looked better with a little weighting added. The opportunity was there to sort this, so if you want them to look a little flatter on the bottom, you can always get out a sanding stick.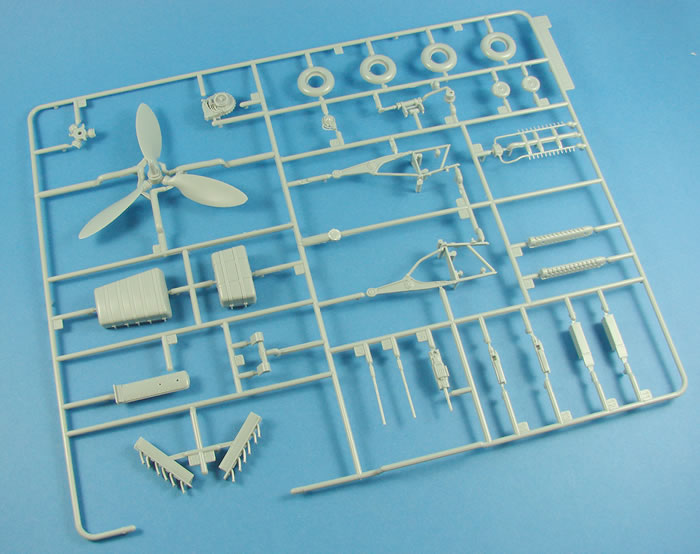 Another inclusion here are the engine bearers. One thing I found with the original release was that fitting the engine and bearers into the fuselage, proved a little problematic. To counter this, I snipped off the lower locating pips and aligned the engine with the upper pins only.
The wing root cannon look a little simplistic too, but with some extra work and electrical wiring, they won't look too bad. If you want to use any aftermarket for these, then look at the MDC resin gun replacements. There has been minimal slide mould use for the barrels on these guns, as also on the MK108 too.
---
Sprue C
With Sprue C, we start to see cockpit parts, starting with the cockpit floor and integral rearmost bulkhead that encapsulates the battery/stowage compartment. Another rear cockpit bulkhead that incorporates the seat location and forward turtle deck is included. ZM's attention to detail with this release still grabs me in the same way as it did 5 whole years ago, and the levels of detail more than hold up to current eyes, expectations and scrutiny. A new instrument panel, specifically for the H-0, is also included here.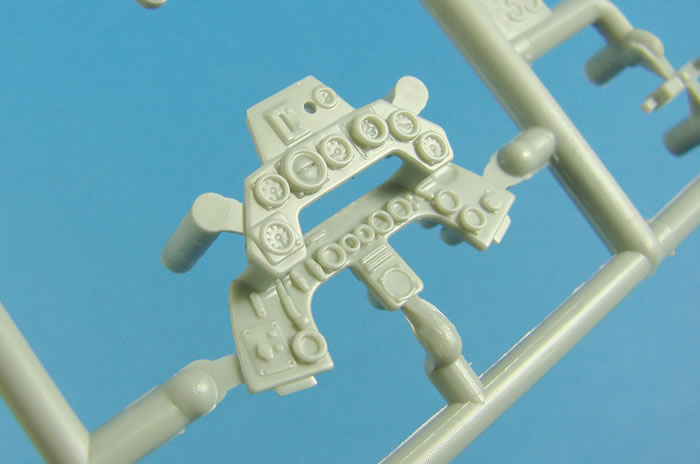 The details of the bezels look perhaps a little exaggerated, but they will make for ideal painting and detailing conditions, and a punched decal instrument should sit perfectly inside. A drop of Klear or Micro Crystal Clear will finish these nicely. Decals are provided for the instruments, but I think the definition/detail is poor. My choice, as always, are the excellent Airscale decals. This new part also has rear instrument detail, allowing you to add some wiring.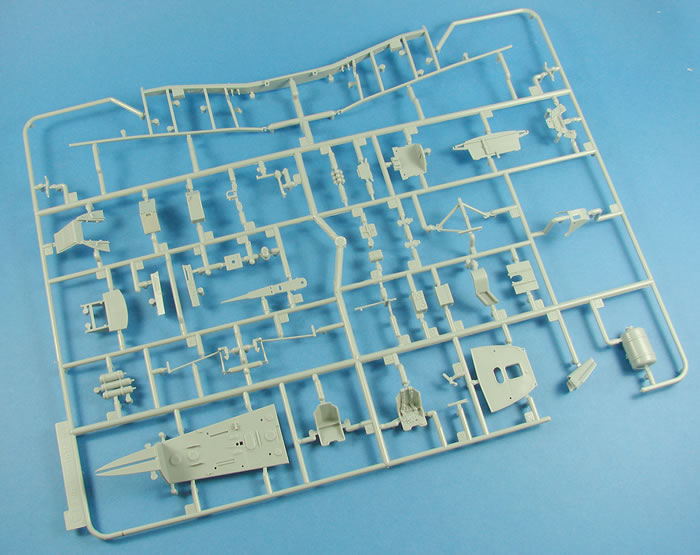 Two seats are supplied. One of these is a standard part that allows you to place your own seatbelt set, and the other has moulded belt detail. I'm absolutely convinced that the moulded belt detail has been improved, and looks akin to the quality I saw on my recent Ho 229 build. Personally, I have no hesitation in using the seats with the moulded belts. They really do look superb! The cockpit contains separate consoles and a throttle lever that connects to a socket on the underlying floor. Rudder pedals are attached to rods that pass under the consoles. Yes, all the detail you want is here, even if you may never see it!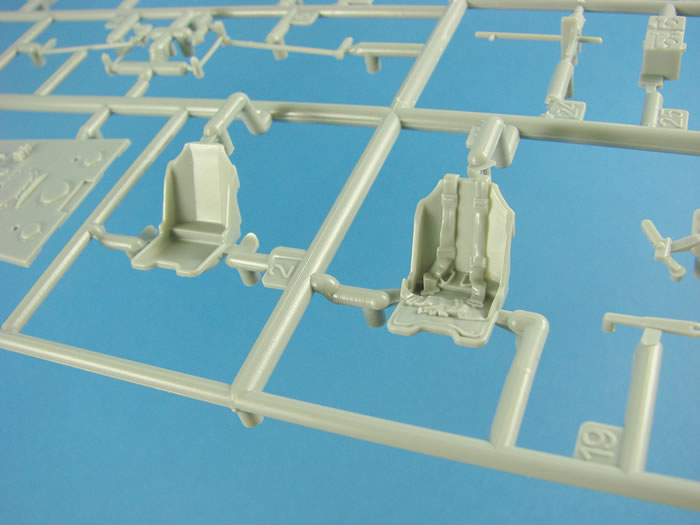 You will find other bulkhead details here, and parts for what was the forward weapon bay on the earlier 190 series. Ammunition boxes for the wing root guns are to be found here, as are various oxygen and compressed gas bottles that fit within the tail section. One feature of the Ta 152 series was a nitrous oxide tank that could be used to temporarily boost engine performance. This was located in the rear fuselage. Also here are various other rear fuse internals, such as radio sets.
Lastly, a wing spar is included that perfectly pre-aligns the wings for you, and provides some stability to this crucial area. Some wheel bay detail is provided here, and you will also fit the guns into the provisional wing root areas before installing to the fuselage.
---
Sprue D
Here we see a new sprue, designated as H-0, and looking very similar to its counterpart in the previous release. However, things appear to be more refined here. Looking at the surface detail rendering, the new parts have better riveting and panel line detail. Originally, the general rivet lines were exaggerated, but now they appear to be represented far more realistically. Detail on the inside of the parts consists of the same frame lines etc, and remains unchanged. I have no problem with this though. A port is supplied separately on the rear fuse, allowing the modeller to pose this open and display the internals.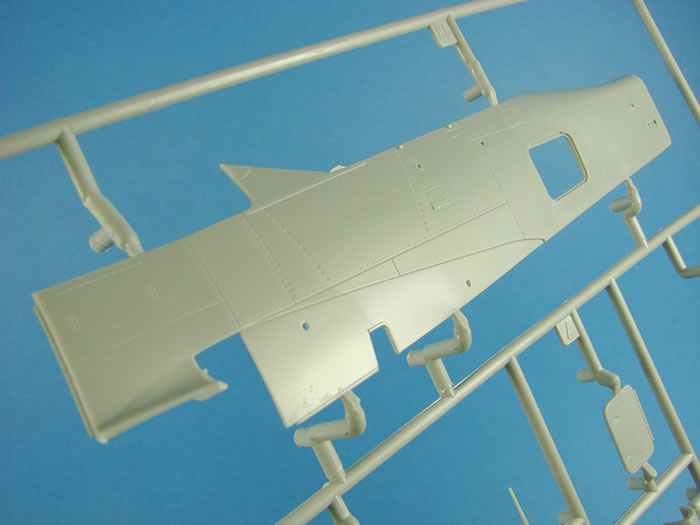 That refinement of detail extends to the tail where the stabiliser fairing is now fitted with correctly raised line of fasteners, instead of sunken rivet detail. Again, the access panel on the fin is separate, so it may be posed open if you decide to detail the area within a little more.
Engine cowl detail is also slightly different around the forward exhaust area, and a new part is included on this sprue, for the upper louvered vent that sits just behind the cowling ring flaps.
---
Sprue E
I can't see any difference between this sprue and my original H-1 release kit, and indeed it is still designated as H-1 on the ID tab. ZM's unusual fuselage breakdown means that the lower belly section is separate, and moulded here, complete with internal rib structure detail. The single piece forward upper cowl that incorporates the ex-gun bay and engine cowl, is moulded as a single piece with some internal detail. Unfortunately, ZM didn't see fit to remove the ejector pin marks from in here, so you will need to eradicate them yourself if you wish to display this part removed.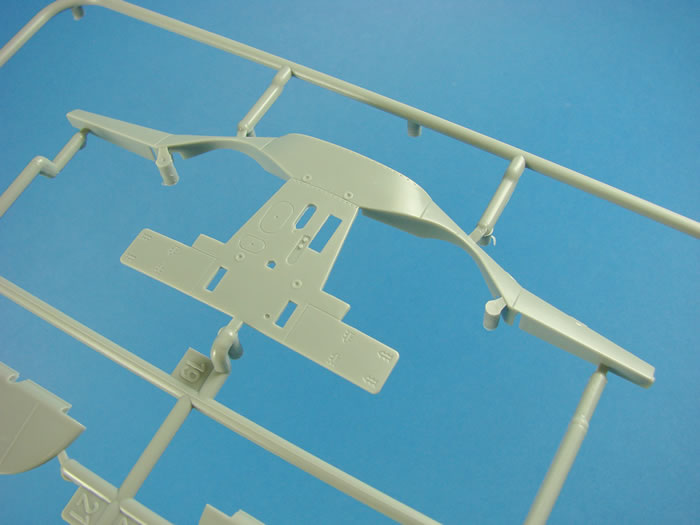 The forward nose cowl is separate to the cowl flaps, and the latter are provided as open and closed options.
Tail surfaces have some superb external detail, and control surfaces have a taped effect finish. I'm not absolutely convinced by this, but some photos do seem to look quite similar to the ZM approach, if maybe not quite as raised and obvious. Still, the finish is very attractive.
The modular wing approach sees the forward belly section moulded here, as well as the main gear doors and other small parts. Note that there is the H-1 upper louvred panel included here, and this is NOT for use on this kit!!
---
Sprues F & G
These are wing sprues and are essentially mirror equivalents of each other. Now you get an idea of the sheer span of this sleek fighter aircraft. As these are H-0 specific sprues, they are indeed newly-tooled. Due to the difference in airframe wing tank locations, you will see a difference in engraved surface detail that is applicable to this machine only. It is noted that as with the fuselage parts, the riveting on the wings is also more subtle. Only key rivet lines are included too, leaving the way open for you to add the remainder yourself, if this is what appeals. The wheel well bumps are also more organic looking too and far more realistic. Some detail is moulded within the wheel bay roof, and this is more than adequate. Trailing edge flap bay detail is also moulded, but there are ejection pin marks you will need to remove.
As with the H-1, the wing leading edges are moulded separately. I've heard some say they struggled to make these fit properly, but for me, I had no such issue. Just take your time and be methodical with your approach. Note that the wing roots still remain as single parts on this release. I wasn't too happy with the protrusion of these from the fuselage when installed, so I thinned the joint face a little on mine before installation. Refinement of detail extends to the gun bay covers for the wing root. Engraving is shallower generally, and these are a big improvement over the earlier release.
---
Sprue H
ZM decided to revisit this sprue and re-tooled it to make it more accurate. As well as a clear instrument panel and a few small parts for wingtip lights and gun sight etc. the main players here are of course the windshield and the familiar blown hood. Noticeably, the windshield looks more refined and the shapes have changed somewhat. Clarity is excellent, and the canopy parts have superb frame definition that will aid accurate placement of the vinyl masks.
---
Plastic Summary
I found a new level of plastic moulding quality with the Ho 229, and it continues here. Parts are generally flash free, and seam lines are minimal.
There are a couple of sink marks here and there, but nothing too major. You could almost excuse them for metal 'canning' from the stressed metal of the real aircraft!!
---
Masks
A small sheet of vinyl masks is included for the canopy.
My experience of these is that they adhere well, fit perfectly, and adhere well to the plastic. If you ever need to tweak a mask, then the flexibility of the vinyl will allow for that.
---
Decals
For me, ZM's decals are possibly the weakest element of their kits, BUT they do adhere well and conform to surface detail with the help of a little decal setting solution. I don't know who prints them, but they tend to be a little thicker than I'm used to, but in fairness, they are well printed with good, solid colour and minimal carrier film. Registration is also perfect.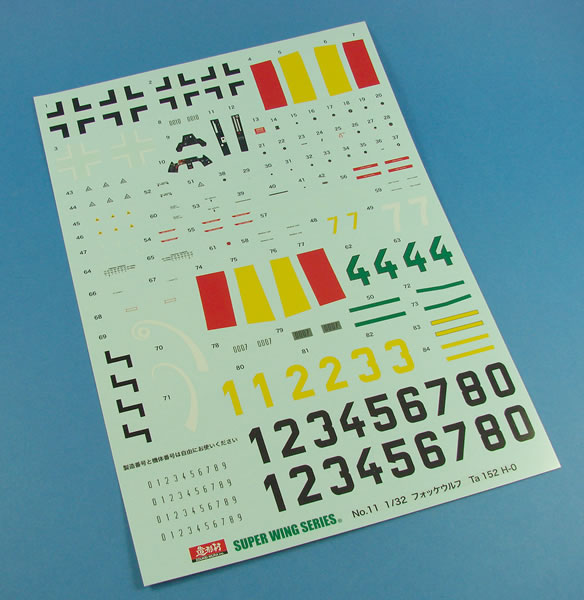 As well as markings that are designed to be generic and allow the modeller to make their own decisions, a full set of stencils is also included. I'm not too enamoured with the instrument decals. They lack vibrancy and definition.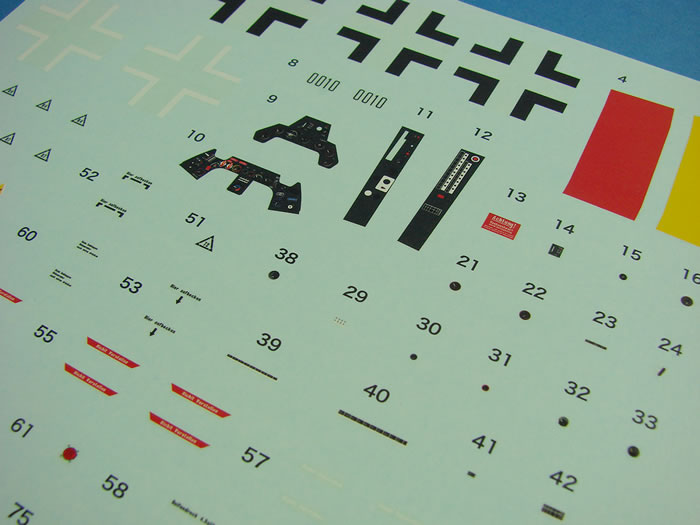 Swastikas are supplied in two parts, so as not to offend the sensibilities of particular countries that get all offended by them on model kits!
---
Instructions
The first thing you'll notice is that the rather swish looking manual (designed to look like a 1940s technical document) is actually the same one that was supplied with the H-1 kit back in 2010. However, a supplement is included with the correct H-0 nomenclature, and this includes the amendments and changes to this particular release.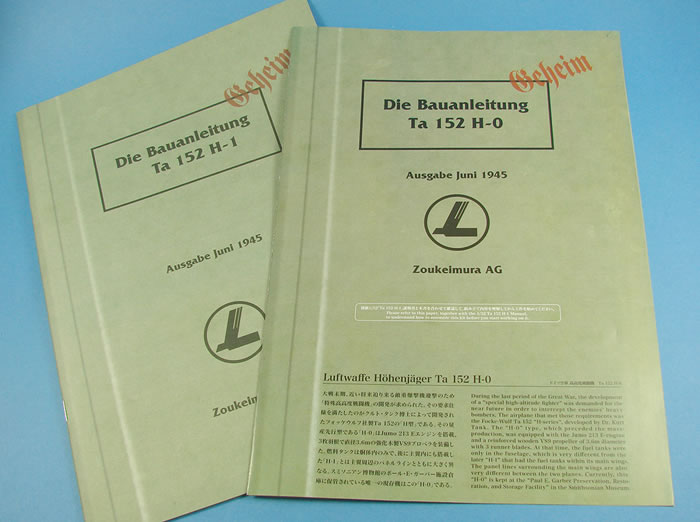 The first thing I would do is to mark these changes within the main manual so that you don't fit the incorrect parts for this version. Illustrations are excellent, with CAD-style detail and shaded drawings.
Paint references are Mr Colour and Vallejo.
SWS kits have advanced a little since the manual was first printed, and as a result, this one doesn't have all the fancy technical details of the real aircraft, as was seen in the Ho 229 manual. Still, ZM's instructions are better than most within the industry.
I admit that I was a little too hasty to write this release off, due to the relatively small number of external differences between this and the original H-1 release. However, the inclusion of all of those refined and reworked sprues, along with the new-tool parts, serves to make this a worthwhile release.
With the original H-1 kit now being currently out of production, the H-0 is the only real game in town for this stunning fighter aircraft, with the exception of the Pacific Coast kit that some claim to be difficult to build or hard to obtain.
As far as price too, then this kit is well-pitched, being cheaper in some respects than the PCM kit, and also a more highly detailed kit. If you've never had the opportunity to build a ZM Ta 152, then I really, really can recommend it!
Highly Recommended.
Kit purchased by reviewer
---
Review Text Copyright © 2015 by James Hatch
Page Created 30 November, 2015
Last updated 30 November, 2015
Back to HyperScale Main Page
Back to Reviews Page