S u m m a r y :

Catalogue Number, Description and ISBN:

Kagero Publishing
Japanese Fighters in Defense of the Homeland, 1941-1944, Volume 1
ISBN: 978-83-64596-06-3

Contents & Media:

Soft cover, 80 pages, A4 format; black-and-white photographs; full colour profiles and plans; English text.

Price:

Review Type:

First Look

Advantages:

Comprehensive analysis; high quality photos and drawings.

Disadvantages:

A bit more flavour (such as pilot anecdotes) to improve readability would have been welcome.

Conclusion:

This is a tricky book to sum up. I like Wieliczko's forensic analysis of how Japan's air defence system evolved between 1941 and 1944 – but the analysis is pretty dry, with lots of statistics and not much human colour. The sections on Japanese aircraft are informative and should be helpful to modellers. Overall this is a book I can highly recommend to anyone interested in Japanese wartime aviation, and I am looking forward to reading Volume II when it is released.

Reviewed by Brad Fallen


HyperScale is proudly supported by Squadron

By August 1945 Japan's cities and factories had been ruined by B-29s that flew higher and faster than almost anything that could be put up against them. This catastrophic air defence failure wasn't due to a lack of foresight – Tokyo's military planners had anticipated the US bomber threat since before the war. Detailed homeland defence arrangements were put in place, and then refined further after the 1942 Doolittle raid and 1943 intelligence reports of the B-29's likely capabilities. Ultimately, however, these plans didn't work as intended as Japan's increasingly desperate fighter crews – inexperienced, thinly spread and flying technologically inferior aircraft – were unable to stop the B-29 armadas.
Leszek Wieliczko's book tells this fascinating and tragic story from the Japanese perspective, beginning in the 1930s and concluding in December 1944. Presumably there will be a second volume that covers the final, devastating months of 1945.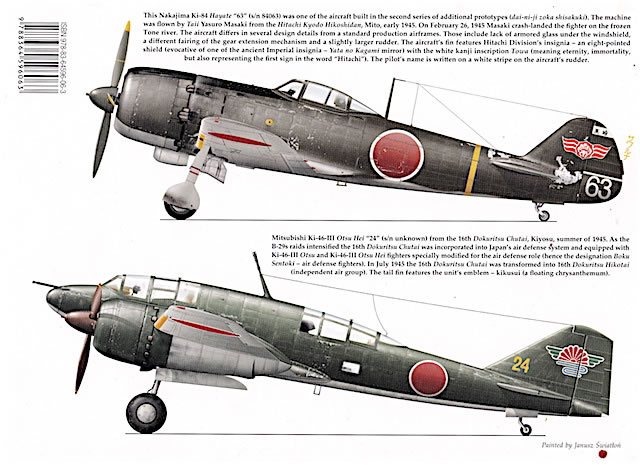 Wieliczko focuses on three main topics: the evolution of Japan's air defence planning; engagement-by-engagement descriptions of how these arrangements held up against B-29 raids; and the main fighters used by Japan against these raids. To achieve this he's structured the book as follows.
Introduction (pp.3-7). This is a useful scene-setter that looks at Japanese attitudes to homeland defence before and after the April 1942 Doolittle raid.

Organisation of air defence (pp.8-12). Here Wieliczko gets into the meat of his subject with a detailed explanation of Japan's Army-led, pre-war air defence preparations. This is a dense topic that doesn't lend itself to easy reading, with lots of military structures, unit names and locations to digest. As with the Introduction, however, these details provide important context for later chapters.

Changes after the Doolittle raid (pp.13-18). While the Doolittle raid inflicted little damage it was a timely reminder of Japan's potential vulnerability, and led to further reforms of the air defence system which according to Wieliczko would now remain "largely unchanged" until spring 1944. More capable fighters such as the Ki-44 were also coming on line, although the obsolescent (but popular) Ki-27 would remain in service until mid-1943.

Enter the B-29 (pp.19-25). Intelligence reports of the B-29 and its capabilities began circulating from April 1943, and plans for meeting this new threat were developed. Most alarming for the Japanese was the B-29's likely excellent high altitude performance, which was better than any of their available fighters (and as it turned out, pretty much everything under development as well). Wieliczko examines the evolution of plans to counter the B-29, which included further reorganisations and more training for night operations.

B-29s over Kyushu (pp.26-34). B-29 attacks commenced in June 1944 and the fears of Japanese planners were quickly confirmed, with the defenders unable to substantially disrupt the incoming raids. The author describes this and subsequent raids in terms of Japanese response (units, leaders and fighter types employed, successes claimed and losses suffered), actual US losses (which were almost always much fewer than claimed by the Japanese), and US claims for Japanese aircraft destroyed (which again were always greater than the numbers actually lost). These statistics give a good sense of the scale of the fighting, but quickly become dry and repetitive; for more colour and emotional impact, I would have liked to see some first hand accounts from both sides of what the combat was actually like. A little of this flavour comes through in Wieliczko's descriptions of the ramming tactics used by some Japanese pilots as a desperate means of attack.

Target: Tokyo (pp.35-47). The US capture of Saipan and Tinian brought B-29s within range of the Japanese capital, with the first strikes occurring in November 1944. As well as describing these raids, Wieliczko gives a good sense of the almost impossible challenge Japan faced in balancing home defence arrangements with operational demands elsewhere, with the latter usually taking priority. He also describes the difficulty of intercepting high-flying F-13 aircraft (reconnaissance B-29s), the refinement of ramming tactics into dedicated units, and short-lived plans to disrupt B-29 formations by bombing them from above.

Intensification of the US raids (pp.48-53). This chapter focuses on B-29 raids in November and December 1944. While the air-to-air combat was clearly ferocious, what stands out is the comparatively small scale of the attacks next to the numerically enormous heavy bomber raids in Europe; most of the incursions described here involved fewer than 100 B-29s.

Japanese fighter aircraft (pp.54-66). Here Wieliczko examines the development and production of Japan's key homeland defence fighters - Ki-44, Ki-45, Ki-61, Ki-84 and Ki-46. Some good black-and-white period photos and full-colour illustrations of these aircraft, all of which will be useful for modellers, back up the text. My only complaint about the book's photos is that I would've liked to see more of Japanese aircraft and fewer of B-29s, given that the book is about Japan's response to the US threat.
The book concludes with a select bibliography for those interested in further research, a black-and-white map of Japan showing military districts, air defence bases and key US targets, and tables of Japan's air defence systems, Army and Navy ranks, and aircraft performance statistics.
This is a tricky book to sum up because, to an extent, its strengths are also its weaknesses. I like Wieliczko's forensic analysis of how Japan's air defence system evolved between 1941 and 1944 – it gives a clear picture of the challenges faced by planners in Tokyo and how these were addressed. At the same time however the analysis is a bit dry, with lots of statistics and not enough human colour. The sections on Japanese aircraft, both written and illustrated, are informative and should be helpful to modellers of these aircraft.
Overall and despite its shortcomings, this is a book I can highly recommend to anyone interested in Japanese wartime aviation; I'm looking forward to reading Volume II when it is released.
Thanks to Casemate UK for the sample.
---
Review Copyright © 2016 by Brad Fallen
This Page Created on 1 February, 2016
Last updated 1 February, 2016
Back to HyperScale Main Page
Back to Reviews Page