Messerschmitt Bf 109 G-6
Re-Tooled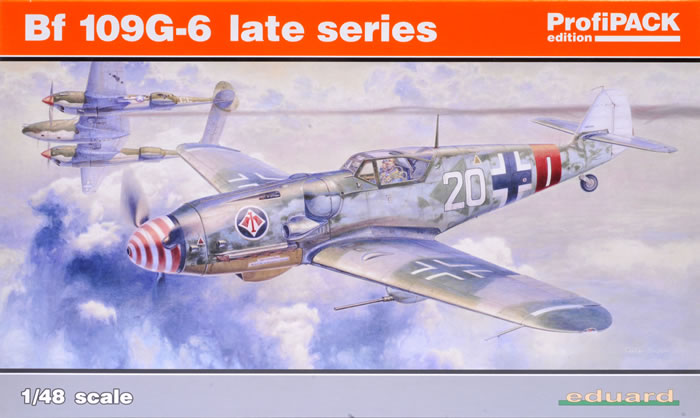 Eduard ProfiPACK, 1/48 scale
S u m m a r y

Catalogue Number:
Eduard Kit No. 82111 - Messerschmitt Bf 109 G-6
Scale:
1/48
Contents and Media:
186 parts in grey coloured plastic; 14 parts in clear; colour photo-etched fret; self-adhesive die-cut masking sheet; markings for five aircraft
Price:

USD$49.95 plus shipping, available online now from Eduard

USD$39.99 plus shipping available from Squadron

GBP£28.30 (£23.58 Export Price) plus shipping available from Hannants

Review Type:
FirstLook
Advantages:
Dimensional errors have been corrected; many other details and options improved or added; high level of detail; outstanding surface features including crisply recessed panels and subtle rivet lines where appropriate; includes colour photo-etched parts; separate control surfaces; many useful options including framed and Erla canopies (three styles of Erla hoods), standard and tall tail, long and short tail wheel, battery-box cover, under wing cannon gondola, alterative propeller blades, tyres, hubs and oil cooler housings, aerial masts, bomb racks, trop filter and supercharger intakes (some parts not applicable for this kit); high quality decals; includes die-cut canopy masks.
Disadvantages:
Conclusion:
You really have to hand it to Eduard. They have clearly spent a lot of time, effort and money to understand and correct the problems with their 2014 1/48 scale Messerschmitt Bf 109 G-6 release. Just under two years after their initial effort, Eduard now has a Bf 109 G-6 kit that can proudly stand alongside their landmark Spitfire family. This is easily the best 1/48 scale Messerschmitt Bf 109 G-6 kit available today, and really is probably the best G-6 in any scale. Highly Recommended.

Reviewed by Brett Green

Eduard's re-tooled 1/48 scale Messerschmitt Bf 109 G-6 will be available online from Squadron.com
In 2013, Eduard was riding a wave of well-earned adulation for their superb 1/48 scale Spitfire Mk.IXc kit. The Spitfire variants that followed were equally good.
Expectations were therefore sky high when Eduard announced the logical counterpoint to their recent masterpiece - a brand new 1/48 scale Messerschmitt Bf 109 G-6.
Modellers' anticipation was further heightened by Eduard's unprecedented online promotional campaign in the lead-up to the 2014 launch of their 1/48 scale Bf 109 G-6 kit.
When the kit was released in May 2014, a number of inexplicable dimensional errors and detail discrepancies were apparent. The most obvious were an oversized fuselage and wing span, but these were not the only problems.
Modellers can be vicious, especially in packs, and there is no bigger wolfs' lair than the World Wide Web. Eduard was savaged online. They were mauled. You reckon hell hath no fury like a woman scorned? Try scorning a modeller.
It is true that there were a number of surprising problems, but accuracy is just one element of any model. It will be a game breaker for some, and irrelevant to others. The remaining aspects of the kit lived up to Eduard's usual high standards, including state-of-the-art surface textures, high level of detail and included options.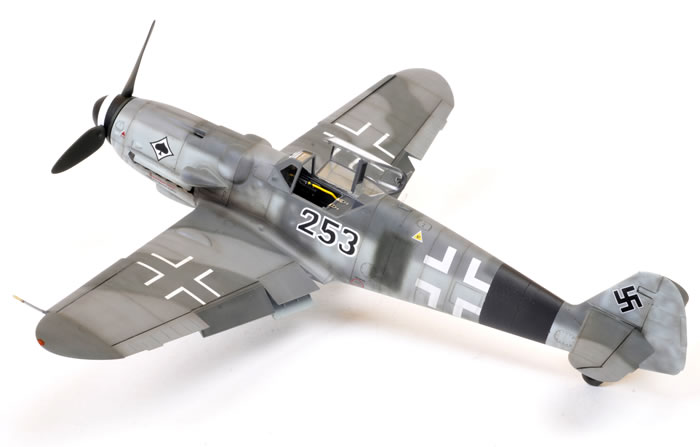 2014 kit built by Brett Green
---
I have built three of the original 2014 kits. They were a pleasure to work on with excellent fit. When finished, without measuring aids or another Bf 109 model alongside, the dimensional errors were not obvious to the naked eye.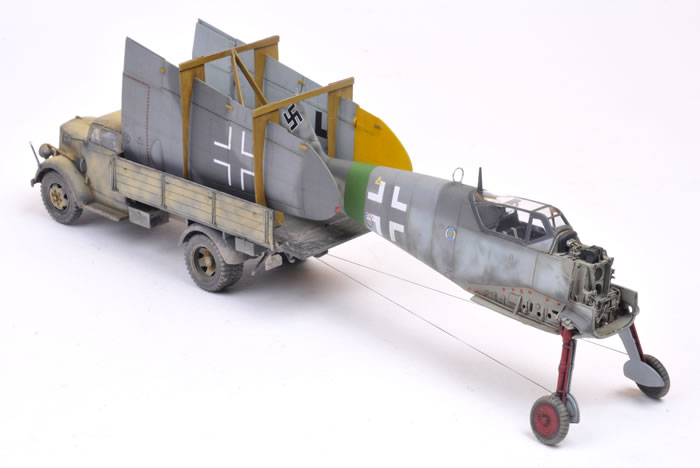 2014 kit built by Brett Green
---
Even so, the damage had been done. In the midst of this disparaging whirlwind, Eduard acknowledged the issues and committed to correct the problems in a future release.
And so, a little under two years later and with almost no fanfare, Eduard has quietly slipped their re-tooled 1/48 scale Messerschmitt Bf 109 G-6 into the shark pool.
Let's see if they'll get a bite.
If you just want to know whether this kit has really been re-tooled, the short answer is "yes".
Now here is the long answer.
Eduard has done more than simply correct the length of the fuselage and the wing span. A lot more. A significant number of parts have been redesigned, re-tooled or added to this new boxing. I will walk through the differences between the original release, Kit No. 8268, and this new-tool version one by one:
Fuselage and Wing Dimensions
I compared the new wing and fuselage with drawings prepared by Radu Brinzan. Comparing model parts with plans is always fraught with danger – how accurate are the plans? Have they been printed to scale? Have the parts been photographed without bias (angle, focal length etc)?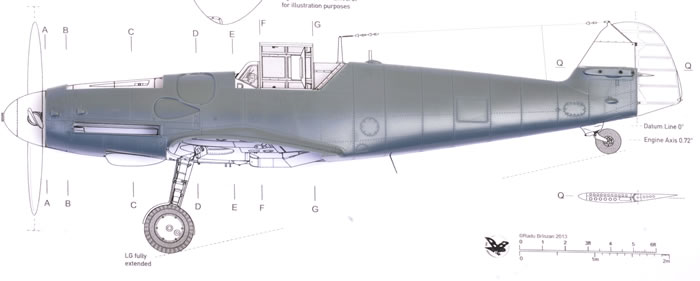 I place my trust in Radu, however, and offer these photographs of Eduard's newly tooled wing and fuselage compared to his plans, printed out to 1/48 scale. It is not meant to be a scientific analysis - more an indication. The fuselage matches Radu's plans almost exactly while there is a discrepancy of just a fraction of a millimetre for the wing.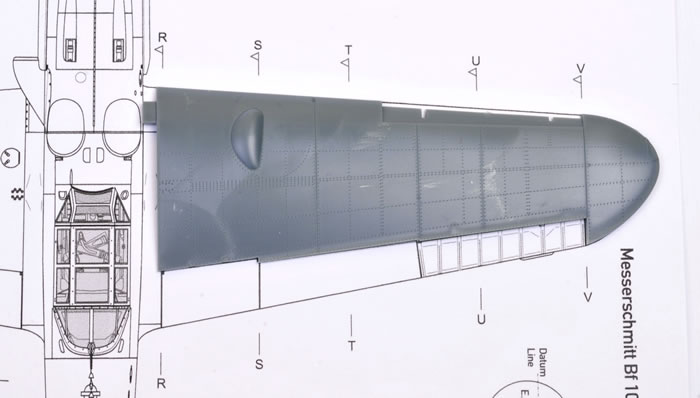 I have also compared the span of the painted wing of my conveniently disassembled 2014-release G-6 with the newly tooled (unpainted) wing.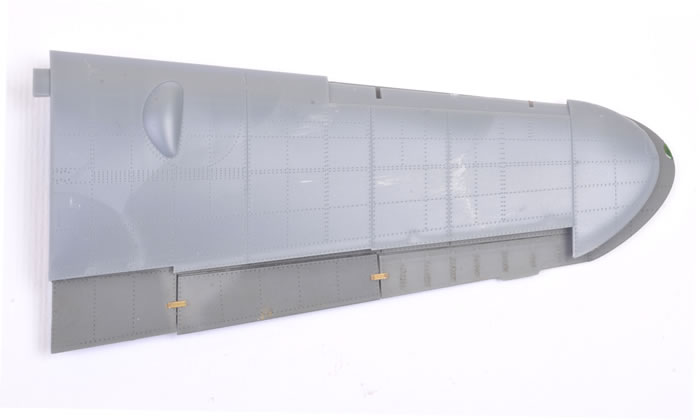 Note the difference in span.
---
Wing Root Bumps
The Messerschmitt Bf 109 wing spar was topped with a locking bolt. This high point was covered by a distinct bump on the early Bf 109s (A, B, C, D and E), but the wing root was redesigned on the Bf 109 F to clear this point with a new streamlined and wider design. It is possible that the bump still appeared on very early Bf 109 Fs, but it is likely that the Bf 109 G never (or only very rarely - with Bf 109s I have learned never to say never) featured this bump.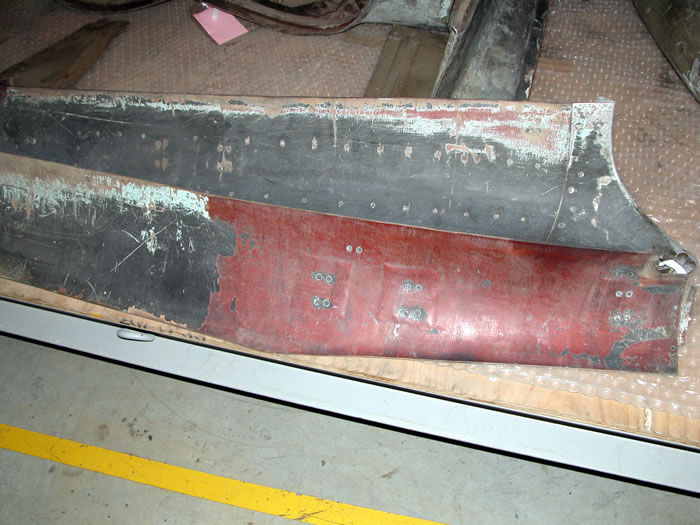 In its 2014 release, Eduard moulded a distinct bump on its wing root. It would appear that Eduard's primary reference was a museum aircraft that had been fitted with some post-war fabrications, including the wing roots.
Eduard has now corrected this area with the smooth wing root featuring a subtle kink at the upper point.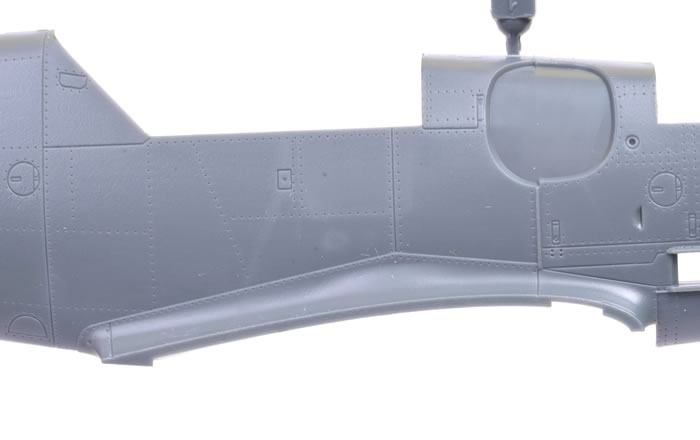 This looks excellent.
---
Supercharger Intake Mount Cutout and Exhausts
The upper rear of the supercharger base plate on most Bf 109 G-6s should have a cutout to clear the port side cowl bulge, but the 2014 kit part was a clean teardrop shape.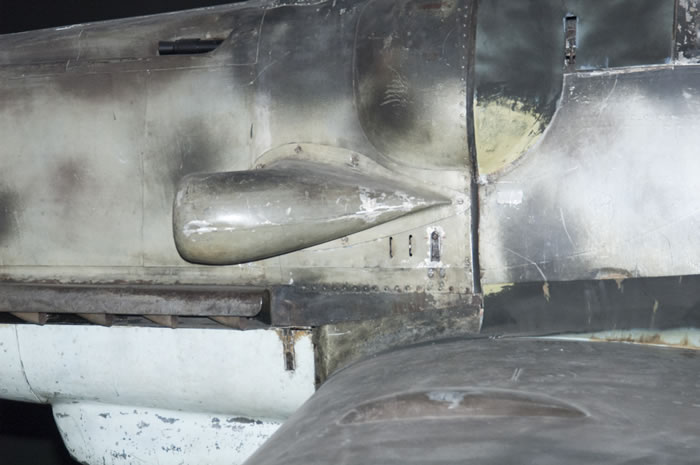 There does seem to have been a small batch of Bf 109 G-6s that featured the supercharger base plate as depicted in the 2014 kit though.
Eduard has, however, re-tooled the supercharger intake base plate to include the cutout – much more typical of the type.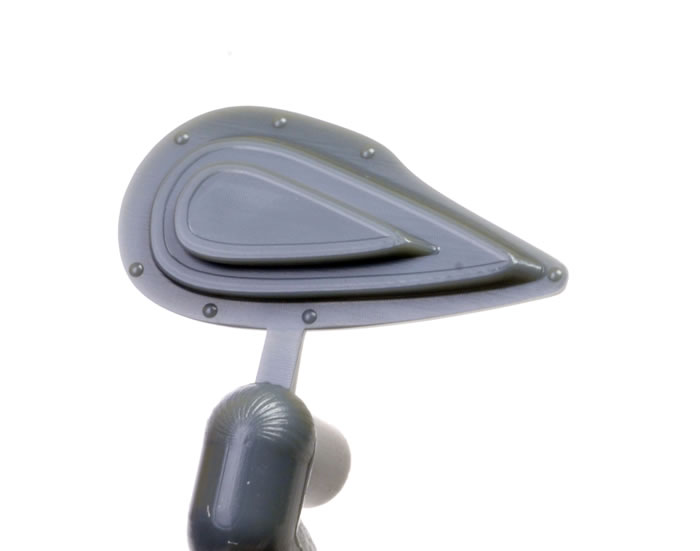 The 2014 exhaust stacks were also too tall and too flared, giving a toothy look to the nose. It's hard to tell if they have been modified from the parts on the sprues. I'll let you know what they look like when I build the model. You won't have to wait for long!
---
Wheel Wells
Eduard has re-tooled the wheel wells so that the front sections now do not have the canvas covers. The canvas covers are still depicted for the rear section, and in fact the front covers are still in the sprues if you wish to fit them.
---
Other Changes and Additions
The mounting pips for the tropical umbrella on the port side of the fuselage have been greatly reduced in size.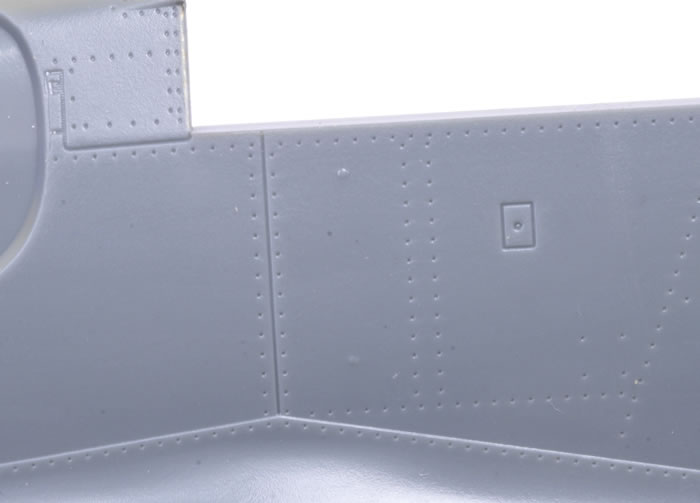 The breakdown of the wings has been altered. The wing tips were separate parts in the 2014 release. The are now moulded to the upper wing halves.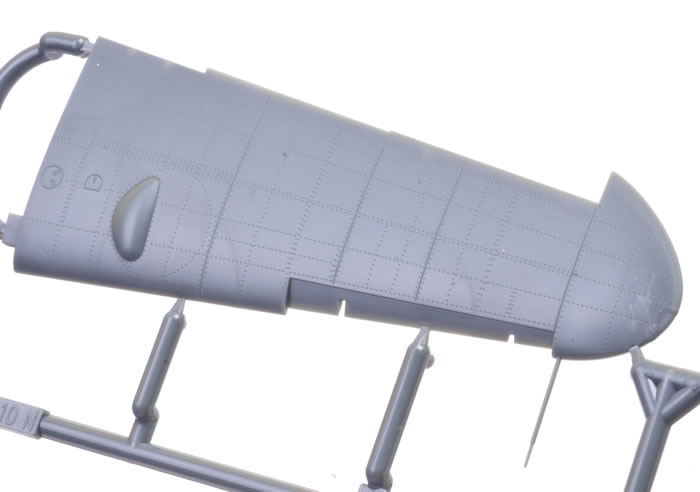 A third gun cowl bulge has been added as an option for the starboard side. This is moulded with the small compressor bump that was present on all Erla built G-5s, G-6s and G-14s, and also on some aircraft with replacement cowlings. This means that we now have all the parts we need to build a Bf 109 G-14 straight from this box. Check your references carefully to determine what style is used on your chosen subject aircraft.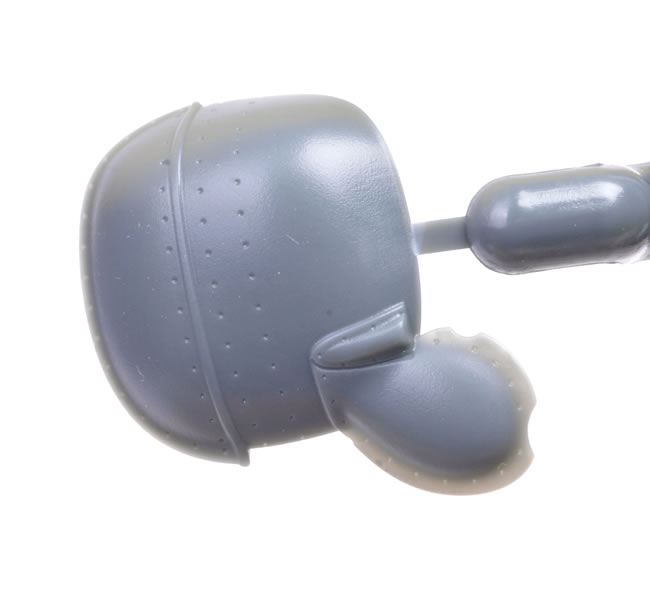 For the truly picky, it would appear that the real bulges had a single vertical line of rivets just forward of the join. If you want to fill and re-rivet, the reference photo at the top of the "Supercharger Intake Mount Cutout and Exhausts" section will show you where they go.
A second style of upper gun cowl panel has also been supplied. This represents the type with the rectangular trough inserts.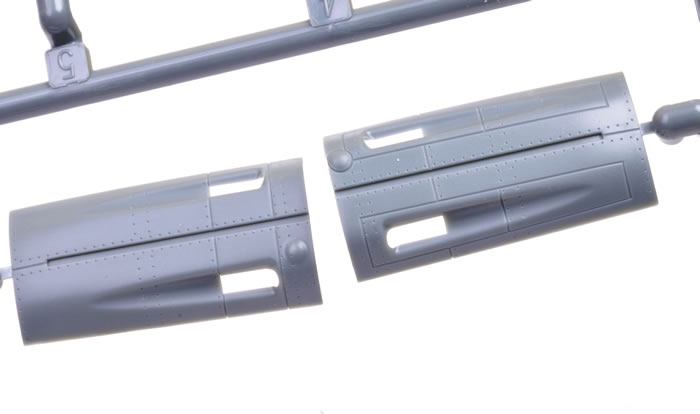 Eduard has added two additional styles of the enlarged rudder. Both feature two ground-adjustable trim tabs above and below the Flettner tab. One of these represents the "flattened cone" version with a pinched appaearance approachign the tail navigation light.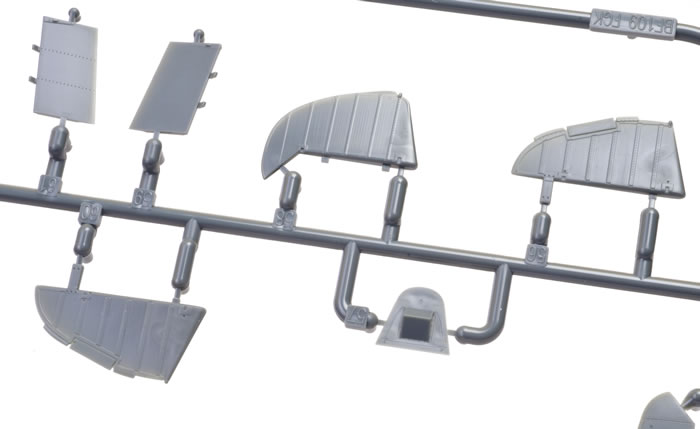 The three variations now included represent some of the tall fabric covered rudders seen on late model Bf 109s.
Although the wooden rudders are not included, it would not be difficult to sand off the raised fabric strip detail to recreate the smooth surfaces.
There are also two styles of tall fin - one with rivet and panel line detail (metal) and one smooth.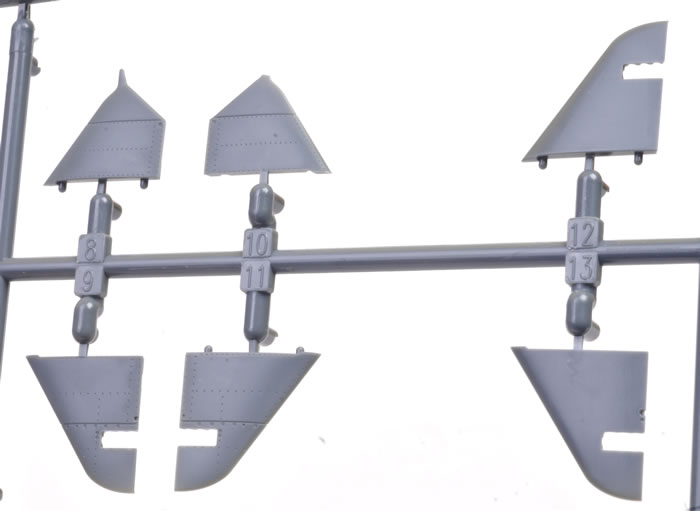 Exhaust options now include either exhausts only or exhausts with shrouds moulded on for both sides.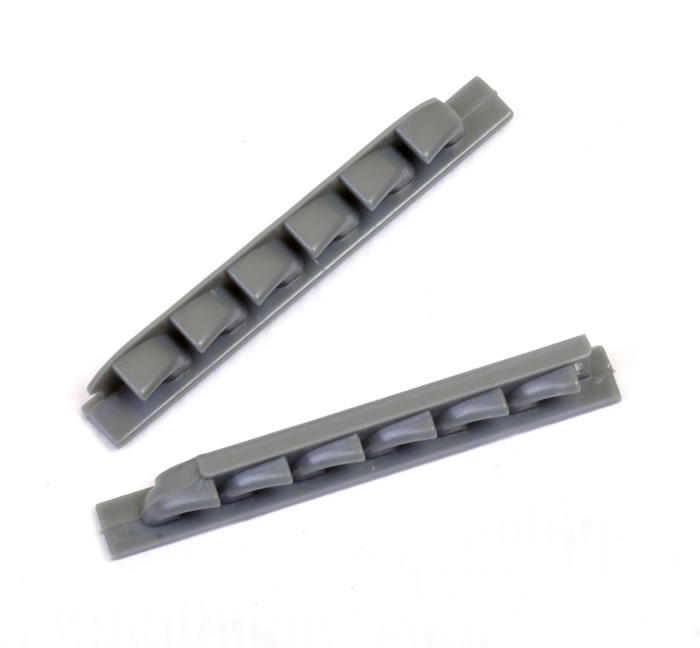 Eduard has included a second 300 litre drop tank, this time with the angled flat section at the bottom.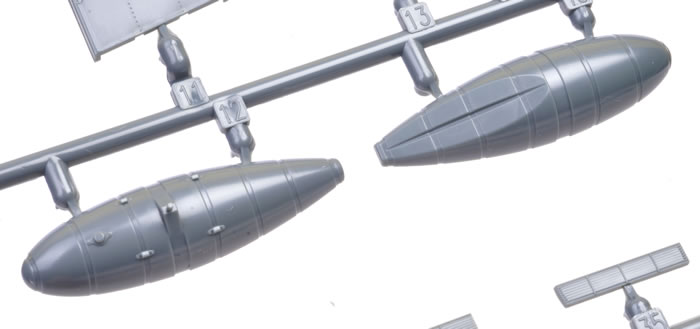 There is also a second variety of tail wheel boot, but this probably applies only to the Bf 109 F or early G versions.
The clear sprue has been significantly expanded from 9 parts to 14.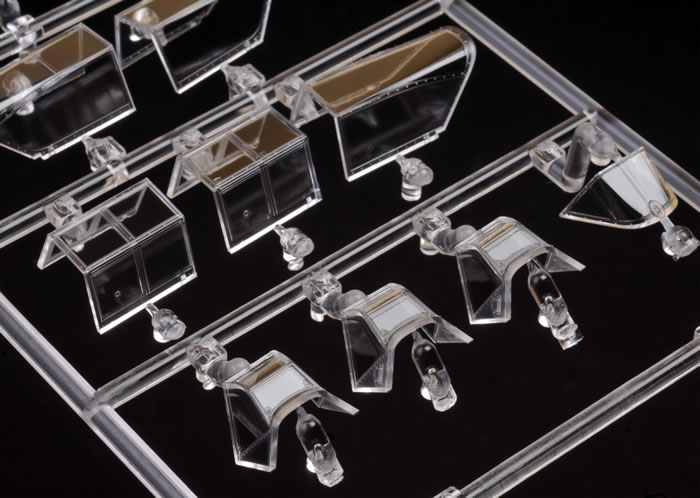 It now includes three windscreen variations, three clear vision Erla canopy variations (one with a support strut connecting the two main frames at the top), an alternative head armour plate for pressurised aircraft with clear sections to join the Galland Panzer already on the sprue, plus the earlier clear cockpit fuel line, two gunsights, two styles of framed canopy and the rear fixed section.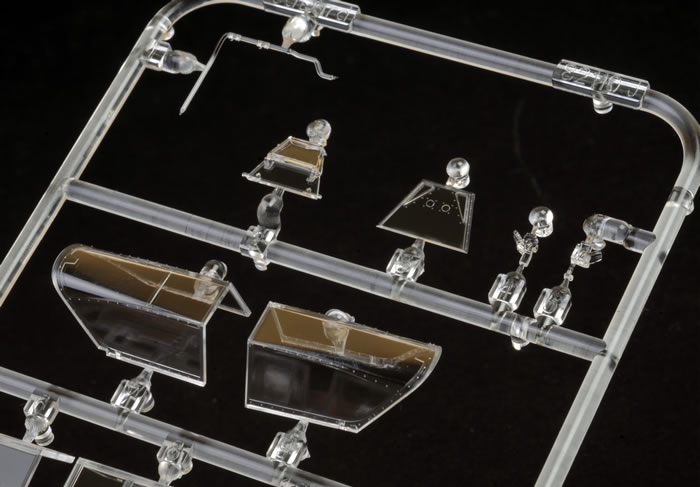 Five different marking options are included in this new-tool boxing. They are detailed in the "Markings" section below.

---
What Hasn't Been Changed
In the 2014 release, Eduard moulded the bottom rear centre of the wing as a shallow "V" – i.e. each side in line with the angle of the trailing edge of the wing. The shallow "V" join has been retained in this release.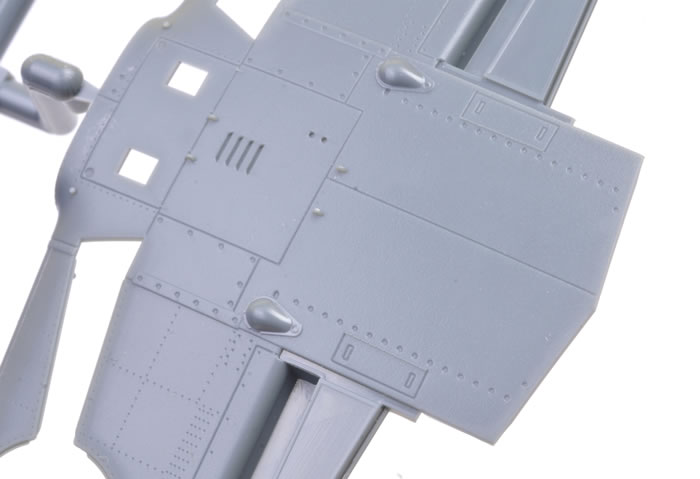 This is not so much an error as an odd engineering feature. There is no panel line in this location so you can simply fill and sand the "V" join. You don't even need to rescribe a line!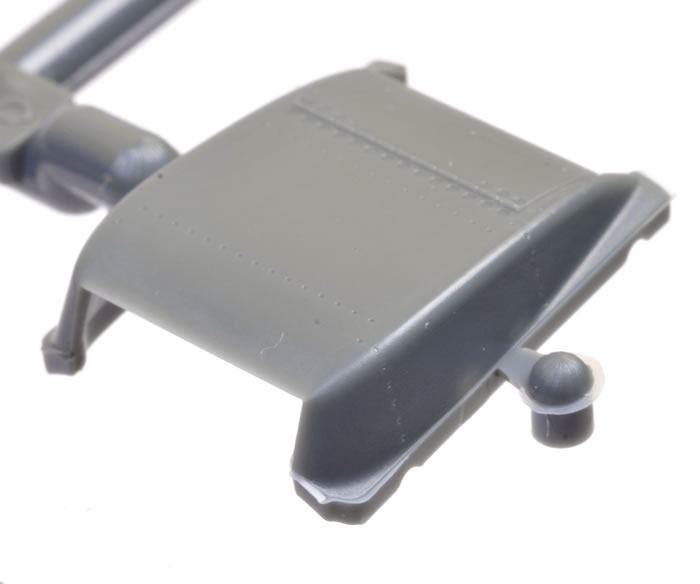 Some modellers complained about the contours of the oil cooler housing but I could never really see where the problem was supposed to be. As far as I can tell, the oil cooler housing is unchanged in this kit.
Eduard's Re-Tooled 1:48 Bf 109 G-6 In the Box
So now that we have sifted through the new elements of Eduard's retooled 1:48 scale Messerschmitt Bf 109 G-6, let's take a more general look at the overall contents.
The kit comprises 186 parts in grey plastic, 14 parts in clear, a coloured photo-etch fret, self-adhesive canopy masks and markings for five aircraft. Around 60 of the parts are marked "not for use", and there are a few optional parts too, so the actual number of parts used is quite modest.
---
Surface Features
In 2013, Eduard's Spitfire family set a new benchmark for 1/48 scale surface detail, and this new Gustav is equally impressive in this regard. Panel lines are very crisp, fine and even. Lines of rivets are present, but they are incredibly subtle. The rivet lines seem to accurately follow the pattern applied to the full-sized aircraft too.
I was impressed to see that the small scoops on the nose are actually hollowed out - nice! Other raised surface features include the sealing strip between the mid-fuselage and the rear of the engine cowling.
The raised umbrella mounts are moulded under the port side of the cockpit. These should be sliced off if your subject is not a tropical version.
Fabric matches this high standard, with strip and stitching texture beautifully presented on the control surfaces. If you look closely enough, you will even see the zig-zag pinking edges on the fabric strips.
---
Detail
Eduard combines plastic and colour photo-etched parts in their ProfiPACK, delivering a very high level of detail straight from the box. The cockpit benefits most from the photo-etch with a nice multi-layered instrument panel, coloured harness straps and other coloured details.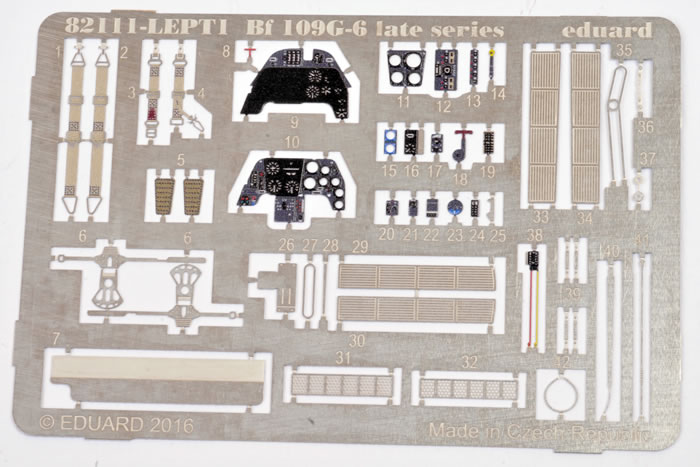 The inclusion of the clear fuel line is a nice touch too. The inspection tube may be masked so that it remains clear after painting.
The standard steel pilot's head armour, the armoured glass "Galland Panzer" and a third pilot's armour plate with small triangular vision ports are provided as options for the canopy. Another nice detail touch is the inclusion of handholds on the inside corners of the windscreen.
The wheel wells are nicely detailed and are correctly concave thanks to the bulges moulded to the top of the wings.
Eduard depicts the wheel well sidewalls with the zippered canvas covers at the rear. The fabric texture looks good, and the zipper is represented by a raised line.
The exhausts are supplied in one piece for each side. The centreline weld beads are present, and each of the stacks are hollowed out at the end.
Propeller blades look to be a good shape, with nice pitch collar and hub detail. Two other styles are included. These appear to be for the Bf 109 F and early G versions.
---
Engineering and Options
The kit is broken down conventionally. The fuselage is full-length with the only inserts being the gun cowl deck and the top of the tail, allowing either the standard or the tall fin to be fitted. The lower cowl is moulded as part of the fuselage sides.
The cowling gun bulges and the supercharger intake fit into precisely recessed areas on the nose.
The mount for the DF loop (on the fuselage spine behind the canopy) is moulded to the port fuselage half. This should be cut off if you are depicting an early G-6 (the instructions advice which of the kit subjects had this item fitted).
The wings have been designed with the wheel bulges moulded in place, and correctly angled away from the chord (see reference photo below). The wing tips are moulded as part of the upper wing halves with solid navigation lights and the pitot tube moulded in place. Lower fuselage ejector chutes are moulded open on the bottom wing.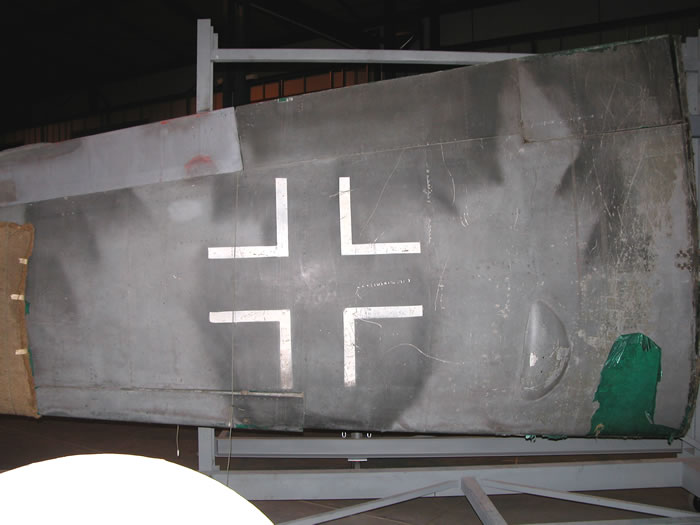 All control surfaces are separate, including leading edge slats, ailerons, flaps, elevators and rudder. The ramps at the leading edges of the radiator housings and the cooling flap at the back of the oil cooler are moulded shut. All the radiator faces are supplied as photo-etched parts.
Many options are offered on the sprues. Some of these relate to earlier Bf 109 G or F versions and do not apply, but others – even though they are marked "not for use" – might come in handy for the enterprising modeller.
Everything you need to build a late Bf 109 G-6 with the tall tail or a Bf 109 G-14, is included in the box. The tall tail and rudder, the small compressor bump under the starboard side gun bulge, Erla canopy, long tail wheel strut and the rear canopy bulkhead with the battery box housing are all there.
Check your references to see which of these features is present on your preferred subject – many different combinations are possible.
Other options include an ETC rack and two styles of 300 litre drop tank, under wing cannon gondola, various antennae and bomb racks.
The alternative propeller blades, oil cooler housing and wheels are for earlier versions.
---
Markings
Markings are supplied for five late-model Messerschmitt Bf 109 G-6s:
White 20, Hptm. Friedrich Eberle, Gruppenkommandeur III./JG 1, Volkel, November 1943. Finished in RLM 74/75/76 greys with red and white spinner, white rudder and fin, yellow under cowl.

Grey Chevron Bar Bar, Obstlt. Hermann Graf, Stab./JG 11, Jever, early 1944. Probably overall overspray of RLM 76 Light Blue, yellow JG 11 RV band, yellow under cowl.

Black Double Chevron, Hptm. Franz Dorr, Gruppenkommandeur III./JG 5, Gossen, Norway, May 1945. Finished in RLM 74/75/76 greys with Black and Yellow JG 5 RV band and yellow under wing tips. Spinner possibly RLM 25 Green and White (alternatively Black and White).

Red 8, Oblt. Kurt Gabler, 8./JG 300, Juterbog-Waldlager Air Base Germany, July 1944. This aircraft featured a bare metal fuselage with RLM 75 Grey Violet upper wings and tail planes, and RLM 76 Light Blue on the lower wings.

Black 1, Lt. Anton Hafner, Staffelkapitän 8./JG 51, Tilsit-Ost, August 1944. Finished in RLM 74/75/76 greys with yellow fuselage band, yellow under wing tips, rudder and lower cowl. Spinner white with fine black spiral.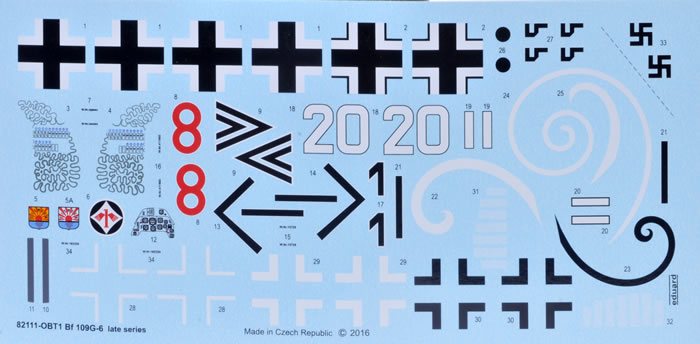 The two decal sheets are perfectly printed in the Czech Republic. One sheet carries he national markings and unique numbers, chevrons, Gruppe markings, unit insignia and kill markings; while the other has a wide selection of generic stencil markings that will be suitable for mid-war to late-war subjects.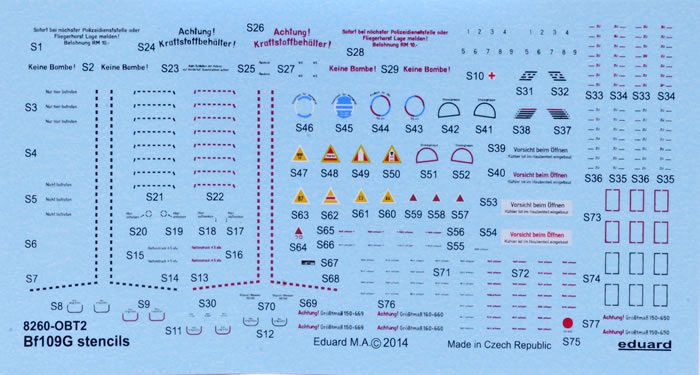 Printing, colours and registration is perfect on my sample.
You really have to hand it to Eduard. They have clearly spent a lot of time, effort and money to understand and correct the problems with their 2014 1/48 scale Messerschmitt Bf 109 G-6 release.
It is not unusual for a kit to be released with errors - many if not most kits suffer from inaccuracy to a greater or lesser degree. What is very rare, almost unique, is for a company to acknowledge the problems and actually correct them. Eduard has done just that.
Less than two years after their initial effort, Eduard now has a Bf 109 G-6 kit that can proudly stand alongside their landmark Spitfire family.
This is easily the best 1/48 scale Messerschmitt Bf 109 G-6 kit available today, and really is probably the best G-6 in any scale.
Highly Recommended.
Thanks to Eduard for the sample
---
Review Text Copyright © 2016 by Brett Green
Page Created 12 April, 2016
Last updated 19 April, 2016
Back to HyperScale Main Page
Back to Reviews Page