Walrus Mk.I
'Air Sea Rescue'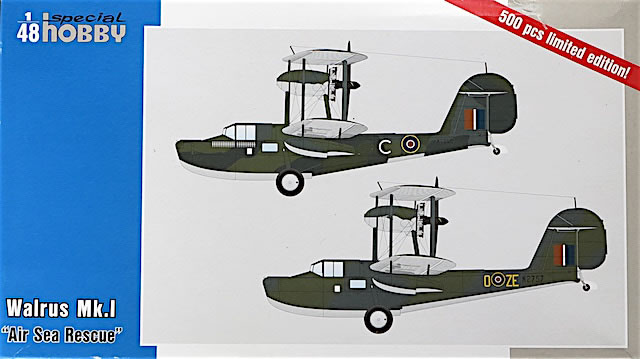 Special Hobby, 1/48 scale
S u m m a r y :

Description and Item No.:

Special Hobby Kit No. SH 48163 – Walrus Mk.I 'Air Sea Rescue'

Contents and Media:

Approx. 65 grey plastic parts; 4 clear plastic parts; approx. 64 grey and cream resin parts; 3 clear resin parts;1 fret of photo-etched brass parts; 2 decal sheets containing markings for 2 aircraft; 11 page full colour instruction booklet.lf-adhesive die-cut masking sheet; one decal sheet covering five subjects

Price:

USD$63.60 plus shipping available online from the Special Hobby website and specialist hobby retailers worldwide

Scale:

1/48

Review Type:

First Look

Advantages:

Interesting subject; high quality limited run plastic parts; well cast resin details; re-release of a popular kit in several boxings with a wide range of markings.

Disadvantages:

Not really a disadvantage, but this is a limited run kit that will require care and previous modelling experience to do justice.

Recommendation:

Special Hobby has done a good job with this reboxed and improved version of CA's Walrus. While not for beginners, it is a worthy challenge for anyone with previous biplane and/or limited run kit experience. Detailing is excellent and while Special Hobby has only included two marking choices in each release, the large number of different boxings more than make up for this. Highly Recommended.
Reviewed by Brad Fallen


Special Hobby's 1/48 scale Walrus Mk.I is available online from Squadron.com
The Supermarine Walrus was an obsolescent but highly successful amphibious aircraft of World War II. Designed in the early 1930s for the Royal Australian Air Force, the Walrus was used by Commonwealth nations throughout the war on maritime patrol and air-sea rescue operations. Total Walrus production was just under 750: 555 metal-hulled Mk.Is and the remainder wooden-hulled Mk.IIs, used mostly for training purposes.
Ungainly and with loads of character, the Walrus is an appealing modelling subject with reasonable to good kits available in the three main scales. The first 1/48 (some sources say 1/50) kit was released by Merit way back in 1958, and subsequently reboxed by Artiplast and Smer. This kit was very much a product of its era – it could be made into a good-looking model, but only with a lot of work. However, for over 40 years it was all that was available for modellers wanting a quarterscale Walrus.
Classic Airframes came to the rescue in 2001 with a limited-run Walrus Mk.I kit. The main airframe was made up from injection-moulded parts that looked quite rough at first glance, but cleaned up nicely and were a good match to plans. Over 60 well-cast, cream-coloured resin parts provided interior and some exterior detail. The canopy was vac-formed and markings were included for four aircraft.
All in all this was a very complete package, and in-box reviews were unsurprisingly positive. It wasn't a kit for beginners, but as John Valo's and other builds show, it could be turned into a stunning model and the initial production run quickly sold out.
When CA re-released the kit in 2005, it was reviewed by Steven Eisenman who highly recommended it "to all those who appreciate odd aircraft and those who have a slightly masochistic streak".
The new release was identical to the first with three exceptions: the box art was different, the canopy was injection moulded and additional decals were included, bringing the total marking options to nine. I picked up an example in an online sale about six or seven years ago, and am very happy with what's in the box.
This release also sold well and while kits can still be found, they are not plentiful and CA's demise bode ill for further reissues. So Special Hobby's re-release of the same kit in four separate boxings last year was most welcome. Each boxing is stamped "500 pieces limited edition", contains markings for two machines and focuses on different aspects of Walrus service as follows:
The "Air Sea Rescue" kit was provided to Hyperscale for review, and I was interested to see how it differed from the earlier CA releases.
The answer is 'almost identical but slightly better', which is good news given the quality of the earlier kit. Special Hobby's packaging is more robust (which wouldn't be difficult given the flimsiness of CA's boxes) and contains the following items.
---
Three sprues of medium-grey plastic parts
These sprues are identical in layout to the original CA kit. The parts are typical limited run fare, with a reasonable amount of flash – although less than on my CA kit – and ejector pins that will need to be removed from the interior of most large parts. None of this is a problem, and with only a little preparation the parts will be ready for use. Just make sure you keep track of which wing, nacelle and undercarriage struts go where, or you will get frustrated later in the build.
The plastic of the wings is noticeably smoother and glossier than the fuselage halves, which are also heavily scuffed just behind the canopy; however this can be easily fixed with a polishing pad. Trickier to address is the absence of rivets on the fuselage halves compared with the real thing – adding these will be a slow process, should you wish to do so, but I'm not sure if I'd bother.
One improvement that has been made to each fuselage half, compared to the CA kit, is the addition of a raised tab at the lower wing root to strengthen the attachment between wing and fuselage. This is a welcome modification, but to be on the safe side I'd probably still strengthen each join with some brass tubing.
---
Clear parts
The four transparent parts – cockpit canopy and side windows, and rear hatch, are thin and very clear.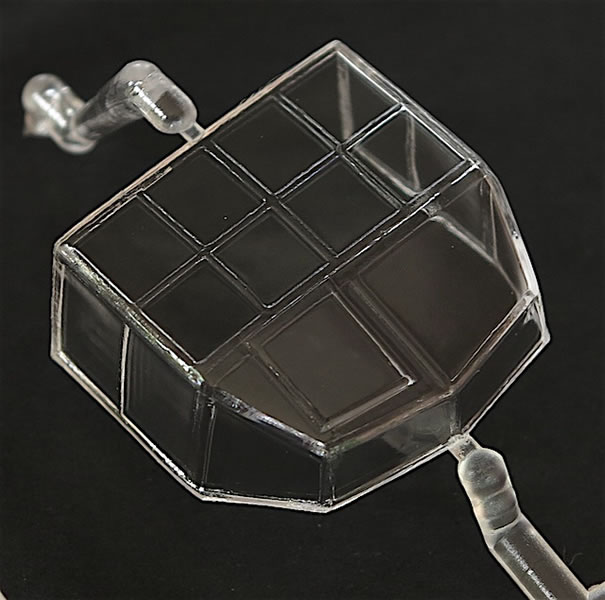 The canopy framing is well defined, and if like me you have an aversion to masking canopies from scratch then several pre-cut masking sets have been produced for this kit.
---
Two bags of cast resin parts
For me the resin parts are the highlight of the kit, with the Bristol Pegasus engine and cockpit sidewalls and floor particularly impressive. The dials on the instrument panel are blank recesses, which makes it easy to add decal dials of your choice.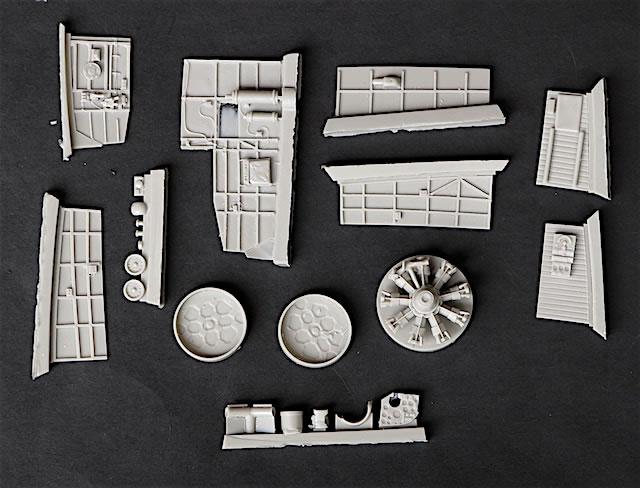 Careful installation and painting of the interior parts is worthwhile as most of these will be visible through the canopy and gun hatches. If you want to go to town with extra detail, photos are fairly easy to find on the internet.
The resin parts are well cast with very few imperfections. Casting block attachments are thoughtfully engineered, but when removing the parts from their blocks you'll still need a razor saw, steady hand and protective mask.
I was a little surprised that wheels weren't included in the high resin parts count, with modellers expected to use the OK but not spectacular multi-part plastic items. I did notice, however, that the Special Hobby website is offering sets of CMK Walrus resin wheels for sale separately, so this extra detail is available if wanted.
Probably the most challenging of the resin parts to use will be the small teardrop shaped rigging attachment points. Location points are marked on the wings and a number of spares are included, but some casualties are inevitable and the parts will need careful fairing in with liquid primer to look convincing.
---
One fret of photo-etched brass parts
This fret wasn't in the CA kits but adds some welcome extra detail, including seat harnesses, control linkages, hatch covers and gunsights.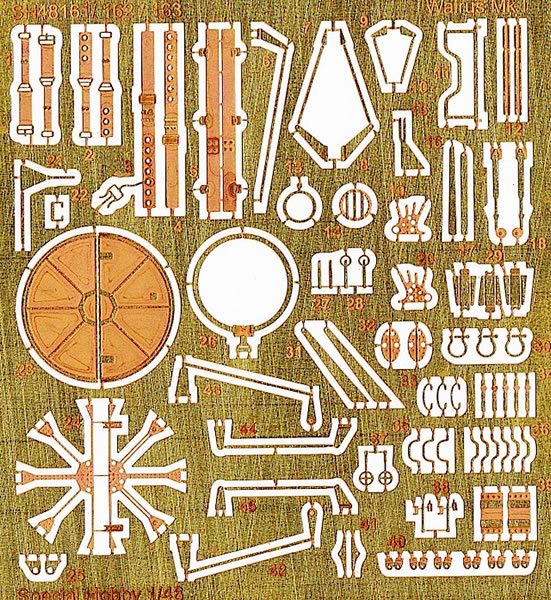 The parts are not pre-painted and because most are so fine and to avoid damage, careful thought will be needed regarding the best time of the build to attach them.
---
12-page A5 instruction booklet
The black and white assembly drawings are identical to CA's but with the location of the additional photo-etched parts clearly shown. Potential complications such as the engine's five-degree offset, rigging points and correct wing, float and strut angles are also well illustrated. My only criticism is that – given the overall complexity of the instructions – the A5 format is perhaps a little too small to do them proper justice.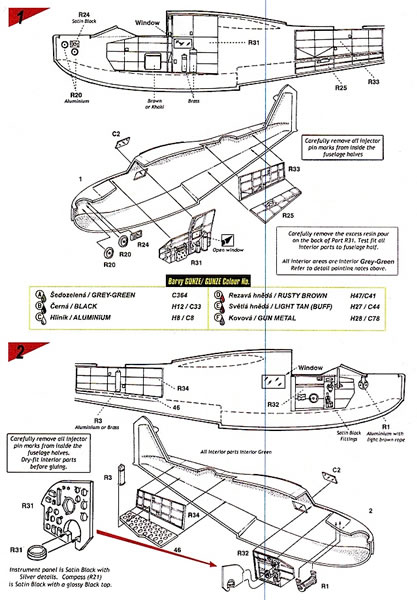 Full colour painting and marking guides are provided for two aircraft.
---
Two sheets of decals containing markings for two aircraft
The decals are by Aviprint and have been well printed. Roundel colours look good and everything appears to be in register.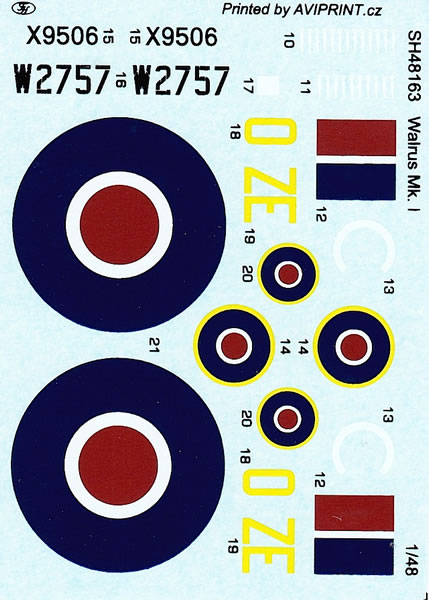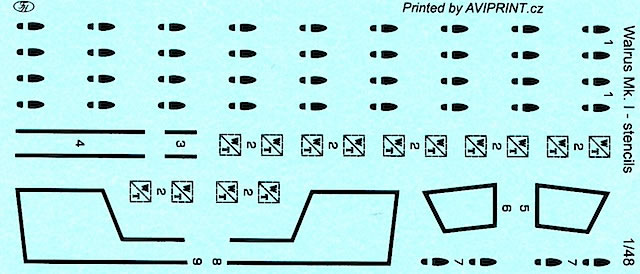 There is of necessity a lot of carrier film on the wing walk decals, so these will need to be applied to a high gloss surface.
---
Markings
Special Hobby has included markings for two Walrus Mk.Is of No.293 (ASR) Squadron, RAF, based in Italy during 1944:
W2757/ZE-O based at Pomigliano; and

X9506/C based at Nettuno and flown by F/S E.J. Holmes and W/O J.R. Berry, with 23 aircrew rescue markings painted on the port fuselage.
Both aircraft were finished in a shadow camouflage scheme in which the upper fuselage and top of the upper wing were finished in Dark Slate Grey and Extra Dark Sea Grey, and the top of the lower wing in Light Slate Grey and Dark Sea Grey. Lower surfaces were overall Sky Grey, except for the rear hull of X9506 that according to the instructions was finished in a hodge-podge of the darker camouflage colours. I haven't found any photos of X9506 to verify this, but there are some great online photos of W2757 that closely match Special Hobby's recommendations.
Hats off to Special Hobby for this reboxed and improved version of CA's Walrus. While not for the novice, it is a worthy challenge for anyone with previous biplane and/or limited run kit experience. Detailing is excellent and while Special Hobby has only included two marking choices in each release, the large number of different boxings more than make up for this. However, these have all been produced in limited numbers and – if the kit's earlier sales history repeats itself – will likely sell out before too long. If you want a good 1/48 Walrus kit, pick one up soon!
Highly Recommended.
Thanks to MPM/Special Hobby for this review sample.
---
Review Text and Images Copyright © 2016 by Brad Fallen
Page Created 25 February, 2016
Last updated 25 February, 2016
Back to HyperScale Main Page
Back to Reviews Page