Focke-Wulf Fw 19e
Ente (Duck)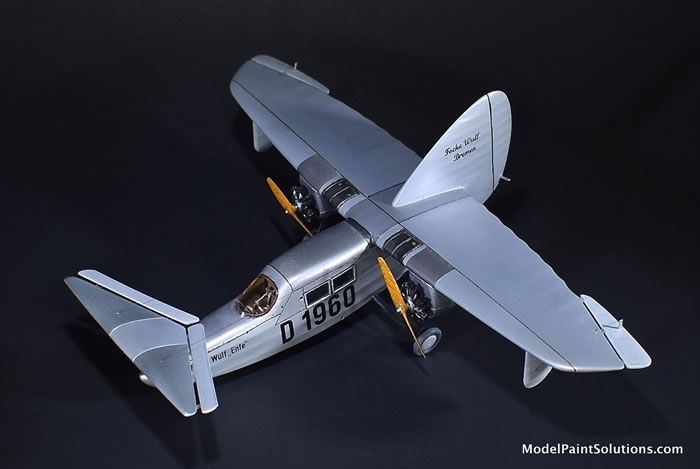 Planet Models, 1/72 scale
S u m m a r y :

Description and Item No.:

Planet Models Kit No. PLT183 - Focke Wulf Fw-19a Ente (Duck)

Scale:

1/72

Review Type:

Build

Contents and Media:

33 parts in cream-colored resin and one decal sheet with markings for two airframes.

Advantages:

The parts count is relatively low, the engineering is simple and straightforward, and you'll have to work very hard to find a more ungainly looking airplane. Once built, this model will start heads-a-scratching at the next model show for sure.

Disadvantages:

Being a resin kit extra effort is required throughout the build. Of note, some of the larger components (fuselage halves) are slightly twisted and require patience and a lot of grinding to get a passable fit.

Of note, the dust produced from this resin is particularly nasty and proved to be an eye irritant. Appropriate steps should be taken to decrease the generation of dust during the build and the fitting (read grinding) of parts. .

Conclusion:

I learned a few new tricks during this build that will serve me well with future projects and provided one of the many models required for the club display.
By John Miller

Just South of Seattle is King County International Airport better known as historic Boeing Field. In addition to the Boeing company, Boeing Field is the home of many aviation-related companies including the Museum of Flight: Seattle's internationally renowned aviation museum.
Based out of the Museum is the NorthWest Scale Modelers club (NWSM)is an informal scale-modeling organization that maintains a themed display at the entrance to the museums glass-walled restaurant, the Wings Café.
The theme of the current display ("Now Boarding") is early airliners. This collection of models will be on display through February of 2020 so if you're in Seattle, drop by the Museum of Flight and check it out.
---
Background
The F 19 Ente was a high-wing monoplane with a canard layout and fixed tricycle undercarriage. The pilot sat in an open cockpit, while an enclosed cabin was provided for two or three passengers. The canard was mounted on short struts above the nose of the aircraft, ahead of the cockpit, and the two engines were housed in nacelles mounted under the wings.
The F 19 design was set so that the front stabilizer would stall some moments before the rear-mounted main wing, which in theory made the Ente virtually stall-proof.
The first example flew on 2 September 1927 but was destroyed on 29 September during a demonstration of single-engine flight, after a control rod snapped. Focke-Wulf co-founder Georg Wulf was killed in the crash. Nevertheless, a second aircraft (D-1960) was built, flying in late 1930. This was used for a promotional tour of Europe the following year, which took it to Denmark, Sweden, the Netherlands, Belgium, and the UK. On 7 November 1931, it was demonstrated at Hanworth Air Park, flown by Focke-Wulf chief pilot Cornelius Edzard.
Later, it was put on display at the Deutsche Luftfahrtsammlung in Berlin, where it was destroyed in an Allied air raid in 1944.
---
Specifications
Crew: one pilot
Capacity: three passengers
Length: 10.53 m (34 ft 7 in)
Wingspan: 10.00 m (32 ft 9 in)
Height: 4.15 m (13 ft 7 in)
Wing area: 29.5 m2 (318 ft2)
Empty weight: 1,175 kg (2,590 lb)
Gross weight: 1,650 kg (3,638 lb)
Powerplant: 2 × Siemens Sh 14, 82 kW (110 hp) each
---
Performance
Maximum speed: 142 km/h (88 mph)
Service ceiling: 3,000 m (9,840 ft)(Edited from Wikipedia)
Edited from Wikipedia
Prior to starting assembly all parts were soaked overnight in a 1:1 solution of Denatured Alcohol (DA) and Windex (original formula).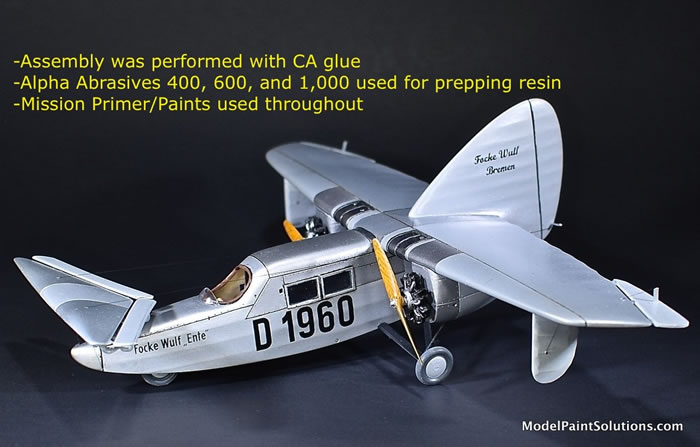 Parts were removed from the pouring blocks with a razor saw and/or a Dremel cut-off wheel.
Note: To decrease the amount of dust generated, all parts were removed while wet or under running water.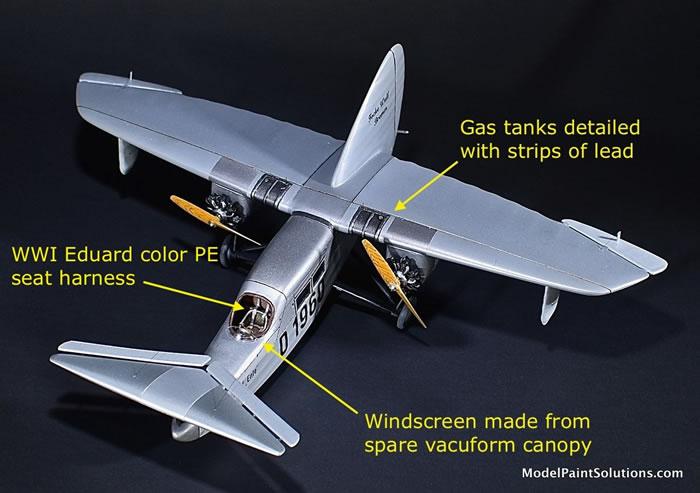 Parts were prepped with sharp blades (X-Acto #11), files, Alpha Abrasives-400, -600, and -1,000 synthetic sand papers, and Micromesh 4,000 and 6,000 pads and sheets.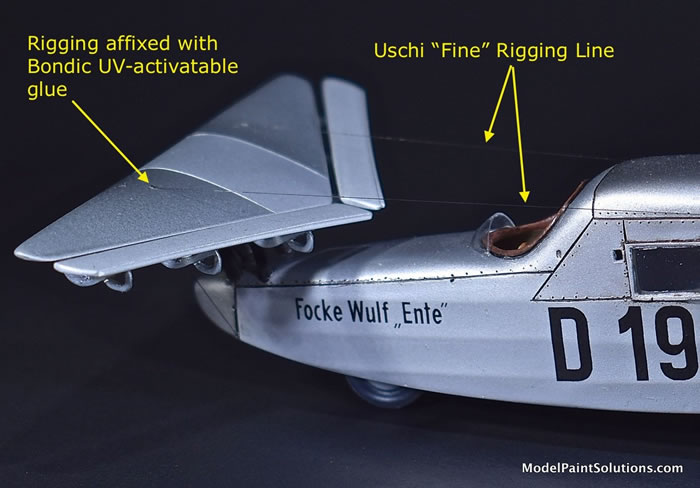 The model was assembled with thick CA Glue (Bob Smith Industries). Brass pins were installed to strengthen the wing-to-fuselage join. Cabin windows were scratched from sheet acetate and the pilots' seat harness was sourced from Eduard. Mission Models paints were used throughout.
After wiping the model down with Denatured Alcohol, it was shot with Mission White Primer (diluted 1:1 with Mission Thinner) applied as a dry coat followed by a fill coat at ~15psi with an H-S Evolution fitted with a 0.20mm tip.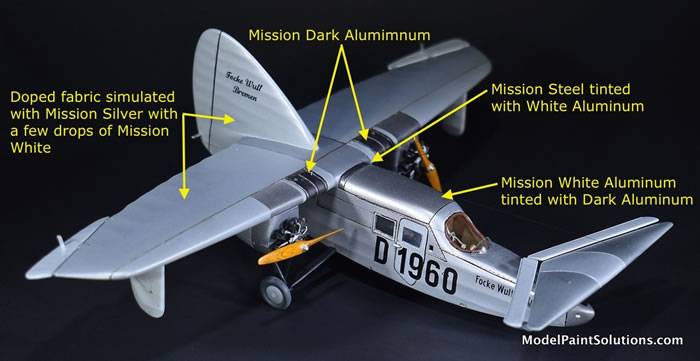 The doped fabric color was replicated by adding a few drops Mission White to Mission Silver.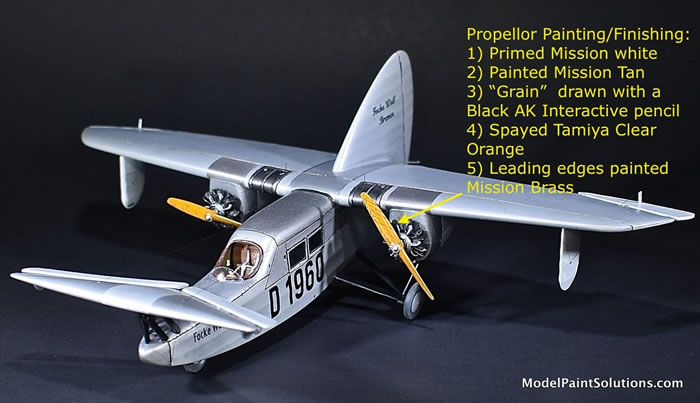 Various metal panels were painted with mixtures of Mission White Aluminum, Dark Aluminum, and Steel.
In preparation for decaling, the model was shot with Mission Semi-Gloss. No decal solvents were used when applying the decals. A trial run revealed the decals to be overly sensitive to multiple decal solvents. They went on with no issues using just warm water.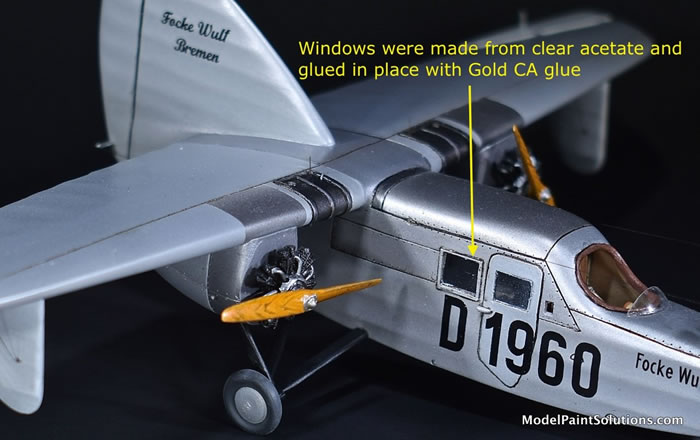 A little weathering with pastels and a final coat of Mission Semi Gloss sealed the deal.
I hope you enjoyed that and thanks for reading along. Although the Ente was never on my short list (it wasn't on any list actually), I learned a few new tricks during this build that will serve me well with future projects and provided one of the many models required for this NWSM display.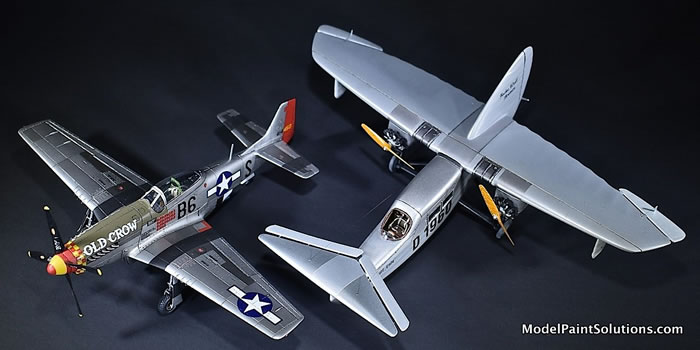 One trick I'll use again is the convincing doped fabric look achieved with just a few drops of Mission White into Mission Silver.
Now I gotta go paint something!
--John

For more on this review visit Modelpaintsolutions.com.
---

Text and Images Copyright © 2019 by Model Paint Solutions
Page Created 12 December, 2019
Last updated 12 December, 2019
Back to HyperScale Main Page
Back to Reviews Page