Focke-Wulf Fw 190 A-8/R2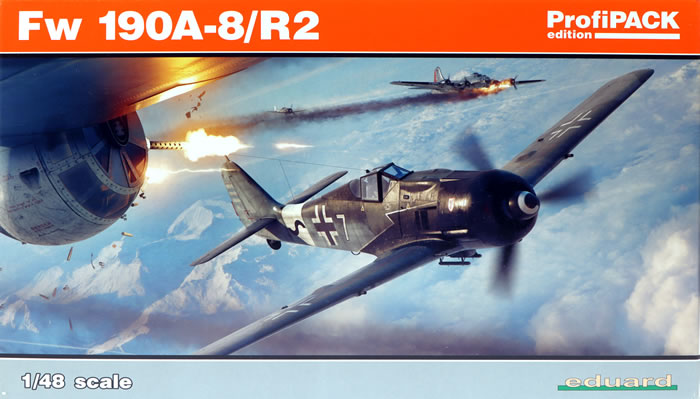 Eduard ProfiPACK, 1/48 scale
S u m m a r y

Catalogue Number:
Eduard ProfiPACK Kit No. 82145 - Fw 190 A-8/R2
Scale:
1/48
Contents and Media:
Around 200 parts in grey coloured plastic (many not for use depending on the versions built); 10 parts in clear; one colour photo-etched fret; self-adhesive masks; markings for five varied options.
Price:

USD$49.95 plus shipping, available online from Eduard

GBP£29.99 (£24.99 Export Price) plus shipping available online from Hannants

Review Type:
FirstLook
Advantages:
Restrained surface featuring crisp panel lines and very fine rows of recessed rivets where appropriate; engineered without plugs/inserts; plenty of ordnance options; includes colour photo-etched parts for harness and instrument panel; masks supplied for wheels and canopies; clever design of clear parts with separate sliding sections for open and closed canopies; attractive marking options; very high quality plastic; narrow sprue attachments; excellent instructions and packaging; plenty of spare parts!
Disadvantages:
Recommendation:
An excellent kit of this popular Wurger variant.

Reviewed by Brett Green

Eduard's 1/48 scale Fw 190 A-3 is available online from Squadron.com

The Focke-Wulf Fw 190 Wurger (English: Shrike) is a German single-seat, single-engine fighter aircraft designed by Kurt Tank in the late 1930s and widely used during World War II. Along with its well-known counterpart, the Messerschmitt Bf 109, the Focke-Wulf 190 Wurger became the backbone of the Luftwaffe's Jagdwaffe (Fighter Force). The twin-row BMW 801 radial engine that powered most operational versions enabled the Fw 190 to lift larger loads than the Bf 109, allowing its use as a day fighter, fighter-bomber, ground-attack aircraft and, to a lesser degree, night fighter.
The Fw 190A started flying operationally over France in August 1941, and quickly proved superior in all but turn radius to the Royal Air Force's main front-line fighter, the Spitfire Mk. V, especially at low and medium altitudes. The 190 maintained superiority over Allied fighters until the introduction of the improved Spitfire Mk. IX. In November/December 1942, the Fw 190 made its air combat debut on the Eastern Front, finding much success in fighter wings and specialised ground attack units called Schlachtgeschwader (Battle Wings or Strike Wings) from October 1943 onwards. The Fw 190 provided greater firepower than the Bf 109, and at low to medium altitude, superior manoeuvrability, in the opinion of German pilots who flew both fighters.
The Fw 190A series' performance decreased at high altitudes (usually 6,000 m (20,000 ft) and above), which reduced its effectiveness as a high-altitude interceptor.

The A-8 entered production in February 1944, powered either by the standard BMW 801 D-2 or the 801Q (also known as 801TU). The 801Q/TU, with the "T" signifying a Triebwerksanlage unitized powerplant installation, was a standard 801D with improved, thicker armour on the BMW-designed front annular cowling, which still incorporated the BMW-designed oil cooler, upgraded from 6 mm (.24 in) on earlier models to 10 mm (.39 in). Changes introduced in the Fw 190 A-8 also included the C3-injection Erhohte Notleistung emergency boost system to the fighter variant of the Fw 190 A (a similar system with less power had been fitted to some earlier Jabo variants of the 190 A), raising power to 1,980 PS (1,953 hp, 1,456 kW) for a short time.
---
Variants
Fw 190 A-8/R2 - The A-8/R2 replaced the outer wing 20Â mm cannon with a 30 mm (1.18 in) MK 108 cannon.

Fw 190 A-8/R4 - The A-8/R4 featured GM1 nitrous boost to the standard BMW 801 D/Q engine. GM1(nitrious oxide) injection increased power for short amounts of time, up to 10 minutes at a time. A 20 minute supply was usually carried.

Fw 190 A-8/R8 - The A-8/R8 was similar to the A-8/R2, but fitted with heavy armour including 30 mm (1.18 in) canopy and windscreen armour and 5 mm (.2 in) cockpit armour.

Fw 190 A-8/R11 - Night fighter variant fitted with FuG 218 Neptun (Neptune) radar equipment. Flame-dampening boxes were fitted over the exhaust exits. *
* Adapted from Wikipedia.
Eduard continues to work through the variants of the Wurger family with this latest in their new-tool series, the Fw 190 A-8. This new series has no parts at all in common with Eduard's 2006 1:48 scale Fw 190 A-8 kit. Engineering and fit are greatly superior to the original kits too.
This is the first time that Eduard has offered the heavily armoured A-8/R-2 variant as a standalone kit in 1/48 scale. The A-8 was the most manufactured of all Fw 190 variants. Greater than 6,655 A-8 airframes were produced from March 1944 to May 1945. A-8s were manufactured in at least eight factories during its lifetime.
Beneath the very striking box art, Eduard's new 1/48 scale Fw 190 A-8/R-2 ProfiPACK release contains nearly 200 parts in grey plastic and 10 clear plastic parts, plus a colour photo-etched fret, canopy and wheel masks, markings for five nicely varied aircraft plus stencil decals. However, it is important to note that the total grey plastic parts actually used is only around 110, and even some of these are options, so you will have plenty of fodder for your spares box!
The fuselage and wings are new parts (although they have appeared as an option previously in the Royal Class release).
The fuselage has the additional armour plate moulded in place.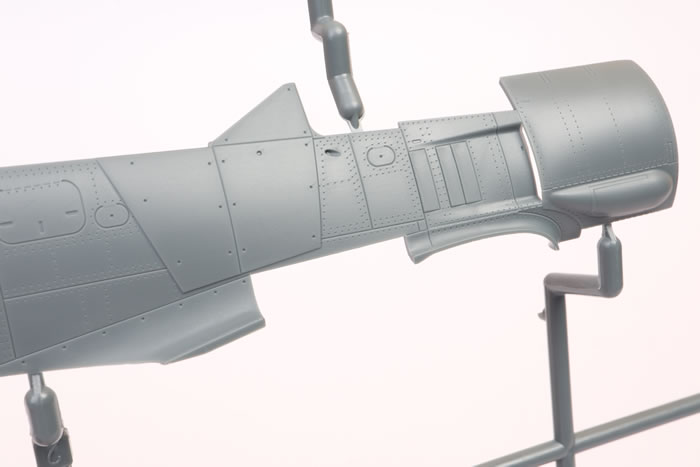 The wings are moulded with the correct bulges,cannon and ejector chute configuration with no need for separate inserts.
The kit features superb surface textures comprising crisp panel lines and very fine rows of recessed rivets where appropriate.
The wings are supplied without inserts for bulges and panels - just nice full span lower wing and two single-piece upper wing halves.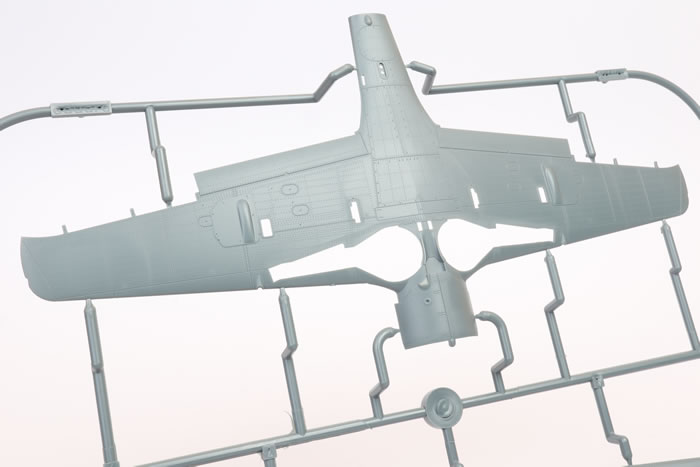 Eduard's Wurgers also boast a very high level of detail, particularly in the cockpit with colour photo-etched parts, and the opportunity to upgrade the basic engine provided in the kit with aftermarket parts.
The photo-etched fret offers a pre-painted instrument panel, side consoles, half-tone harness straps and more.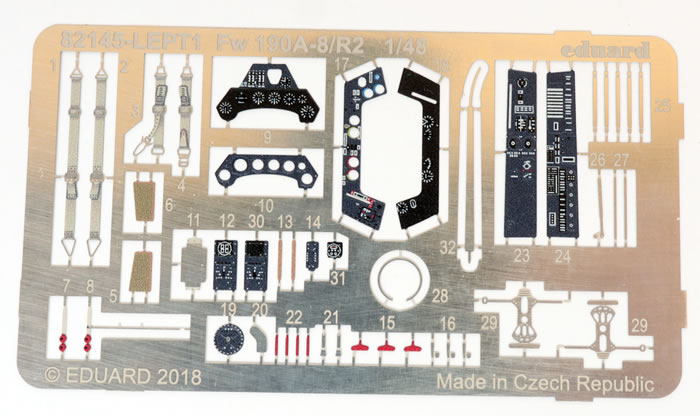 Two versions of the canopies are included - one representing and open canopy and the other closed. On the real Würger, the canopy was somewhat flexible. This flexibility was further enhanced with a short hinge on the top. This was necessary because the canopy rails tapered inwards back along the fuselage, requiring the front bottom corners of the canopy to pinch inward when opening (ie, the width was narrower when the canopy was open).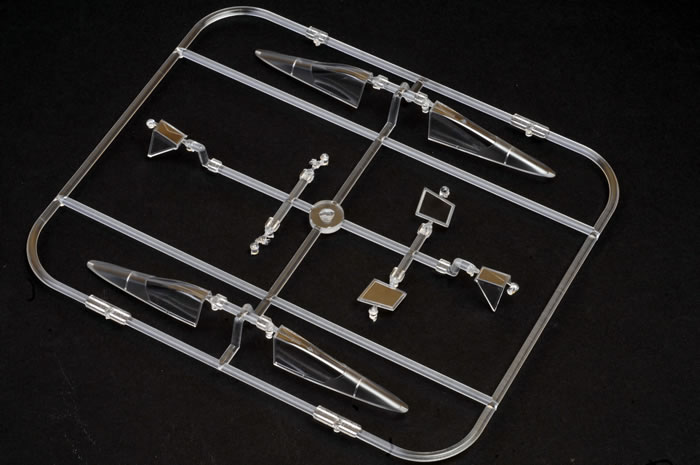 This attribute has been conveniently ignored by all Fw 190 models prior to Eduard's new family - an open canopy would simply overhang the sides of the canopy deck.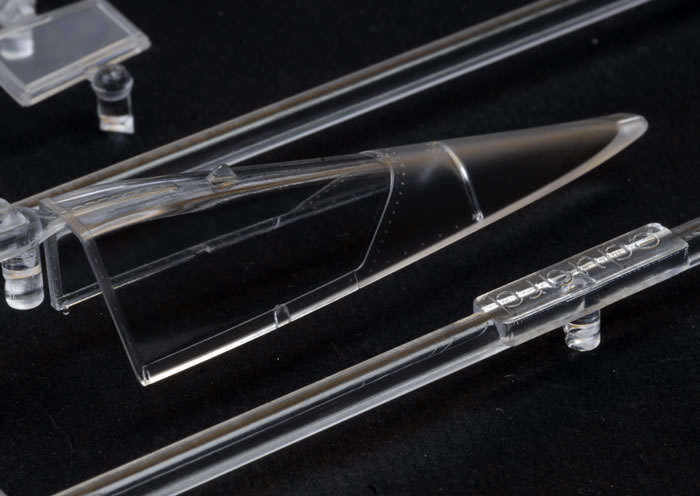 My clear parts are thin and free from distorion. A choice of the early flat version and the llate blown canopy. Armoured glass for the Sturmbock version, but these will not be used in this instance.
Another nice touch is the inclusion of canopy and wheel masks in Eduard's thin flexible yellow masking material.
Instructions are supplied in a 16 page A-4 size colour booklet, with a detailed history on the front page followed by a parts list, construction steps, and full-colour marking guides for each of the five subjects, each with a four-view illustration, and finally a stencil placement guide.
---
Marking Options
Markings are provided for five aircraft, all finished in the mid-war scheme of RLM 76 lower surfaces, with RLM 75 Grey Violet and RLM 74 Grey Green on the upper surfaces. Each of the aircraft feature colourful RV bands and a wide selection of interesting markings.
Specific subjects are:
Focke-Wulf Fw 190 A-8,White 7, W. Nr. 680747, flown by Oblt. Hans Weik, CO of 10.(Sturm)/ JG 3, Memmingen, Germany, June 1944

Focke-Wulf Fw 190 A-8, Blue 21, Hptm. Gerhard Schröder, CO of II.(Sturm)/JG 4, Welzow, Germany, September 1944

Focke-Wulf Fw 190 A-8, Yellow 15, Fw. Adalbert Koch, 6./JG 300, Löbnitz, Germany, Fall 1944

Focke-Wulf Fw 190 A-8 Black 10, Lt. Karl Spenst, 8./JG 300, Germany, Löbnitz, Germany, leden 1945

Focke-Wulf Fw 190 A-8, White 21, W. Nr. 682989, 5./JG301, Germany, May 1945
The main decal sheet is glossy in texture and printed by Eduard.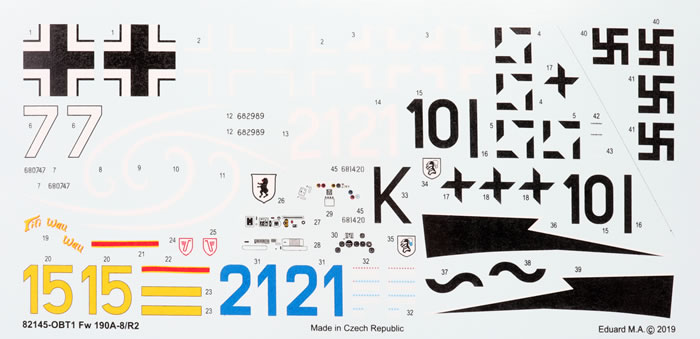 A set of decal stencils are also included.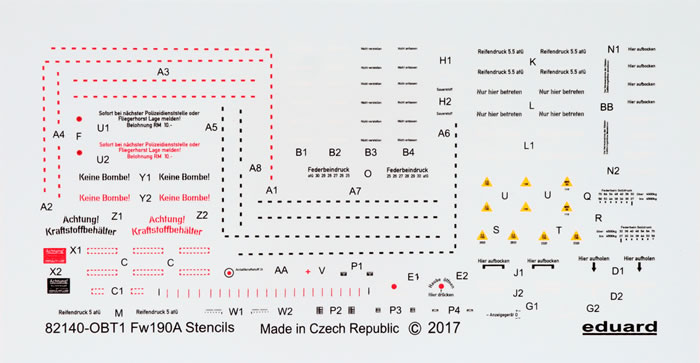 The stencil markings are printed in a flat finish and are also produced by Eduard.
Eduard has delivered an excellent kit of this popular Wurger variant.
I have built the Fw 190 A-4 in this new family of Eduard Wurgers and it was a delight - a fast build and excellent fit all round. I don't expect that this one will be any different.
Thanks to Eduard for the sample
---
Review Text Copyright © 2019 by Brett Green
Page Created 18 November, 2019
Last updated 18 November, 2019
Back to HyperScale Main Page
Back to Reviews Page