Dassault Mirage IIIC ProfiPACK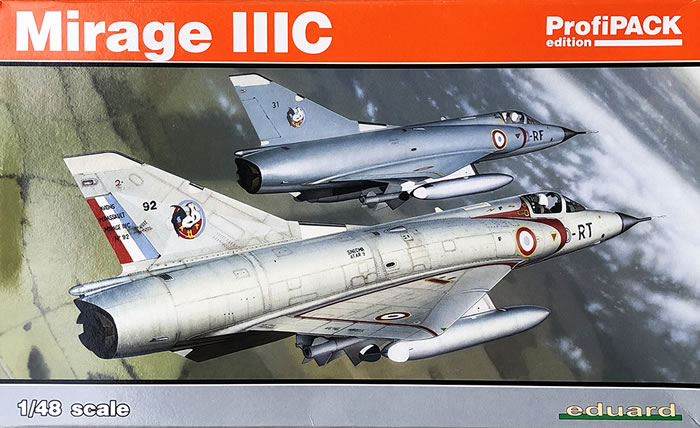 Eduard ProfiPACK, 1/48 scale
S u m m a r y

Catalogue Number and Price:

Eduard Kit No. 8103 - Dassault Mirage IIIC ProfiPACK

USD$47.96 plus shipping available online from Eduard

GBP£37.99 EU Price (£31.66 Export) plus shipping available online from Hannants


Scale:
1/48
Contents and Media:
157 grey injected moulded parts, 10 clear parts, 45 photoetched parts, masks, decals and comprehensive instructions.
Review Type:
FirstLook
Advantages:
Crisp yet subtle moulding with good detail, Eduard's usual high quality instructions. A new choice of schemes.
Disadvantages:
Nose weight of the original boxing is no longer included.
Conclusion:
A nice kit of the Mirage IIIC from Eduard with nearly everything included to make a highly detailed model with some different schemes from previous boxings.

Reviewed by David Couche
The Dassault Mirage III is a family of single-seat, single-engine, fighter aircraft developed and manufactured by French aircraft company Dassault Aviation. It was the first Western European combat aircraft to exceed Mach 2 in horizontal flight.
The Mirage III was produced in large numbers for both the French Air Force and a wide number of export customers. Prominent overseas operators of the fighter included Argentina, Australia, South Africa, Pakistan and Israel, as well as a number of non-aligned nations. Often considered to be a second-generation fighter aircraft, the Mirage III experienced a lengthy service life with several of these operators; for some time, the type remained a fairly manoeuvrable aircraft and an effective opponent when engaged in close-range dogfighting. During its service with the French Air Force, the Mirage III was normally armed with assorted air-to-ground ordnance or R.550 Magic air-to-air missiles. Its design proved to be relatively versatile, allowing the fighter model to have been readily adapted to serve in a variety of roles, including trainer, reconnaissance and ground-attack versions, along with several more extensive derivatives of the aircraft, including the Dassault Mirage 5, Dassault Mirage IIIV and Atlas Cheetah. Some operators have undertaken extensive modification and upgrade programmes of their flights, such as Project ROSE of the Pakistan Air Force.
The first major production model, the Mirage IIIC, first flew in October 1960. The IIIC was largely similar to the earlier IIIA, being less than a half meter longer and featuring a full operational fit. The Mirage IIIC was a single-seat interceptor, with an Atar 09B turbojet engine, featuring an eyelid type variable exhaust. The Mirage IIIC was armed with twin 30 mm DEFA cannon fitted in the belly with the gun ports under the air intakes. Early Mirage IIIC production had three stores pylons, one under the fuselage and one under each wing; another outboard pylon was soon added to each wing, for a total of five, excluding a sleek supersonic tank which also had bomb-carrying capacity. The outboard pylon was intended to carry an AIM-9B Sidewinder air-to-air missile, later replaced by the Matra R550 Magic and also was armed with the radar guided Matra R530 Missile on the centre line pylon.
A total of 95 Mirage IIICs were obtained by the French Air Force (Armée de l'Air, AdA), with initial operational deliveries in July 1961. The Mirage IIIC remained in service with the AdA until 1988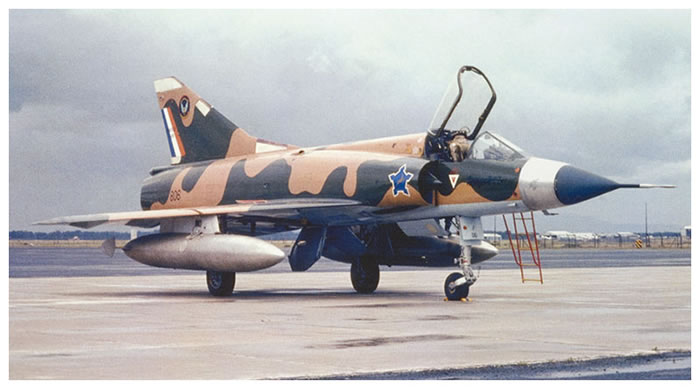 The Mirage III has been used in active combat roles in multiple conflicts by a number of operators. The Israeli Air Force was perhaps the most prolific operator of the fighter outside of France itself; Israel deployed their Mirage IIIs during both the Six-Day War, where it was used as both an air superiority and strike aircraft, and the Yom Kippur War, during which it was used exclusively in air-to-air combat in conjunction with the IAI Nesher, an Israeli-built derivative of the Mirage 5. Ace of ace Giora Epstein achieved all of his kills flying either the Mirage III or the Nesher. During the South African Border War, the Mirage III formed the bulk of the South African Air Force's fleet, comprising a cluster of Mirage IIICZ interceptors, Mirage IIIEZ fighter-bombers and Mirage IIIRZ reconnaissance fighters.
Eduard first released the Mirage IIIC kit in 2004. At the time it was the one of the best and accurate Mirage produced. Since then it has been released in a number of different boxing's including both numerous ProfiPACKS and Weekend Editions. This recent boxing basically sees the same kit in the box but with 5 new schemes. The sturdy Eduard box is packed full of all the goodies you will need to make a really nicely detailed model of this Mirage. The contents include, 8 grey injected moulded sprues with some 157 parts on them. Upon careful examination of the instructions I find that 12 of these parts are not to be used in this version, so the spares box will have some welcome additions. There is one clear sprue containing 10 very clear parts, 1 sheet of photoetch containing 53 parts, 2 sheets of masks, a large sheet of decals and the usual comprehensive instruction booklet. Despite the numerous releases and age of these moulds, they have seemed to have kept their quality of moulding with little signs of flash or mould marks.
Sprue A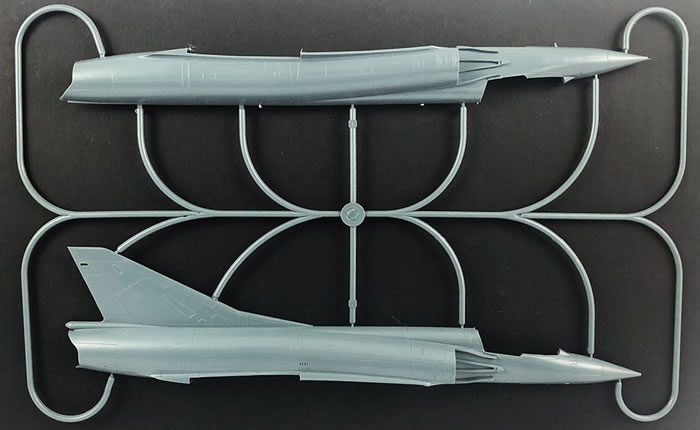 This sprue contains 2 grey injected plastic parts. The main parts here are the right and left fuselage halves. Detail is a mix of recessed panels and hatch details with some restrained riveting along panel edges.
---
Sprue B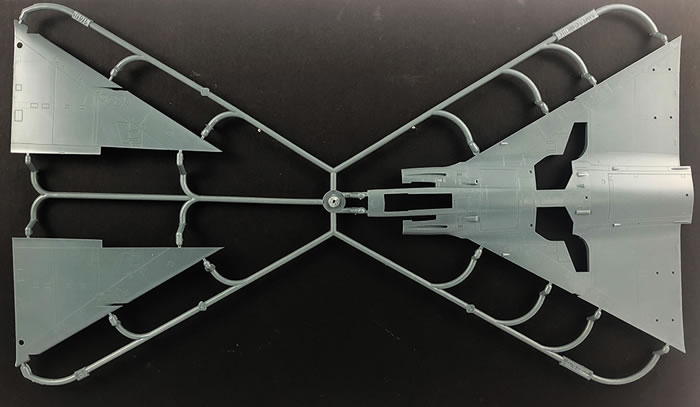 Sprue B has the upper wing sections and the one piece lower wing. Again, detail is very nice.
---
Sprue C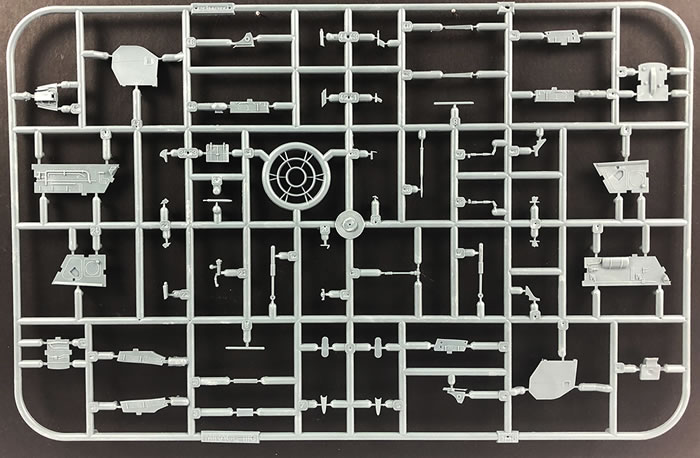 A sprue with 54 parts on it of which only 1 is not used. Sprue C has the nose wheel bay sides, many parts to go in the cockpit including the front coaming and seat parts, and numerous other small parts.
---
Sprues D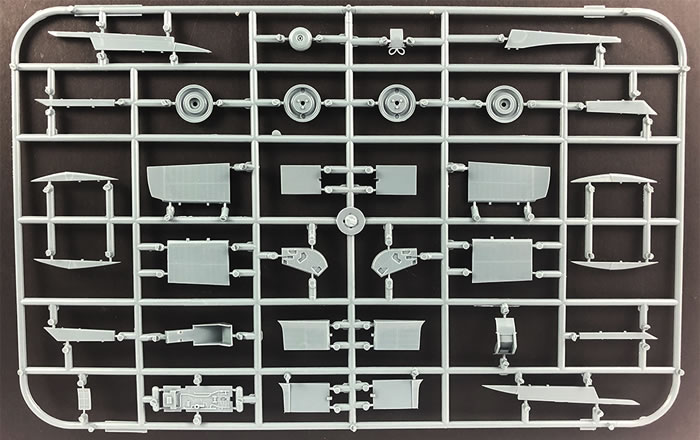 This sprue has 33 parts on it, with 4 of these unharmed in making this version. This sprue delivers us the wheels, floor of the nose wheel bay, several pylons, flaperon arms and a number of smaller parts used throughout the model. Again, all parts are nicely moulded showing little in the way of flash or bad mould seams which is good for a set of moulds that have done a great deal of work over 15 years.
---
Sprue E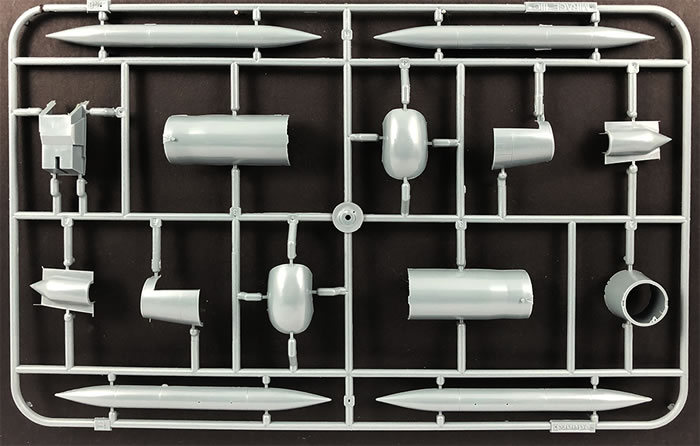 Sprue E has 14 parts which include the parts for high speed 500 litre drop tanks, the cockpit tub, intake sections and tail pipe halves.
---
Sprue F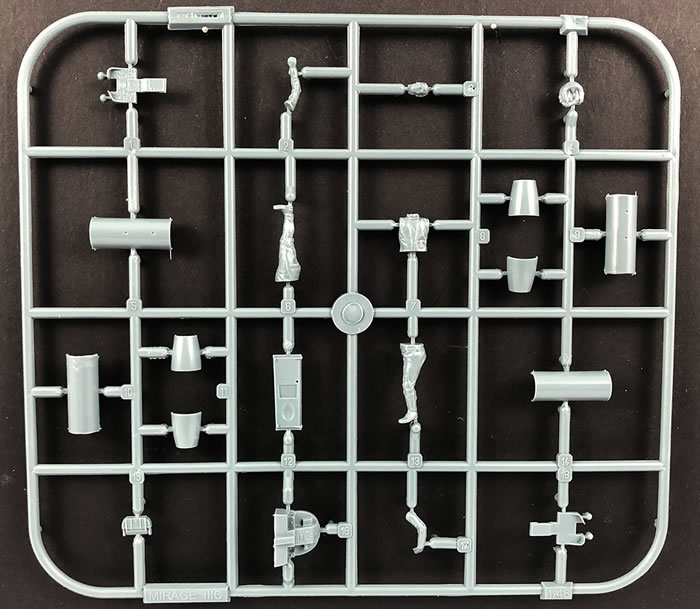 A sprue with 20 parts on it of which 7 are not used. Sprue F has further parts for the cockpit including the instrument panel and rear section behind the seat. The other parts are mainly for the construction of the rocket launcher bodies. The unused parts are for a quite nice pilot figure of all seven parts which may prove useful at a later date from the spares.
---
Sprue G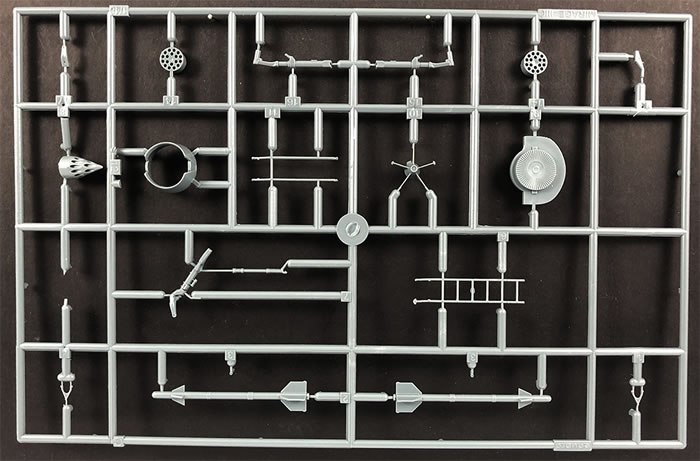 Sprue G has 20 parts which include the nose and tail sections of the rocket launchers, the undercarriage legs, a cockpit ladder, engine fan and exhaust section. There are also 2 nice AIM -9D's included.
---
Sprue H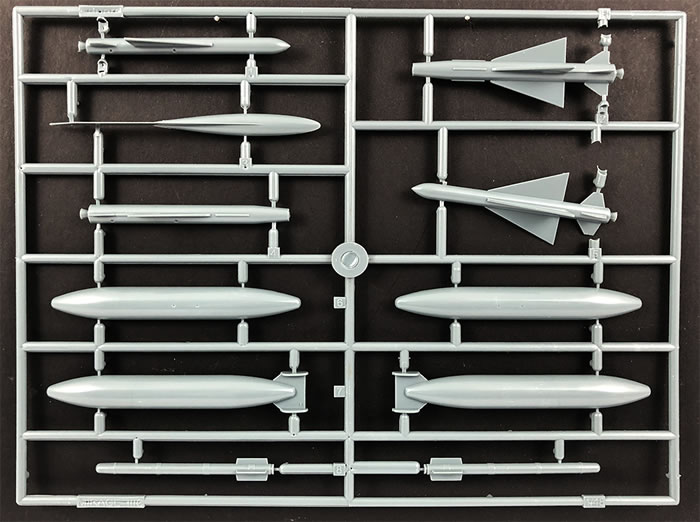 Sprue H has 11 parts which include the parts for the Matra 530C and 530E missiles, the 625 litre drop tanks, intake sections and the Matra 550 trainers.
---
Sprue I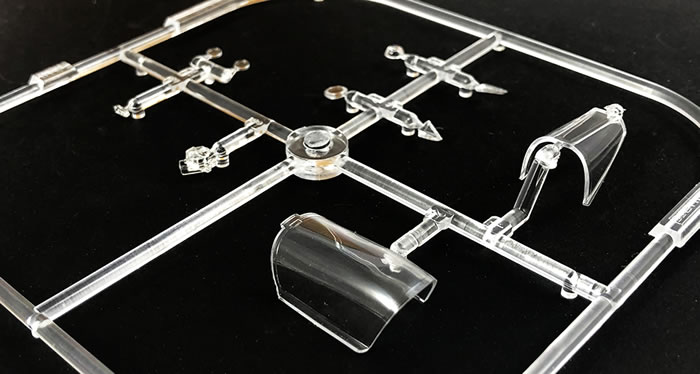 Here we have the clear sprue of 10 parts. There are parts for the canopy which can be closed or open. There are also a number of lights provided as well as gunsight parts. All parts are very clear with nice detail where supplied.
---
Photoetched Fret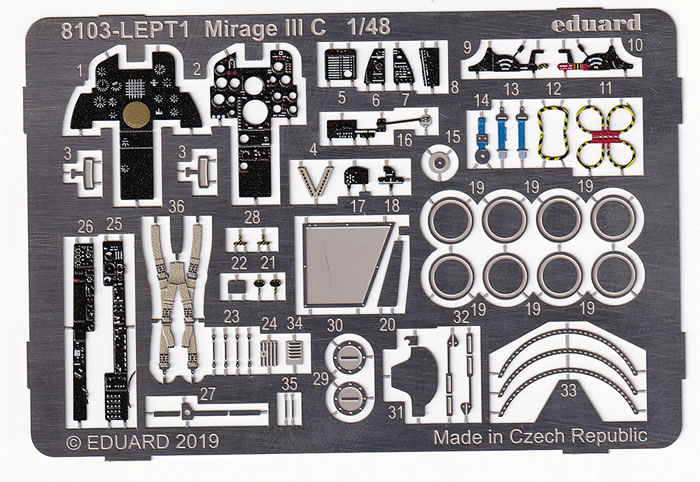 There is a very nice photoetch sheets of 53 parts included in the Profipack which includes pre-coloured seat belts and instrument panel as well small additions to the cockpit.
---
Masking Sheet
2 sheets of typical Eduard tape style masks completes the kit. These allow for masking of both open and closed canopies as well as masking for some of the coloured sections on the NMF schemes. This is a very useful inclusion.
---
Instructions and Decals
The instructions for the kit are the usual Eduard, high quality detailed instructions, with copious colour call outs throughout, using the Gunze Aqueous and Mr Color range. The decals appear to be in perfect register giving the options for 5 different aircraft. Included is a comprehensive stencil and data sheet, with a separate page at the end of the instructions for their placement.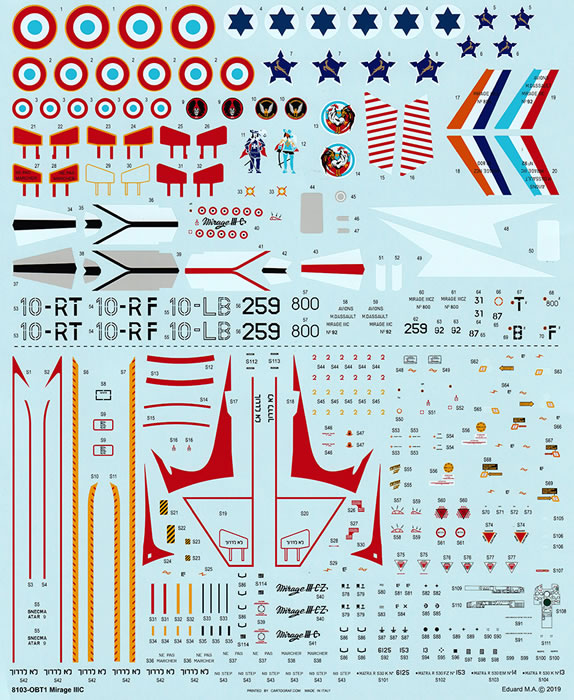 I have included a scan of the 5 aircraft profiles but briefly, they are;
Mirage IIIC, No. 87, EC 3/10 Vexin, Détachement Air 188, Armée de l´ Air, Djibouti, October 1984

Mirage IIIC, No. 92, EC 2/10 Seine, Armée de l´ Air, BA 120 Cazaux, France, April 1976

Mirage IIIC, No. 259 (ex 59), Tayeset 101, Hatzor Air Base, Israel, 1971

Mirage IIIC, No. 31, EC 2/10 Seine, Armée de l´ Air, BA 110 Creil, France, May 1978

Mirage IIICZ, No. 800, No. 2 Squadron SAAF, Waterkloof Air Base, Republic of South Africa, 1982
This is a very nice, well detailed kit. The Eduard Mirage IIIC kit ticks all the right boxes, a great choice of schemes covering a range of schemes used in by different users in varied scheme styles. Despite its age, this is still a nice kit, especially with all the nice extras that come with it. Highly recommended.
Thanks to Eduard for the sample
---
Review Text Copyright © 2019 by David Couche
Page Created 12 November, 2019
Last updated 12 November, 2019
Back to HyperScale Main Page
Back to Reviews Page Woo!