McDonnell-Douglas F-15I Ra'am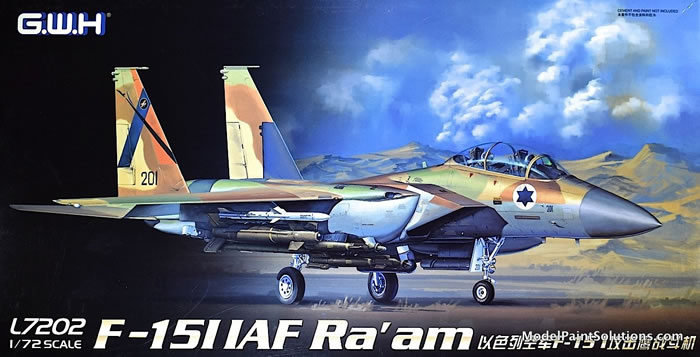 Great Wall Hobby, 1/72 scale
S u m m a r y :

Description and Item No.:

Great Wall Hobby Kit No. L7202 - McDonnell-Douglas F-15I Ra'am

Contents and Media:

285 parts in grey styrene (not all are used) and two decal sheets with markings for two airframes.

Price:

$39.27 Plus Shipping from Hobby Link Japan

and hobby retailers worldwide

Scale:

1/72

Review Type:

First Look

Advantages:

The kit features crisp and abundant surface details, a poseable canopy, a super-detailed cockpit, an amazing selection of underwing weapons systems/munitions, and two beautifully printed decal sheets with markings for two aircraft and complete airframe stencil data.

Disadvantages:

This is not going to be a shake 'n bake build. There are more than a few parts (~285) so even if all aren't used, that's a lot of styrene for a 1/72 aircraft kit. Although crystal clear, the canopy parts have a centerline seam line that will have to be dealt with.

Recommendation:

This is beautiful with no hidden issues laying in wait. The parts count is high but most of that is due to the multi-part underwing stores. Although this won't be a quick build the result will be an exceedingly detailed model well worth the effort.
Reviewed by John Miller


Airfix's 1/72 scale Sea King is available online from Squadron.com
The McDonnell Douglas F-15 Eagle is an American twin-engine, all-weather tactical fighter aircraft designed by McDonnell Douglas (now Boeing). Following reviews of proposals, the United States Air Force selected McDonnell Douglas's design in 1967 to meet the service's need for a dedicated air superiority fighter. The Eagle first flew in July 1972, and entered service in 1976. It is among the most successful modern fighters, with over 100 victories and no losses in aerial combat. The majority of kills have been made by F-15's of the Israeli Air Force.
In addition to Israel, the Eagle has been exported to Japan and Saudi Arabia. The F-15 was originally envisioned as a pure air-superiority aircraft. Its design included a secondary ground-attack capability that was largely unused. The aircraft design proved flexible enough that an all-weather strike derivative, the F-15E Strike Eagle, an improved and enhanced version which was later developed, entered service in 1989 and has been exported to several nations. As of 2017, the aircraft is being produced in different variants with production to end in 2022.
The F-15 has an all-metal semi-monocoque fuselage with a large-cantilever, shoulder-mounted wing. The wing planform of the F-15 suggests a modified cropped delta shape with a leading-edge sweepback angle of 45°. Ailerons and a simple high-lift flap are located on the trailing edge. No leading-edge maneuvering flaps are used. This complication was avoided by the combination of low wing loading and a fixed leading-edge camber that varies spanwise along the wing. Airfoil thickness ratios vary from 6% at the root to 3% at the tip.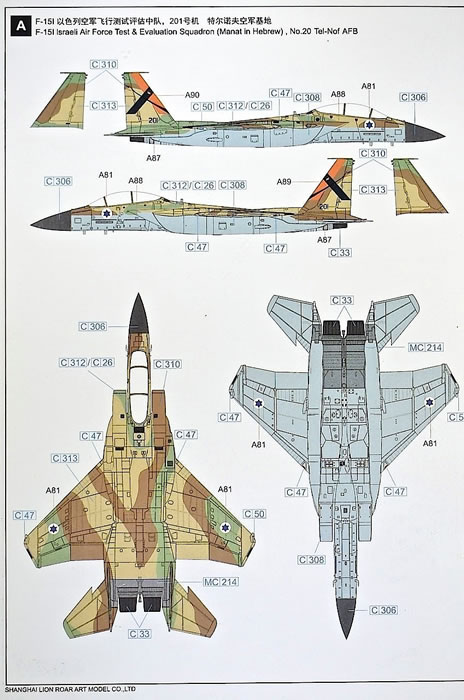 The empennage is of metal and composite construction of an aluminum/composite material. A honeycomb structure within the vertical stabilizers combined with a boron-composite skin results in an exceptionally thin tailplane and rudders. Composite horizontal all-moving tails outboard of the vertical stabilizers move independently to provide roll control in some flight maneuvers. The F-15 has a spine-mounted air brake and retractable tricycle landing gear. It is powered by two Pratt & Whitney F100 axial compressor turbofan engines (with afterburners) that are mounted side-by-side in the fuselage and fed by intake ramps. The cockpit is mounted high in the forward fuselage with a one-piece windscreen and large canopy for increased visibility and a 360° field of view for the pilot. The airframe began to incorporate advanced superplastically formed titanium components in the 1980s.
The F-15's maneuverability is derived from low wing loading (weight to wing area ratio) with a high thrust-to-weight ratio, enabling the aircraft to turn tightly without losing airspeed. The F-15 can climb to 30,000 feet (9,100 m) in around 60 seconds. At certain speeds, the dynamic thrust output of the dual engines is greater than the aircraft's combat weight and drag, so it has the ability to accelerate vertically. The weapons and flight-control systems are designed so that one person can safely and effectively perform air-to-air combat. The A and C models are single-seat variants; these were the main air-superiority versions produced. B and D models add a second seat behind the pilot for training. E models use the second seat for a weapon systems officer. Visibly, the F-15 has a unique feature vis-à-vis other modern fighter aircraft; it does not have the distinctive "turkey feather" aerodynamic exhaust petals covering its engine nozzles. The petal design on the F-15 proved problematic and were removed resulting in a 3% increase in aerodynamic drag.
---
F-15E Strike Eagle
The McDonnell Douglas F-15E Strike Eagle is a two-seat, dual-role, totally integrated fighter for all-weather, air-to-air, and deep interdiction missions. The rear cockpit is upgraded to include four multipurpose cathode ray tube displays for aircraft systems and weapons management. The digital, triple-redundant Lear-Siegler aircraft flight control system permits coupled automatic terrain following, enhanced by a ring-laser gyro inertial navigation system. For low-altitude, high-speed penetration and precision attack on tactical targets at night or in adverse weather, the F-15E carries a high-resolution APG-70 radar and LANTIRN pods to provide thermography. The newest F-15E version is the F-15 Advanced, which features fly-by-wire controls.
The APG-63(V)2 active electronically scanned array (AESA) radar has been retrofitted to 18 U.S. Air Force F-15C aircraft. This upgrade includes most of the new hardware from the APG-63(V)1, but adds an AESA to provide increased pilot situation awareness. The AESA radar has an exceptionally agile beam, providing nearly instantaneous track updates and enhanced multi-target tracking capability. The APG-63(V)2 is compatible with current F-15C weapon loads and enables pilots to take full advantage of AIM-120 AMRAAM capabilities, simultaneously guiding multiple missiles to several targets widely spaced in azimuth, elevation, or range. The further improved APG-63(V)3 AESA radar is expected to be fitted to 179 F-15C aircraft; the first upgraded aircraft was delivered in October 2010. The ZAP (Zone Acquisition Program) missile launch envelope has been integrated into the operational flight program system of all U.S. F-15 aircraft, providing dynamic launch zone and launch acceptability region information for missiles to the pilot by display cues in real-time.
---
F-15I
The F-15I is operated by the Israeli Air Force where it is known as the Ra'am (Thunder). It is a dual-seat ground attack aircraft powered by two Pratt & Whitney F100-PW-229 engines, and is based on the F-15E.
The F-15I Ra'am is similar to the F-15E, but features several different avionic systems to meet Israeli requirements. To facilitate nighttime strikes, the F-15Is were initially fitted with Sharpshooter targeting pods designed for Israeli F-16s. The Sharpshooter pod was less capable than the LANTIRN pods used on USAF F-15Es; Israel later purchased 30 LANTIRN pods. The F-15Is initially lacked Radar Warning Receivers; Israel installed its own electronic warfare equipment, the Elisra SPS-2110, as well as a new central computer and embedded GPS/INS system. All sensors can be slaved to the Display And Sight Helmet (DASH) helmet-mounted sight, providing both crewmembers a means of targeting which the F-15E lacks. The F-15I uses the APG-70I radar; its terrain mapping capability can locate targets difficult to spot while under adverse weather conditions. The radar can detect large airliner-sized targets at 150 nautical miles (170 mi; 280 km), and fighter-sized targets at 56 nmi (64 mi; 104 km); it has a reduced resolution one-third below the standard USAF APG-70. In January 2016, Israel approved an upgrade of the F-15I fleet that includes structural changes, an AESA radar, updated avionics, and new (unspecified) weapon systems.
(Edited from Wikipedia)
In a sturdy box with attractive art of a Ra'am on the lid are 27 sprues of light grey and one of clear styrene: all in individual plastic bags—very nice.
The initial impression is one of immense detail and complexity. This is not going to be a weekend kit. There are a lot of parts in this box even if all aren't used.
The surface details are crisply molded and scale-appropriate.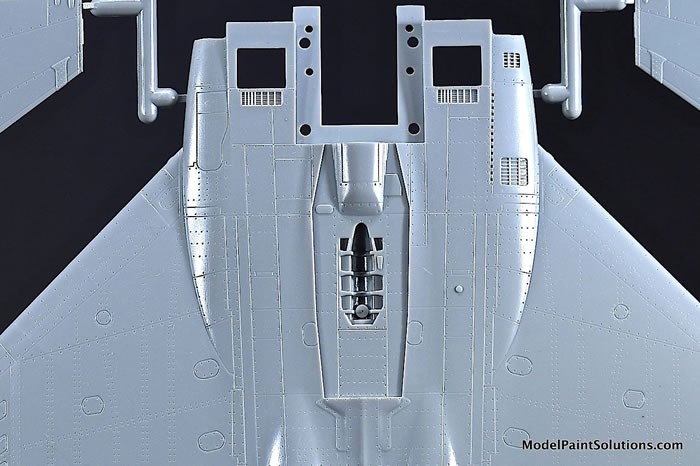 The parts layout and assembly are conventional for a modern jet kit and will allow for a straightforward build.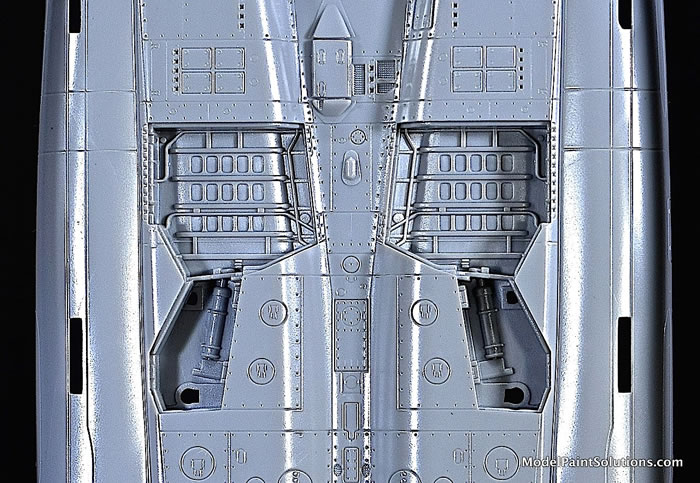 There is little-to-no flash even on the many (many) smaller parts. Sprue gates are respectably small and placed for easy removal of parts.
As usual, assembly begins with the cockpit, which entails two 4-piece ejection seats, and decals for the instrument and side panels. Of note, 7 separate decals are used for just the front instrument panel by itself—impressive.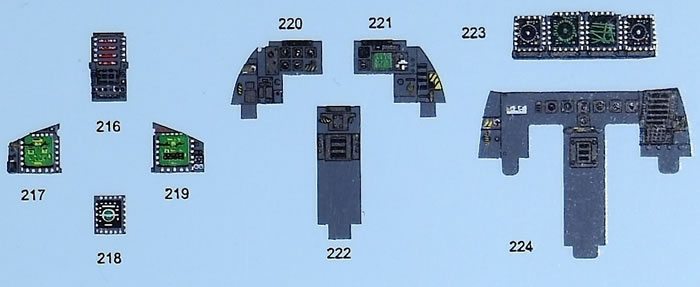 Once the cockpit is captured within the forward fuselage assembly, the fuselage center section/wing is assembled from upper and lower halves. A nice piece of engineering here are the single-piece intake trunks that will obviate the normal seam filling/blending required for these type assemblies. With the forward fuselage joined to the assembled center section-wing the majority of the airframe is complete.
The canopy parts, crystal clear and beautifully molded, are packed with a protective piece of plastic film covering them. This is a very nice touch. Unfortunately, there is a rather pronounced seam through the center of both the windscreen and canopy that will have to be removed, blended, and polished to clarity prior to use. This is not a big deal by any means but it will require some additional work to get the most out of the parts provided. Once prepped, the canopy can be posed open or closed.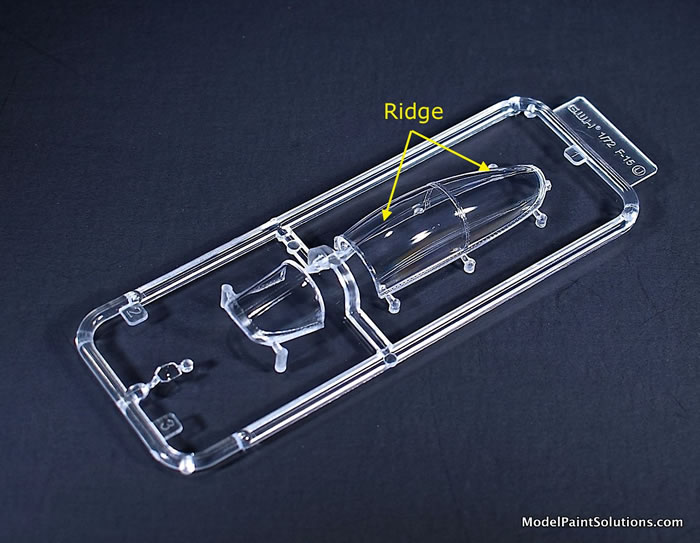 With the model completed the builder is next guided through the assembly of a staggering array of underwing stores.
These include:
-AIM-120 AMRAAM x2
-GBU-38 x3
-GBU-31 x1
-AN/AXQ-14 Data Link Pod x1
-AN/AAQ-14 Targeting Pod x1
-AN/AAQ-13 Navigation Pod x1
-AGM-142 x1
-610L Drop Tank x2
-GBU-12 Lase Guided Bomb x4
-AGM-130 x1
-Python-4 x2
To help the builder with the placement of these stores, detailed diagrams are provided showing the typical load-out arrangement for the two airframes covered by the decals.
---
Marking Options
The decals, by Great Wall, are crisply printed with good registration and color density.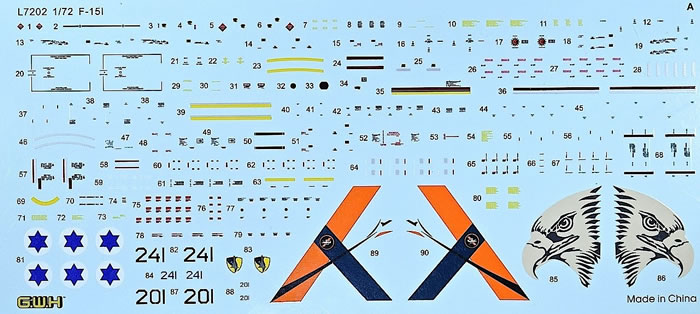 Markings for 2 airframes are provided as well as an extensive sheet of airframe stencil data.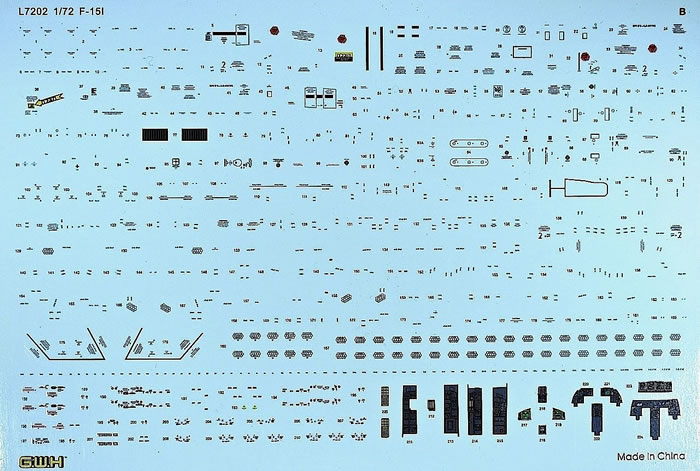 F-15I Ra'am, Israeli Air Force Test and Evaluation Squadron, No. 20, Tel-Nof AFB.

F-15I Ra'am, Israeli Air Force 69 "Hammers" Squadron, No. 241
This is beautiful with no hidden issues laying in wait. The parts count is high but most of that is due to the multi-part underwing stores. Although this won't be a quick build the result will be an exceedingly detailed model well worth the effort. Well done, Great Wall.
For more on this review visit Modelpaintsolutions.com.
Review kit provided by my retirement fund.
---
Review and Images Text Copyright © 2019 by Model Paint Solutions
Page Created 20 November, 2019
Last updated 20 December, 2019
Back to HyperScale Main Page
Back to Reviews Page