Hannover Cl.II (Early)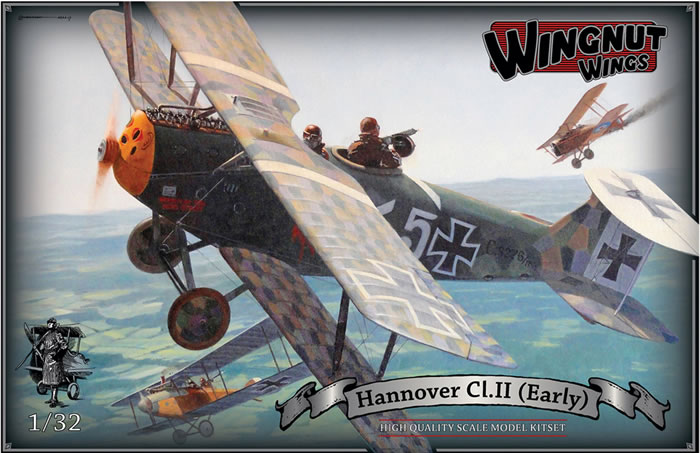 Wingnut Wings, 1/32 scale
S u m m a r y

Catalogue Number:

Wingnut Wings Kit No. 32079 - Hannover Cl.II (Early)

Scale:

1/32

Contents and Media:

261 parts in grey injection moulded plastic; two parts in clear; 14 photo-etched parts; markings for five aircraft on three decals sheets.

Price:

USD$129.00 plus shipping available online from Wingnut Wings' website

Pre Order GBP£116.09 EU Price (£96.74 Export Price) plus shipping available online from Hannants

Review Type:

First Look

Advantages:

High level of detail; outstanding representation of fabric, rib baton and general surface textures; high quality mouldings with fine sprue attachments; comprehensive decal sheet in perfect register with minimal carrier film; full-colour instruction booklet doubles as a one-stop reference.

Disadvantages:

Conclusion:

The moulding and detail in this kit is every bit as good as previous Wingnut Wings releases, with minimal and negligible flash, mostly unobtrusive ejector pin marks, no sink marks and nigh-on invisible seams. There really is nothing to quibble about with respect the styrene.

As far as WW1 goes, this is still a reasonably leftfield subject and unusual in respect of the two wing tailplane that it sports.

Schemes are very similar to the original release, and where there is fuselage lozenge (on most schemes), you will need to find a way of masking this and applying it yourself. I know that some mask companies produce lozenge mask, so that could be worth a shot. \

If you also tend to shy away from WW1 due to rigging, then this could well be a model to ease you into it as it's relatively easy, plus there's no control cables to install within the cockpit.
Reviewed by James Hatch

The Hannover Cl.II was a two-man escort fighter, built by Hannoversche Waggonfabrik, and entering service in 1917. The Cl.II was a fast and lightweight aircraft which was more than capable of matching the manoeuvrability of some RFC fighters, given the right combat conditions. The machine itself had a lightweight construction, skinned by a very thin layer of plywood veneer, typically less than 2mm thick. The 'L' in 'Cl' stands for leicht, or 'light', in direct translation. The fuselage of the Cl.II was quite deep in comparison to other machines of the time, but the crew positions were such that the low-profile position of the upper wing gave a good, unobstructed field of view for the crew, as did the shorter span, biplane arrangement tail plane.
The Hannover Cl.II was powered by a 180hp Argus As.III inline engine. This was the same engine employed for use with other two seat aircraft, such as the Rumpler C.VII, Albatros C.VI and single crew types like the Roland D.II and D.III.
Wingnut Wings' original Hannover Cl.II release was a whole seven years ago now, and it's been sold out for almost four years. Doubtless, this new incarnation will sate many a modeller's appetite as the kit was obviously very popular when available. There are only a few changes with this 'Early' Cl.II release though, which we'll look at in this article. The sprues and PE are exactly the same as the initial release.
This pack, due to the size of this two-seat machine, is a little larger than the regular fighter kits, and more akin to the size of the Rumpler and LVG box. Another atmospheric and beautiful Steve Anderson artwork of a Hannover in combat with an SE.5a is edged with a metallic foil trim, whilst the box edges depict the other schemes available in this kitset. We'll take a look at those later in this article.
Inside the box, TEN sprues of light grey styrene and ONE sprue of clear styrene are separately packaged, along with a wallet containing a thick instruction manual, and a sleeve with no less than THREE large decal sheets and an accompanying etch fret with sixteen metal parts. The actual kit plastic parts-count, according to my literature, is 261 parts. There are a number of optional parts and also some accessories for you diorama fans too, spread over two sprues, but again, we'll come onto that later.
---
Sprue A
On this sprue, you'll find a large number of key parts for both the pilot and gunner offices, in terms of seats, bulkheads, main cockpit tub, with a separate rear floor and camera port door, forward Spandau MG ammunition bin, rudder pedals and control column with throttle. The cockpit in this two-seater is certainly a busy affair, and Wingnut Wings have captured every single element in superbly intricate detail. If a detailed pilot's office is at the top of your agenda, then this release certainly doesn't disappoint. The rear gunner's position is no less well-appointed with a number of parts on this sprue, such as a sidewall framework which holds the wireless set generator handle, and photographic plates storage box. The Telefunken Type D Wireless and downward facing camera are part of the German Accessories sprue G, as is the plates storage box.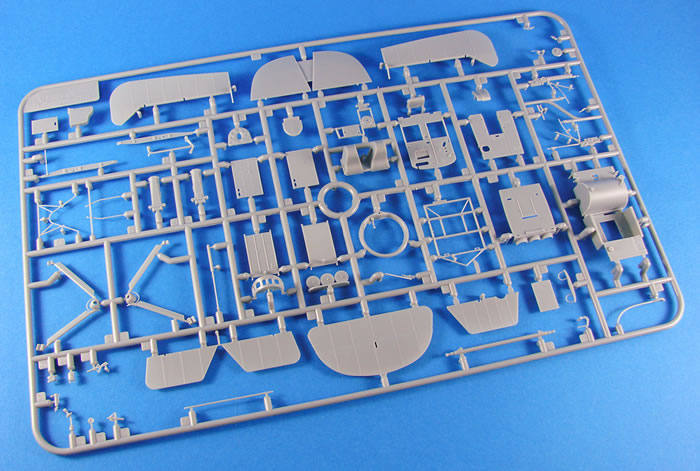 The interior of the Hannover Cl.II is a little different in comparison to many of the other aircraft of the time, with the ammunition bin being able to be directly accessed via the cockpit forward instrument bulkhead, via an access hatch which can be posed either in an open or closed position. The rather unusual open-back framework chair is superbly moulded and detailed, with a separate upholstered cushion with a hollow centre.
The forward instrument bulkhead has the ammunition rounds moulded into position in the hatch area, and the other detail on the front of this panel is both sharp and filigree. There isn't much in the way of instrument detail on this panel, with a number of instruments being remotely located in other pit areas. Instruments themselves are supplied as decals. The rear of the panel has a little wiring detail. There are two foot recesses at the bottom of this panel, to which foot guard/shrouds are attached. The pedals sit within these shrouds.
The cockpit is also supplemented by a number of photo etch parts, including full seatbelts, and a couple of 'W' shaped brackets which I can't identify.
There is more than the cockpit represented on this sprue, with the main 'V' undercarriage struts and horizontal axle being present, as well as one of the alternative pairs of upper wing ailerons, and both the upper and lower horizontal stabilisers which form the biplane style tail-plane which gave the gunner such an excellent field of view. The lower stabiliser has separate elevators, but the upper elevator is moulded in situ. I can't understand the reasoning behind that, but if you wish to pose it, a few swipes with a blade will mean that this thin flying surface will bend into the position you want. Fabric and rib tape/cap strips are beautifully recreated, whilst the lower tail-plane is simply smooth to replicate the ply skinned surfaces. The engine bay oil tank can be found here also.
Two types of radiator are supplied. These are the Teves & Braun and Daimler-Mercedes types. You will need to choose early in construction just which scheme you are going to go with, as there are a small number of important and fundamental changes.
---
Sprue B
This sprue contains the entire suite of both upper and lower wing panels, moulded as four individual parts. The lower, narrower chord wing has no ailerons, with only the upper wing having control surfaces. The hollow shape of the undersides is superbly created, with the lower wing having a scalloped trailing edge which is formed when the taught fabric of the wing pulls inwards and contracts against the wire-form trailing edge. The moulded effect is subtle. Fabric and rib detail are exquisite with the strut holes being individually shaped to help the builder with strut orientation. Rigging point holes are also clean and provide excellent location points for either bare rig cord or your own choice of turnbuckles.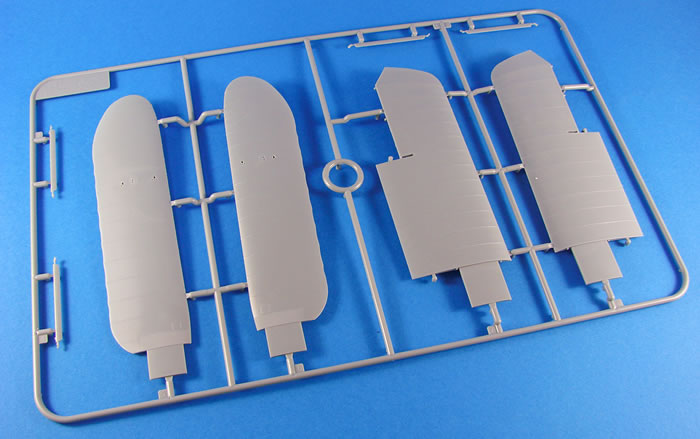 The four inter-wing struts are also moulded here. The connection points look fairly fragile, so some care will be needed in assembly. I'm probably being too cautious .
---
Sprue C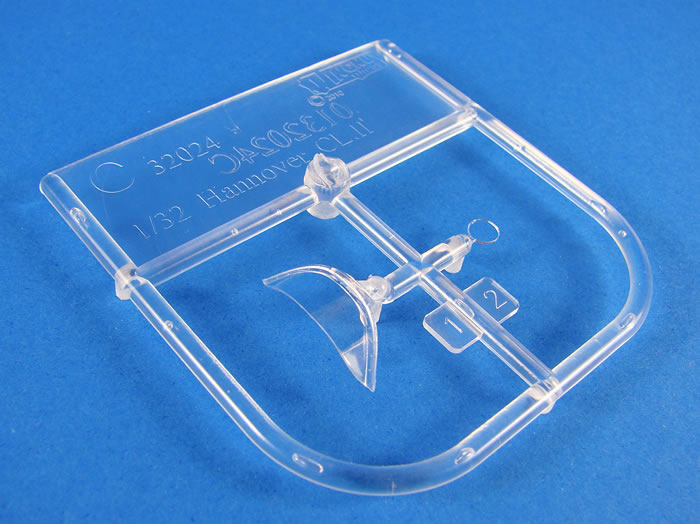 Oddly, the clear sprue isn't placed as the last in the set, and instead only the third sprue. Containing the windscreen and camera lens, this sprue is perfectly moulded, with excellent clarity. I don't even think a dip in Klear is required by me, which is a real break in tradition!
---
Sprue D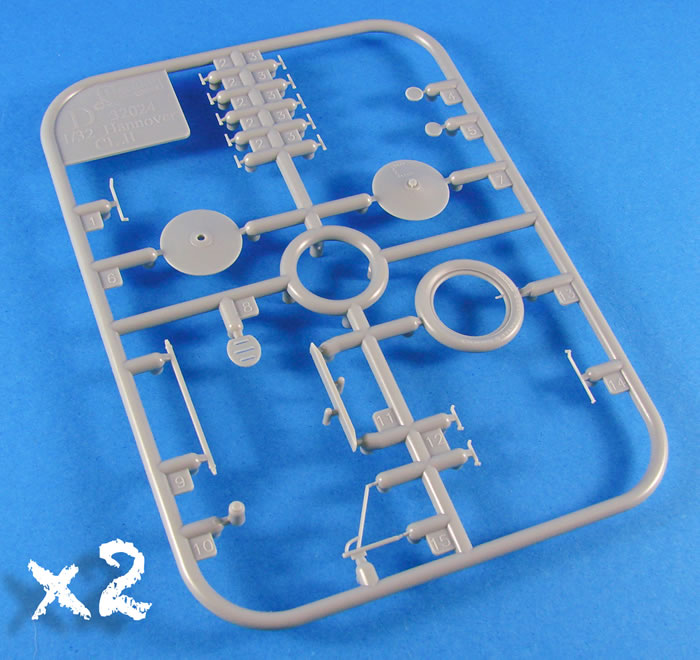 Two of these sprues are provided, and they hold not only the beautifully detailed tyres, with a fantastically neat 'CONTINENTAL' logo, but also the separate inner and outer hubs, with laced access ports for the air valve. Numerous other very small parts are to be found here, such as the Fliegermaus bomb and flare rack (and individual flares!), tail-plane struts and louvre vents which install to the underside exterior of the nose.
---
Sprue E
Making another appearance for Wingnut Wings is this sprue for the Argus As.III engine, complete with Neindorf, Reschke and Germania airscrews. All three can be used for the various schemes provided within this kit. Two starboard cylinder head parts are provided. One of these has the cylinder pushrods integrally moulded, whilst the other allows the modeller to choose their own pushrod solution, such as rigid wire. The part with the rods moulded looks a little clunky as the void between the rod and cylinder is filled in, creating a web. Still, I can understand and applaud WNW's rationale in supplying this part for modellers who don't feel comfortable in adding their own fiddly parts. Strangely enough, the non-pushrod part is shown as not for use.
The engines associated plumbing is to be found here too, again, all superbly moulded and requiring little to no clean up on these shapes which are fairly complex to tool for injection moulding.
---
Sprue F
The classic lines of the Hannover Cl.II are to be found here in the shape of that feat of aero-engineering, the ply-moulded fuselage. Provided in the classic 'halves' style, both cockpit and gunners positions have their coamings integrally moulded, unlike a number of other releases. Despite the smoothness of the exterior fuselage, there are a number of moulded foot stirrups and hinged access ports to put some life into an otherwise plain exterior. Louvered ports are moulded into both port and starboard engine areas, with the larger port louvers being 'open'. Cable rig holes for the rudder are superbly created and just need a micro drill to open out the end a little further.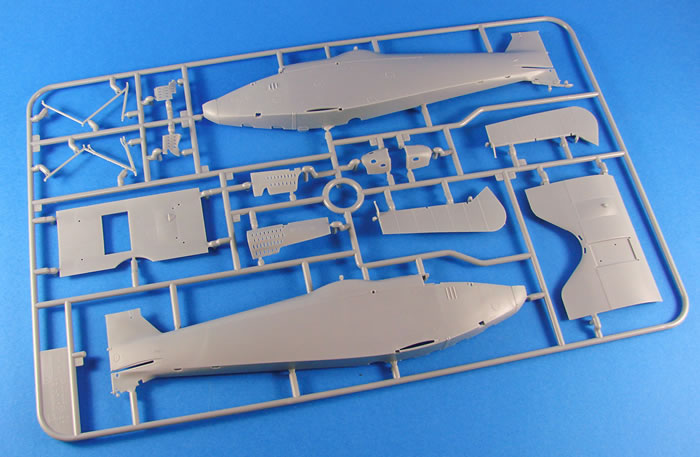 Inside the cockpit, ejector pins have been thoughtfully placed away from the visible detail areas, with the exception of a couple in the engine bays. These are shallow and should remove fairly easily. The ones within the crew position look to coincide with the placement of equipment.
Crew area detail is excellent, with integral framework, plumbing and con-rod detail. The engine bay also has internal access port detail.
The Hannover's upper wing centre section, being relatively thick in section, is provided as upper and lower halves, with tab inserts into which the wings slide. Radiator detail is separately moulded, and moulded onto Sprue A, as previously mentioned. The various louvered cowls look superb with the open louvers, but a couple of awkwardly placed ejector pin marks exist within. Luckily, these are very shallow and should rub away with ease.
Other parts to be found here are two types of immediate nose cowl and also both cabane struts, moulded are single parts, and with positive location points.
---
Sprue G1
This generic sprue concerns itself with the Parabellum machine gun, and the sprue is sub-labelled as such. A variety of Parabellum exist here, but there are a small number of parts, including some MG themselves, which aren't for use with this release. Various styles of ammunition drum and feed are to be found here, again, with a small number of these being applicable to other releases, and not the Hannover Cl.II. Moulding is excellent, with only the faintest trace of flash to be seen, if you look closely enough.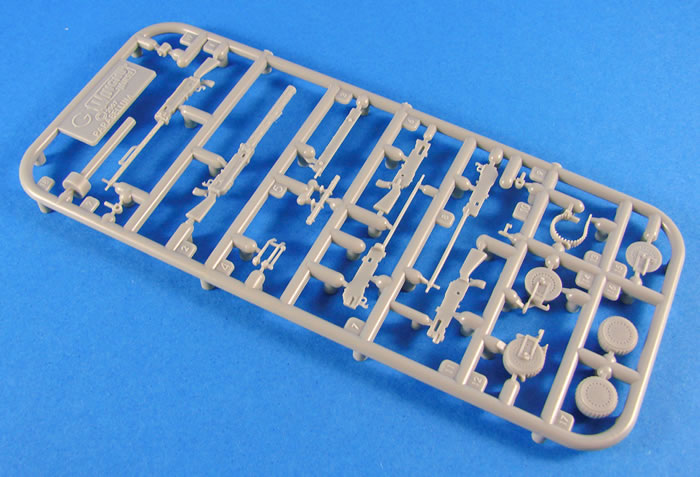 Again, options are given to build your model with a 'simple detail' Parabellum, with a moulded air-cooled jacket, or you can opt to use the version with just the barrel, and instead fit a jacket made from a rolled piece of photo etch, included in the kit. A handy plastic rod with the correct diameter is included for you to roll the jacket around.
---
Sprue G2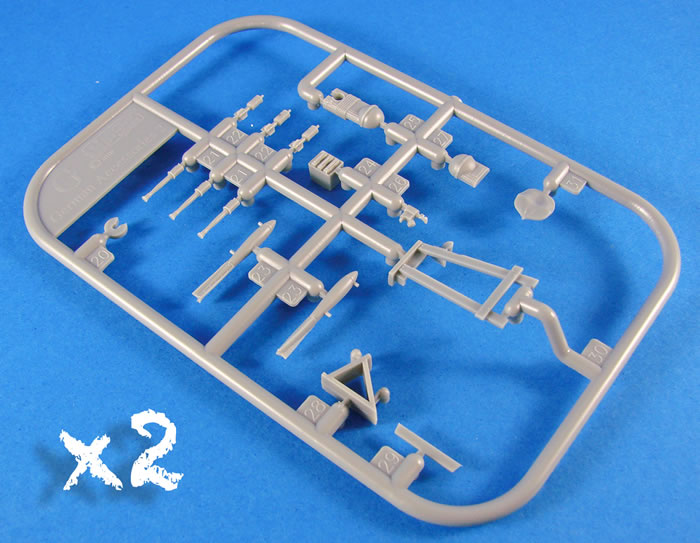 This is the first of the so called 'German Accessories' sprues and contains a number of different small munitions such as bombs, grenades, oxygen pouch and stepladders and wheel chocks.
---
Sprue G3
Although there are four airscrews on this sprue, none of them are for use in this kit, but would still look great on a diorama, for spares. This sprue is actually quite a mishmash of various parts such as flare racks, larger workshop ladders, gunner MG ring, various radio sets, pistols, flare pistols, various aero-camera types, pigeon carrier, first aid kit, baragraph, and even a little teddy-bear! A wing anemometer and undercarriage-mounted generator for the wireless sets and pilots heated suit is also included, and to be used with this release.
---
Photo Etch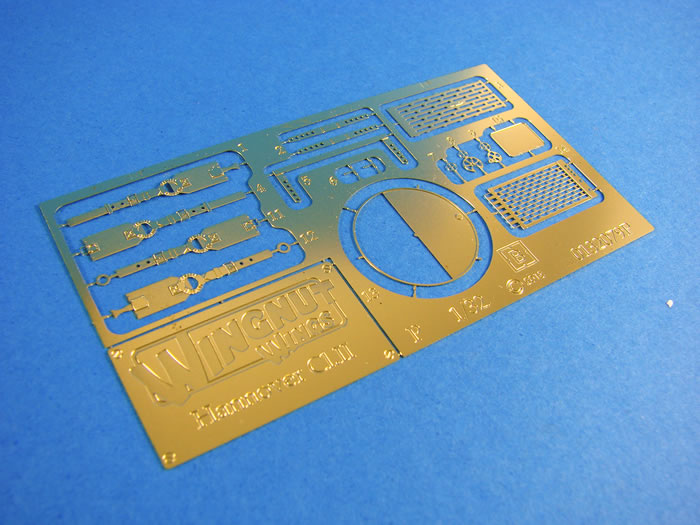 This small 16-part fret contains the Parabellum jackets, radiator shutter, seatbelts, various MG reticules and also the brackets I mentioned earlier for the gunner compartment. Finish is bare brass, and production is excellent, with small tags holding everything in place. Please remember to anneal the various parts which need to be sculpted and rolled. The seatbelts are quite superb, with stacks of etched detail, such as buckles, stitching, reinforcement rings and connection points.
---
Instructions
I suppose it's a cliché to say that Wingnut Wings manuals are exquisite, and despite hating clichés, I have to say that it really is a fantastic production in its own right! This glossy, full-colour, 30-page production is printed in A4 portrait format with cleverly rendered and coloured CAD images which make use of colour for both actual representation of the interior, and also in shade form to illustrate parts location. Rigging drawings are included for both the interior and exterior, which thankfully for the Hannover, aren't very complicated. A few cross-tail braces and some control cabling supplements the minimal wing and undercarriage brace wires.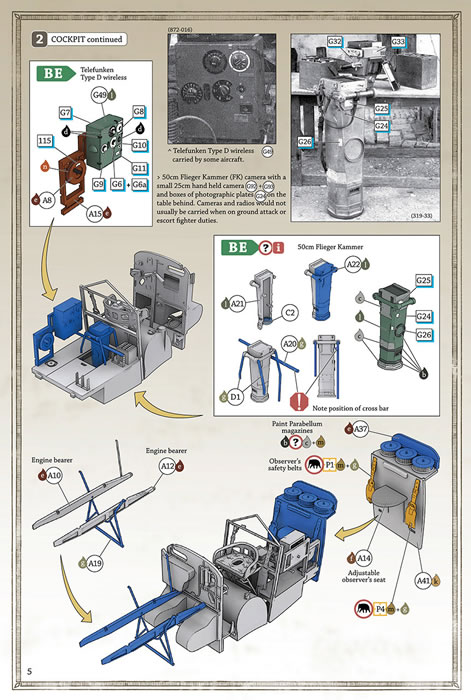 Again, throughout the manual, a number of period images are used to illustrate the Hannover Cl.II, in both general imagery and also in some detail, such as for avionics etc.
Paint references are given throughout the manual for all painting, and Wingnut Wings provides codes for Tamiya, Humbrol and Misterkit paint types.
The FIVE schemes provided in this kit are provided in profile format by the amazingly talented Ronny Bar, with historical and colour notes given for each machine, as well as historic photographs. Decal placement locations are clearly given, and there are a LOT of decals. Let's take a look at those now.
---
Decals
Three decal sheets are provided with this release, all printed by Cartograf. Having built Wingnut Wings kits before, I know their decal specifications work well with decal setting solutions, such as the aggressive Mr Mark Softer & Setter that I choose to use. The decals are thinly printed and with the most superb colour representation. Carrier film is minimal and all printing is in perfect register.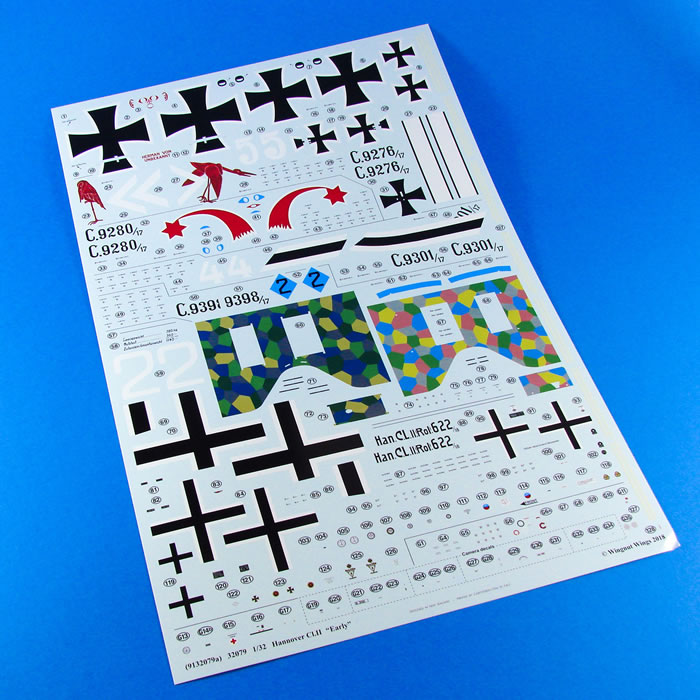 One decal sheet contains all of the national markings, stencils, instrument decals, and all of the various personal machine markings. Markings, such as the main wing crosses contain holes where the rigging wires etc protrude, aiding placement perfectly. Centre section lozenge is also supplied on this sheet for upper and lower surfaces.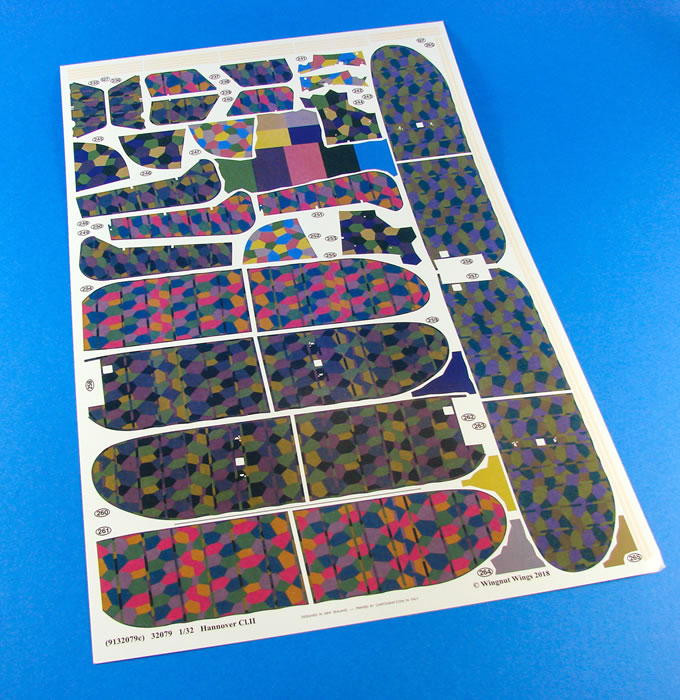 The remaining two sheets contain the various flying surface lozenge panels, with pre-printed rip tapes. Arrows on the sheet aid the modeller with the direction in which to lay the various panels. Some test-section blocks are also given so the modeller may use them to touch up any part they may damage or need to hide. This is a nice addition.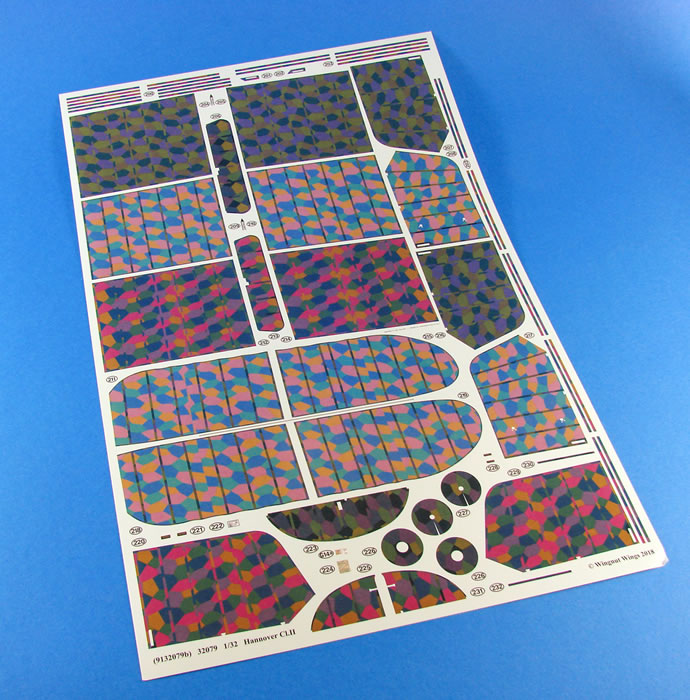 The five schemes provided are:
Hannover Cl.II 9276/17, 'White 5', H. Bronner, Royal Bavarian Schusta 27b, late 1917 – early 1918

Hannover Cl.II 9280/17 "Comet", Grönhagen? & J Gfrör, FA (A) 282, November 1917

Hannover Cl.II 9301/17 "White 4", J Missfelder, Royal Prussian Schusta 12, March 1918

Hannover Cl.II 9398/17 "2", JKH Müller & A Zitzelsberger, Royal Bavarian Schusta 24b, March 1918

Hannover Cl.II (Rol) 622/18 "White 2", Bayerische-Fliegerschule 5, mid to late 1918
The moulding and detail in this kit is every bit as good as previous Wingnut Wings releases, with minimal and negligible flash, mostly unobtrusive ejector pin marks, no sink marks and nigh-on invisible seams. There really is nothing to quibble about with respect the styrene.
As far as WW1 goes, this is still a reasonably leftfield subject and unusual in respect of the two wing tailplane that it sports.
Schemes are very similar to the original release, and where there is fuselage lozenge (on most schemes), you will need to find a way of masking this and applying it yourself. I know that some mask companies produce lozenge mask, so that could be worth a shot.
If you also tend to shy away from WW1 due to rigging, then this could well be a model to ease you into it as it's relatively easy, plus there's no control cables to install within the cockpit.
Thanks to Wingnut Wings for the review sample.
---
Review Text and Images Copyright © 2019 by James Hatch
Page Created 7 January, 2019
Last updated 15 November, 2019
Back to HyperScale Main Page