Mitsubishi A5M2b Claude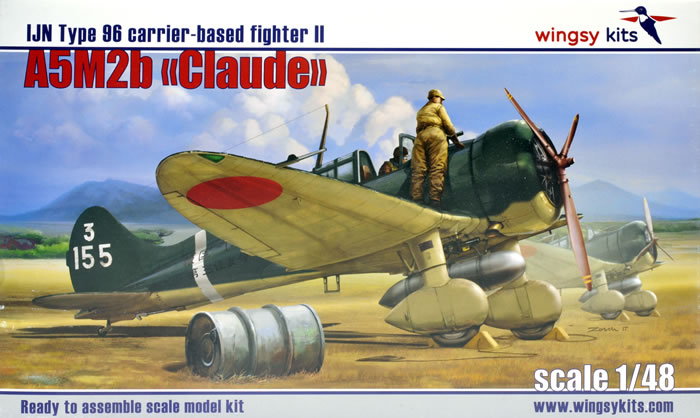 Wingsy Kits, 1/48 scale
S u m m a r y

Item No.
Wingsy Kits Item No. D5-03 - IJN Type 96 Carrier Based Fighter II A5M2b Claude
Contents and Media:
86 parts in dark grey styrene, 8 in clear, ~30 in PE, and one decal sheet with markings for 4 airframes.
Scale
1/48
Price:

GBP 39.99 EU Price (GBP 33.33 Export Price) plus shipping available online from Hannants

and specialist hobby shops worldwide

Review Type:
FirstLook
Advantages:
The kit features amazingly crisp and abundant surface detail especially with regard to the replication of cowl and panel fasteners. The nicely detailed cockpit comes complete with a PE instrument panel and seat harness. The beautifully printed decal sheet provides markings for 6 aircraft complete stencil data for two airframes.
Disadvantages:
None noted.
Recommendation:

The engineering is simple, the layout is conventional, and the parts count is acceptable. The biggest surprise of this kit is the beautifully rendered surface details---Wowza! This is a kit that will repay careful painting and weathering with a stunningly detailed final finish: amazing work, Wingsy Kits.
Reviewed by John Miller

HyperScale is proudly supported by Squadron.com
I arrived at Skyway Models just as a slew of new kits were being pulled out of shipping boxes. Timing is everything in life. The evil proprietor of Skyway stood behind his counter like a spider manning its web. The moment I saw this Claude, I was trapped. I knew I'd be making space for it (and a few other goodies) in ye olde stash later that afternoon. Good thing as well, this new Claude from Wingsy Kits is nothing short of fantastic. So many models, so little time. On to the kit.
---
Background
The Mitsubishi A5M; Japanese Navy designation Mitsubishi Navy Type 96 Carrier-based Fighter (experimental Navy designation Mitsubishi Navy Experimental 9-Shi Carrier Fighter, company designation Mitsubishi Ka-14) was a Japanese carrier-based fighter aircraft and the world's first monoplane shipboard fighter to enter service. It is the direct predecessor of the famous Mitsubishi A6M "Zero" and it's Allied reporting name was Claude.
---
Design and Development
In 1934, the Imperial Japanese Navy prepared a specification for an advanced fighter, requiring a maximum speed of 350 km/h (220 mph) at 3,000 m (9,840 ft) and able to climb to 5,000 m (16,400 ft) in 6.5 minutes. This 9-shi (1934) specification produced designs from both Mitsubishi and Nakajima.
Mitsubishi assigned the task of designing the new fighter to a team led by Jiro Horikoshi (original creator of the similar but unsuccessful Mitsubishi 1MF10, and later responsible for the famous A6M Zero). The resulting design, designated Ka-14 by Mitsubishi, was an all-metal low-wing fighter, with a thin elliptical inverted gull wing and a fixed undercarriage, which was chosen as the increase in performance (estimated as 10% in drag, but only a mere 3% increase in maximum speed) arising from use of a retractable undercarriage was not felt to justify the extra weight. The first prototype, powered by a 447 kW (600 hp) Nakajima Kotobuki 5 radial engine, flew on 4 February 1935. The aircraft far exceeded the requirements of the specification, with a maximum speed of 450 km/h (279 mph) being reached. The second prototype was fitted with a revised wing, and after various changes to maximize maneuverability and reduce drag, was ordered into production as the A5M.

With the Ka-14 demonstrating excellent performance, the Imperial Japanese Army Air Force ordered a single modified prototype for evaluation as the Ki-18. While this demonstrated similar performance to the Navy aircraft and hence was far faster than the IJAAF's current fighter, the Kawasaki Ki-10 biplane, the type was rejected by the Army owing to its reduced maneuverability. The Army then produced a specification for an improved advanced fighter to replace the Ki-10. Mitsubishi, busy turning the Ka-14 into the A5M, submitted a minimally changed aircraft as the Ki-33, this being defeated by Nakajima's competing aircraft, which was ordered into service as the Ki-27.
---
Operational History
The aircraft entered service in early 1937, and soon saw action in aerial battles at the start of the Second Sino-Japanese War including air-to-air battles with the Republic of China Air Force's Boeing P-26C Model 281 "Peashooters." This constituted the world's first aerial dogfight and kills between monoplane fighters built of mostly metal.
Chinese Nationalist pilots, primarily flying the Curtiss Hawk III, fought against the Japanese, but the A5M was the better of almost every fighter aircraft it encountered. Though armed with only a pair of 7.7 mm machine-guns, the new fighter proved effective and damage-tolerant, with excellent maneuverability and robust construction. Later on A5M's also provided much-needed escorts for the then-modern but vulnerable Mitsubishi G3M bombers.
The Mitsubishi team continued to improve the A5M, working through versions until producing the final A5M4, which carried an external underside drop tank to provide fuel for extended range.
The A5M's most competitive adversary in the air was the Polikarpov I-16, a fast and heavily armed fighter flown by both Chinese Air Force regulars and Soviet volunteers. Air battles in 1938, especially on 18 February and 29 April, ranked among the largest air battles ever fought at the time. The battle of 29 April saw 67 Polikarpov fighters (31 I-16s and 36 I-15 bis) against 18 G3Ms escorted by 27 A5Ms. Each side claimed victory: the Chinese/Soviet side claimed 21 Japanese aircraft (11 fighters and 10 bombers) shot down with 50 Japanese airmen killed and two captured having bailed out while losing 12 aircraft and 5 pilots killed; the Japanese claimed they lost only two G3Ms and two A5Ms shot down with over 40 Chinese aircraft shot down.
104 A5M aircraft were modified to accommodate a two-seater cockpit. This version, used for pilot training, was dubbed the A5M4-K. K version aircraft continued to be used for pilot training long after standard A5Ms left front-line service.
Almost all A5Ms had open cockpits. A closed cockpit was tried but found little favor among Navy aviators. All had fixed, non-retractable undercarriage. Wheel spats were a feature of standard fighters but not training aircraft.
The Flying Tigers encountered the Type 96, although not officially, and one was shot down at Mingaladon airfield, Burma on 29 January 1942.
Some A5Ms remained in service at the end of 1941 when the United States entered World War II in the Pacific. US intelligence sources believed the A5M still served as Japan's primary Navy fighter, when in fact the A6M 'Zero' had replaced it on first-line aircraft carriers and with the Tainan Kōkūtai in Taiwan. Other Japanese carriers and Kōkūtai (air groups) continued to use the A5M until production of the Zero caught up with demand. On 1 February 1942, the US carrier USS Enterprise launched air-strikes at Japanese air & naval bases on Roi and Kwajalein Atolls in the Gilbert Islands. During these actions, Mitsubishi A5Ms shot down three Douglas SBD dive-bombers, including the aircraft of Lt-Cdr Halstead Hopping, CO of VS-6 Squadron. The last combat actions with the A5M as a fighter took place at the Battle of the Coral Sea on 7 May 1942, when two A5Ms and four A6Ms of the Japanese carrier Shōhō fought against US aircraft that sank their carrier.
In the closing months of the war most remaining A5M airframes were used for kamikaze attacks.
---
Variants
Ka-14 - Six prototypes with various engines and design modifications.

A5M1 - Navy carrier-based fighter, Model 1 : first production model with 633 kW (850 hp) Kotobuki 2 KAI I engine.

A5M2/2a - Model 21: More powerful engine.

A5M2b - Model 22: First production examples with NACA cowling and 477 kW (640 hp) Kotobuki 3 engine.

A5M3a - Prototypes with 448 kW (601 hp) Hispano-Suiza 12 Xcrs engine.

A5M4 - Model 24 (ex-Model 4): The A5M2b with different engine, closed cockpit, additional detachable fuel tank. The last production models (Model 34) with Kotobuki 41 KAI engine.

A5M1-A5M4 - 780 constructed by Mitsubishi. 39 constructed by Watanabe, 161 manufactured by Naval Ohmura Arsenal.

A5M4-K - Two-seat trainer version of A5M4, 103 constructed by Naval Ohmura Arsenal.

Ki-18 - Main article: Mitsubishi Ki-18. Single prototype land-based version for IJAAF, based on the A5M. 410 kW (550 hp) Kotobuki 5 engine.

Ki-33 - Main article: Mitsubishi Ki-33. Two prototypes, a development of Ki-18 with a different engine, and closed cockpit. Total Production (all variants): 1,094
---
General Characteristics
Crew: 1
Length: 7.565 m (24 ft 10 in)
Wingspan: 11 m (36 ft 1 in)
Height: 3.27 m (10 ft 9 in)
Wing area: 17.8 m2 (192 sq ft)
Airfoil: root: B-9 mod. (16%) ; tip: B-9 mod. (9%)
Empty weight: 1,216 kg (2,681 lb)
Gross weight: 1,671 kg (3,684 lb)
Powerplant: 1 × Nakajima Kotobuki 41 or 41 KAI 9-cylinder air-cooled radial piston engine, 530 kW (710 hp) for take-off 585 kW (785 hp) at 3,000 m (9,843 ft)
Propellers: 3-bladed metal propeller
---
Performance
Maximum speed: 435 km/h (270 mph, 235 kn) at 3,000 m (9,843 ft)
Range: 1,201 km (746 mi, 648 nmi)
Service ceiling: 9,800 m (32,200 ft)
Time to altitude: 3,000 m (9,843 ft) in 3 minutes 35 seconds
Wing loading: 93.8 kg/m2 (19.2 lb/sq ft)
Power/mass: 0.3161 kW/kg (0.1923 hp/lb)
---
Armament
Guns: 2× 7.7 mm Type 97 aircraft machine gun (0.303 in) fuselage-mounted synchronized machine guns firing through the engine cylinders and propeller at about 1 and 11 o'clock.
Bombs: 2x 30 kg (66 lb) bombs or 1x 160 l (42.27 US gal; 35.20 imp gal) drop-tank
Upon removing the rather flimsy lid, a robust cardboard box, complete with an additional tabbed lid, is found underneath—very nice. Having to stack the kits in my stash for space, I greatly appreciate these heavy-duty cardboard boxes and wish more manufacturers would use them.
The initial impression is one of amazing, darn near unbelievable detail. The surface details, in particular, are so fine that I became aware of the perfectly rendered slotted head screws on a belly panel only after a photograph of the belly was zoomed in during formatting. With this much fine surface detail, this model is going to look fantastic under paint and washes. I have to pass on a sincere "Well done" to the folks at Wingsy Kits.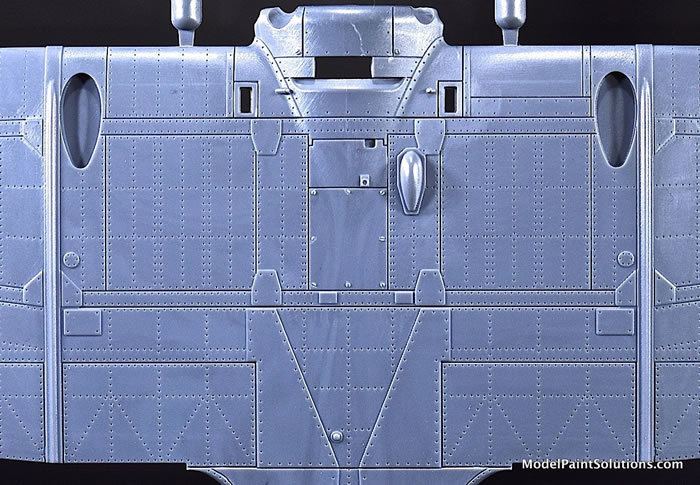 Parts layout and engineering are conventional. I was unable to find one bit of appreciable flash on any sprue and the sprue gates are small and placed for ease of removal.
Assembly begins with the pilot's office (as usual), and here there's an abundance of detail provided by crisply molded left and right cockpit side panels, floorboard, and PE harness. The instrument panel is comprised of PE with clear acetate gauge faces.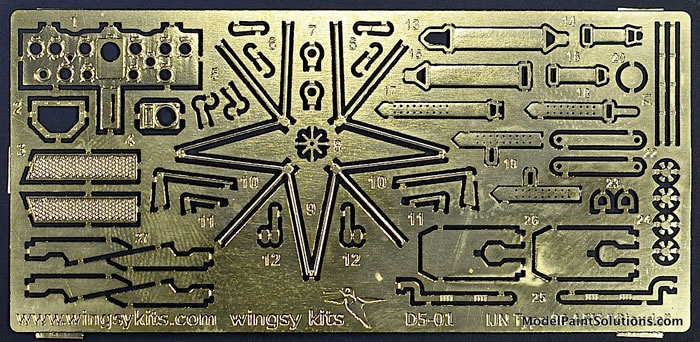 Once the cockpit is captured between the fuselage halves the builder is directed to assemble the beautifully molded, multi-part Nakajima radial. The inscribed fasteners around the periphery of the center cowl parts are just fantastic.
The full-span lover wing with upper left and right halves is next in sequence and, once again, I'm struck with the fidelity of the surface detailing on these parts. Single-piece ailerons complete the wing, which is then offered up to the assembled fuselage. The builder is given the option of building the main gear normally or without the spats—nice.
The horizontal stabilizer/elevator assemblies are single pieces as is the nicely molded rudder. With this many pieces provided as single parts, assembly should be fast and easy. Underwing stores include a belly tank and two bombs with associated hard points.
The windscreen and canopy parts are crystal clear and crisply molded.
---
Markings
The decals, by Decograph, are well printed with good registration, hue, and color density.
Airframe stencil data and markings for 4 airframes are provided as well as follows:  
IJN Type 96, Carrier-based Fighter II, 12 Kokutai, China, 1938.

IJN Type 96, Carrier-based Fighter II, 12 Kokutai, China, 1938.

IJN Type 96, Carrier-based Fighter II, 12 Kokutai, China, 1938.

IJN Type 96, Carrier-based Fighter II, Hyakurihara Kokutai, Ibaraki, 1940-41.
Man, what a kit! The engineering is simple, the layout is conventional, and the parts count is acceptable. The biggest surprise of this kit is the beautifully rendered surface details---Wowza! This is a kit that will repay careful painting and weathering with a stunningly detailed final finish: amazing work, Wingsy Kits. Highly recommended!
Now, I gotta go pant something!
For more on this review visit Modelpaintsolutions.com.
Thanks to Wingsy Kits for the samples
---
Review Text and Images Copyright © 2019 by John Miller
Page Created 30 December, 2019
Last updated 30 December, 2019
Back to HyperScale Main Page
Back to Reviews Page