Hasegawa 1/32 scale P-40E
Recapture of Imperial Japanese Army Base Diorama
by Eiji Shimizu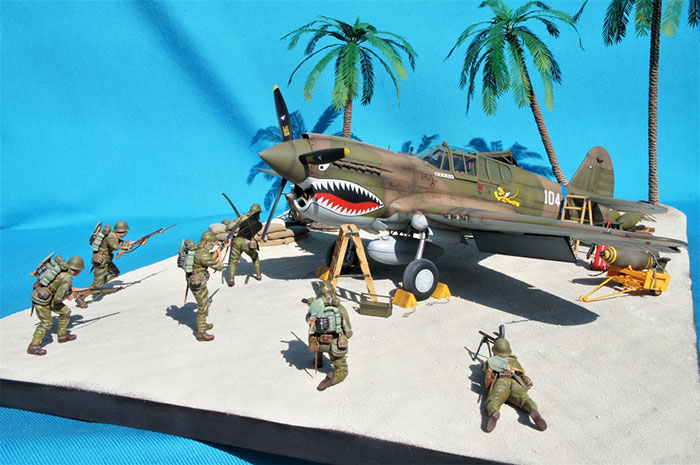 Recapture of Imperial Japanese Army Base (Southward)


I made this diorama around September 2016, and after trial and error with the desire to make a diorama in collaboration with the Curtiss P-40 that was made earlier, a scene in which the Imperial Army regains an American base is shown.
Kit, Figure and Accessories
The plane is a 1/32 scale Hasegawa Curtiss P-40, and the soldier is an Airfix 1/32 Imperial Army soldier.
Drums, welding cylinders, compressors, sandbags, machine guns and props near the tent are made by Tamiya (Italeri) (1/35).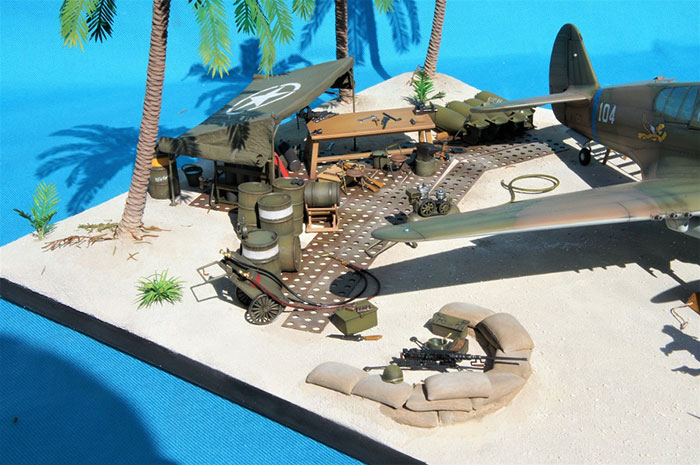 Scratched items include resting tents, palm trees (leaves are paper craft), punching metal decks, 500-pound bombs, stepladders, bomb carriers, fire extinguishers, etc.
The scale was 1/32 and 1/35 mixed, but I was fortunate that the main body was 1/32 and I didn't really care.
I will explain the scratched content.
First of all, on the ground, this is laminated wood plywood sold at home improvement stores. Apply diluted wood glue to the entire surface, and spread fine natural sand on it. After that, add light and shade with aquatic paint and airbrush.
For palm leaves, I made a copy and cut it with a utility knife to make a lot of paper craft (print) ones.
The trunk was fixed with a jelly-like instant adhesive by wrapping a 3 mm hemp string around a 5 mm plastic rod. I used water-based paint for painting.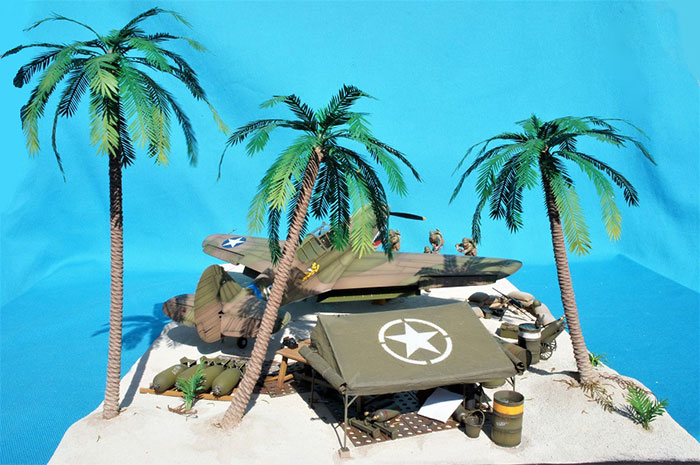 Although it is a tent, the skeleton is stretched and the assembly sheet is a double layer of tissue paper and a thin bond is applied to express "tension". The star shape of the nationality mark was airbrushed with a paper pattern. The punching metal deck is a 0.5 mm thick plastic van with a 5 mm hole made with a pin vise and rust-colored. The bomb carrier and fire extinguisher were made with plastic vans and plastic rods based on the recorded photographs.
The soldiers used the off-the-shelf Airfix, but it was the only one on 1/32, and the assault movement was astonishing when holding a Japanese sword. I was disappointed that Japanese soldiers had a barbaric image overseas. Perhaps such a battle scene was assembled and painted, thinking that it was a daily occurrence at that time.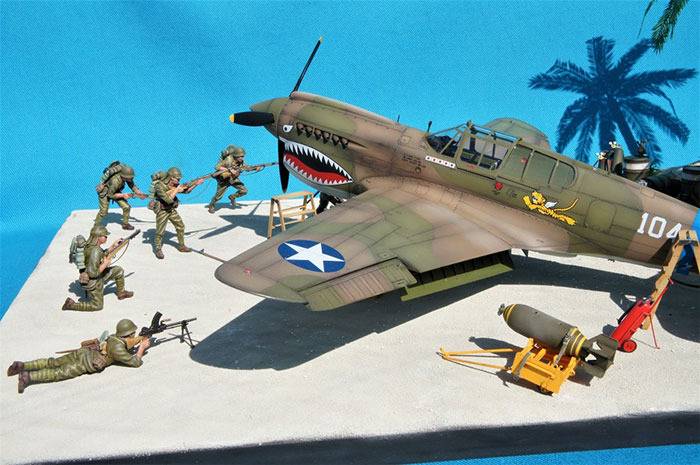 I used a foreign-made acrylic paint as the paint, but this has excellent hiding power and color development, and I can clearly see the difference from domestic acrylic paint. I thought it was most suitable for dolls, especially for expressing skin.
To compose the composition, I arranged palm trees, airplanes, and soldiers in the order of height, and arranged small items to fill those spaces and not to be moderately cluttered.
When completed, the height was 25 cm, which was quite large, 30 cm x 54 cm. I never wanted to make a diorama with palm trees. German soldiers are often represented in the battle scene, but this is the first time I have used Japanese soldiers, and it has become a work that shows a little savagery.
I realized that what I feel from the work is something that changes from what I originally intended to what I felt after completion. I don't like the savage scenes.
---
Text and Images Copyright © 2020 by Eiji Shimizu
Page Created 10 November, 2020
Last Updated 10 November, 2020
Back to HyperScale Main Page