Scratch Built 1/32 scale
Douglas A-20G-30 Havoc
by Bill Bosworth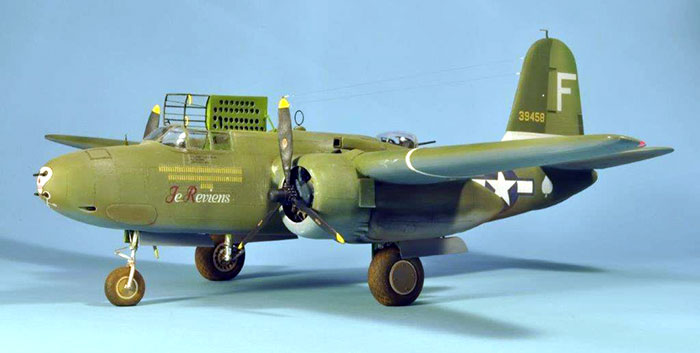 Douglas A-20G-30 Havoc
This is a Douglas A 20G-30 from the 312 Bomb Group, 389 Bomb Squadron, Hollandia, New Guinea, September, 1944. It depicts the plane at the end of its rather hard 80 mission service life.
It's 1:32nd made in my usual way... vac-form over carved wood patterns, sheet pieces sanded, shaped, and beaten into requirements, good old Milliput and whatever else "was needed".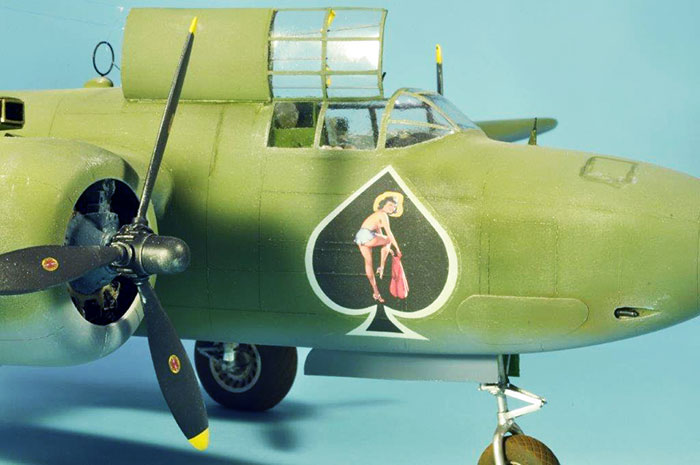 This project was seriously aided by noted aviation artist/historian Jack Fellows who knows his way around these planes as well as he knows his pallet. He lives and breathes this stuff! A first class gentleman more than willing to share his extensive knowledge with mere mortals. The photos don't really capture the extreme weathering the plane displayed at this point in its life. It probably resembled a finish closer to tan than OD. It was patched, touched up and barely recognizable as a three-tone factory finish Havoc. I couldn't bring myself to finish it in the "extreme", so this will have to do. The aluminum does actually show through even if the photos don't show it. One interesting discovery....The white stripes on the wings are not markings. All of the ships in this group carried them and Jack and I surmise that it is tape covering the inner and outer wing panels to keep water out. The same sort of thing done to those Corsairs we are all familiar with. Tape. Gotta do what you have to do.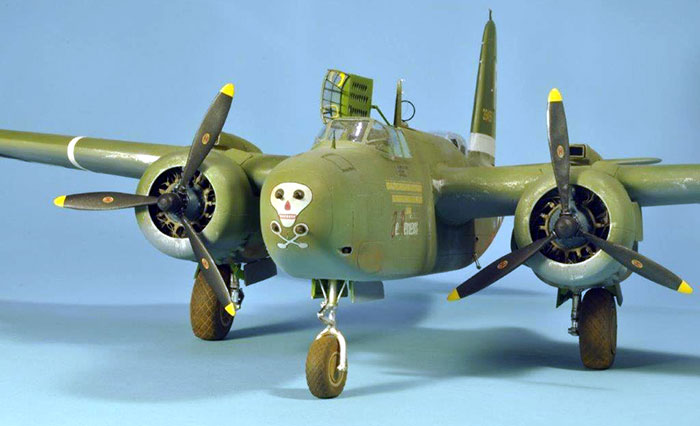 Doing this one had special significance for me. It was back in the early '70's what I first met John Alcorn and his buddy/coworker George Lee at an IPMS Nations in SoCal. We all became life-long friends. As he plopped down (gently) his scratch built A 20 on the contest table, (his first scratch built thanks to George's help and of course, Best of Show) people reacted as if they were experiencing weightlessness. Nobody had ever seen anything like this kind of building! I had dabbled in "modifying" old Airfix kits into semi-recognizable un-kitted shapes and John and George thought it would be a good idea for me to see the light and build in a real scale. Never looked back.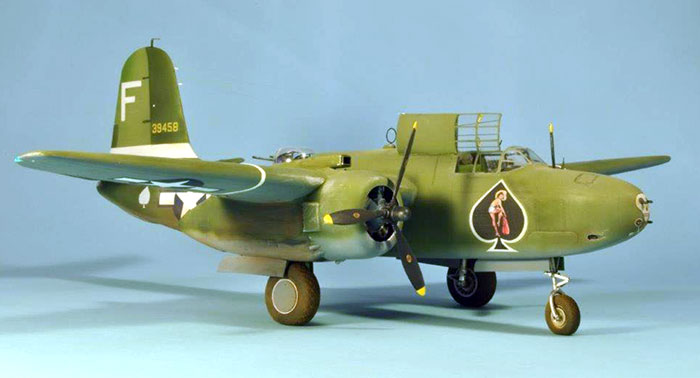 John went on to not only write histories of these A 20 S E Asia units, he deeply researched the A 20 series of aircraft, wrote up that history and then went on to draw the definitive set of drawings of the planes. John is gone now. And sorely missed. But in my world, I felt it important to pay a bit of homage to him by doing this project. It's finally been done and in the process, a huge lesson learned....just how incredibly good he was at his art. There is no way this thing comes anywhere close to his Havoc and the inspiration he provided me so long ago. But isn't that what motivates most of us to this day? In our own ways, with our own skills, we are inspired by the work of someone we respect. John was the Master. I will always be the student. Thanks John.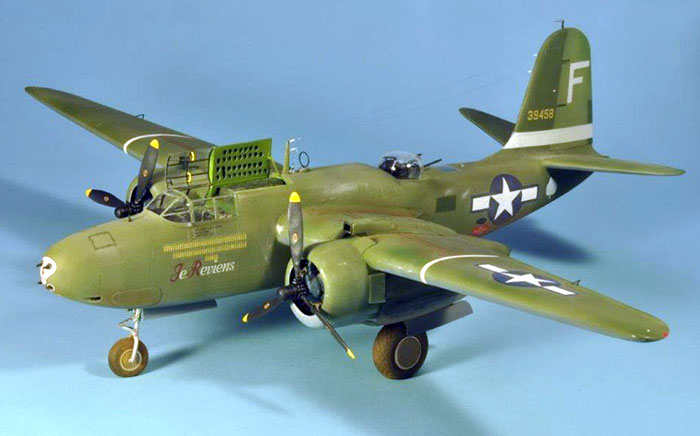 Cheers!
Bill
---
Model and Text Copyright © 2020 by Bill Bosworth
Page Created 13 January, 2020
Last Updated 13 January, 2020
Back to HyperScale Main Page