North American P-51 Mustang Pt. 3 Big Beautiful Doll Special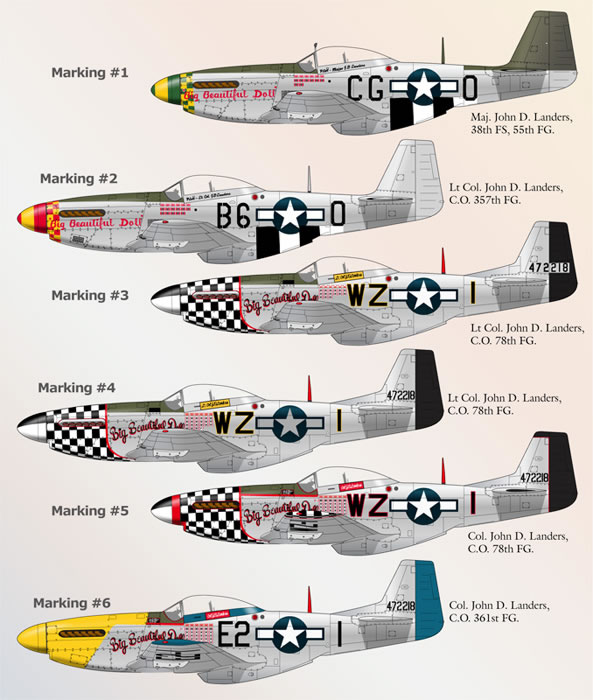 Lifelike Decals
1/72, 1/48 & 1/32 scales
S u m m a r y :

Catalogue Number:

LifeLike Decals Item No. 72-037, 48-051, and 32-020
North American P-51 Mustang Pt. 3 Big Beautiful Doll


Scale:

1/72, 1/48 and 1/32

Contents & Media:

See details below.

Price:

From 1,500 Yen plus shipping available online from LifeLike Decals

Review Type:

First Look

Advantages:

High quality printing, colour reproduction and saturation; interesting subjects; thorough instructions.

Disadvantages:

Conclusions:

Six marking options for an American ace printed by the world's best decal printers and researched meticulously by a great company that stands by their product. 
Reviewed by Floyd S. Werner Jr.

HyperScale is proudly sponsored by Squadron.com
Lifelike Decals has been producing some of the finest decals in the world for quite a few years now.  Their latest releases are actually available in all the major aircraft scales, 72nd, 48th and 32nd.  These particular releases cover the aircraft, in particular the P-51s, flown by Lt.Col. John D. Landers.  His aircraft have been named 'Big Beautiful Doll', but did you know that there were SIX different versions of this aircraft with FOUR different units?  I didn't, until now. 
Lifelike covers the career of Lt. Col. Landers from August 1944 until after the war.  He flew with the 49th Fighter Group in the Southwest Pacific, where he scored six victories, then after a stint as a flight instructor in the States was shipped overseas to Europe and eventually returned to the States for another assignment as a flight instructor.  He returned to Europe in February 1945 until VE Day.  Then he assumed command of the 361st in preparation for combat in Japan but returned to the States after VJ Day.  He ended the war with 14.5 aerial victories, six with the P-40, four with P-38s and 4.5 with the P-51 along with 20 destroyed on the ground.  He died in 1989.
With the release of a plethora of P-51s in a variety of scales this sheet is a gold mine for marking options. 
The instruction sheet is printed on two single sided A4 sized sheets in full color with the history of each aircraft.  Lifelike, unlike other companies, does not shy away if there is something that isn't known.  They articulate what and why they made a decision on a marking option.  If it is later proven to be incorrect they produce correction sheets so your decals are always correct.  Do you know any other company that does that, besides Werner's Wings?  I don't. 
Besides including the history, the instructions also tell you the history and details that are known such as tire patterns on the wheels.  That is the level of attention to detail that Lifelike is known for.
Lifelike does thorough research and has their decals printed by the world leaders, Cartograf and Microscale.  The breakdown of decals depends on the scale.  The decals are contained on four sheets.  Three sheets are printed by Microscale and one by Cartograf.  One sheet contains the red, white and black that is common to the aircraft on the checkered nose.  This is the common 'BBD' that we are familiar with.  The other one covers the yellow and black markings for another variant. The stars and bars, including a nice subdued set, is own a separate sheet.  There are stencils for one aircraft.  The final sheet, printed by Cartograf, covers all the kill markings, and there is a lot of them along with two of the canopy frame markings. 
The first aircraft markings are for P-51D-5-NA, Serial # 44-13923.  Then Major Landers flew this aircraft first with the 55 FG and then later with the 357th FG.  The nose colors and checkers are obviously different as are the fuselage codes and kill markings. 
The next three marking options are the more familiar 78th FG 'BBD' with the black and white nose checkers.  There are distinct differences as the aircraft evolved and not just the kill markings.  The tail and nose were changed, as was the surround on the lettering.  Post war the buzz numbers were added to the wings, along with checkered wing tips and red to the spinner and lower engine scoop.  This is the most colorful version.
The sixth marking option is more familiar as an aircraft operated by Lt. Urban Drew 'Detroit Miss'.  Col. Landers flew as the CO of the 361st with its bright yellow nose and blue canopy frame and runner.  This one also has buzz numbers on the lower wings.  It is quite a different look for this aircraft
So you get six marking options for an American ace printed by the world's best decal printers and researched meticulously by a great company that stands by their product.  What more could you ask for?  I think Lifelike Decals are some of the best in the world and each release is another remarkable, learning experience.  I've used them before and they are without a doubt perfect.  And if they aren't Lifelike will make sure that they are. 
Thanks to Lifelike Decals for these samples.
---
Text and Images Copyright © 2020 by Floyd S. Werne Jr.
Page Created 19 February, 2020
Last updated 19 February, 2020
Back to HyperScale Main Page
Back to Reviews Page