VJ 101C-X1
Supersonic Capable VTOL Fighter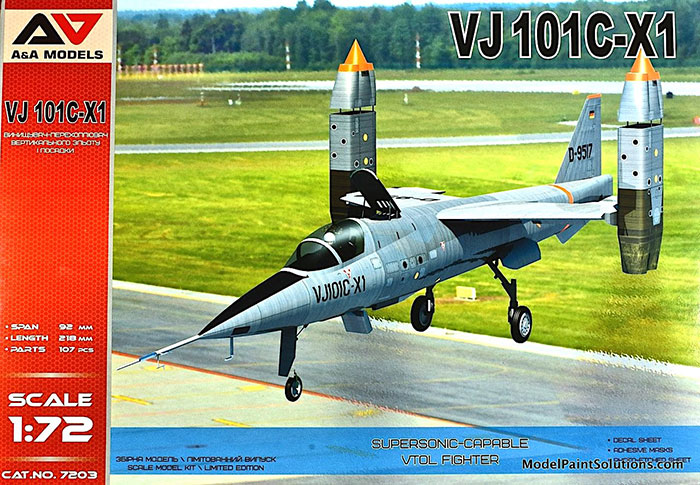 A+A Models, 1/72 scale
S u m m a r y :

Description and Item No.:

A+A Models Kit No.7203 - VJ 101C-X1

Contents and Media:

83 parts in grey styrene, three in clear, PE seat harness, masks, and one decal sheet with markings for two airframes.

Price:

Scale:

1/72

Review Type:

First Look

Advantages:

To my knowledge, this is the first injection-molded kit of this historically significant aircraft thus it scores pretty high on the rare and novel scale..

Disadvantages:

This is a limited run kit. Extra effort will be required for parts cleanup, trial fitting, re-scribing, and sanding. The canopy will also require buffing prior to use.

Recommendation:

This is a neat kit of a very cool aircraft that has a lot of detail right out of the box including quality decals. That said it is a very limited production kit that will require a bit of elbow grease to get the most out of it. Recommended*
(* to those with patience and/or experience) .
Reviewed by John Miller

The EWR VJ 101 was an experimental German jet fighter vertical takeoff/landing (VTOL) tiltjet aircraft. VJ stood for Versuchsjäger, (German for "Experimental Fighter"). The VJ 101 was one of the first V/STOL designs to have the potential for eventual Mach 2 flight.

A pair of prototype aircraft, known as the VJ101C-X1 and -X2 were produced. Both powered by an RB145 turbojet engine, mounted in swivelling nacelles. The VJ 101 bore some resemblance to the American Bell XF-109 in that both aircraft had a comparable configuration in terms of possessing paired engines fitted within swivelling nacelles positioned at their wingtips. In addition to the wingtip engines, two further lift jets were installed within the fuselage, which functioned to supplement the main engines during hovering flight.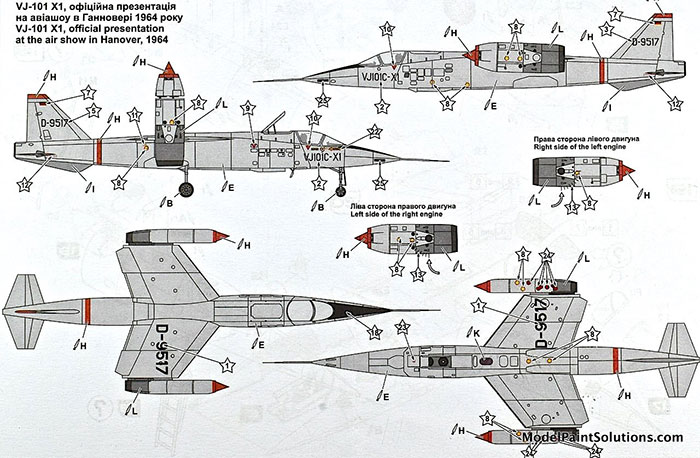 On April 10th, 1963, the X-1 made its first hovering flight. On September 29th of the same year, the first transition from hovering flight to horizontal flight took place. The X-1 was first publicly exhibited at the May, 1964 Hannover Air Show. The VJ 101C X-1 flew a total of 40 aerodynamic flights, 24 hover flights and 14 full transitions. In the course of these tests, the sound barrier was broken for the first time by a vertical takeoff aircraft. Unfortunately, on September 14th, 1964 a defect in the autopilot caused the X-1 to crash, sustaining some damage as a result. On July 29th, 1964 the VJ 101 C flew at Mach 1.04 without use of an afterburner. On 12 June 1965, the second prototype, X-2, conducted its first flight and in November of the same year the X-2 performed a successful transition with a new autopilot system installed. The proposed VJ 101 D Mach 2 interceptor was never completed. Today, VJ 101C X-2 is on public display at the Deutsches Museum in Munich.
This is clearly a limited production kit as there's a fair amount of flash on most parts. In addition some of the smaller components will require extensive clean-up with files or similar in order to confer crispness to what are somewhat soft moldings.
The surface texture is scale appropriate but a bit rough in some places.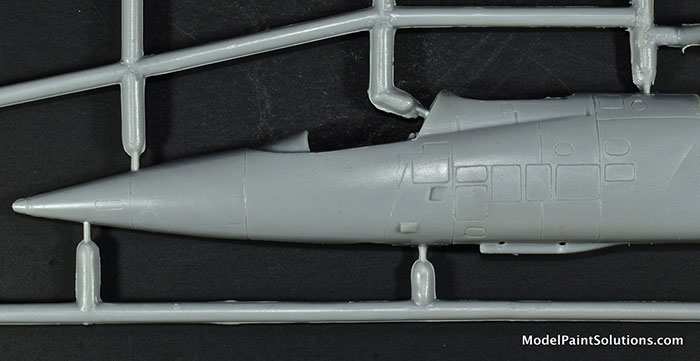 Refreshing with a scriber will be required. In contrast to these very "limited production" traits is the consistent placement of sprue gates on only the mating surfaces of the larger parts; very nice.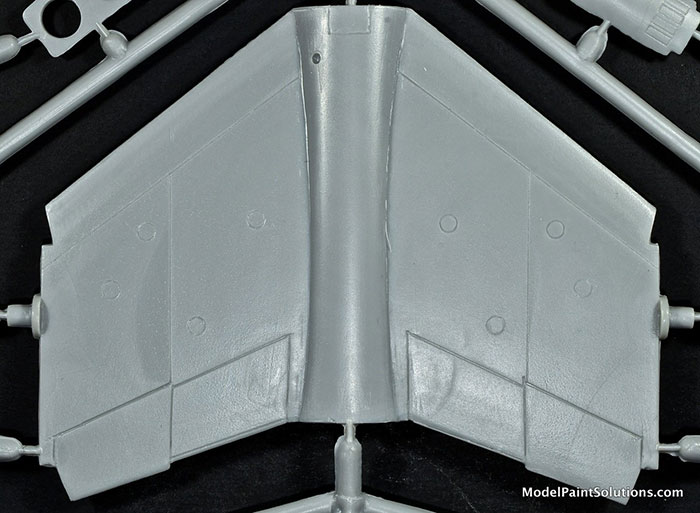 As with most kits of this class, a lot of test fitting will be required when it comes to the fit of some of the larger parts. Moreover, don't be surprised if there's a fair amount of sanding dust on your bench by the time this hummer is assembled. That said, there's nothing apparent that can't be dealt with using a bit of patience.
Parts layout and engineering are conventional suggesting this will be a straightforward build.
Assembly begins with the cockpit, wherein the ejection seat (comprised of 12 separate parts!) is augmented with a nicely rendered PE harness.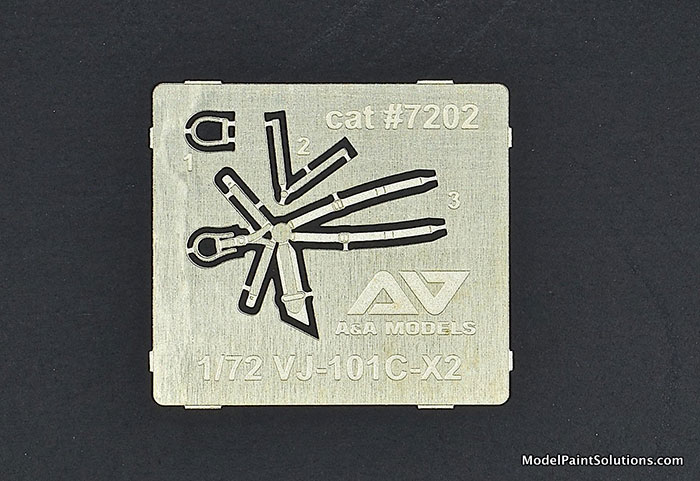 The main instrument panel and side panels are provided as decals.
After the completed cockpit tub and main wheel well are captured between the fuselage halves, the single-piece wing center section and single-piece horizontal stabilizers are added.
The engine nacelles are comprised of multiple small parts many of which will require refreshing prior to use. Interestingly, the engines can be assembled with the front section of each nacelle in the extended configuration revealing the underlying fan assemblies. This is one of the more peculiar aspects of this aircraft and kudos to the folks at A+A Models for providing an option to replicate it.
The main gear and nose wheels are produced from halves so will require a little extra work during assembly. The gear legs (nose and mains) are nicely molded but will require a little work during clean up as will the gear doors.
Next in sequence are the windscreen and canopy, which are the weakest aspect of the kit.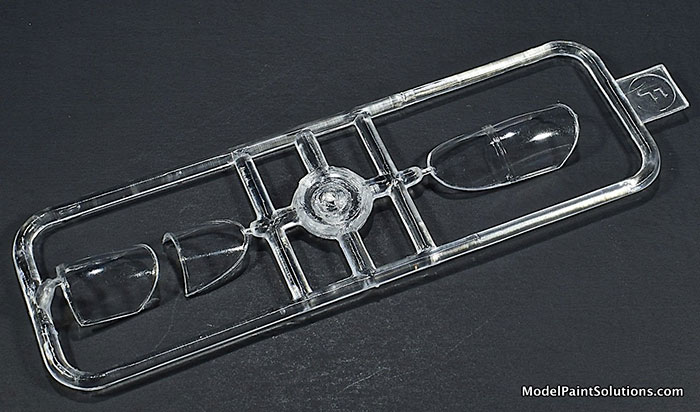 Although parts are provided to pose the canopy open or closed (nice) and the framing is scale appropriate, the clear plastic has surface texture that will have to be buffed out prior to use.
---
Markings:
The decals, by A+A Models, are well printed with good registration and color density.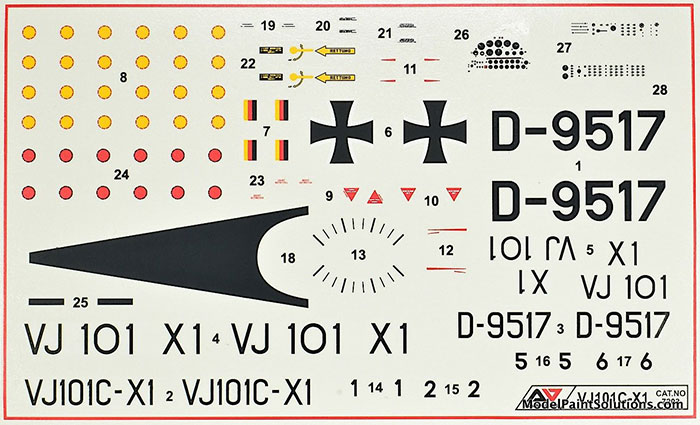 Airframe stencil data and markings for two airframes are provided as follows:
VJ-101 X1, during tests conducted on April 10th, 1963.

VJ-101 X1, official presentation, Hannover Air Show, 1964.
This is a neat kit of a very cool aircraft that has a lot of detail right out of the box including quality decals. That said it is a very limited production kit that will require a bit of elbow grease to get the most out of it.
Recommended*
(* to those with patience and/or experience).
For more on this review visit Modelpaintsolutions.com
Review kit provided by my retirement fund, again.
---
Review Text and Images Copyright © 2020 by John Miller
Page Created 17 December, 2020
Last updated 17 December, 2020
Back to HyperScale Main Page
Back to Reviews Page