MiG-17F Fresco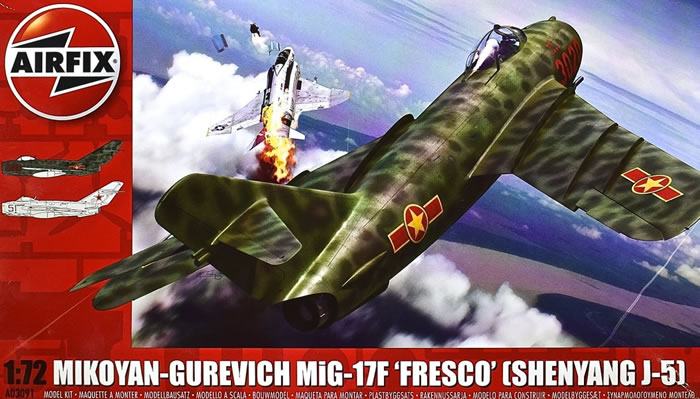 Airfix, 1/72 scale
S u m m a r y :

Description and Item No.:

Airfix Kit No. A03091 - MiG-17F Fresco

Contents and Media:

80 parts in grey plastic; six parts in clear; one decal sheet with two marking options.

Price:

Scale:

1/72

Review Type:

First Look

Advantages:

This is another example of the "new" Airfix. The kit engineering is simple, straightforward, and conventional. The parts count is low and the overall level of detail is sufficient. Parts are provided for an open canopy option and the nicely printed decal sheet provides markings for two aircraft complete airframe stencil data.

Disadvantages:

Surface details (recessed and in relief) are sufficiently deep and consistent for this scale but soft in some areas. The wing fences are integral to the upper wing halves and are a tad too thick.

Recommendation:

With its low parts count and simple engineering this is going to be a quick and easy build. We've long needed a new-mold MiG-17 and Airfix has provided just that.
Reviewed by John Miller


Airfix's 1/72 scale Sea King is available online from Squadron.com
(Edited from Wikipedia)
The Mikoyan-Gurevich MiG-17 (NATO reporting name: Fresco) is a high-subsonic fighter aircraft produced in the USSR from 1952 and operated by numerous air forces in many variants. It is an advanced development of the similar looking MiG-15 of the Korean War and was license-built in China as the Shenyang J-5 and in Poland as the PZL-Mielec Lim-6.
The MiG-17 first saw combat in 1958 in the Second Taiwan Strait Crisis and later proved to be an effective threat against more modern supersonic fighters of the United States in the Vietnam War. It was also briefly known as the "Type 38"----an U.S. Air Force designation used prior to the development of NATO code names.
---
Development
While the MiG-15bis introduced swept wings to air combat over Korea, the Mikoyan-Gurevich design bureau had already begun work on its replacement as early as 1949. The result was one of the most successful transonic fighters introduced before the advent of true supersonic types such as the Mikoyan-Gurevich MiG-19 and North American F-100 Super Sabre. The design would prove effective into the 1960s when pressed into subsonic dogfights over Vietnam against much faster planes which were not optimized for maneuvering in such slower speed, short-range engagements.
While the MiG-15 used a Mach sensor to deploy airbrakes because it could not safely exceed Mach 0.92, the MiG-17 was designed to be controllable at higher Mach numbers. Early versions, which retained the original Soviet copy of the Rolls-Royce Nene VK-1 engine, were heavier than the Mig-15 with equal thrust. Later MiG-17s would be the first Soviet fighters to use an afterburner, which offered increased thrust on demand by dumping fuel in the engine exhaust.
Although the MiG-17 strongly resembles its forebear, it has a thinner and more highly swept wing and tailplane for speeds approaching Mach 1. The wing had a sickle sweep; a compound shape with a 45° angle near the fuselage (and tailplane), and a 42° angle at the outboard portion of the wings. This stiffer wing resisted the tendency to bend its wingtips and lose aerodynamic symmetry unexpectedly at high speeds and wing loads.
Other easily visible differences to its predecessor were a third wing fence on each wing, a ventral fin, and a longer and less tapered rear fuselage that added about one meter in length. The MiG-17 shared the same Klimov VK-1 engine, and much of the rest of its construction such as the forward fuselage, landing gear and gun installation was carried over from the Mig-15. The first prototype, designated I-330 "SI" by the construction bureau, was flown on the January 14, 1950, by test pilot by Ivan Ivashchenko.
---
Operational History
MiG-17s were designed to intercept straight-and-level-flying enemy bombers, not for air-to-air combat (dogfighting) with other fighters. This subsonic (.93 Mach) fighter was effective against slower (.6-.8 Mach), heavily loaded U.S. fighter-bombers, as well as the mainstay American strategic bombers such as the Boeing B-50 Superfortress and Convair B-36 Peacemaker. The Mig-17 was not able to intercept the new generation of British jet bombers such as the Avro Vulcan and Handley Page Victor. The USAF's introduction of strategic bombers capable of supersonic dash speeds such as the Convair B-58 Hustler and General Dynamics FB-111 rendered the MiG-17 obsolete for front-line PVO service. The Mig-17 was, therefore, supplanted by supersonic interceptors such as the MiG-21 and MiG-23.
MiG-17s were not available during the Korean War, but saw combat for the first time over the Straits of Taiwan when Communist PRC MiG-17's clashed with Republic of China (ROC, Nationalist China) F-86 Sabres in 1958. In the same year, MiG-17s downed a US reconnaissance Lockheed C-130 Hercules over Armenia, with 17 casualties.
---
The Vietnam War
The MiG-17 was the primary interceptor of the fledgling VPAF in 1965 and responsible for their first aerial victories. The type saw extensive service during the Vietnam War with some North Vietnamese pilots preferring the MiG-17 over the MiG-21 because it was more agile, though not as fast. Three of the 16 VPAF Aces of the war flew MiG-17s.
---
General Characteristics
Crew: 1

Length: 11.264 m (36 ft 11 in)

Wingspan: 9.628 m (31 ft 7 in)

Height: 3.8 m (12 ft 6 in)

Wing area: 22.6 m2 (243 sq ft)

Airfoil: root: TsAGI S-12 ; tip: TsAGI SR-11

Empty weight: 3,919 kg (8,640 lb)

Gross weight: 5,340 kg (11,773 lb)

Max takeoff weight: 6,069 kg (13,380 lb)

Powerplant: 1 × Klimov VK-1F afterburning centrifugal-flow turbojet engine, 26.5 kN (6,000 lbf) thrust dry, 33.8 kN (7,600 lbf) with afterburner
---
Performance
Maximum speed: 1,100 km/h (680 mph, 590 kn) M0.89 at sea level

1,145 km/h (711 mph; 618 kn) / M0.93 at 3,000 m (9,800 ft) with reheat

Range: 2,020 km (1,260 mi, 1,090 nmi) at 12,000 m (39,000 ft) with 2 × 400 l (110 US gal; 88 imp gal) drop-tanks
Service ceiling: 16,600 m (54,500 ft)

g limits: +8

Rate of climb: 65 m/s (12,800 ft/min)

Wing loading: 268.5 kg/m2 (55.0 lb/sq ft)

Thrust/weight: 0.63
---
Armament
Guns: 2 × 23 mm (0.906 in) Nudelman-Rikhter NR-23 autocannon (80 rounds per gun, 160 rounds total), 1 × 37 mm Nudelman N-37 autocannon (40 rounds total)
Hardpoints: 2 pylons with a capacity of up to 500 kg (1,100 lb) of stores, with provisions to carry combinations of: Rockets: 2 × UB-16-57 rocket pods for S-5 rockets, Bombs: 2 × 250 kg (550 lb) bombs
The heavily bagged, light blue-grey sprues we've come to expect from the "New" Airfix are what greet you upon opening the box. The initial impression is one of simplicity; both in the low parts count and in the kits engineering. Barring issues with fit, I suspect this will be a very quick build.
Airfix's 1/72 scale MiG-17F Fresco comprises 80 parts in grey plastic, six parts in clear, one decal sheet and a decal sheet two marking options.
As usual, the build begins with the cockpit, which is part of the nose wheel bay assembly. Instrument panel details are provided with decals and the multi-part seat is nicely molded.
The cockpit/nose wheel bay are then trapped between the fuselage halves and with the addition of the nose intake, the fuselage is largely complete.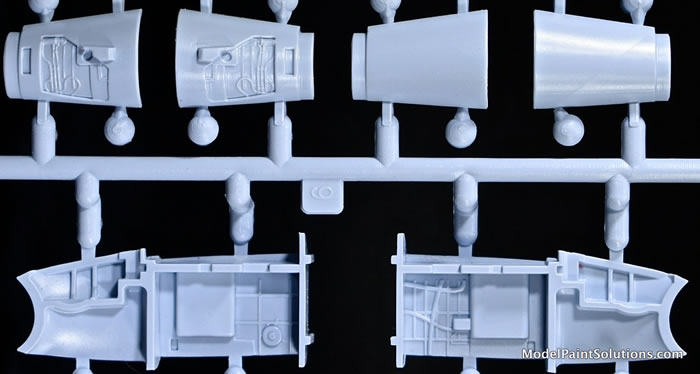 The upper and lower wing halves are joined next and there is some nice detail provided in the main wheel wells that will look great under paint and wash.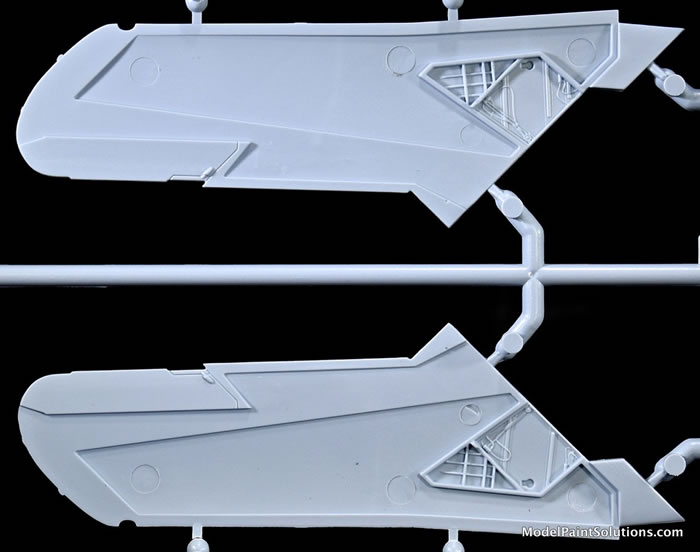 The assembled wings slot into the sides of the fuselage, as do the single piece horizontal stabilizer/elevators.
The main gear legs are nicely molded, as are the single-piece main wheels. The nose wheel is integral with the nose gear leg. This simplified engineering will require some careful painting to look correct.
The canopy parts are crystal clear if not a tad on the thick side. Parts are provided to pose the canopy open or closed: very nice.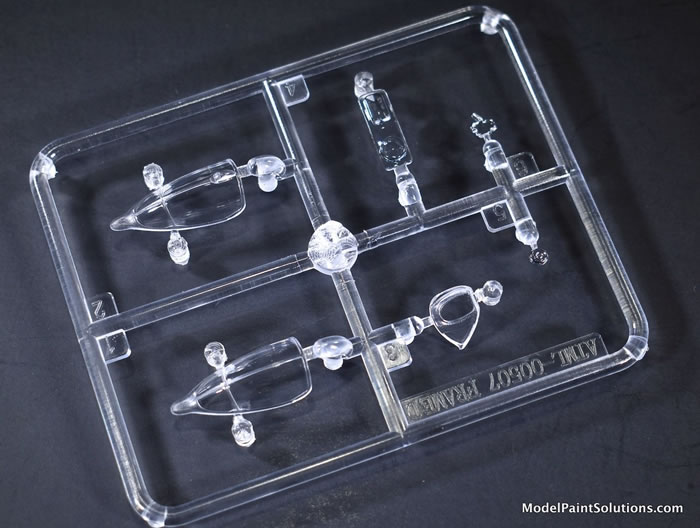 Should you wish to put a load on your MiG-17, the underwing stores provided include rocket launchers, missiles, and drop tanks.
---
Markings
The decals, by Airfix, are well printed with good registration and color density.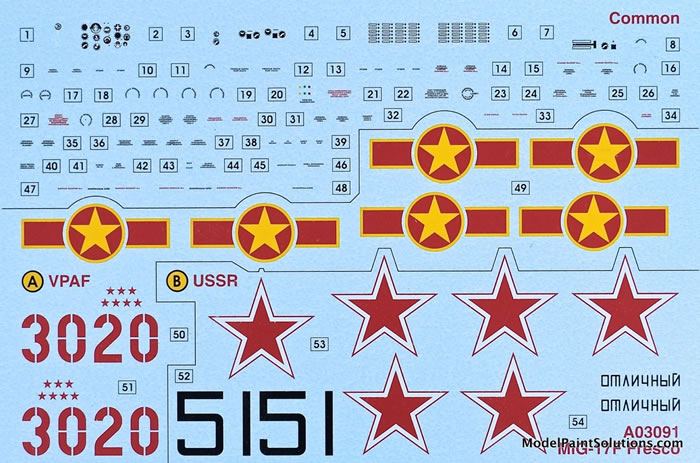 Airframe stencil data and markings for two airframes are provided as follows:
Mikoyan-Gurevich MiG-17 "Fresco" (Shenyang J5). Aircraft flown by Le Hai, 932nd Fighter Regiment, VPAF, Tho Xuan, August, 1969.

Gosudarstvenny Nauchno-Ispytatel'ny Krasnoznamenny Institut Voyenno-Vozdushnye Sily, USSR, 1970's
Well, there you have it. I don't see any big issues and with the low parts count and simple engineering this will likely to be a quick and easy build. We've long needed a new-mold MiG-17 and Airfix has provided just that. Details such as the one piece nose gear/wheel and thick wing fences can be addressed with aftermarket parts and/or some extra elbow grease.
Recommended.

Review kit provided by my wallet.
For more on this review visit Modelpaintsolutions.com.
---
Review Text and Images Copyright © 2020 by John Miller
Page Created 15 January, 2020
Last updated 15 January, 2020
Back to HyperScale Main Page
Back to Reviews Page