Westland Lysander Mk. III (SD)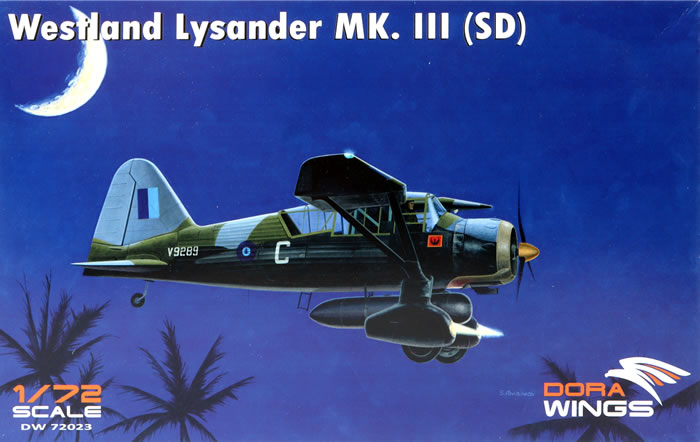 Dora Wings, 1/72 scale
S u m m a r y :

Catalogue Number:

Dora Wings Kit No. DW72023 – Westland Lysander Mk. III (SD)

Scale:

1/72

Contents & Media

120 parts in total.. Four large dark grey sprues and one smaller one (containing the specific parts for the SD version; )a 10-part clear sprue; a 17-part PE fret; resin collector ring and exhaust part; a 70x150mm decal sheet, and a set of canopy masks; 10-page A5 instruction booklet (including 3 pages of coloured camouflage schemes for the decal choices)

Price:

TBA - will be available online from Hannants

Click here for currency conversion

Review Type:

First Look.

Advantages:

Just about everything about this kit screams quality; parts, details, supplementary material and choices. Won't be a really easy build but the results should be wonderful. Keep up the great work Dora Wings.

Disadvantages:

Possible issues with the red on the decal sheet being a bit bright and the non-openable canopy option may be a bit of an issue for some modellers. The clear panels at the foot of the fin may need attention.

Conclusion:

This is a cracker of a kit and any modeller interested in this era should have at least three in their collection/stash! It is the full quality package.

Reviewed by Graham Carter

Special Hobby's Mirage F.1B/BE is available online from Squadron.com
Westland's high-wing Lysander was optimised for Air Observation work in co-operation with army units, a job it did very well in three marks distinguished by differing engine and some equipment installations. Later in the war it also took on SAR, and then became famous in the spy-dropping MkIII (SD) - for Special Duties - role.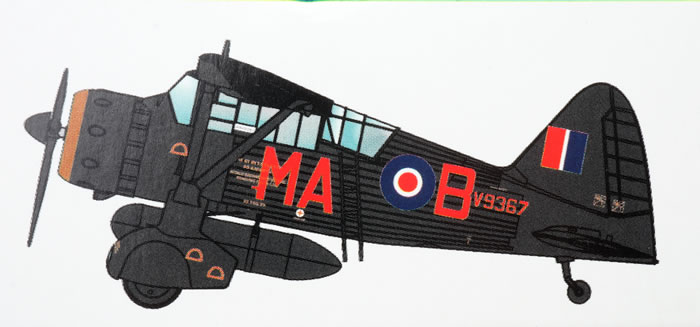 This was extremely dangerous work but the high-wing visibility, slow speed and STOL performance of the Lysander made it eminently suitable, and legendary operations were carried out into occupied Europe as the Allies prepared for invasion.
This is a much-anticipated kit that comes in a fairly sturdy top-opening box with a CAD illustration of a moonlit spy-dropping SEAC version on top. Inside are a 10-page A5 instruction booklet (including three pages of coloured camouflage schemes for the decal choices), a 10-part clear sprue, four large dark grey sprues and one smaller one (containing the specific parts for the SD version), a 70x150mm decal sheet, a 17-part PE set, resin collector ring and exhaust part and a set of canopy masks - quite a full package. All up there are 120 parts.
Rumour has it that Dora Wings used their lidar equipment on one of the two preserved ones in the UK to produce this kit and, if so, it has enabled them to present us with the most accurate and detailed kit in this scale to date. Laid over the plans in the 4+ Publication "Westland Lysander" ISBN 80-9025559-1, the fit is perfect. All panels and the starboard removable tear-drop shaped panel are nicely rendered , down to the kick-in footstep half-way up the panel. Correctly, there is no panel on the port side - an error in Peter Cooksley's drawings in Aviation News Vol 4.2. The adventurous modeller may want to cut out this panel and add the tubular structure inside - heh heh!!
One 'missing feature is the inspection window at the foot of the forward fin on each side. This is marked with a rectangle containing a small circle in the kit . In reality these were inspection windows for the starting handle and in almost all war-time examples these are clear panels, but on restored examples there is only a small circular window as engraved. So Dora Wings have given you the choice - either cut out the two panels and put in a clear piece for a war-time example or drill out the hole and put in a blob of PVA. Just check your references.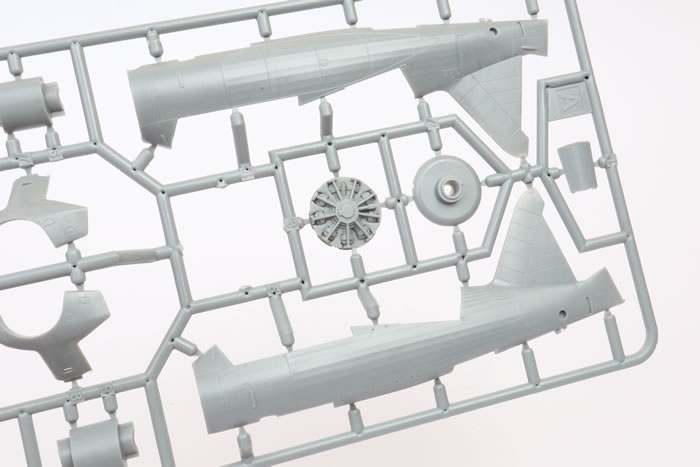 Parts are beautifully moulded with small gates , few moulding pips and minimal flash (some parts will need a bit of attention ) and I would replace parts E2,E4 and E5 with stretched sprue to save this clean-up. Surface detail is excellent, fine and complete, and a multitude of parts go to make up a detailed interior which is all visible through the giant clear greenhouse canopy. A minor quibble is that I'm not sure that DW got the right shape for the fuel tank but it is buried inside the fuselage anyway so don't get too concerned. Make sure you put E9 on top of D2 rather than under it as shown in Step 10. Don't get too ambitious in the parts clean-up by rounding off the fuselage tube work. Most of these were square section and only a couple of diagonal braces and and laterals were round - consult your references to see which ones were which. The wings are nicely rendered with posable ailerons and flaps.
The PE fret provides some of the cockpit details such as seatbelts, boarding ladder and the novel choice of either open or closed cowl flaps, the former provided as a curved piece that will look very schmick! Detail parts all have colour call-outs by name all through the instructions, but the camouflage schemes have only Mr Color numbers.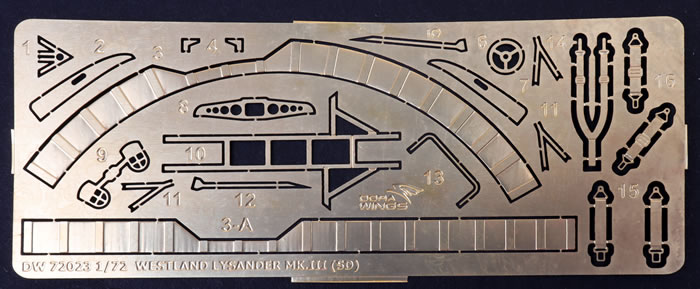 It is good to see the option of leaving off the outer spat covers as can be seen in many war-time photos, although most also show that the inner ones were removed as well. If you do choose this modification then you may want to add the perforated mud-scrapers around the rears of the tyres from axle to axle. Make these from a narrow strip of thin metal with a row of holes drilled all round. I also like the tyres being separated from the hubs so the they can be painted separately for a neat finish. Note that some aircraft had cast spoked wheels, not the plain ones provided so again check your pictures. A correct anti-shimmy tail wheel is provided, a feature I had not noticed until this review.
The engine is moulded in relief on a single flat surface with a separate resin collector ring for the exhausts and a PE harness.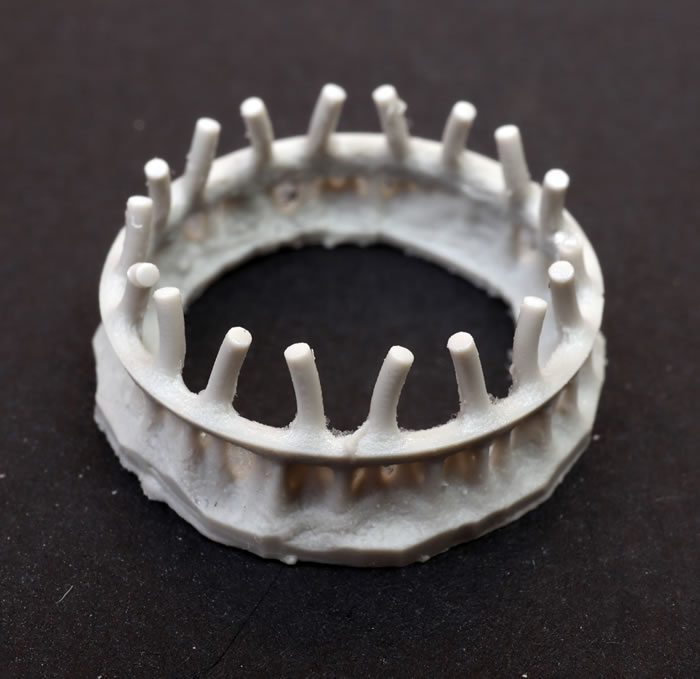 The kit correctly shows the bulges over the rocker covers for the Marks I and III. For a Mark II sand these off as this variant had a Perseus sleeve-valve motor, which obviously lacked rockers! You will have to find a Perseus engine to pop inside the cowling as it looked quite different.
The canopy does not allow for the open option so some careful cutting will be needed or use a vacform replacement from some sections if you wis to display that lovely interior.
For the adventurous, note that the top of the pilot's position slid back over the wing section, while the side pieces slide down into the fuselage. The entire rear section slid down the engraved rails almost as far as the fin. The masking set has only a small sketch to show the location of each section so care will be needed here. Eduard have the right idea with their dedicated masking drawings and I hope Dora Wings will adopt this in future.
---
Markings
Three aircraft are covered on the decal sheet and in the detailed colour information:
V9289, from 357 sqn, Burma 1945 in Medium Sea Grey/ Dark Green over Black.

V9287 from 161 SD sqn at Tempsford in 1942 in the same scheme, and

V9367 of the same squadron and base in 1944 but painted black overall.
The decal sheet is beautifully printed and in perfect register but it might be me but I think the red in the roundels and codes is just a bit too bright.

The sheet provides a mass of nice stencil detail that will enhance the finished model.
It is probably time to get rid of your stash of FROG and Matchbox kits ( although the latter will produce a pretty accurate little model, while the FROG one looks to be based on the same info as Cooksley's drawings because it has the inspection panel on both fuselage halves) while you should have dumped the wildly inaccurate AIrfix rendition ages ago. This is a cracker of a kit and any modeller interested in this era should have at least three in their collection/stash!
---
References
Some references that I have include the 4+ book mentioned earlier, Aero Modeller December 1967, Scale Models August and September 1979 and Aviation News Vol 4/2 June -July 1975, and numerous Aeroplane Monthly magazines from the last two or three years that covers the restoration and flights of the Shuttleworth example.
Thanks to Dora Wings for the review sample.
---
Review Text Copyright © 2020 by Graham Carter
Images Copyright © 2020 by Brett Green
Page Created 21 January, 2020
Last updated 21 January, 2020
Back to HyperScale Main Page
Back to Reviews Page