Potez 25 A2/B2
Lorraine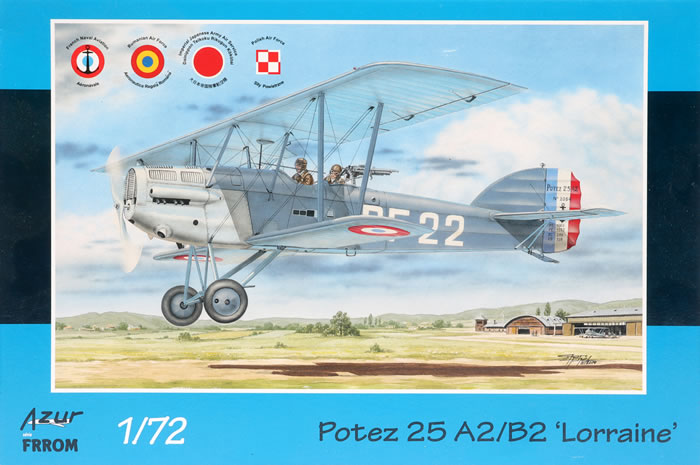 Azur FRROM, 1/72 scale
S u m m a r y :

Catalogue Number:

Azur FRROM Kit No. FR0037 - Potez 25 A2/B2 Lorraine

Scale:

1/72

Contents & Media

Details below.

Price:

£30.99 EU Price (£25.83 Export Price) plus shipping available online from Hannants

Review Type:

First Look.

Advantages:

High quality mouldings; good detail, nice surface textures.

Disadvantages:

Limited run nature will require a bit more attention.

Conclusions:

This is a very nicely detailed kit of an interesting aircraft type that saw service with a wide range of countries. The limited-run nature of the kit along with the individual struts and rigging means that this kit will be best suited to experienced biplane modellers, but with time and care you will have an impressive and attractive result.
Reviewed by

Brett Green

HyperScale is proudly sponsored by Squadron.com
Henry Potez created the Société des Avions Potez in 1921 after working with Marcel Bloch in the S.E.A. during WWI. He assigned the design of the Potez 25 to Louis Coroller. Of mixed wood & metal construction and powered by a 450 ch Lorraine-Dietrich 12 Eb engine, the Potez 25 prototype is thought to have first flown early in 1925.
The first prototype (25.1) was transferred to S.T.Aé in 1925 for testing, whilst an unarmed prototype (25.2) made a tour of European countries to demonstrate the viability of the design. This indicated the need for some modifications, the most significant being an increase of the wingspan to 14.14 m.
The Potez 25 was one of the most widely built French aircraft between the World Wars. Most aircraft were powered by Lorraine 12 Eb, Hispano-Suiza, or Gnome-Rhône (a licence-built Bristol Jupiter) engines, whilst some used Renault, Farman, or Salmson power. Either Potez or Messier landing gear was fitted and three styles of tailfins employed. This very versatile design was operated by about 20 countries and was still in use at the outbreak of WWII.
The Potez 25 A2/B2 Lorraine was used by France (several hundred), Poland (316), Rumania (217), Abyssinia (3), Manchuria (25), Japan (15 aircraft, captured in Manchuria), Paraguay (where they were involved in the Chaco war and scored a victory), Portugal (one aircraft modified for long range raids), Uruguay (2), Yugoslavia (30), Brazil (18). Two A2 and three TOE (colonial-service) airframes were modified for use by the Aéropostale Company to fly the South American mail-route over the Andes.
The Potez 25 Lorraine served in the Aéronautique Militaire and the Navy, both in France and its various colonies. It also saw combat with Vichy French units over Syria and Lebanon in 1941 and was serving in French Indochina in 1945. Some Potez 25 were captured by the Japanese in March 1945, in Indochina, one at least was evacuated to Thailand when Japan surrendered to Allied forces.
Two Polish companies were licensed in 1926 to build the Potez 25.15, a model almost identical to the 25.14 in French service. They built 250 A2s and 50 B2s, which added to 16 bought from France, gave 316 Potez 25 Lorraines in all. These Polish aircraft were coded 42-01 to 42-316. Some were re-engined with Bristol Jupiters.
IAR in Rumania built 217 Potez 25 Lorraine in the Brasov factory between 1928 and 1934, but from 1938 they were progressively replaced by the IAR 37, 38 and 39. The last Rumanian Potez 25 was removed from active service in 1945.
---
Specifications (1929):
Two-seat single-engined biplane for reconnaissance (A2) or bombing (B2). Engine: Lorraine-Dietrich 12 Eb giving 450 ch. Wingspan 14.14 m, length 9.10 m. Maximum speed: 219 km/h, ceiling 7,200 m, maximum weight 2,500 kg. Weapons: 1 fixed Vickers machine-gun, 2 Lewis machine-guns on TO7 mount, 1 Lewis machine-gun under belly. Bombload (B2): up to 400 kg.
Reference: Azur FRROM website.
As far as I am aware, there have only been two previous kits of the Potez 25 in 1/72 - Broplan's vacform kit from the 1990s and a 2016 resin offering from Greek company, Grand Models.
Azur FRROM now adds this limited run injection moulded plastic Potez to the market.
Azur FRROM's 1/72 scale Potez 25 A2/B2 Lorraine comprises 140 parts in grey plastic (including 42 parts marked "Not For Use"), five parts in clear (two parts marked "Not For Use"), one photo-etched fret and markings for four aircraft.
Moulding quality looks very good, with narrow sprue attachments and hardly a hint of flash.
This boxing represents the version powered by the 450 hp Lorraine Dietrich 12 Eb engine with its streamlined cowling and cooling louvres.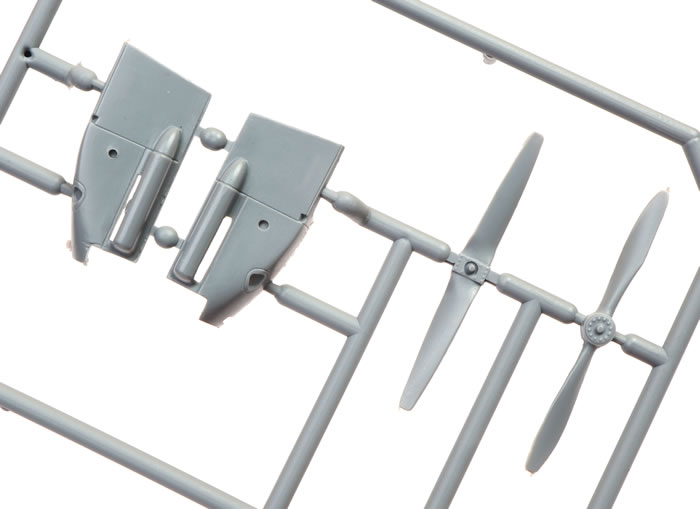 Being a limited run kit, we are not given the luxury of locating pins for the fuselage and smaller parts so some extra time and attention will be required for parts preparation, planning, alignment of parts (especially all those struts) and assembly.
Surface textures are really well done, especially on the upper and lower surfaces of the wings.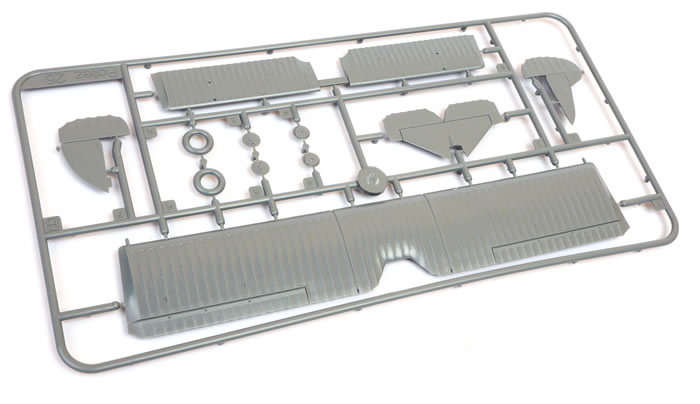 Cockpit detail is good with framework moulded onto the inside of the fuselage halves although, surprisingly, there are no harness straps supplied on the photo-etched fret.
Photo-etched parts are supplied for control surface actuators, spoked wheels and anchor points for rigging. A nice touch is the plastic jig supplied to press the wheel spokes to the correct profile.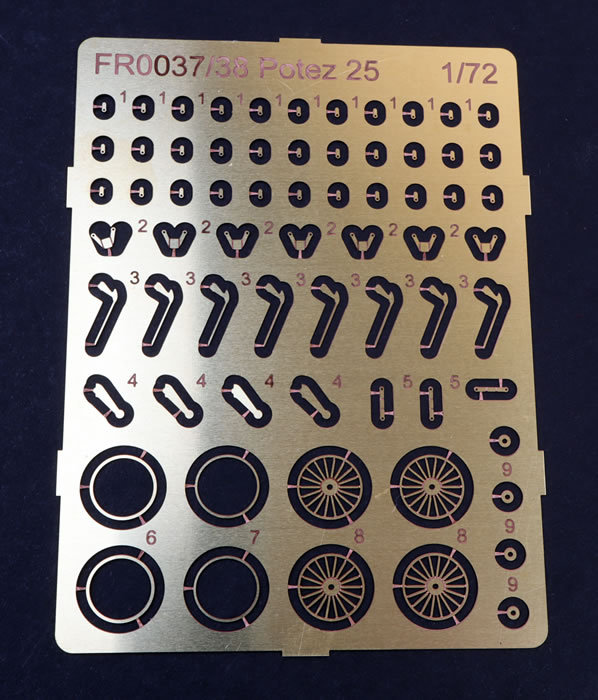 Most of the struts are individual parts but the forward pair of cabane struts are moulded as a single part, helping with alignment of the upper wing and the other struts.
The small clear sprue is well moulded.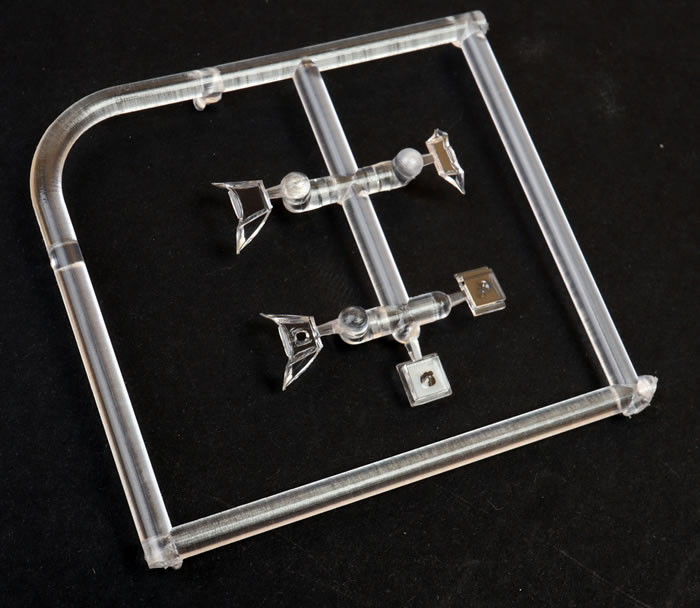 Azure FRROM has supplied nice positive locating holes for the ends of the struts.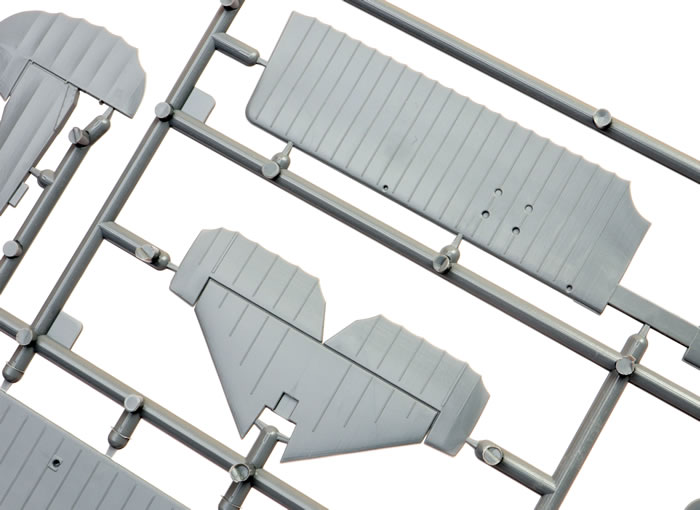 Rigging diagrams are included in the instructions.
Options include two bombs, racks and landing lights under each lower wing, fuel tanks under the upper wings, alternative propellers and a choice of machine gun armament for the observer.
---
Colours & Markings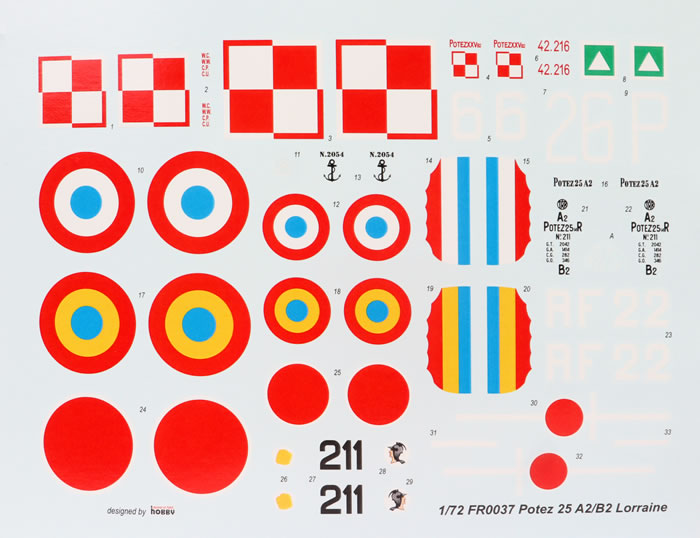 Four nicely varied marking options are offered.
Camo A: Potez 25 A2 Nr 2054, White RF 22, Aéronautique militaire, Rochefort training unit, France, 1937

Camo B: Potez 25 B2 Nr 42.216, White 6, 34 th Squadron, 3 nd Regiment, Polish Air Force. Aircaft built by P&L. Poznan, Poland, 1932

Camo C: IAR-Potez 25 B2 Nr 211, Rumanian Air Force. Aircraft built by IAR in Brasov probably in May 1934. The fuselage emblem was the head of Mars, roman god of War, against a white circle.

Camo D: Potez 25 A2 in French Indochina, captured by the Japanese in March 1945, sent to Thailand when the Japanese forces surrendered. Don Muang (Thailand), Autumn 1945
The decal sheet is well printed, glossy and in register.
This is a very nicely detailed kit of an interesting aircraft type that saw service with a wide range of countries.
The limited-run nature of this kit along with the individual struts and rigging means that this kit will be best suited to experienced biplane modellers, but with time and care you will have an impressive and attractive result..
Thanks to Azur FRROM for the review sample.
---
Review Text & Images Copyright © 2020 by Brett Green
Page Created 6 January, 2020
Last updated 7 January, 2020
Back to HyperScale Main Page