Special Hobby 1/72 scale
DAP Beaufort Mk.VIII
by Bill Gilman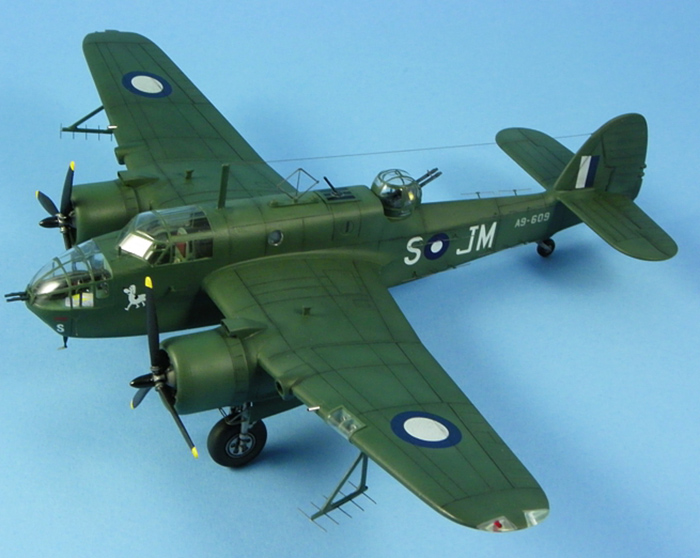 DAP Beaufort Mk.VIII
Here is my model of the DAP (Department of Aircraft Production) Beaufort Mk.VIII. This is an improved version of the original Bristol aircraft built in Australia under license. 700 new Beauforts were built by DAP, and were used extensively in multiple roles. "Bar the Gates with Beauforts!" was the popular slogan.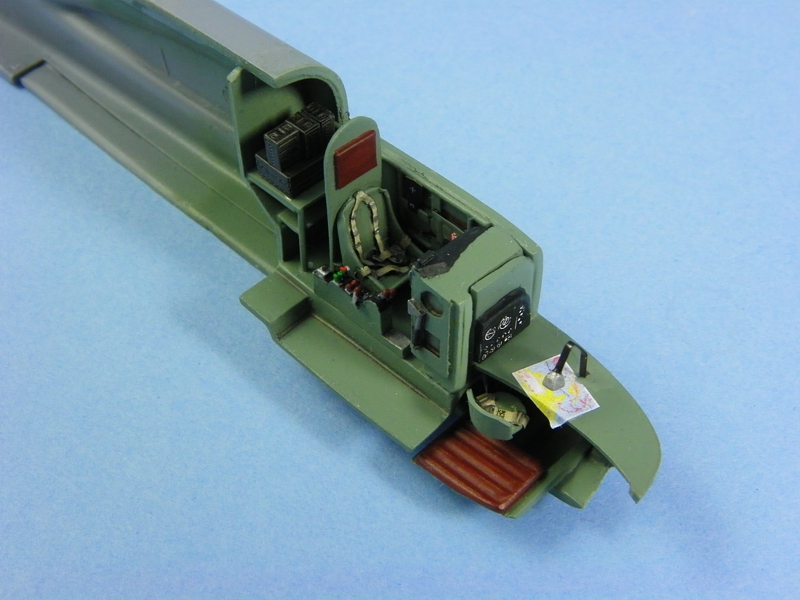 My model represents "Snifter," a Mk.VIII from 32 Squadron that was used for anti-submarine patrols out of Lowood, Q, from May 1944 until the end of the war. The model is rendered in glorious Braille Scale, as all true models should be. Special thanks to Ed Russell for his help during this build. No matter how silly my questions were, he always had the answer. Thanks also to Tony O'Toole, always a source of great information.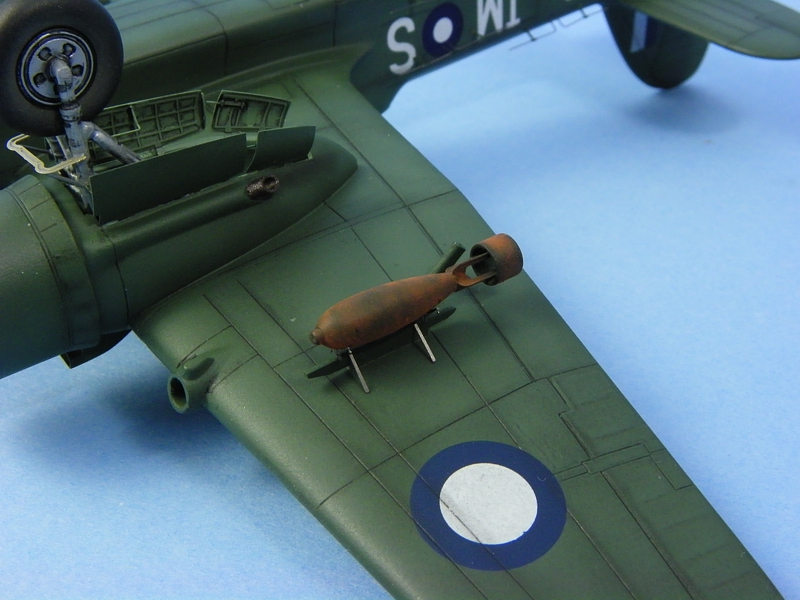 I made a few corrections and improvements:
Removed Mk.I tail and rudder and replaced with Mk.VIII tail and rudder

Removed Mk.I turret fairing and replaced with resin Mk.VIII turret fairing

Detailed cockpit and interior with plastic strips to represent structural members, added photoetch instruments and plotter

Scratch-built navigator's swivel seat and added campaign map of Australia and goose neck lamp to navigator's desk

Added strip of clear plastic behind portholes to prevent them from pushing through into the fuselage

Scratch-built shelves for radio gear behind pilot, with the radio and electrical boxes made from spare photoetch parts

Drilled holes in front greenhouse and top turret for gun barrels

Twin Vickers guns from new Airfix Blenheim kit added to nose, detail with Brengun photoetch

Replaced kit landing gear doors with Brengun photoetch

Navigation lights made from pieces of clear plastic; cut, sanded, and polished to proper shape

Built up inside of engine cowl opening with plastic strip to reduce its diameter

Landing lights added from Marabu Design photoetch; landing light lens from vacuform plastic

Drilled out fuel dumps and scratch-built wing fuel vents

Detailed main landing gear, bombs, and bomb racks with Brengun photoetch

Added rear fuselage ASV antennae from photoetch; each is attached via a 0.010" hole drilled into the fuselage side

Added photoetch/hypo needle pitot tube and photoetch radar transmitters to forward fuselage

Added photoetch attachment points to pylons

Added photoetch drift sight bracket to starboard forward fuselage

Drilled holes in leading edge of wings for guns, added hypo needle tubing to represent gun barrels

Added High Planes resin supports and photoetch YAGI aerials under each wing

Added photoetch ammo belts and gun sight to top turret guns

Added main aerial from 0.008" Nitinol wire; deployed D/F antennae modified from kit-supplied photoetch

Added upward firing gun window from clear plastic sheet with painted framework, gun barrel is resin
Paint is primarily Gunze acrylics and the "Snifter" markings are from the Encore kit.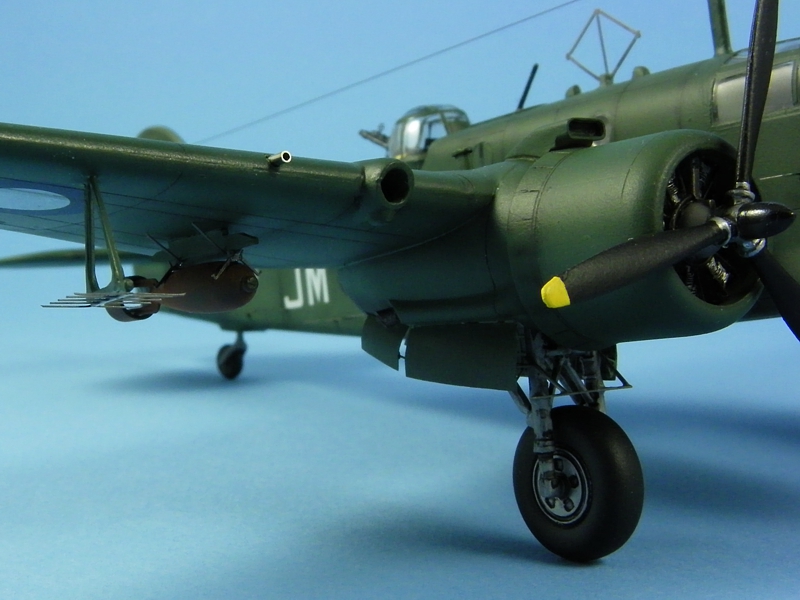 I was especially pleased to have finished the project in time for Airfix to announce a new tool Beaufort.
---
Model and Text Copyright © 2021 by Bill Gilman
Page Created 22 March, 2021
Last Updated 22 March, 2021
Back to HyperScale Main Page