Focke-Wulf Fw 190 A-8
Fuselage Gun Set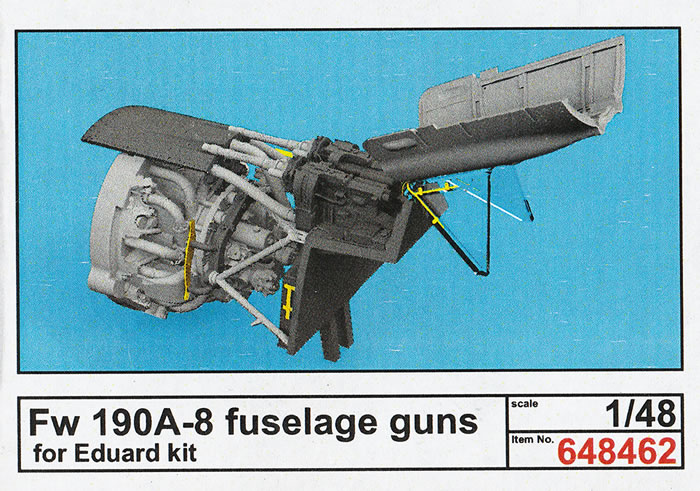 Eduard BRASSIN, 1/48 scale

Reviewed by David Couche

The MG 131 (shortened from German: Maschinengewehr 131, or "Machine gun 131") was a German 13 mm calibre machine gun developed in 1938 by Rheinmetall-Borsig and produced from 1940 to 1945. The MG 131 was designed for use at fixed, flexible or turreted, single or twin mountings in Luftwaffe aircraft during World War II.
It was one of the smallest, if not the smallest among the heavy machine guns of that conflict, with a weight less than 60% of the M2 Browning or the Breda-SAFAT machine gun. Despite this, the MG 131 was a rapid fire weapon with an elevated firepower for its mass. It was equipped with HEI ammunition. Its nearest contemporary equivalent may have been the Japanese Ho-103, itself based on the earlier American M1921 Browning machine gun. The other main Axis automatic weapon of similar calibre, the Italian Breda 12.7 mm was around 13 kg heavier and bigger, while slower by at least 150 rpm. This small size allowed them to be mounted in the restricted space available in the nose of Luftwaffe fighters, originally designed to house the lighter calibre 7.92 mm machine guns. This became the common configuration from 1943 onwards, as the increasing armour protection of most Allied aircraft, and the burgeoning challenge of daylight raids by heavy American bombers as the war progressed rendered the smaller calibre guns obsolescent in this role.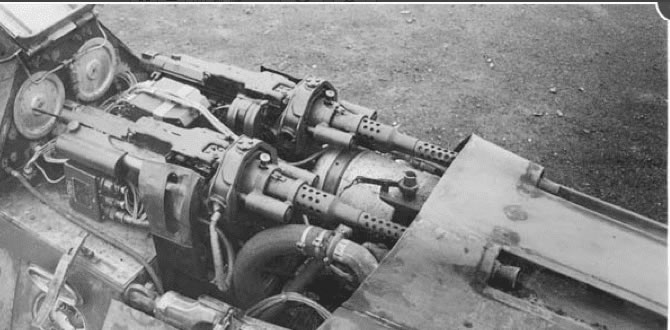 It was installed in the Messerschmitt Bf 109, Me 410 Hornisse, Fw 190, Ju 88, Junkers Ju 388, He 177 Greif bomber variants, and many other aircraft.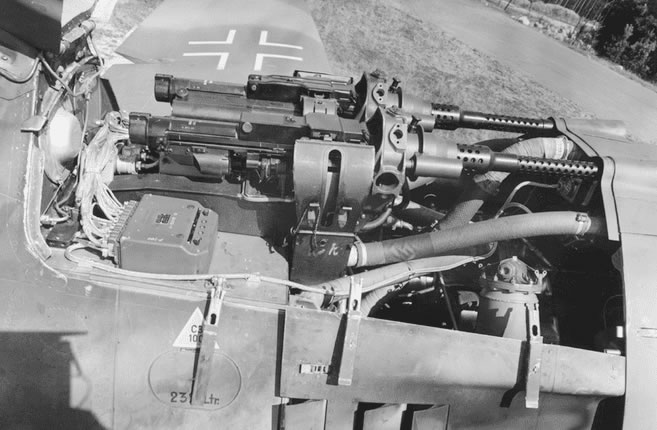 The MG 131 fired electrically primed ammunition in order to sustain a high rate of fire when shooting through the propeller disc of a single-engined fighter. A pair of MG 131 machine guns was used as cowl armament on later models of the Bf 109G (which originally required one blister or Beule on each side of the fuselage, flanking the upper rear end of the engine, to house the larger breech of the new gun) and the Fw 190.
.*Text mainly from Wikipedia
The Eduard Brassin Fw 190A-8 Fuselage Gun set consists of 20 finely detailed resin parts and a photo-etch sheet of some 18 parts. Included is an instruction sheet of 4 A5 pages involving 11 construction stages which certainly indicates that this is no simple build. This is a fairly complex "kit" in its own right and that's packed into a quite small area. The casting blocks have excellent demarcation to enable accurate removal. Apart from cleaning the removal points, little or no clean-up will be required on the parts. The photo-etch will need to be painted as it is plain brass. This set is designed for the newer Eduard FW-190A-8 kits, not the earlier although it may go onto the original kit with some effort.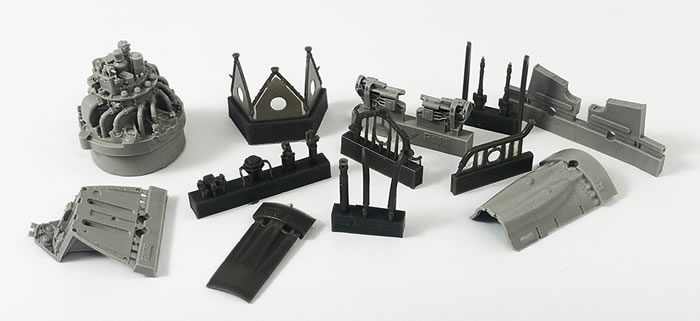 The level of detail that Brassin has put into this set is excellent. Having previously used Brassin sets, I also have come to know the value of taking your time to work carefully when constructing them. Cut carefully, clean up parts thoroughly, although clean-up is truly only for the casting blocks which are normally located where there are flat mating surfaces which really helps us the modellers. This set gives you a full engine rear with so there is detail right down into the aircraft section as in the real thing.
With that out of the way, the next challenge is the intricate painting that will need to be carried out on some sections. Again, take your time to gain a great result. Paint call outs are for Gunze Aqueous and Mr Color paints.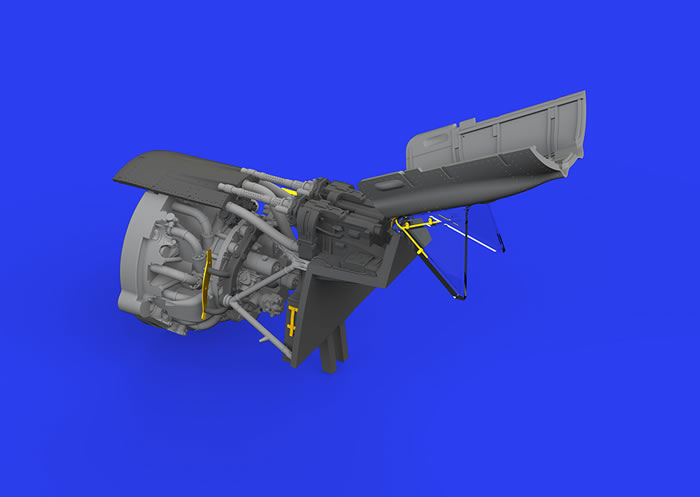 The plain brass etch parts provide many the cowl latches and other small details. What really impresses me is the gun cowl covers that are so finely cast to be in excellent scale thickness and the wealth of detail on both the interior and exterior surfaces…..but be warned they are ultra-thin and need careful handling in clean-up. Bravo Eduard!
The instructions cover 4 pages and 11 stages of construction. Well illustrated and with careful painting this should really look the part.
I have several of the original Eduard FW 190 kits with the fuselage gun section being injected moulded and somewhat tricky to construct (along with the engine with no simple option provided). Comparing this resin set with the injection moulded originals, this set appears to be easier to construct and align as well as having far greater detail cast into it. Time will tell whether it is a worthy investment but it does look very promising for my A-8 build.
This is an amazingly detailed fuselage MG 131 gun set for the FW 190A-8. I would highly recommend this set for experienced modellers who really want to take the detail level of the Eduard A-8 kits, new or old to new heights.
Thanks to Eduard for the samples and images.
---
Review Text Copyright © 2021 by David Couche
Page Created 22 February, 2021
Last updated 22 February, 2021
Back to HyperScale Main Page
Back to Reviews Page