GBU-54
Non-Thermally Protected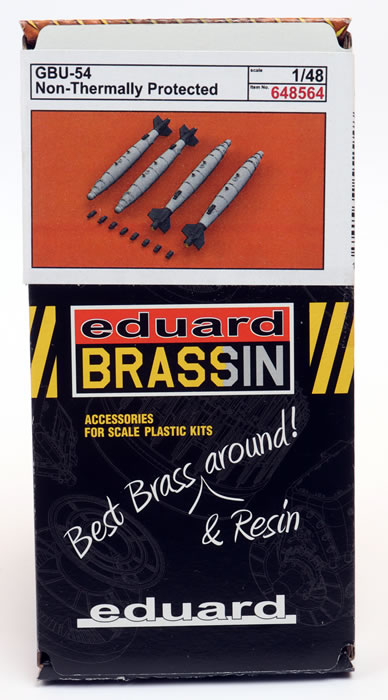 Eduard BRASSIN, 1/48 scale

Reviewed by Brett Green

The Joint Direct Attack Munition (JDAM) is a guidance kit that converts unguided bombs, or "dumb bombs", into all-weather precision-guided munitions.
Experience during Operation Enduring Freedom and Operation Iraqi Freedom led US air power planners to seek additional capabilities in one package, resulting in ongoing program upgrades to place a precision terminal guidance seeker in the JDAM kit. The Laser JDAM (LJDAM), as this upgrade is known, adds a laser seeker to the nose of a JDAM-equipped bomb, giving the ability to engage moving targets to the JDAM. The Laser Seeker is a cooperative development between Boeing's Defense, Space and Security unit and Israel's Elbit Systems. It is called Precision Laser Guidance Set (PLGS) by Boeing and consists of the Laser Seeker itself, now known as DSU-38/B, and a wire harness fixed under the bomb body to connect the DSU-38/B with the tail kit. During FY2004, Boeing and the U.S. Air Force began testing of the laser guidance capability for JDAM, with these tests demonstrating that the system is capable of targeting and destroying moving targets. This dual guidance system retains the ability to operate on GPS/INS alone, if laser guidance is unavailable, with the same accuracy of the earlier JDAM.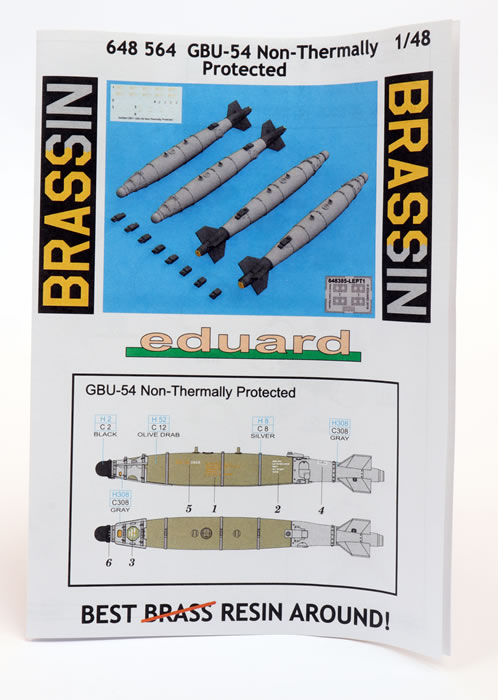 On June 11, 2007, Boeing announced that it had been awarded a $28 million contract by the U.S. Air Force to deliver 600 laser seekers (400 to the Air Force and 200 to the Navy) by June 2009. According to the Boeing Corporation, in tests at Nellis Air Force Base, Nevada, Air Force F-16 Fighting Falcons and F-15E Strike Eagles dropped twelve 500 pounds (227 kg) LJDAMs that successfully struck high-speed moving targets. Using onboard targeting equipment, the launch aircraft self-designated, and self-guided their bombs to impact on the targets. In addition to the LJDAM kits, Boeing is also testing under a Navy development contract, an anti-jamming system for the JDAM, with development expected to be completed during 2007, with deliveries to commence in 2008. The system is known as the Integrated GPS Anti-Jam System (IGAS).
Boeing announced on September 15, 2008 that it had conducted demonstration flights with the LJDAM loaded aboard a B-52H.
The GBU-54 LJDAM made its combat debut on August 12, 2008 in Iraq when an F-16 from the 77th Fighter Squadron engaged a moving vehicle in Diyala province. Furthermore, the GBU-54 LJDAM made its combat debut in the Afghan theatre by the 510th Fighter Squadron in October 2010.
In September 2012, Boeing began full-rate production of Laser JDAM for US Navy and received a contract for more than 2,300 bomb kits.
On July 24, 2008 Germany signed a contract with Boeing to become the first international customer of LJDAM. Deliveries for the German Air Force began in mid-2009. The order also includes the option for further kits in 2009
Eduard has released an GBU-54 Non-Thermally Protected set comprising four bombs.
Thi BRASSIN set is made up from 20 pieces in grey resin and eight photo-etched parts. A decal sheet is also included.
The resin is crisply detailed and perfectly cast.
The fuses are separate parts.
The bomb bodies are cast onto a small block at the base. Removal of the block and cleanup should be fast and easy.
The tail units are cast onto their blocks via four small strips on each. Once again, clean-up should be a snap (although perhaps not literally).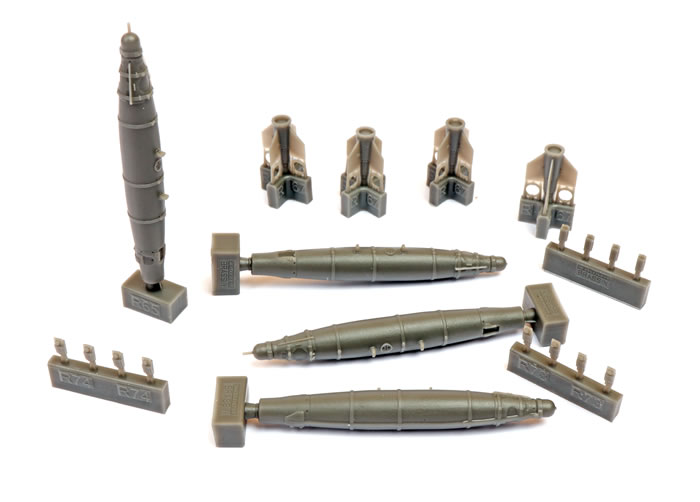 The photo-etched parts are the tail caps for the four bombs.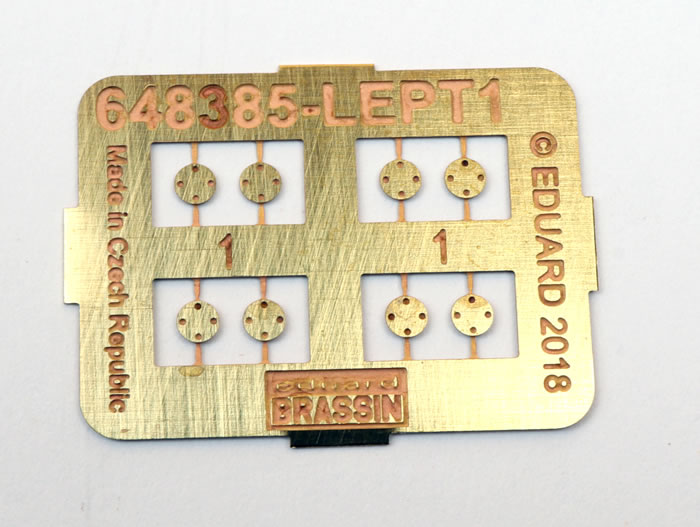 The decals provide stencil markings.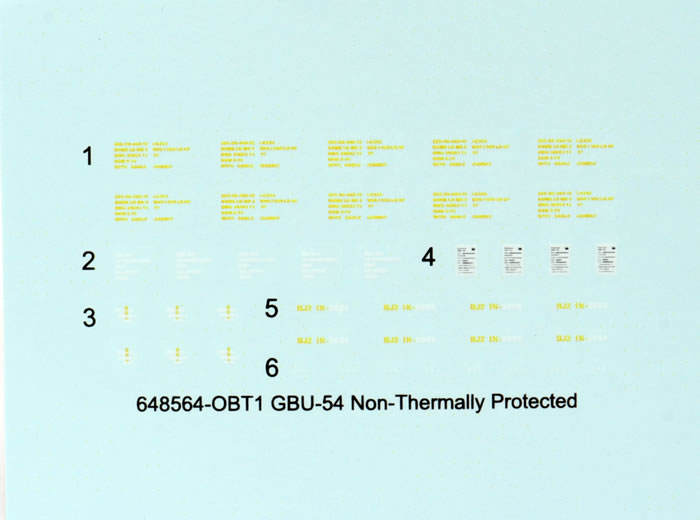 Instructions are straightforward.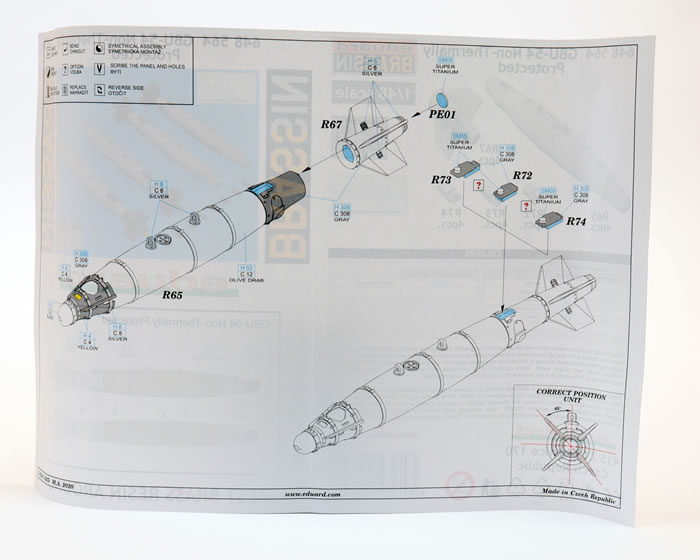 This crisply detailed GBU-54 bomb set will be a useful accessory for your 1/48 scale F-15. F-16, F/A-18 kits and more.
Thanks to Eduard for the samples and images.
---
Review Text Copyright © 2021 by Brett Green
Page Created 19 January, 2021
Last updated 19 January, 2021
Back to HyperScale Main Page
Back to Reviews Page