South Pacific Air War Vol.1
The Fall of Rabaul – Dec 1941- March 1942
by Michael Claringbould & Peter Ingman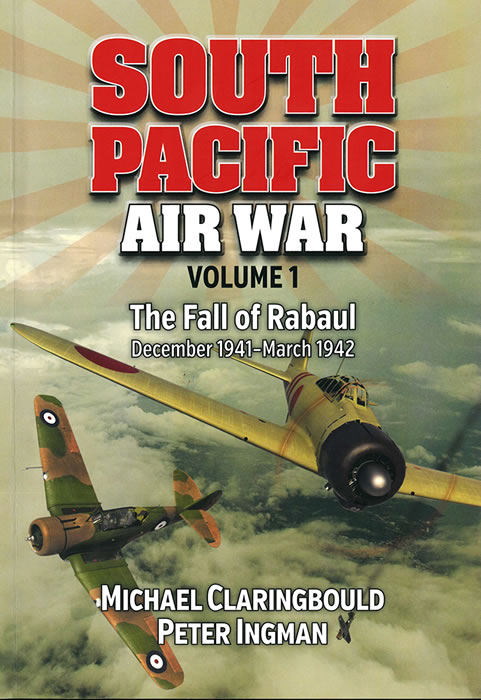 Avonmore Books
S u m m a r y

Publisher and Title:

South Pacific Air War Vol.1
The Fall of Rabaul – Dec 1941- March 1942

by Michael Claringbould & Peter Ingman

ISBN:
978-0-9945889-4-4
Media:
252 pages in A4 Portrait mode, many photographs and walkaround ones, colour profiles and model details.
Price:

A$39.95 normally plus shipping available online from Avonmore Books (on special at the moment for A$29.95)

and stockists worldwide.

Review Type:
First Edition
Advantages:

Detailed and comprehensive look at the air war in the South Pacific from December 1941 to March 1942, with excellent informative text, historical photos and maps, as well as many aircraft profiles.

Disadvantages:
Conclusion:

A great, should have, reference for modellers of all scales interested in the Pacific theatre from the start in WWII.

Reviewed by David Couche
Avonmore Books is a newer Australian publisher (and based in my home state of South Australia), specialising in military and aviation history, with a particular interest on the early period of the Pacific War. Avonmore prides itself in being the only mainstream Australian military history publisher producing full colour, illustrated books. While expensive to produce, we strive to produce titles that are a pleasure to own and read, and which incorporate first-class profiles, illustrations and maps.
Their key authors have unique backgrounds. These include Darwin-based Dr Tom Lewis, a former naval officer who is an expert in Northern Australian military history. Another is former diplomat Michael Claringbould, raised in Port Moresby, whose knowledge of both the New Guinea conflict and Japanese aviation is recognised worldwide.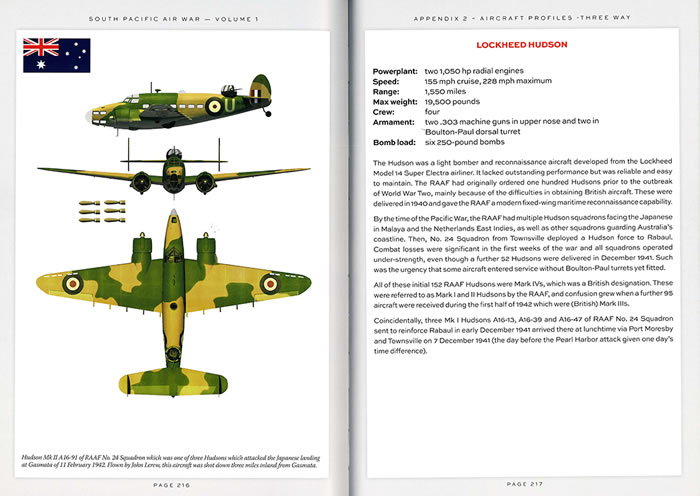 The proprietor and author of Avonmore Books is Peter Ingman, who began his writing career as co-author of the best-selling Zero Hour in Broome in 2010.
This volume, the "South Pacific Air War Vol 1,The Fall of Rabaul – Dec 1941- March 1942"chronicles aerial warfare in the South Pacific from December 1941 until March 1942, during which air operations by both sides became a daily occurrence. As Imperial Japanese Navy flying boats and land-based bombers penetrated over vast distances, a few under-strength squadrons of the Royal Australian Air Force put up a spirited fight.
However it was the supreme power of aircraft carriers that had the biggest impact. Four Japanese fleet carriers facilitated the capture of Rabaul over a devastating four-day period in January 1942. The following month, the USS Lexington's fighter squadron VF-3 scored one of the most one-sided victories of the entire Pacific War.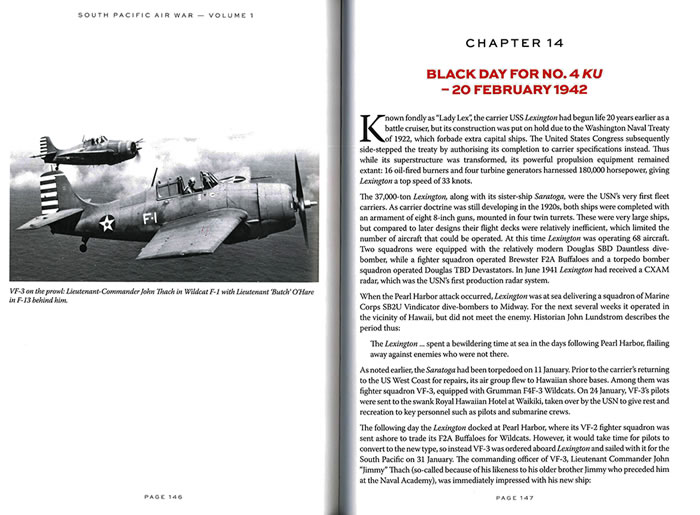 By March 1942 the Japanese had landed on mainland New Guinea, and the scene was set for a race to control Port Moresby. This is the full story of both sides of an air war that could have been won by either incumbent, but for timing, crucial decisions and luck.
The two authors are uniquely qualified to tell this story. Raised in Port Moresby, Michael Claringbould is a globally-acknowledged expert on the New Guinea air war and Japanese aviation in particular. Peter Ingman is an acclaimed military history author specialising in the early Pacific War period.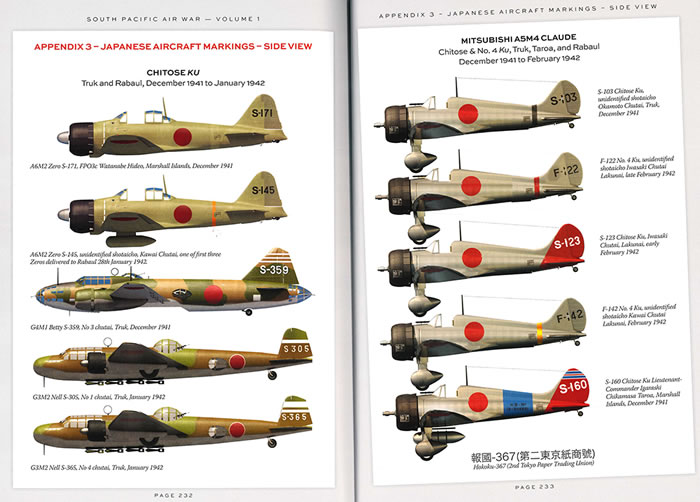 The book consists of 18 chapters that documents the chronological progression of the early air war around Rabaul at the start of the Japanese actions on the Southern Pacific. The text has been written in an informative manner that is extremely easy to read and actually weaves a good story within it. These chapters follow the rapid expansion of the Japanese actions and the Allied response leading to the invasion of Rabaul, involving IJN carrier attacks through to the day the USS Lexington's planes, led by Lt 'Butch" O'Hare savaged the Japanese bombers, with O'Hare becoming an ace in a morning. To support the text, are numerous maps and diagrams, explaining visually what was occurring as well as quite a number of historical photographs of both sides through this period.
There are several appendices at the end of the book with lists of "Aircraft Losses & Fatalities" for both the Allies and the Japanese. Following on are 15, 3-way colour profiles of aircraft types that took part in that theatre as well as the technical and historical information for specific aircraft. The third section there are 7 pages of side colour profiles of Japanese aircraft from different units and times across that period. These last 2 sections will be extremely useful to modellers with an interest in the period and theatre.
This book has been produced for the aviation enthusiast of the early South Pacific theatre of operations involving the Japanese and Allied air units. For the modeller there is plenty of colour reference material in profiles etc supplied as well as some good period photographs of aircraft. All in all, this book is a good read and useful for the modeller. '
Well recommended.
Thanks to Avonmore Books for the sample.
---
Review Copyright © 2021 by David Couche
This Page Created on 7 April, 2021
Last updated 7 April, 2021
Back to HyperScale Main Page
Back to Reviews Page