Slovak National Uprising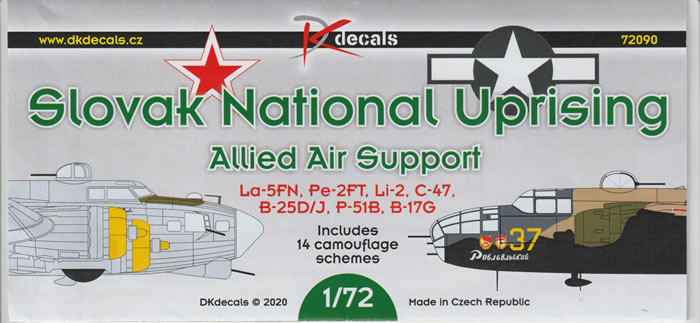 DK Decals, 1/72 scale
S u m m a r y :

Catalogue Numbers:

DK Decals Sets No. 72090 – Slovak National Uprising – Allied Air Support

Scale:

1/72

Contents & Media

Decals for 14 subjects with colour-printed guide.

Price:

Available online from:

Red Roo Models AU$25.00

Review Type:

First Look

Advantages:

Accurate decals, well produced, interesting subject.

Disadvantages:

Maybe too esoteric for some.

Conclusions:

It is unlikely anyone would build all 14 but one of each is realistic, making them good value for money and as a group purchase they are excellent value.

Reviewed by Ed Russell

This is a 1/72 scale decal set covering 14 Allied aircraft flown in support of the Slovak National Uprising of 1944.

The Slovak resistance movement organized a National Uprising beginning on 29 August 1944 in an attempt to resist German troops that had occupied Slovak territory and to overthrow the collaborationist government. Many factions fought in the uprising, the largest of which were units of the Slovak Army and the Czech Democratic Resistance. In addition to these forces the combatants included various other groups: escaped French prisoners of war, Soviet partisans, and Special Operations Executive and Office of Strategic Services operatives.

The Slovak side had to use mostly biplanes and improvised armoured trains to fight against the better equipped German forces. By 10 September the rebels had gained control of large areas of central and eastern Slovakia, including two airfields, which were used by the Soviet Air Force to fly in equipment. In addition to Soviet aid, United States B-17 Flying Fortress bombers, escorted by North American P-51B Mustangs landed at Tri Duby airfield on 7 October 1944 and brought supplies and three OSS teams. They also took out 18 Allied pilots shot down over Slovakia and five French partisans.

Although the uprising was largely defeated by German forces, guerrilla operations continued until the Red Army, Czechoslovak Army and Romanian Army liberated Fascist Slovakia in 1945. The guerrilla struggle, however, tied up significant German forces. Nevertheless, much of Slovakia was left devastated by the uprising and the German counter-offensive and occupation. The German response was brutal with many summary killings of captured soldiers, including the only war correspondent executed in WW2.

DK Decals have been producing decals in 1/72 and 1/48 for some years. Their products have been generally well researched and produced. The instructions are nicely produced in colour on glossy paper, and clearly indicate markings placement. A brief note regarding the aircraft and its pilot is listed separately and keyed to each subject. The 14 subjects are shown below.

4 USAAF aircraft: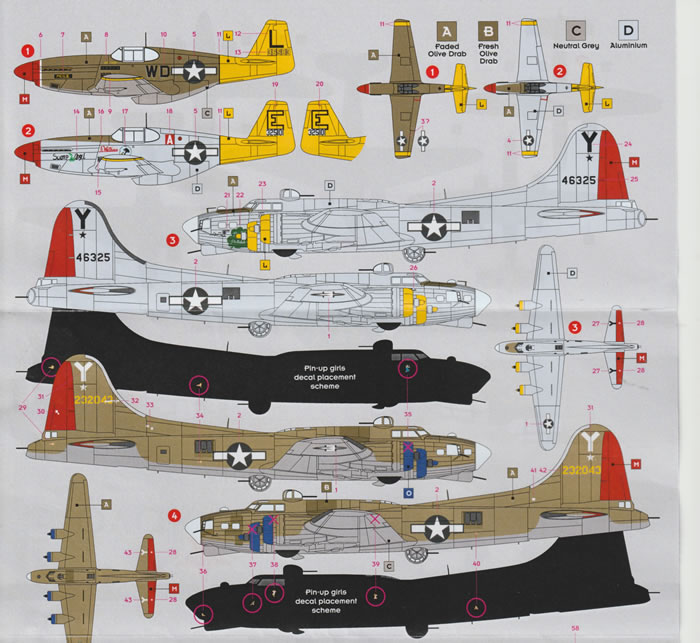 and 10 VVS aircraft: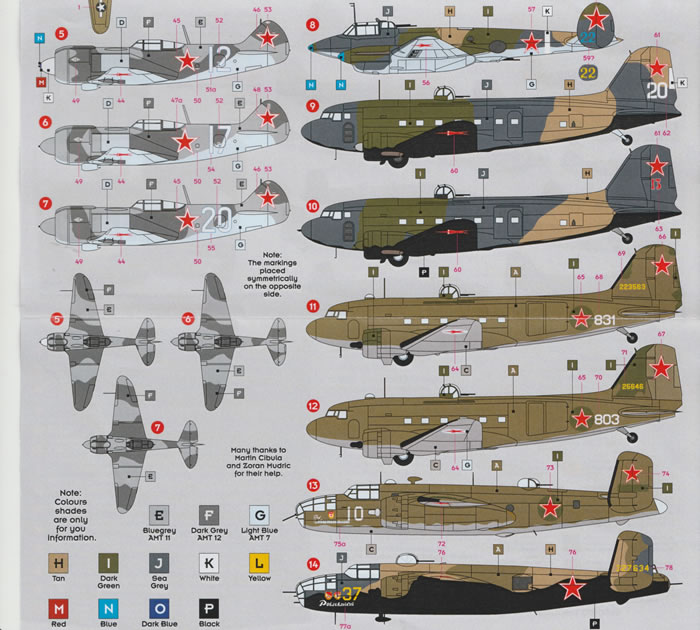 Each scheme is illustrated using a single side-profile view and a plan view apart from a detailed plan for one B-17. There is a good mix of typical camouflage schemes appropriate to USAAF and VVs aircraft of the time. Colour call outs are listed using colour descriptions and cross-referenced to the Humbrol and Agama paint ranges.
Each profile is referenced to a particular airfield and date during the course of the uprising. The individual aircraft are
P-51B-5-NA Mustang 45-6585, 4th FS 52nd FG. pilot 2nd Lt. EA Smith, Tri Duby airfield, September 17.1944

P-5IC-10-NT Mustang 43-25101. 5th FS 52nd FG. pilot 2nd Lt. AF Watkins, Tri Duby, September 17, 1944

B-17G-50-DL Flying Fortress 44-6325, 816th BS 483rd BG, pilot Maj. FJ Ascani, Tri Duby. October 7, 1944

B-I7G-15-VE Flying Fortress 42-32043, 815th BS 483rd BG pilot Lt. Col. G. Pritchard. Tri Duby, October 7, 1944

La-5FN. 1. Cs. Samostatny Stihoci Pluk (1st Czech Independent Fighter Regiment) , pilot Podporucznik (ppor - 2nd Lt) Frantisek Sticka, Zolna airfield, September/October 1944

La-5FN 1. Cs. Samostatny Stihoci Pluk, pilot ppor. Leopold Srom, Zolna September/October 1944

La-5FN 1. Cs. Samostatny Stihoci Pluk, pilot ppor. Tomas Motycka, Zolna, September/October 1944

Pe-2FT, 80th GBAP, pilot Lt. Guljajev, Tri Duby, September 30, 1944

Li-2, 23rd GAP DD, pilot Lt. A.G. Nesterov, Tri Duby, October t944


Li-2, 7th GAP DD, pilot Ll. Cernobajev, Tri Duby, October 1944


C-47A Skytrain. 42-23563, 1st ATD GVF, pilot Lt. I. I. Ryskov, Zuljany airfield, August 1944


C-47A-DL Skytrain, 42-5646, 1st ATD GVF, pilot Lt. M.I. Grigoriev, Zuljany, August 1944


B-25C Mitchell. 15th GAP DD, pilot unknown, Uman airfield, August 1944


B-25J-1-NC Mitchell, 43-27634.13th GAP DD, pilot Maj. l.A. Lazarev. August 1944
While they are tied together as a historical theme, many of the subjects are interesting in their own right. While 483rd BG decals are available elsewhere and in some kits, the two B-17s here have not been done before – one has multiple small pin-up girls. Similarly Li-2 bombers with turrets are not uncommon but here are C-47 transports with turrets in VVS service.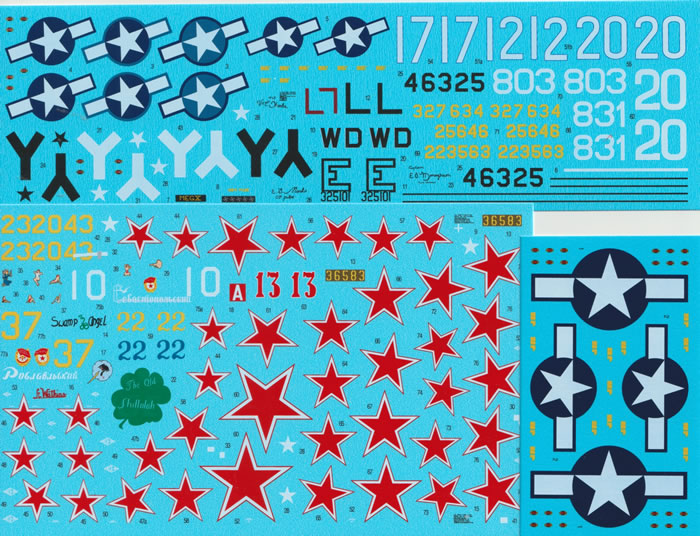 As with most DK Decals sets it is up to the modeller to provide, as far as they wish to, their own historical detail of the aircraft. The Slovak National Uprising is covered by several comprehensive internet sources, many with a nationalistic axe to grind and the decal sheet suggests three books pertaining more particularly to the air war.
The decals are printed by Boa and appear to be of the usual high quality, with excellent registration, good colour density, and a gloss finish. There are sufficient decals enable you to model every aircraft from the sheet.
It is unlikely anyone would build all 14 but one of each is realistic, making them good value for money and as a group purchase they are excellent value.
Thanks to DK Decals for this sample.
---
Text and Images Copyright © 2021 by Ed Russell
This Page Created on 6 April, 2021
Last updated 7 April, 2021
Back to HyperScale Main Page