B-25C/D Mitchell Pin-Up Nose Art and Stencils Part 1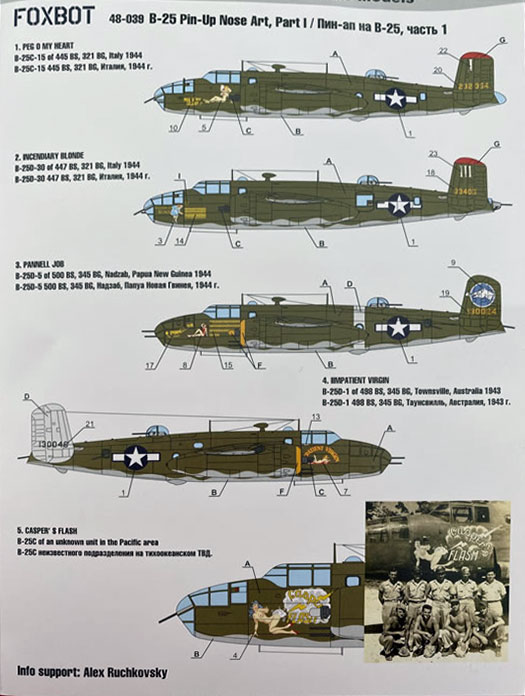 Foxbot Decals, 1/72 scale
Reviewed by Francisco Guedes

Foxbot is a new name for me that I discovered a few month ago when I was looking for decals for the B-25. I had never seen and found any reviews regarding the quality of the decals, and their behavior.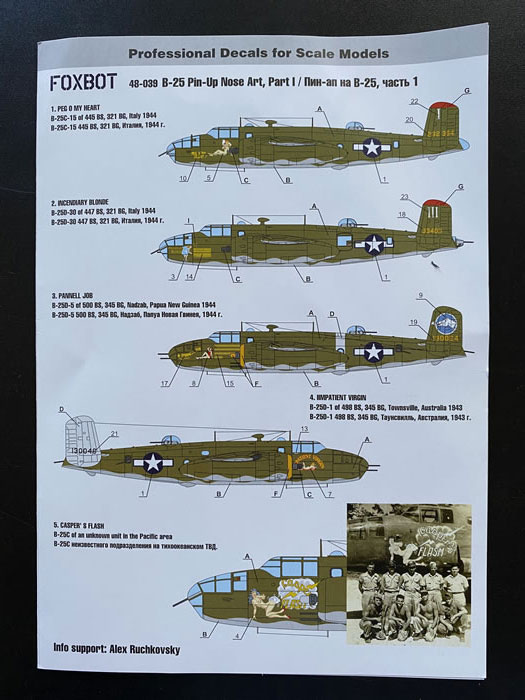 First of all, the decals comes in the usual plastic zip-log bag, with two decals sheets and color profiles and decal locations very clear and precise.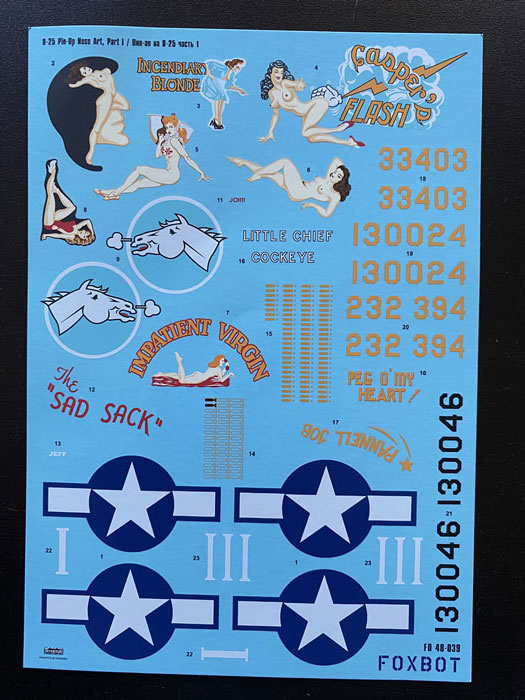 My set came with the decals insignia, nose-art and stencils.
Analyzing the decal sheets, the color registration is great and the definition of the details is very very good.
The decals have a thin film, in fact looking very thin and delicate.
As you can see, the nose arts are very well defined and will undoubtedly give a more colorful look to your B-25.
There´s a lot of sexy nose art within this decal sheet.
The options are:
"Peg o My Heart" – B-25 C-15 of 445 BS, 321 BG , Italy, 1944

"Incendiary Blonde" – B-25D-30 of 447 BS, 321, BG , Italy 1944

"Pannel Job" – B-25D-5 of 500BS, 345 BG, Nadzab, Papua New Guinea, 1944

"Impatience Virgin" – B-25D-1 of 498 BS, 345 BG, Townsville, Australia 1943

"Caper`s Flash" – B-25 C of an unknown unit in the Pacific Area.

"Little Chief Cockeye" - B-25D of 360 SG, Papua New Guinea, 1944

"Sad Sack" – B-25C of an unknown unit.
In the stencil sheets gives a full set for one more with very good letter definition. Even 1:48 you can read the letters. Also give numbers from 0 to 9 so you can make any B-25 registral numbers.
Comparing with the decals of the "new" Revell 1:48 B-25D:
Well, Foxbot decals is a very nice surprise for me with several very colorful and sexy nose art options.
The colors and the fineness of the decals are noteworthy for their quality and they settle very well with Micro Set and Micro Sol. I'll try them as I'm doing a B-25.
My thanks to FOXBOT for producing these fantastic decals and for the review sample.
---
Text Copyright © 2020 by Francisco Guedes
This Page Created on 22 March, 2021
Last updated 22 March, 2021
Back to HyperScale Main Page