Bloch MB.151 C.1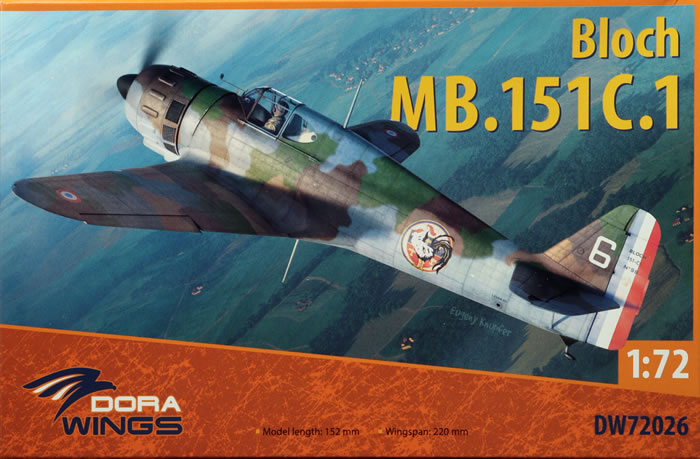 Dora Wings, 1/72 scale

Reviewed by Graham Carter

The Marcel Bloch MB.151 C.1 stemmed from a 1934 call to French manufacturers to produce designs for a single seat fighter (Chasseur Un or C.1). MB produced the MB150 in competition with the MS405 in 1937. It was a bit of a failure and the company then revised it into the MB151 in 1938 and an order for 432 machines. It was plagued with engine over-heating issues but around 140 were produced with four machine guns and an 895hp Gnôme-Rhône engine. Further work led to the MB152 with a 1100hp Gnôme-Rhône engine four mg and 2 x 20mm cannon. Some 480 were ordered and most made it into action.
The MB151s were thrown into the air war against the Germans and actually did quite well as only two were lost in combat, along with 72 MB152s, claiming 150 kills and 32 probables. Other MBs were the 153 and 155, both produced in small numbers and mainly differing in their engines. None had the range to escape to North Africa so were left behind, some 80 out of 170 were operational and taken over by the Luftwaffe for training duties.
(Information drawn from "French Aircraft 1939-1942 Volume 1" by Dominique Breffort and André Jouineau.)
Previous kits in 1/72 have been from Heller and Smer ( same kit ) which, while accurate, were a bit over simplified and the decals were fairly average.
DoraWings have released a 1/48 kit of this aeroplane and now we have one in the 'one true scale'. Inside the usual fairly flimsy DW top-opening box are four mid-grey sprues and a seperately bagged transparency sprue, all enclosed in a resealable plastic sleeve.
A seperate zip-lock bag holds the decals, small PE set and masks for the canopy. The A5 instruction booklet is in the newer DW style and are an example that all producers should follow - clear, in simple stages, with colour call-outs for all parts, lovely four-view colour decal placement and camouflage drawings, a good parts map and a final page detailed colour cart listing all colours needed with alter code and a list of manufacturers , Tamiya, Mr Hobby, Ammo-Mig, Hataka and LIFEcolor but no Humbrol, Modelmaster or Xtracolour! The box art is very nice, with flying shot of S/Lt Ellis up from Rouen-Boos in No. 98 with a colourful cockerel symbol on the fuselage in March 1940.
Parts are beautifully moulded with subtle surface panelling, nice interior fuselage and wheel well detail, and fine small parts. The cockpit is made up of a number of parts with PE belts and levers and decals for the instrument panels.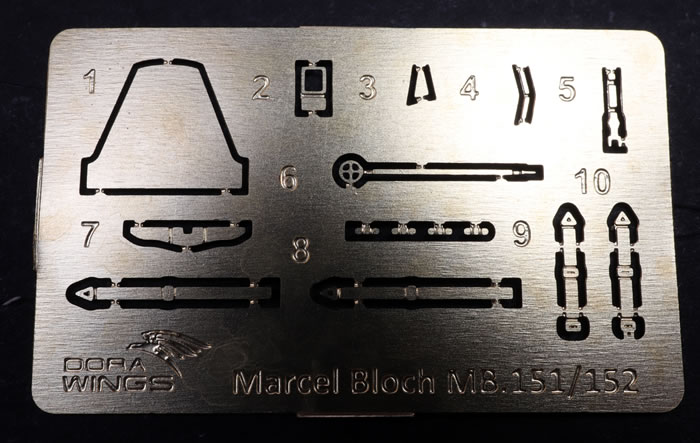 The engine is a nicely detailed three-piece unit that will look very nice inside the three-piece cowling that allows DW to reproduce the complex rocker cover bulges in a better way than the previous kits have. Also included is a diagram to alert the builder to the need to can't the nacelle downward to the correct thrust-line of the original - well done DW!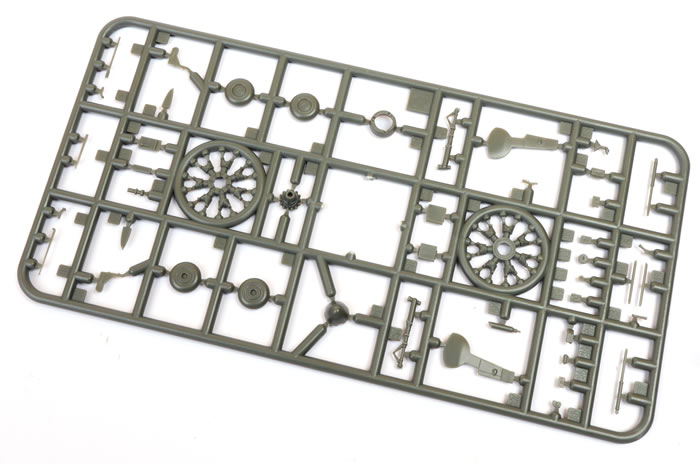 The wheel wells are adequately detailed but will benefit from a bit of lead wiring if you can find out where it goes. Undercarriage legs are nicely done with torque links and fine support struts. Detail parts include the carburettor intake and an aiming device made up of PE and plastic pieces that will add much to the overall appearance. Aerials are finely moulded. Note that the lower aerial is laid flat against the fuselage when on the ground but vertical when in flight.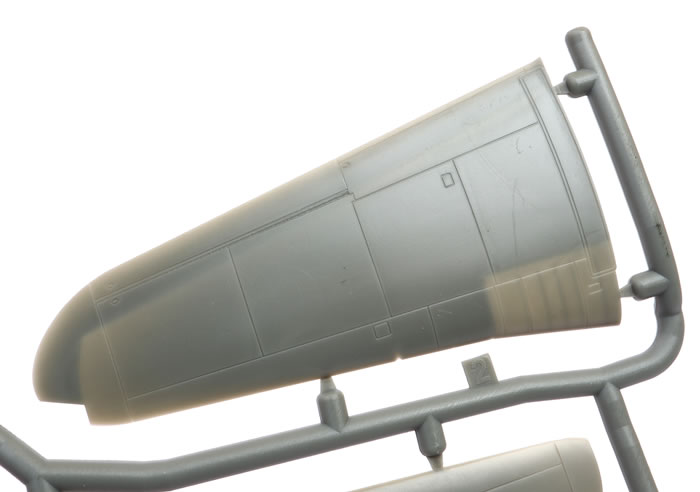 The canopy is thin and clear and includes both armoured and un-armoured windscreens so I reckon another variant is in the offing. All of the decal choices have the armoured screen. The rear part includes a section of the fuselage so some careful masking is required so it is great that DW have included a set of masks for just this reason.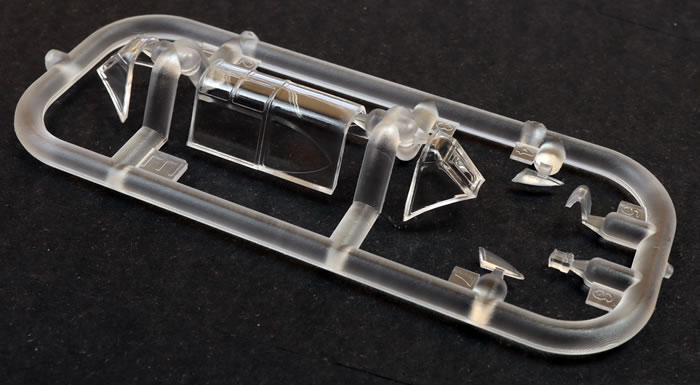 However, it does not allow for an open canopy to be built so the modeller will need to either cut it very carefully or use a vac-form one from Falcon set no.26. Seperate parts are included for the landing and formation lights.
The beautifully printed decal sheet offers four choices. Colours look spot on, carrier film is minimal and the finish is flat. The escadrille 'cartoons' are superbly rendered.

The choices are all in the multi-colour French schemes in which every airframe was different so we have to trust the renditions in the instructions :-
No. 98, Matricule Y585 of GCII/10 Rouen-Boos March 1940 of S/Lt Ellis,

No. 37, Matricule Y524 of AC3. Cuers-Pierrefeu , June 1940, in a stripy scheme,

No. 364, Matricule Y851 of GCI/8 , CIC Chartres May, 1940 of c/c Karel Posta, and

No. 57, Matricule Y544 of the Vichy forces at Saint Raphael in 1942 wearing the red and yellow stripes on tail and nose of these units.
In summary, this is an excellent kit of this important French fighter of the early war years. The modeller will be able to produce an excellent model out of the box, although I am sure the super-detailer will be catered for soon by the resin and PE companies. The numerous colour schemes and great decorations that these aircraft carried make them attractive subjects and I highly recommend this one.
Thanks to Dora Wings for the review sample.
---
Review Text Copyright © 2021 by Graham Carter
Model Images Copyright © 2021 by Brett Green
Page Created 23 March, 2021
Last updated 23 March, 2021
Back to HyperScale Main Page
Back to Reviews Page