Spitfire Mk.IIa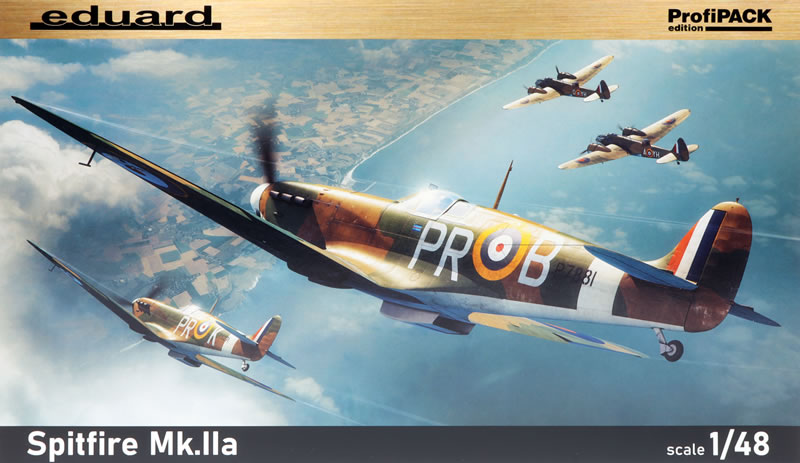 Eduard ProfiPACK, 1/48 scale
S u m m a r y

Catalogue Number:
Eduard ProfiPACK Kit No. 82153 - Spitfire Mk.IIa
Scale:
1/48
Contents and Media:
179 parts in grey coloured plastic (around 30 marked not for use); 21 parts in clear (10 marked not for use); colour photo-etched fret; self-adhesive die-cut masking sheet; markings for five aircraft.
Price:

USD$54.95 plus shipping, available online from Eduard

GBP£30.50 EU Price (GBP£25.42 Export Price) plus shipping available online from Hannants

Review Type:
FirstLook
Advantages:
High level of detail; outstanding surface features including crisply recessed panels and subtle raised and recessed rivet lines where appropriate; includes colour photo-etched parts; separate parts for different styles and closed and open canopies; many options for mid and later production Spitfire Mk.I and Mk.II.
Disadvantages:
Conclusion:
It is great to see Eduard working its way through the Spifire family with their outstanding surface textures and high level of detail. The inclusion of options that allow different versions of the later Spitfire Mk.I and Mk.II is very welcome too.

Reviewed by Brett Green

In the summer of 1939 an early Mk I K9788 was fitted with a new version of the Merlin, the XII. With the success of the trial it was decided to use this version of the Merlin in the Mk II which, it was decided, would be the first version to be produced exclusively by the huge new Lord Nuffield shadow factory at Castle Bromwich.
Chief among the changes was the upgraded 1,175 horsepower (876 kW) Merlin XII engine. This engine included a Coffman engine starter, instead of the electric system of earlier and some later versions of the Merlin, and it required a small "teardrop" blister on the forward starboard cowling. The Merlin XII was cooled by a 70% to 30% water glycol mix, rather than pure glycol used for earlier Merlin versions.
In early 1940 Spitfire Is of 54 and 66 Squadrons were fitted with Rotol manufactured wide-bladed propellers of 10 ft 9 in (3.27 m) diameter, which were recognisable by a bigger, more rounded spinner: the decision was made that the new propeller would also be used exclusively by the Mk II. This engine/propeller combination increased top speed over the late Mk I by about 6–7 mph below 17,000 feet (5,200 m), and improved climb rate. Due to all of the weight increases maximum speed performance was still lower than that of early Mk Is, but combat capability was far better.

The Mk II was produced in IIa eight-gun and IIb cannon armed versions. Deliveries were very rapid, and they quickly replaced all remaining Mk Is in service, which were then sent to Operational Training Units. The RAF had re-equipped with the new version by April 1941. The Rotol propeller units were later supplemented by de Havilland constant-speed units similar to those fitted to Mk Is.
A small number of Mk IIs were converted to "Long Range" Spitfires in early 1941. These could be recognised by the fixed 40 gal (182 l) fuel tank which was fitted under the port wing. With a full tank manoeuvrability was reduced, maximum speed was 26 mph (42 km/h) lower and the climb rate and service ceiling were also reduced. Several squadrons used this version to provide long-range bomber escort. Once the Mk II was taken out of front line service, 50 of them were converted for air-sea rescue work, at first under the designation Mk IIC (type 375) but later referred to as the A.S.R Mk II. The Merlin XII was replaced by the Mark XX, a "rescue pack" was fitted in the flare chute and smoke marker bombs were carried under the port wing.
A total of 921 Mk IIs were built, all by Castle Bromwich. A small number of Mk IIs were converted to Mk Vs.*
Eduard's 1/48 scale Spitfire Mk.IXc was released to justified acclaim in 2013. Over the following year or so Eduard released early and late versions as well as the Mk.XVI, plus standard and HF Spitfire Mk.VIIIs in various different packages.
The Mk.I took a while to arrive - around mid-2020 - but it was worth the wait.
Their debut Mk.I release represented early-Merlin Spitfire versions in Dual Combo, Limited Edition guise. Parts were supplied to build two complete models - one early version and one slightly later production.
Now Eduard has taken a single step forward in time to offer a 1/48 scale Spitfire Mk.IIa.
I reviewed the initial release in detail upon its release - and built both kits in the box (an early Mk.I and a simple but now totally unecessary conversion to a Mk.IIa) - so I will focus here on the differences between the initial Mk.I release and this Spitfire Mk.IIa.
The Mk.IIa retained the eight .303 machine gun armanent of its predecessor, so externally it is quite similar - but not identical.
In fact, you can also build a late production Spitfire Mk.Ia too by simply omitting the Coffman starter blister and using different propeller and exhaust combinations that are still included in this box. Check your references!
Eduard has captured all the unique elements of the Mk.IIa. These are supplied on a single new sprue.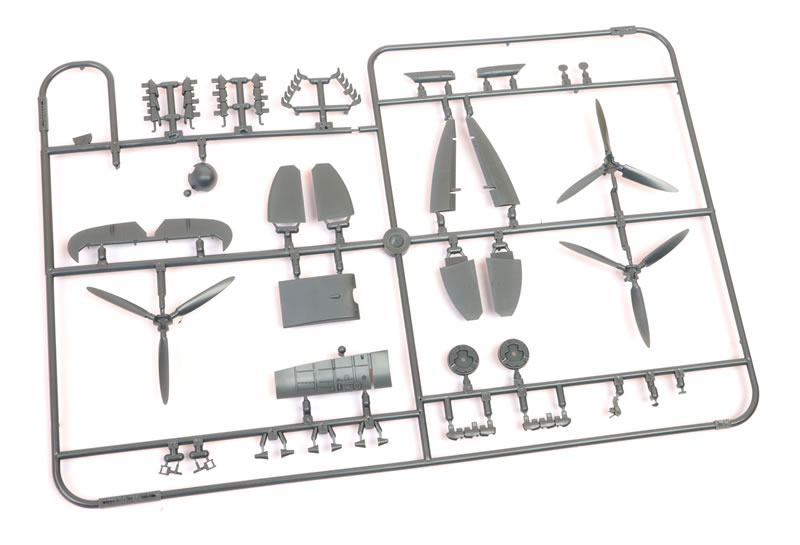 In the cockpit, Eduard has moulded a new starboard sidewall.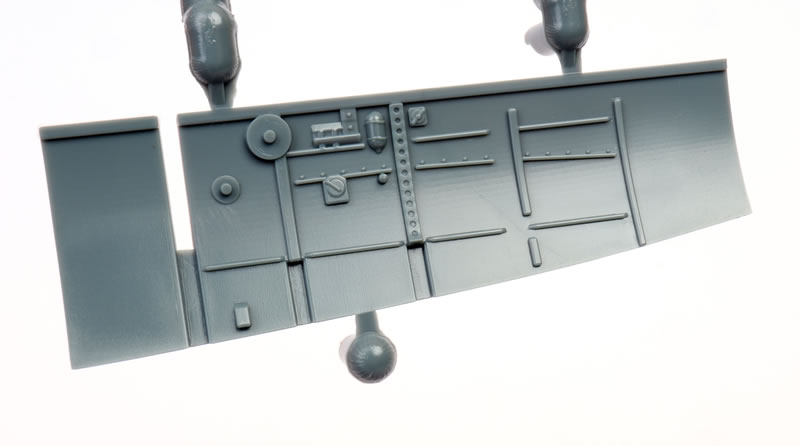 The most obvious difference between this sidewall and that of the early Mk.I is the revised undercarriage selector. This is well represented as a single part in the new kit.
A new box for the sidewall and a blister for the Coffman starter are also included.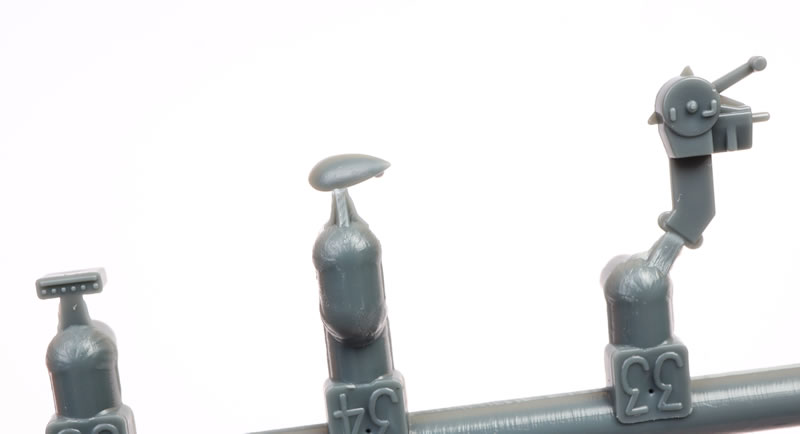 Revised exhausts are also supplied.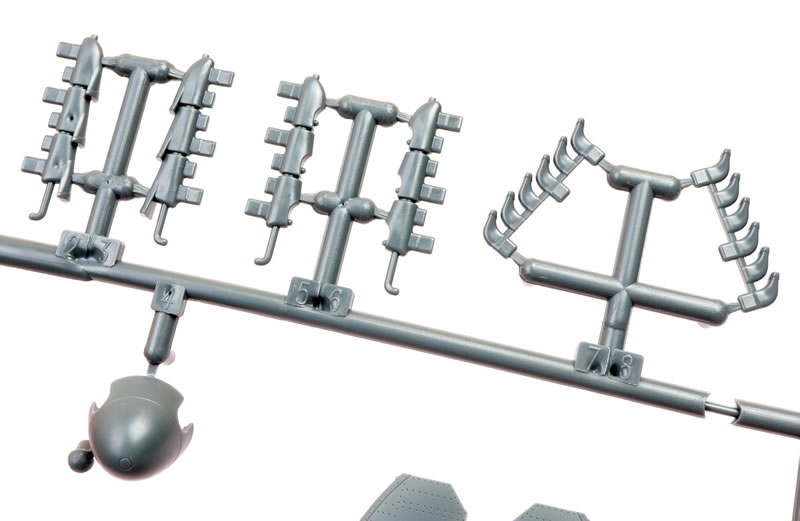 Three of these are fishtail exhausts.

These boast six separate stacks.

Other inclusions on this sprue include new oil cooler housing, Rotol spinner and three new sets of propeller, new rudder pedals and a 30 gallon slipper tank.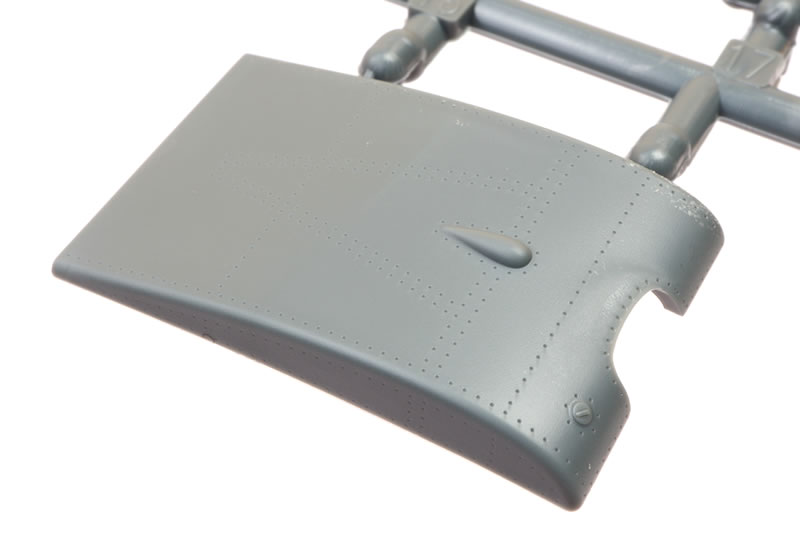 For the rest of the kit, allow me to paraphrase from the initial review:
Eduard's 1/48 scale Spitfire Mk.IIa comprises 179 parts in grey coloured plastic (around 30 marked not for use); 21 parts in clear (10 marked not for use); colour photo-etched fret; self-adhesive die-cut masking sheet; markings for five aircraft.. Of these, a large number of optional parts will remain on the sprues so the total number of parts is really quite manageable.
The wings are moulded as one full-span lower section and separate port and starboard upper halves.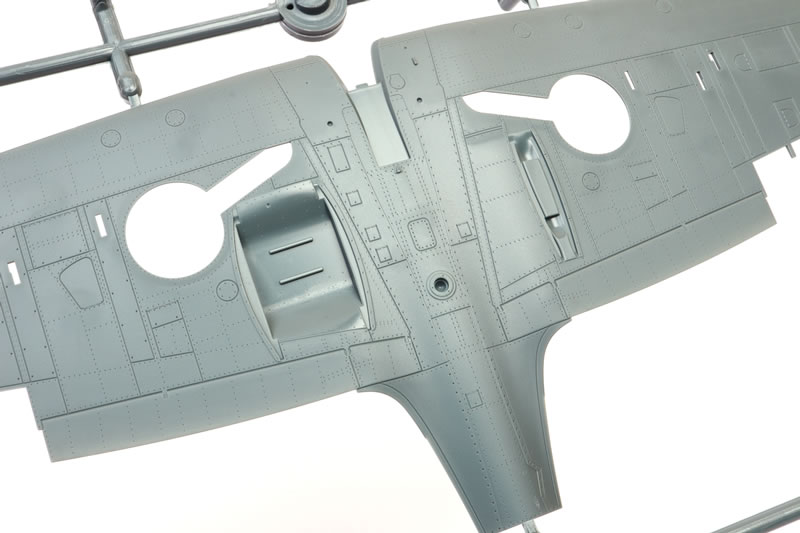 The upper wings feature the kidney shaped bulges to accomodate the main wheels. Machine gun access panels are moulded shut.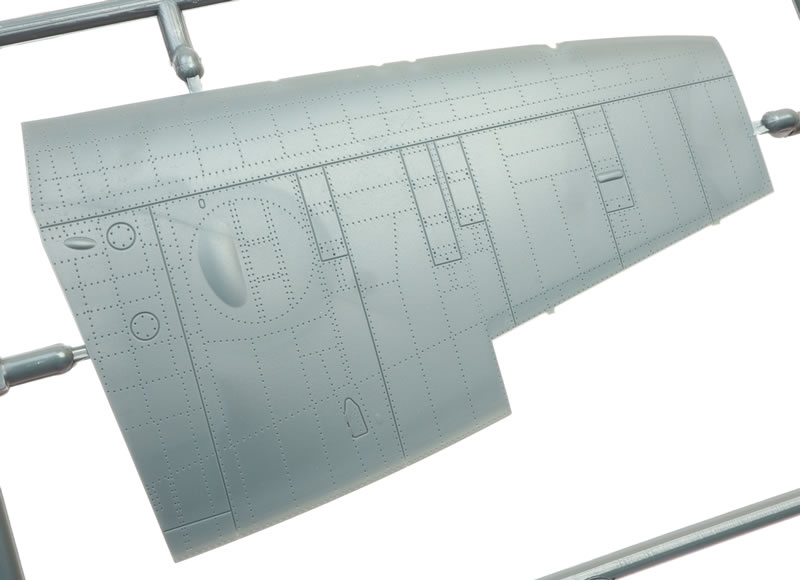 A nice touch is the locating positions inside the lower wing to fit the muzzles of the machine guns.
---
Detail
Eduard combines plastic and colour photo-etched parts in this Limited Edition kit, delivering a very high level of detail straight from the box. The cockpit benefits most from the photo-etch with a nice multi-layered instrument panel, coloured harness straps and scale-thickness pilot's armour.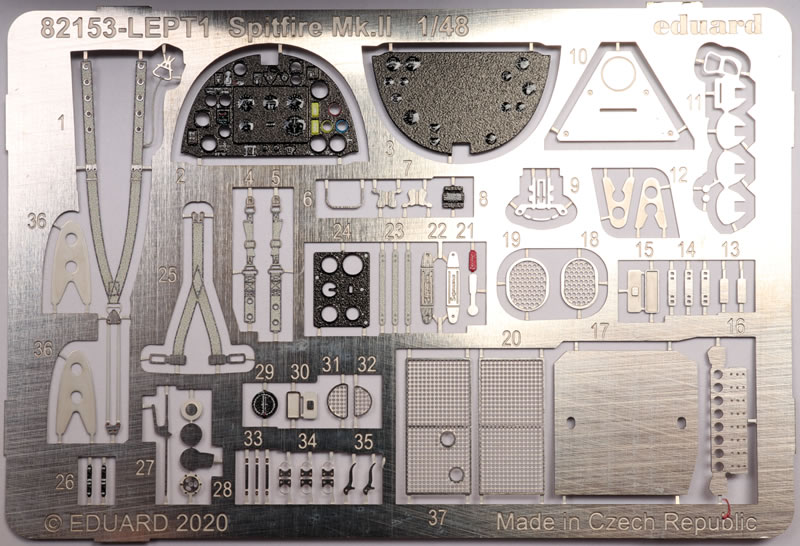 Two varieties of colour photo-etched instrument panels are offered. A plastic panel with raised bezels and a decal instrument dial layover is also included.

The wheel wells and undercarriage parts are really well detailed.
---
Engineering and Options
The kit is broken down conventionally. The fuselage is full-length with the only insert being the forward wing root (one part with a blister fairing and one without). The top engine cowling is split lengthwise into two pieces.
The lower cowl is separate too.
The wings are also moulded without inserts.
Ailerons, elevators and the rudder are all separate, while the flaps are moulded closed. This is another sensible decision, as the flaps were rarely seen dropped at any time other than on final approach to landing. All flying control surfaces depict fabric covering.
The elevators are moulded as a matched pair, joined in the middle with a plastic connector. This will ensure that the droop (or otherwise) is consistent when the elevators are glued in place.
The canopy side door is a separate part, with the option of posing the door open or closed.
The clear parts are free from distortion and quite thin.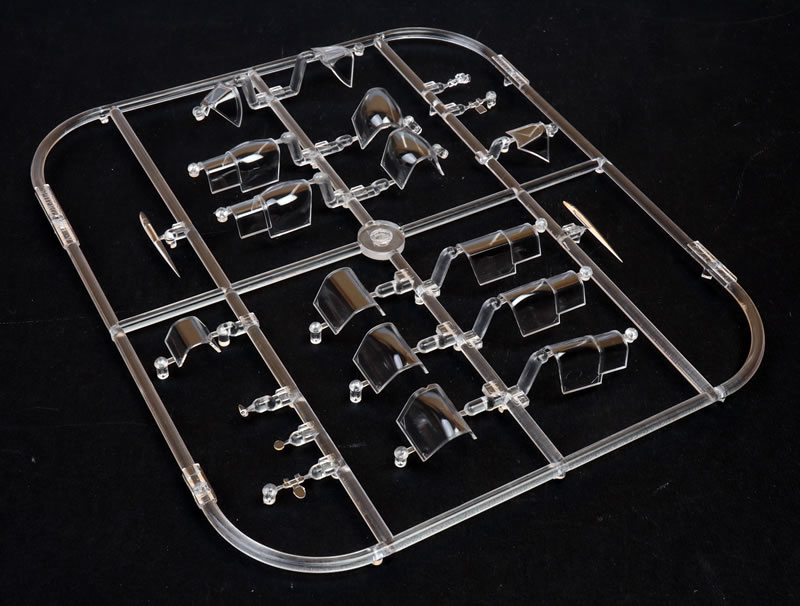 The closed canopy options comprises a combined sliding section and rear section, while the open canopy supplies a separate sliding section to sit over the rear clear part.
---
Surface Detail
If you have have admired the surface detail on any of Eduard's recent releases, you won't be disappointed with this one.
Panel lines are very crisp, fine and even. Lines of rivets are present, but they are subtle. The rear fuselage features a mix of domed and recessed rivets that look great.
The rivet lines seem to accurately follow the pattern applied to the full-sized aircraft too.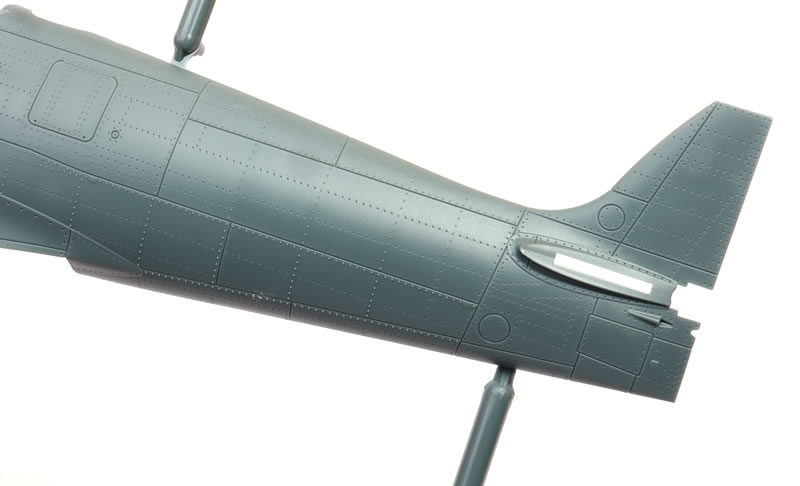 It is difficult to accurately portray the rivets in photographs, as studio lights tend to overemphasise them, especially on the bare plastic.
The rivets are visible on the real aircraft too, but the degree of prominence will depend on a number of factors - the gloss level of the paint, lighting, weathering, the angle and distance of the observer and more.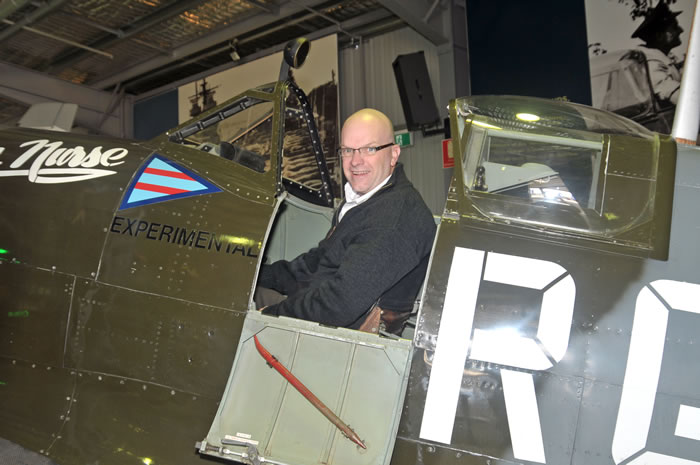 These photos show the airworthy Spitfire Mk.VIII at the Temora Aviation Museum taken during a visit in 2009. Granted, this example is glossy and restored but the rivet patterns are very obvious when viewed close-up.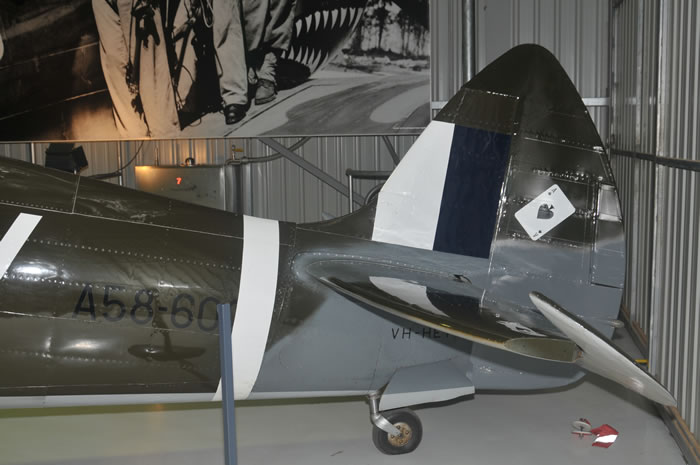 Just like on the real aircraft, after a coat of matt paint and putting a little distance between the observer and the model, the rivet detail will be almost invisible (unless you decide to emphasise it with washes and other weathering techniques, but that is entirely your prerogative!)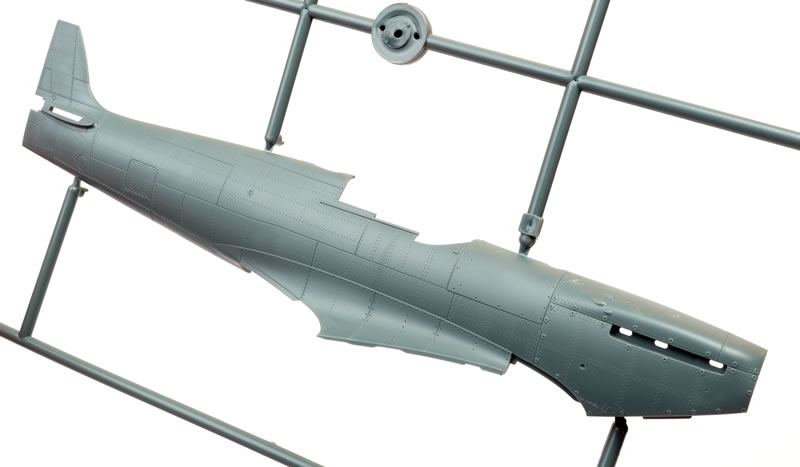 In my opinion, these are nicely restrained and I will definitely leave them all in place.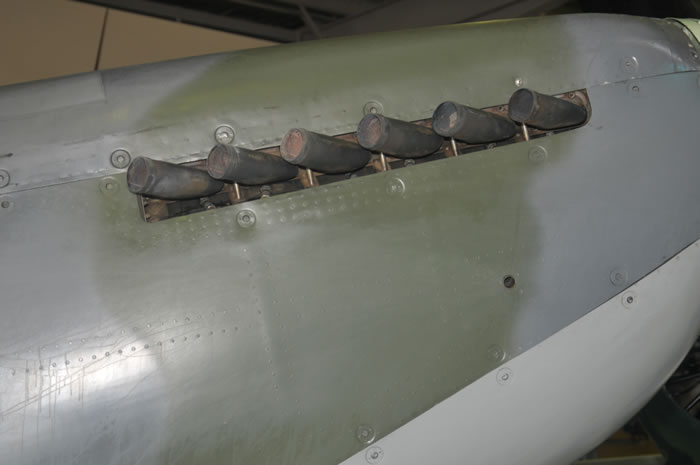 The fasteners are visible on the real aircraft (this time Temora's Mk.XVI, which features flatter paintwork) but if the raised version on the kit are not to your taste it will be a simple matter to sand them down.
Fabric detail is equally impressive, with strip and stitching texture beautifully presented on the control surfaces.
---
Markings
Markings are supplied for five aircraft. Thiese are offered in two schemes during this transitonal stage from early war browns and green to mid-war greys and greens.
I find this a particularly interesting period, with attractive mixtures of early markings on mid-war camouflage, and Sky Blue bands and spinners being seen frequently too.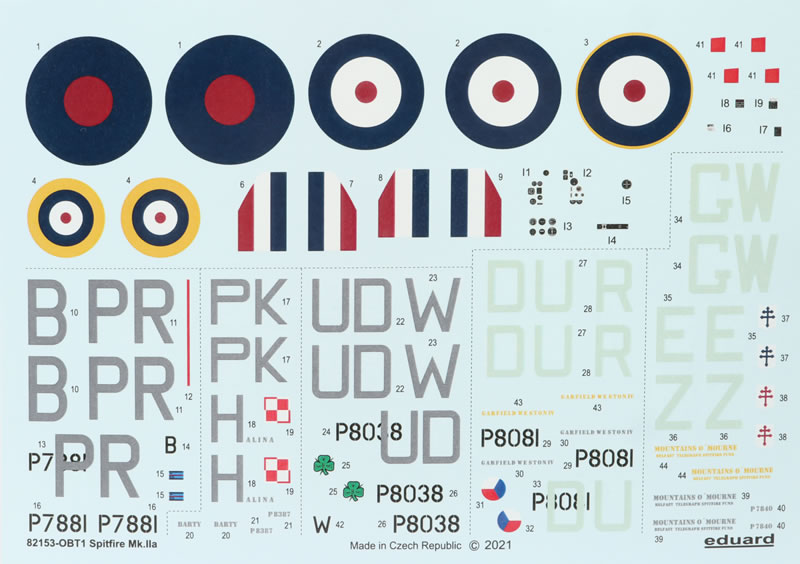 Decals look well printed on my sample and are in perfect register and colour saturation.
These appear to be Eduard's latest style of decal that theoretically allow the modeller to lift off the carrier film after the decals have set, although my results with this tecthnique using spare decals and painted scrap models have been inconsistent.
Fear not though, as the decals still look fine even without the carrier film removed.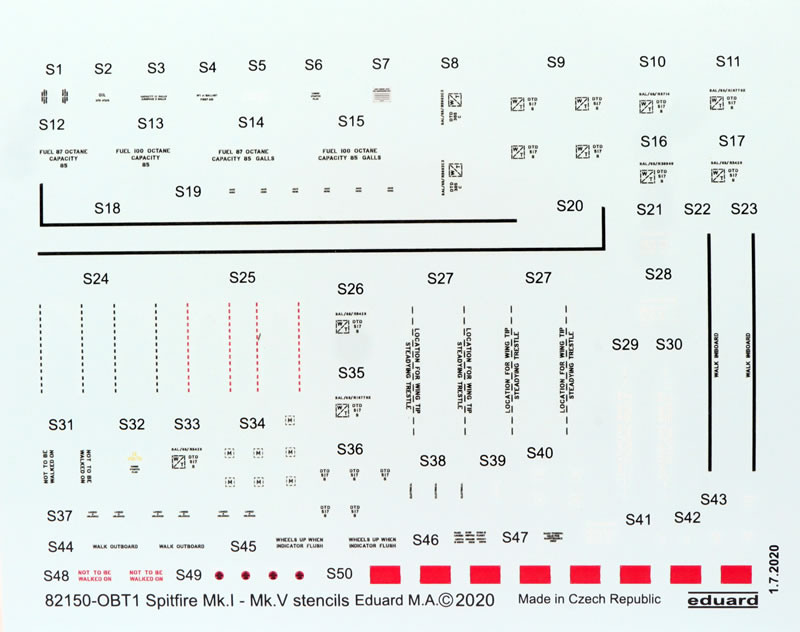 A full sets of stencil markings is included too.
It is great to see Eduard working its way through the Spitfire family with this Mk.IIa continuing to showcase their outstanding surface textures and high level of detail.
The inclusion of options that allow different versions of the later Spitfire Mk.I and Mk.II are very welcome too.
Build one - you won't be disappointed!
Thanks to Eduard for the sample
---
Review Text Copyright © 2021 by Brett Green
Page Created 29 March, 2021
Last updated 30 March, 2021
Back to HyperScale Main Page
Back to Reviews Page