Dassault Mirage IIIEA/EBR
Modelsvit, 1/72 scale
S u m m a r y :

Catalogue Number:

Modelsvit Kit No. 72063 - Dassault Mirage IIIEA/EBR

Scale:

1/72

Contents & Media

148 parts in grey styrene (not all are used), 7 in clear, one PE fret, one acetate sheet, masks, and markings for 6 airframes. .

Price:

£29.40 EU Price (£24.50 Export Price) plus shipping available online from Hannants

Click here for currency conversion

Review Type:

First Look.

Advantages:

The kit has crisply inscribed panel lines and abundant surface detail. The cockpit, wheel wells, and engine are all nicely detailed. The quality decal sheet provides markings for six airframes.

Disadvantages:

Being a limited-run kit, effort will be required to remove flash and prepare parts for assembly.

Conclusion:

This is a very nice kit with a lot of detail right out of the box. The surface inscribing is crisply rendered, the parts layout is simple, and the builder is provided the option of doing some colorful airframes.

Reviewed by John Miller

The Dassault Mirage III is a family of single/dual-seat, single-engine, fighter aircraft developed and manufactured by the French aircraft company, Dassault Aviation. It was the first Western European combat aircraft to exceed Mach 2 in horizontal flight.
In 1952, the French government issued its specification, calling for a lightweight, all-weather interceptor. Amongst the respondents was Dassault with their design, initially known as the Mirage I. Following favorable flight testing held over the course of 1954, in which speeds of up to Mach 1.6 were attained, it was decided that a larger follow-on aircraft would be required to bear the necessary equipment and payloads. An enlarged Mirage II proposal was considered, as well as the MD-610 Cavalier (3 versions), but was discarded in favor of a further-developed design, powered by the newly developed Snecma Atar afterburning turbojet engine, designated as the Mirage III. In October 1960, the first major production model, designated the Mirage IIIC, performed its maiden flight. Initial operational deliveries of this model commenced in July 1961 with a total of 95 Mirage IIICs procured by the French Air Force (Armée de l'Air, AdA).



The Mirage III was produced in large numbers for both the French Air Force and a wide number of export customers. Prominent overseas operators of the fighter included Argentina, Australia, South Africa, Pakistan and Israel, as well as a number of non-aligned nations. The Israeli Air Force was perhaps the most prolific operator of the fighter outside of France itself deploying their Mirage IIIs in both the Six-Day War (where it was used as both an air superiority and strike aircraft) and the Yom Kippur War (used exclusively in air-to-air combat).
---
Mirage IIIE
While the initial Mirage IIIC model was heading towards quantity production, Dassault turned its attention towards the development of a multirole/strike variant of the aircraft. Efforts in this direction would eventually materialized in the form of the single-seat Mirage IIIE. A two-seat trainer variant of the aircraft was also developed, designated as the Mirage IIID.
The Mirage IIIE differed considerably from the earlier Mirage IIIC interceptor. The aircraft possessed a 300mm (12 in.) forward fuselage extension, made to increase the size of the avionics bay, located directly behind the cockpit. The stretch also enabled its fuel capacity to be expanded, which had been deemed necessary after several pilots had criticized the Mirage IIIC for having a limited range.
Mirage IIIEs were built for export as well, being purchased in small numbers by Argentina (Mirage IIIEA), Brazil (Mirage IIIEBR and Mirage IIIEBR-2), Lebanon (Mirage IIIEL), Pakistan (Mirage IIIEP), South Africa (Mirage IIIEZ), Spain (Mirage IIIEE), and Venezuela (Mirage IIIEV). Dassault believed the customer was always right, and was happy to accommodate changes in equipment as the customer's needs and budget required.
---
The Falklands War:
The Argentine Air Force deployed their Mirage IIIEA fleet during the 1982 Falklands War. Their ability to function as long-range strike aircraft was dramatically hindered by the type's lack of aerial refueling capability. Even when furnished with a pair of 2,000-litre (550-gallon) drop tanks to carry extra fuel, the Mirages would be forced to fly up to the absolute limit of their range in order to reach the British fleet from the mainland. Normally, the Mirage was sent to engage patrolling British Harrier jets and provide air cover to a strike force of Douglas A-4 Skyhawks. However, they would have no more than five minutes at most over the combat area before having to embark upon the return flight to their airfields.
The kit is conveyed on six sprues of light grey styrene.
Some time will be spent dealing with flash but, for a limited-run kit, most of parts are quite clean and crisply molded.
As is the norm with conventionally engineered kits, the build starts with the cockpit. The folks at Modelsvit provide a very well-detailed pilot's office comprised, in part, of PE harnesses and overlays for the main and side panels.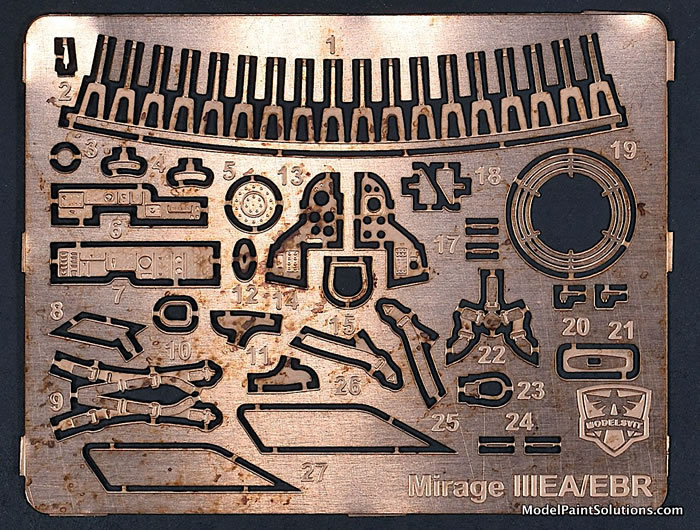 The cockpit tub (integral with the nose wheel well) is sandwiched between the front fuselage halves along with 4g of weight to ensure the model will assume the proper stance when assembled.
A very nicely detailed 7-part engine is next up followed by multi-part main wheel wells which assemble onto the lower wing.
Assembly of the main fuselage halves captures the previously assembled engine and front fuselage portion containing the cockpit. The lower wing (with main wheel wells) is then offered up to the assembled fuselage followed by the left and right upper wing halves.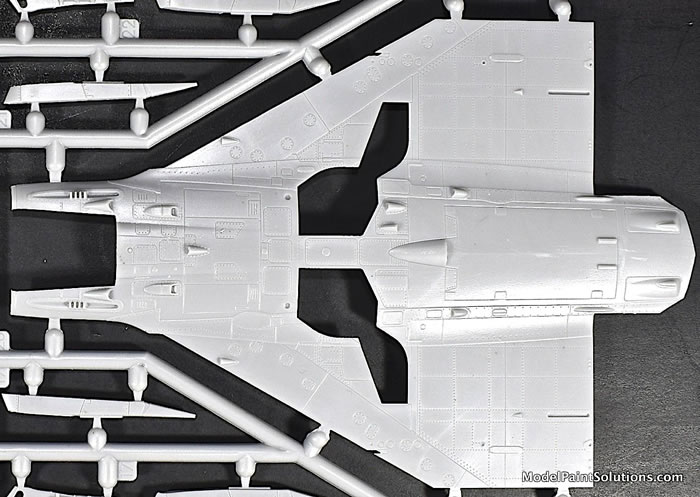 Addition of the single-piece horizontal stabilizer/ruder completes the airframe.
The well detailed nose and main gear are each comprised of multiple parts and utilize single-piece wheels/tires.
Undewing stores include Matra R530 missiles (x2), Matra R550 Magic Missiles (x2), RP-30 1700L fuel tanks (x2), and RP-18R 500L fuel tanks (x2). A load-out diagram is provided showing the proper placement for both fuel tanks and ordinance.
The canopy parts are nicely molded and clear.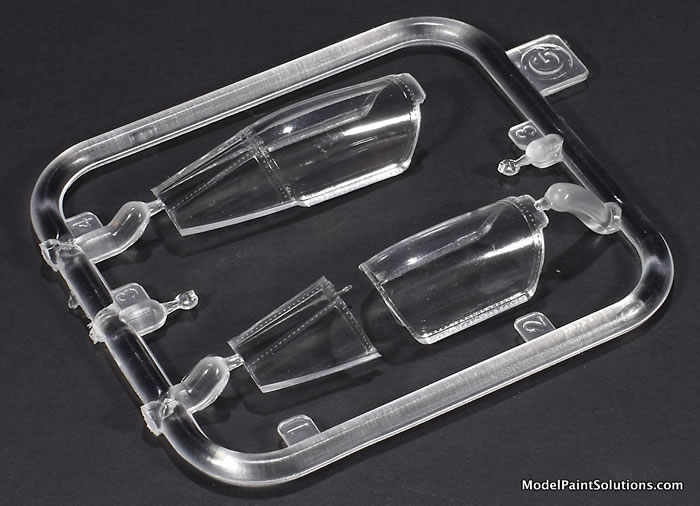 Parts are provided to pose the canopy either open or closed. Die-cut vinyl canopy and wheel masks are provided.
The decals, by Modelsvit, are crisply printed with good color density and thin carrier films.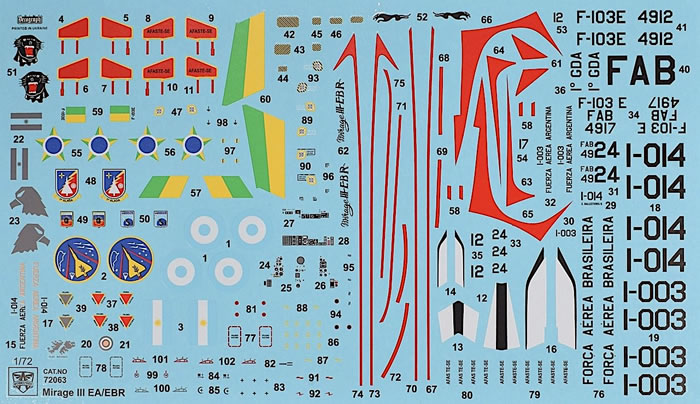 Markings are provided for six schemes; three Mirage IIIEA and three Mirage IIIEBRs
Once again the folks at Modelsvit have produced a very nice looking model; brimming with details, straight-forward, conventional engineering, and quality decals. I see no issues other than an enjoyable build that will result in a very detailed and colorful model. Well done, Modelsvit. Highly recommended!
Now go paint something!
—John
Kit purchased by reviewer (because I have no will power).
For more on this review visit Modelpaintsolutions.com.
https://modelpaintsol.com/reviews/modelsvit-72-dassault-mirage-iiiea-ebr-72063
---
Review Text and Images Copyright © 2021 by John Miller
Page Created 11 March, 2021
Last updated 30 April, 2021
Back to HyperScale Main Page
Back to Reviews Page